This post about the Beyond the Bagel tour was written by Marina Privorotsky, a Montreal-based writer, photographer, adventurer and event planner extraordinaire. Marina can be often be found throwing amazing events with yours truly under the banner of The Immigrant's Table.

I was shvitzing from the heat. It was the Montreal version of chamsin, an Israeli sand wind that sweeps everything in its path. Here's some advice: avoid outdoor cardio workouts during a heat wave. Especially biking uphill. One thing that you really shouldn't do is rent a bike for the day - and that's the one thing I did. I rode a Bixi (part of the Montreal public bicycle sharing system) over the mountain and parked it slightly too far uphill. I ended up half-jogging down the street to make it on time for the event. Sweaty, smelly and thirsty, I finally arrived at Fletcher's Beyond the Bagel tour on Standard Jewish Time (which is somewhere between 5 and 30 minutes late… I won't specify which one).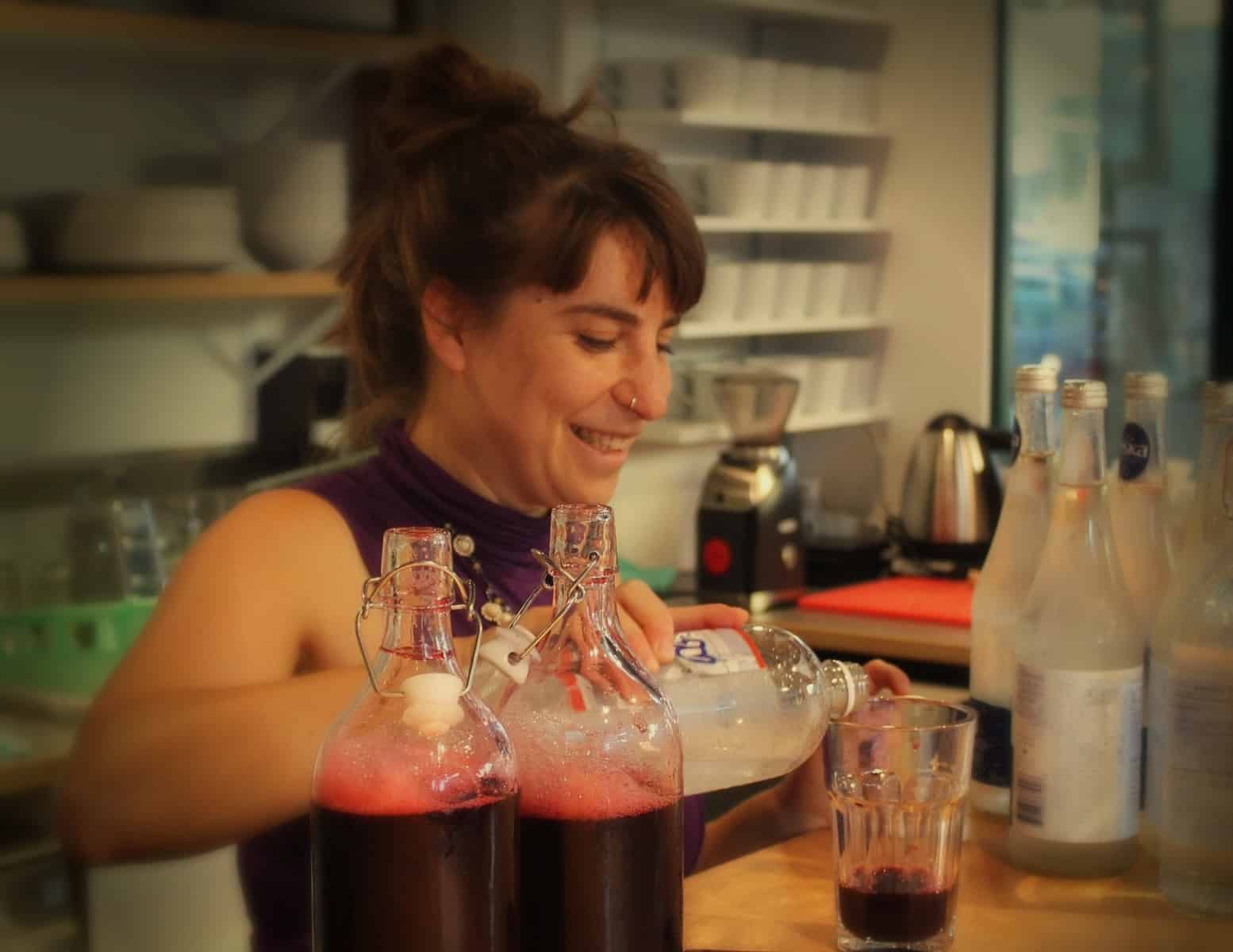 Walking into Fletcher's cafe, all I wanted was a drink. Aviv, the resident bartender, heard my prayers. Mixing seltzer with unsweetened homemade blackberry-rosemary nectar, she turned the heat wave into a summer breeze.
Then came the food. I was so ready for it. The gefilte fish sandwich was the perfect balance between light and filling. It was so delicious that one wasn't enough. The gefilte fish was nested on top of a piece of lettuce over sliced challah. The challah was spread with a subtle layer of horseradish and mayo. The whole was sprinkled with shredded carrots and parsley, giving it a pleasant crunch. The gefilte sandwich was a pleasant mix of soft, chewy, crispy and crunchy, gently salted... and rich in tradition.
Mini-sized lox and cream cheese bagels were the next item on the menu. Fluffy and light cream cheese, thin and tender gravlax, the bagel was sure to satisfy any Montrealer craving an authentic lox and cream cheese experience. Your bubbe would have been jealous.
"Why Fletcher's?" the question seemed to float in the air from the start of the evening, and was finally asked by one of the curious participants. The answer was simple. Fletcher's cafe took its name from Mr Fletcher, a farmer who would bring his sheep to graze at the foothills of Mount Royal (a practice which to this day is done in some countries, like Switzerland). At some point, Fletcher's Field was renamed as Jeanne-Mance park, which is how it is known today (also as the "Tam-Tams/ let's smoke some weed and dance park" or the "huge angel statue park" or … I'm getting sidetracked!)
After snacking, we were led onto St. Laurent boulevard to begin the Beyond the Bagel tour. We did a quick pit-stop outside of Moishe's steakhouse. Moishe, legend has it, acquired the restaurant by winning a poker game. His wife must have been thrilled. Here's my imagination having a little fun:
Moishe, it's 30 minutes past midnight! Were you out gambling again?
Raizel, dear, please don't be mad… I have some good news! I won a whole restaurant! We are going to be rich!
Oh, that's just wonderful, Moishe! What about your shmata business? And raising our 6 children? And the two hens Leslie and Barbara adopted? And your poor sick mother? And you want a restaurant! Oy, when poor mama hears this, she'll have a heart attack!
We were surprised to stop in front of what looked like an empty gap between two stores. Turns out that it wasn't just an empty gap. The alleway running into this "empty gap" used to be a bagel shop. In fact, this was the location where the famous Montreal bagel was born.
Turning left on Roy, the Beyond the Bagel tour stopped near Santropol Roulant as they were taking down their tents and packing up from their Thursday market. The air was still laden with moisture from the fruits and vegetables, and a mild smell of dirt wafted through the street. It was hard to imagine that a half century ago that street was filled with putrid smells of flesh and blood. Roy was known for its slaughterhouses. Sometimes change is good...
Stopping at what is now a music store, our attention was directed to the floor tiles, which revealed the existence of yet another Jewish bakery - the St. Lawrence Bakery, which closed its doors in 2002. The floor tiles are the only thing remaining from this legendary spot.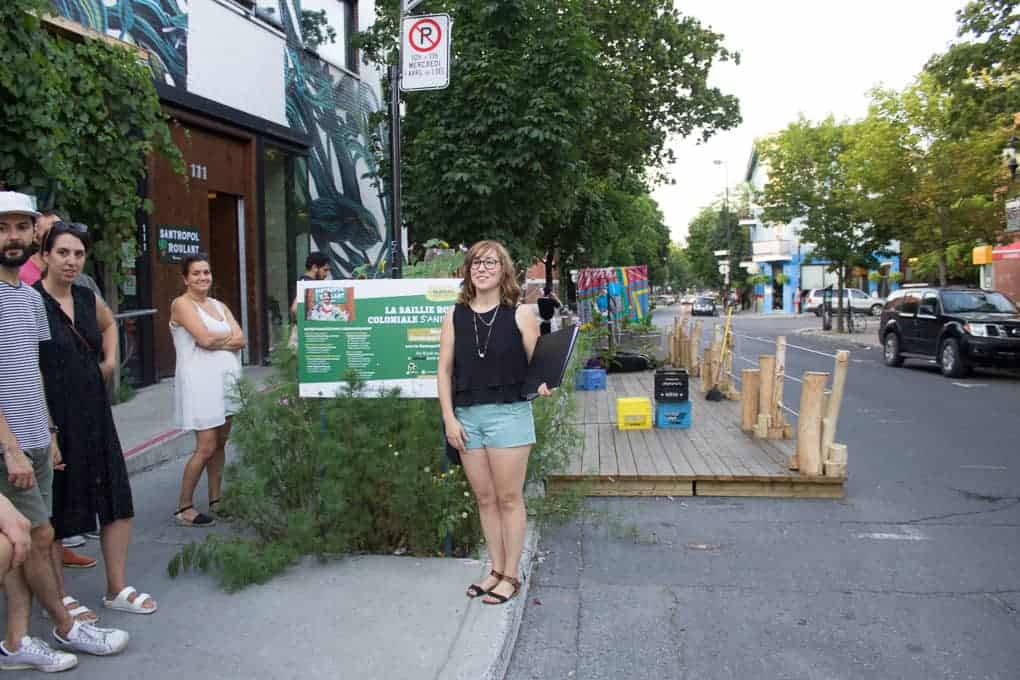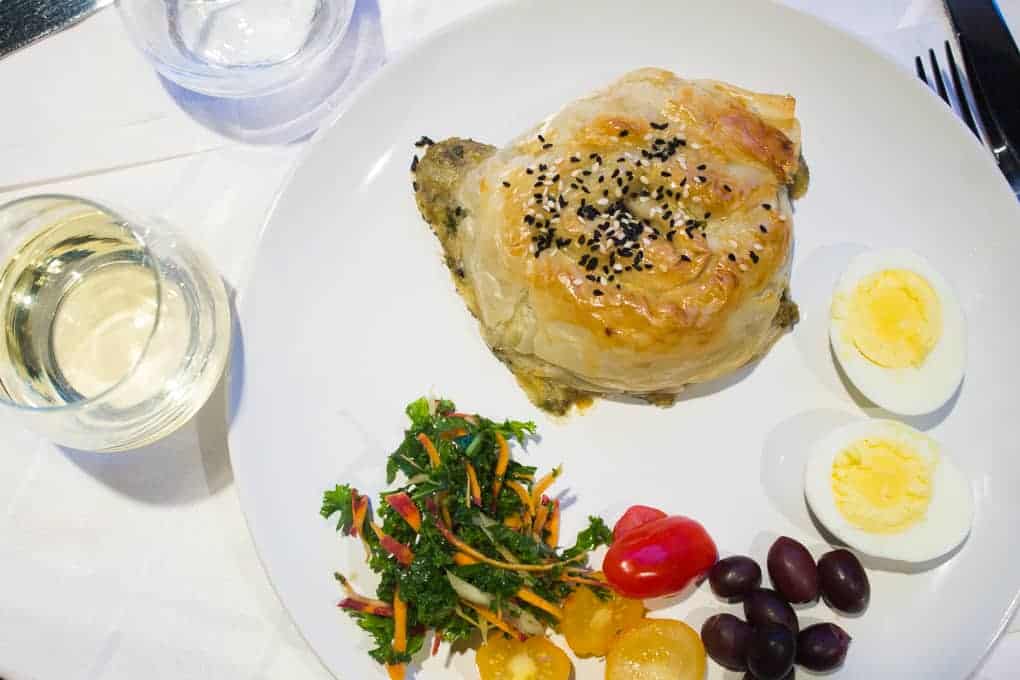 We returned to Fletcher's, where we seated ourselves next to new faces. We definitely earned the meal that was about to come, a flight of tastes through Fletcher's menu selection. Tealights in jars illuminated each table, setting a cozy and relaxed ambience. We were served wine. Whispers grew into conversations.
Then, the main course was served. It consisted of an eggplant & feta boreka, served alongside a hard-boiled egg, olives, tomatoes and a kale salad. I grew up eating bourekas and yet, in my entire quarter century life, I have never tasted an eggplant boreka. It was eggcellent. (Sorry, I just had to.) The phyllo dough melted in my mouth and the eggplants were smooth and juicy. Miam!
For dessert, we enjoyed Massafan cookies (almond flour, cardamom and rose water) served with vanilla ice cream on a plate decorated with rose petals. The taste was at once exotic and familiar. It brought you to a distant land and pulled you close. It sang to your heart and spoke to your imagination. Cardamom always brings back memories of that night in the desert, under a bedouin tent, when I just couldn't refuse that 9th glass of sweet cardamom tea…
The evening drew to an end as we finished our plates. We thanked our chef, Kat Romanow, and the entire team who worked tirelessly to make the event such a beautiful, time-transcending, tradition-blending success.
If you ever find yourself walking on the St Laurent boulevard, try to remember Mr Fletcher's and his sheep - and swing by Fletcher's cafe. Or better yet, sign up for a delicious overview of Montreal with the Beyond the Bagel tour.
Tried and loved this recipe? Please leave a 5-star review below! Your reviews mean a lot to me, so if you've got any questions, please let me know in a comment.