As part of my decision to travel somewhere every month since September 2016, I went with three girlfriends for a week on the Island of Maui, Hawaii, in late January 2017. These are the photos and tales of my Hawaii adventures - and my budget-friendly Maui food recommendations.
Despite the seeming abundance of incredible, fresh produce, food in Hawaii can be expensive. The reason for that is that many products have to trek a long, long way to get to the islands - and anything that isn't produced or grown locally is actually rather pricey, in terms of dollars and greenhouse gas emissions. Hell-bent on enjoying an affordable vacation, my friends and I scoured blogs, racked the brains of our friends, and relied on a healthy dose of luck and Yelp! reviews to find the best cheap eats on the island of Maui. These are my favourite restaurants, coffee shops, fruit stands, DIY cheats and other budget-friendly Maui food recommendations that will help you feed yourself well for under $20 a day.
THE BIG CITY: Food around Kihei, Maui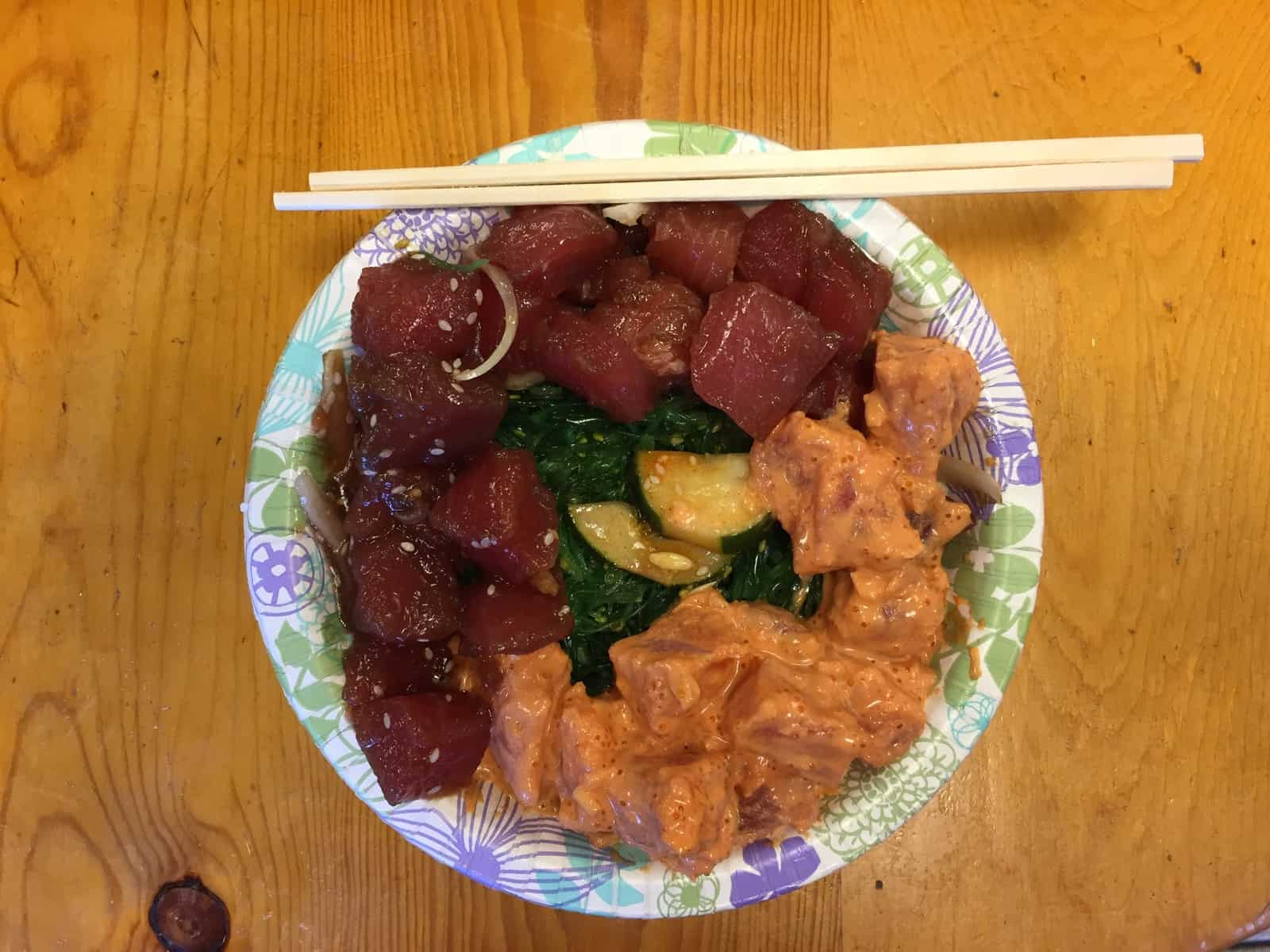 Eskimo Candy Inc.
2665 Wai Wai Pl, Kihei, HI 96753, USA
There is nothing fancy about this little neighbourhood favourite, a dusty little hanger that looks like the home of a particularly tacky middle-aged fisherman and sells freshly caught local fish to go. Tucked alongside a slew of garages and garden wholesale centres, Eskimo Candy was closed every time we were in the neighbourhood - but when we finally made it a point to go there during their opening hours, it made it all worth the wait. The tuna-and-salmon mixed poké bowl here was fresh, aromatic and generous, topped with a piquante-sweet spicy mayo sauce and a savory seaweed salad that smelled like the sea and looked like the greenest grass. And at a price of under $10, this was some of the best store-bought poké I've ever had.
808 Grindz Cafe
225 Piikea Ave, Kihei, HI 96753, USA
We stumbled across 808 Grindz Cafe early morning of our first day in Maui, when we were ravenously hungry for breakfast and exhausted from a night of pitiful sleep. What looked like a grimy chain breakfast diner in the middle of a sleepy strip mall proved to be one of the best breakfasts I've ever had - the seafood omelette here was herbaceous, creamy, and full of some of the sweetest fresh crab meat on that side of the island. The potatoes on the side were perfectly seasoned with dried seasoning, bits of succulent onion and specks of garlic. The breakfast cost around $10, was entirely gluten-free, and, when slathered with hot sauce and paired with a Starbucks Americano, was as satisfying as only cheap food eaten out of styrofoam take-out container on the side of the road could be. 808 Grindz Cafe is the defition of budget-friendly Maui food!
1325 S Kihei Rd Suite 100, Kihei, HI 96753, USA
Akamai Coffee is what hipster dreams and #instaready moments are made of. A light, airy space with white wicker hammocks hanging from the ceiling, it just invites you to grab a cup of almond milk cold brew and settle in with your Mac for a while. The coffee here is fresh, fruity and distinctly third wave.
Surfing Goat Dairy
3651 Omaopio Rd, Kula, HI 96790, USA
Though the goats here really do not surf, they are as cute as a button - and the variety of products they produce, from soft cheeses to fatty, fragrant soaps - are of the highest calibre. Get the soft goat cheese flight with crackers for an affordable entryway into this farm's prolific product line, but remember - if you're tempted to buy some to take back home, make sure you have checked luggage to put it in!
THE SCENIC ROUTE: Food on the Road to Hana
Braddah Hutts
5305 Hana Hwy, Hana, HI 96713, USA
A food truck with rows of tables in front of it may not inspire foodie associations for most of you, but Braddah Hutts does one thing, and it does it extremely well - tacos. The choices are relatively limited (there was no strictly vegetarian option there when we visited) but the flavours are on point, the sauces are mouthwatering and the protein is cooked expertly and left succulent. One of the best options around this touristy region for excellent, budget-friendly Maui food. Have a lot of napkins on the ready for those slurping accidents.
Hana Harvest
800 Hana Hwy, Hana, HI 96713, USA
Nestled off the side of the Road to Hana, Hana Harvest differs from the million of other tourist-drawing fruit juice and coffee stands. First off, it comes with its own fairy light-strewn backyard; second, all food prepared and sold here is entirely local - from the vicinity of the island and preferably the Hana region; and third, the proprietors here couldn't be more charming. The prices are expensive, but do yourself a favour and try the affogato - it's what dreams are made of.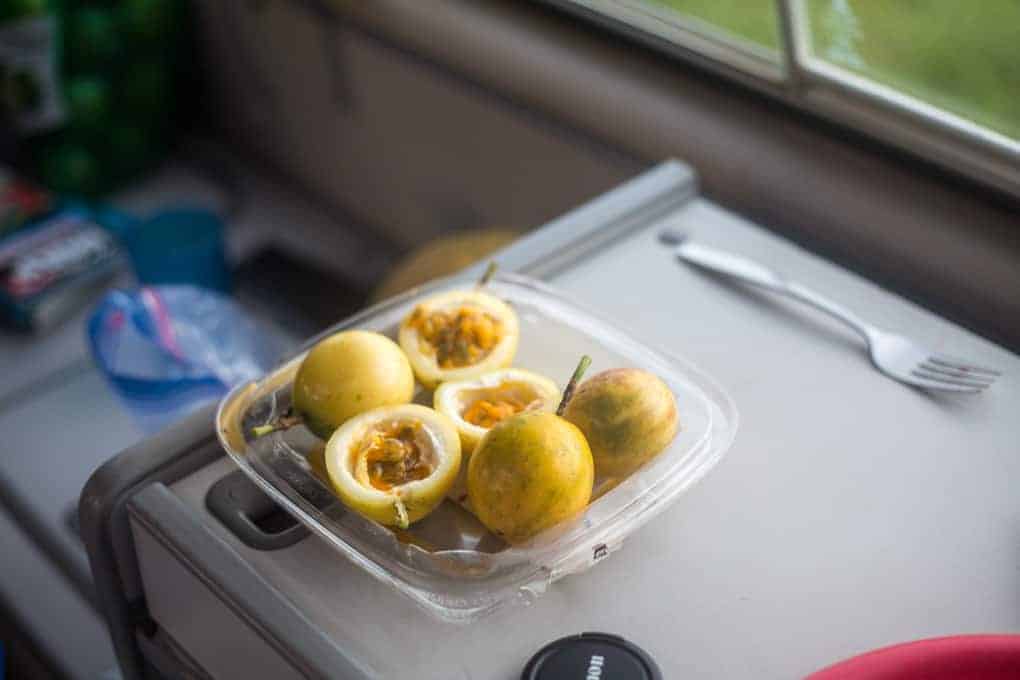 Fruit stands
Everywhere along the Road to Hana (and elsewhere on the island, but never as cheap as here) you will find little boxes with fruit lying in it. Sometimes they are wooden, sometimes they are metal, sometimes connected to a house, sometimes to a fence, and sometimes they're just plain old cardboard containers - but they always have some local choice fruit like citrus, avocado or mangoes for the lucky passersby. It took us a while to figure out how to pay for these, because you just leave your money! Most of these homemade fruit stands belong to typical Hawaiian families, and the honour system is the modus operandi on the island. So in the spirit of aloha, pay from the heart and enjoy your fruit.
There are, of course, more traditional food stands that consist of a table with merchants behind it, and sometimes even some signage. These tend to be more expensive - though still cheaper than the stores, and the product is entirely local! We also had great luck with fruit sold from the back of trucks.
STOCKING UP: How to feed yourself anywhere on the island
CostCo
540 Haleakala Hwy, Kahului, HI 96732, USA
There is one secret to surviving in Maui for less than $20 a day without a properly operating kitchen: CostCo. The gas here is cheap, the fish is fresh and often local, the meat is as good as it's going to get and the liquor is so affordable, it might as well be given away: all the necessary requirements for budget-friendly Maui food. All other canned and dry products are also priced a lot more reasonably than in local stores, so we strongly encourage you to arm yourself with a CostCo membership and a cooler before your trip.
Times Supermarket
1310 S Kihei Rd, Kihei, HI 96753, USA
Times Supermarket is a local Hawaiian chain with outpost throughout Maui, but we only tried the Kihei location. The products here aren't cheap, but the prepared salads and raw poke bar is excellent and diverse. It's an easy way to stock up on some interesting poke preparations and try some local fish that you wouldn't have otherwise experienced.