We are told that the key to a perfect meal is the combination of good music, great conversation, and impeccable flavours. Fanciful restaurants that charge upwards of $50 for a main course attempt to deliver two of the latter, and try to wow us into shelling the extra dough by adding on 'the glitz': expensive cutlery, linen napkins, idyllic decor and location, and overpriced wine that will go straight to our heads and prevent us from wondering what hit us when we get the bill.
At Machneyuda in Jerusalem, where you will pay between $20 and $50 per person for a main course (A LOT by Israeli standards), you get none of the above-mentioned superfluous details. And yet the resulting meal manages to surpass all expectations.
The decor harkens to your grandmother's cottage; the plates and cutlery are a garage-sale mismatch. The music varies from modern dance hits to Israeli 70s rock to what can only be the described as the sounds of Saloniki (bouzouki, breaking plates). The location is on a dirty street right off the Machne Yehuda Market.
And yet, the resulting dining experience at Machneyuda is so exquisite, so perfect in every way, that the third ingredient of a perfect meal - the conversation - just naturally occurs.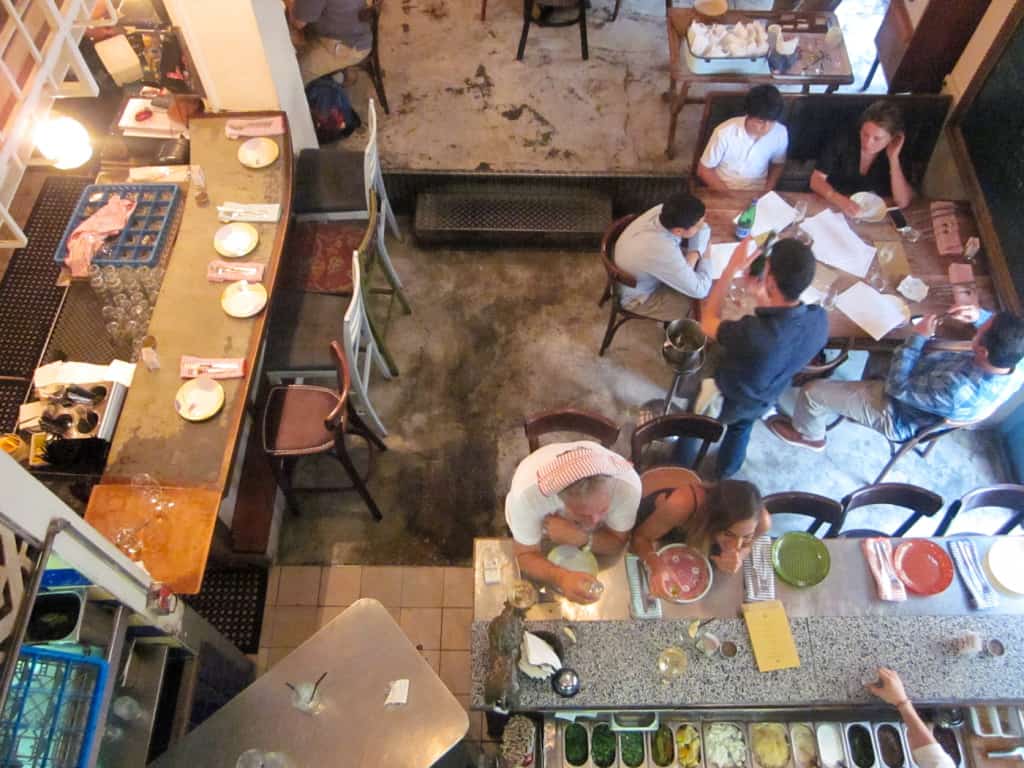 As for the food? We tried the much-hyped polenta, and it really was as incredible as everyone says: like sinking your spoon into a cloud of cheese and butter. The calamari starter blew us away - it was the most perfect preparation of this ingredient I've ever tried, not at all chewy and paired with a zesty tomato sauce. G and my father loved the famous Shikshukit, which is a ground beef dish that builds on the ubiquitous Israeli dish lachmajun.
For mains, G tried the filet mignon, my dad some meat dish I can't remember, and my mother and I split the drum fish, which in Hebrew is called "Mimaakim Karatich," a play on words on one of the most beautiful verses in the book of Psalms.
Desserts included Uri's mom's famous semolina cake with tahini ice cream and fruit, Bavarian cream and a homemade cheesecake. Only the first really blew us out of the water, but after the incredible meal we've just had, our standards were pretty high. Plus, we're not sweets people, so don't take my word on the desserts.
But as the menu changes daily, don't expect to find everything we've tried on your visit.
Overall, even though I looked forward to this meal for months, I can honestly say that it completely surpassed our expectations. My parents, who weren't as excited at the prospect of eating in the heart of one of Israel's dirtiest and loudest markets (though they like Levinsky market in Tel Aviv), could not believe this kind of food was being cooked by mere mortals in their own country. In short, it was incredible.
The only downside is that I didn't have my good camera. My apologies, dear reader.
I don't know how they do it, but Machenyuda found the formula for a truly perfect meal.
Liked this restaurant review? There's a few more coming from both Israel and Germany, on Fridays in upcoming weeks! You can also see 5 of my favourite Israeli street food recommendations from last week. For more foodie goodness, you should follow me on Facebook, Instagram, Pinterest, Bloglovin', or Twitter, subscribe to my mailing list, or contact me about advertising and becoming a sponsor.
If you make one of my recipes, don't forget to tag it #immigrantstable @immigrantstable!
Tried and loved this recipe? Please leave a 5-star review below! Your reviews mean a lot to me, so if you've got any questions, please let me know in a comment.