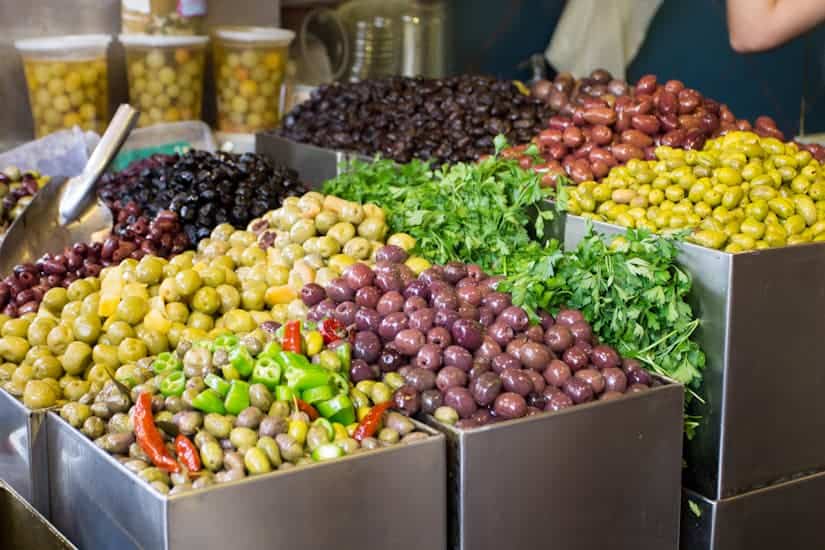 Join for a culinary tour of one of Israel's lesser known, but no less impressive foodie destinations: Tel Aviv's Levinsky market.
To see more of my foodie travel guides to Israel, check out these few great guides. To see all of my travel foodie guides, go here.
There is a certain magic that comes from watching an artist work their craft. As a master cobbler slowly nails a sole to a boot, or a jeweler peers at a priceless gem through a magnifying glass, I find myself holding my breath, anxiously anticipating their next move. And as they finish their last stroke, looking over their handiwork and allowing a small smile to dance at the edges of their mouth - it is then that you know you are in the presence of true magic.
I felt that magic as I walked through the maze of streets of the Levinsky food market in Tel Aviv, watching each specialized vendor demonstrate their craft quietly, without an ounce of boastfulness or vanity.
And when I tasted their food, that feeling of magic at work turned into true conviction.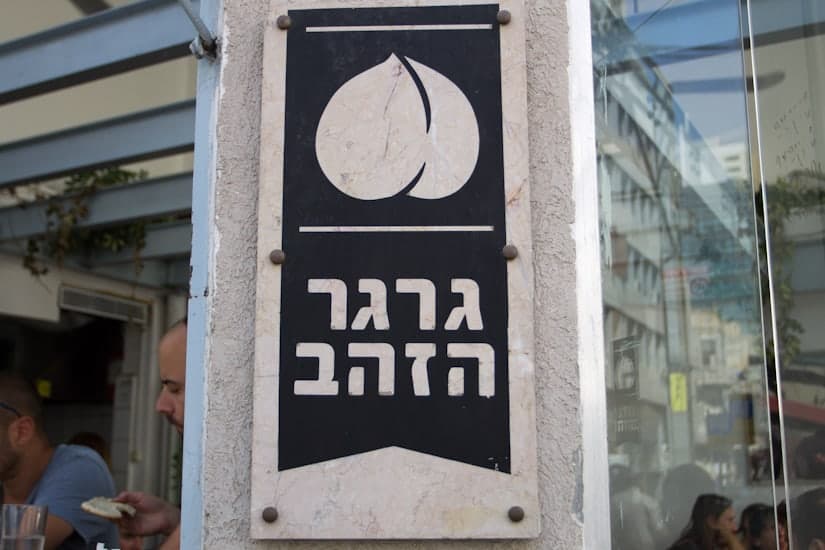 The lesser known maze of streets that makes up the Levinsky food market may be a far cry from what you imagine a typical souk to look like. Instead of striped canopies and rickety stalls overladen with fresh produce, the Levinsky food market looks more like a series of dusty streets with tiny little shops, some of them open onto the streets, others closed like an oyster protectively guarding its pearl. But its charm, history and diversity more than make up for its unorthodox structure. I had the pleasure of taking an abridged Levinsky market food tour with Delicious Israel back in October, and today, I'd like to share with you the highlights of this foodie gem.
We began our Levinsky market food tour with a visit to a fish deli. Offering nothing but pickled and preserved fish, this place was a Russian girl's wet dream: lox and pickled herring as far as the eye can see, whether in cold slab form or in salad. As it was the first stop on our trip, we may have gorged ourselves just a tad too much... And then went on to smell like pickled fish for the rest of the day.
After our stop in fish world, we went straight to the Golden Bean, rumoured to be one of the best hummus places in Tel Aviv. Though this place is infamous for its line-ups, we were able to avoid the wait by arriving at a pre-set table, already laid out with all their offerings. From hummus with foul to hummus mesabacha, this place had everything - and what's more, we even got a tutorial on how to properly 'wipe' hummus (apparently, true connoisseurs even use raw onion pieces - I have to say it was surprisingly delicious!). This is definitely a place I'll be going back to, especially for their hummus mesabacha.
Next up was an old-fashioned bourekas factory, where those of us who could eat gluten enjoyed little pockets of dough stuffed with cheese, potatoes and eggplant. As I couldn't taste any of it, I'll move right on up to my favourite next stop: Cafe Levinsky 41.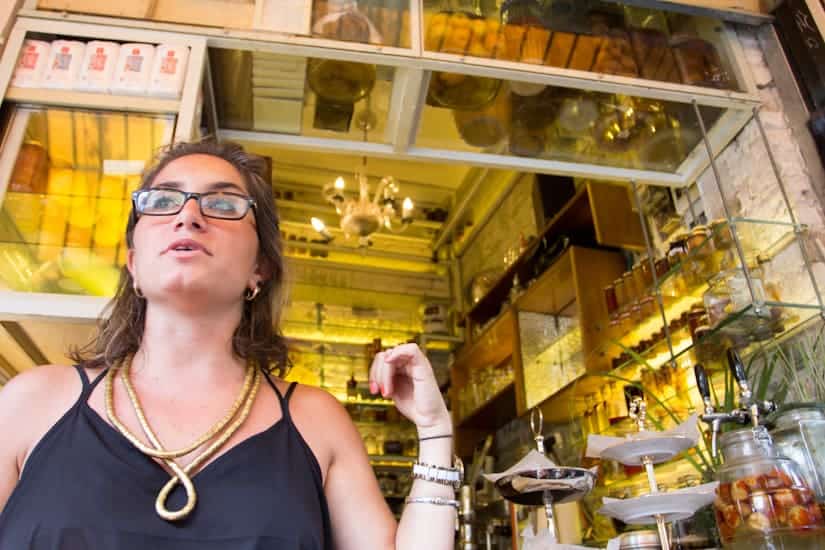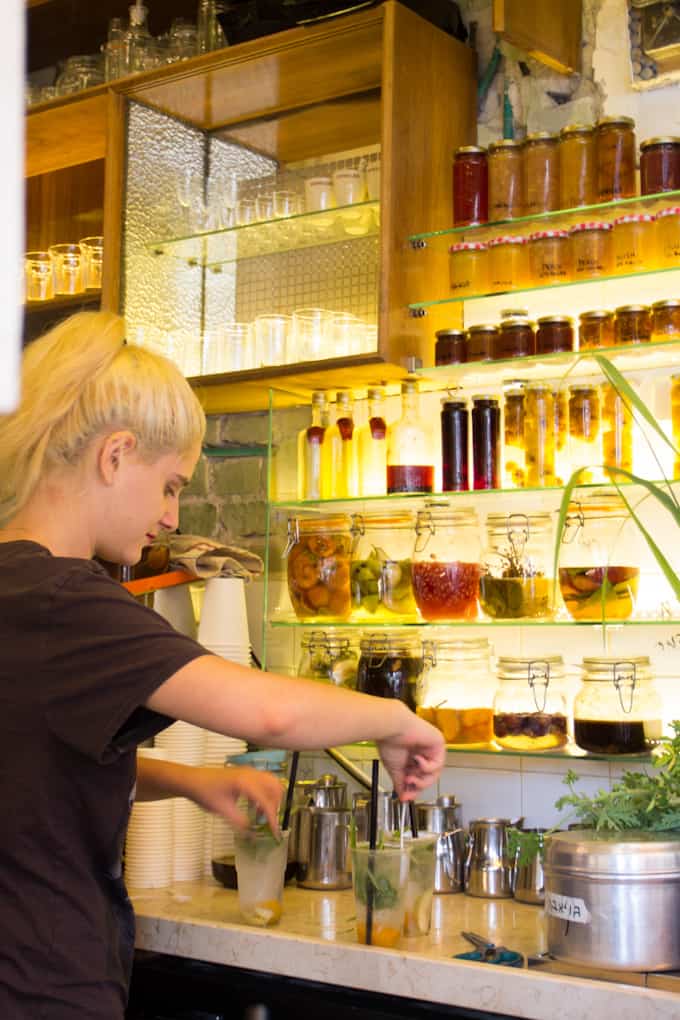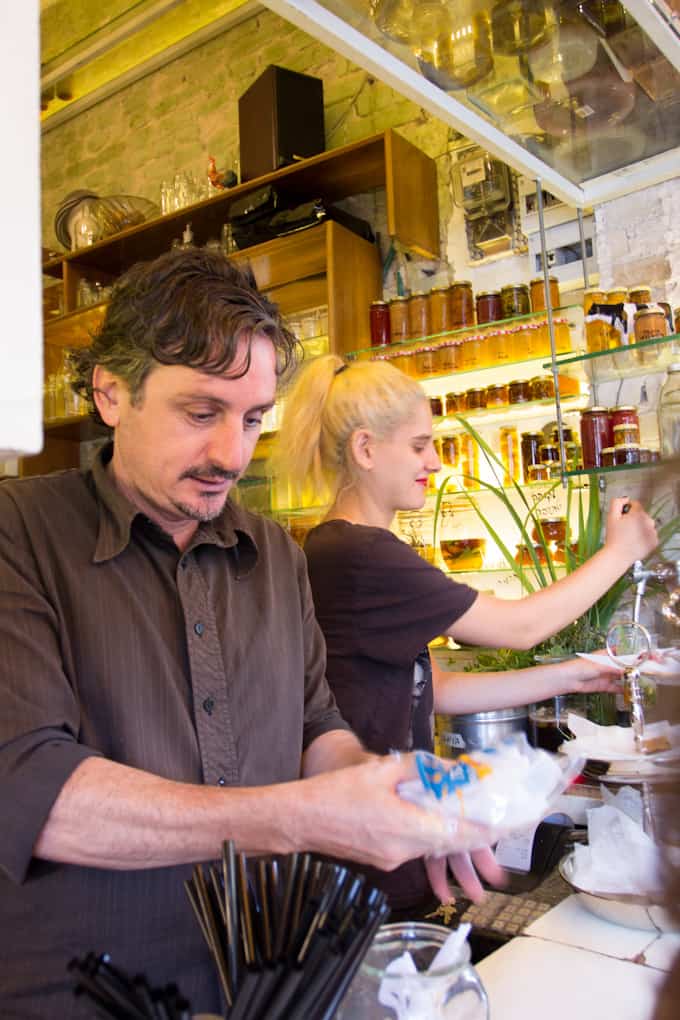 People come to Cafe Levinsky 41 from all over the city, desperate for the strange elixirs and concoctions produced here. Arranged like an old-school apothecary, this little stall looked like it was taken straight out of a steampunk novel and plunked onto a dusty Tel Aviv side street. Rumour has it there are more than 100 different distilled juice extracts on offer here, ranging from typical tropical flavours like guava to traditional Middle Eastern spices like cardamom. We had persimmon water with cardamom, guava and lemongrass, and though the combination wasn't to everyone's liking, I could have drank 10 of these glasses. In all truth, even if the juices tasted like crap, I'd still want to watch them making it with that cool seltzer machine.
With our thirsts quenched, it was straight onto another floral Middle Eastern concoction: the malabi. Tasting like a strange combination of rose-scented hand soap and pudding, malabi is a traditional Arab dessert that has as many lovers as haters in Israel. And though I am not a fan of its toiletry-like flavour, after just one look at the ancient man standing behind the counter, slowly ladling each malabi portion into its cup, I knew that I couldn't refuse a taste.
Across the street from the malabi vendor was Yom Tov Deli, one of Tel Aviv's most fabled delicatessen shops. With a wide array of pickled and preserved fruits and vegetables, Yom Tov has been owned by the same family since its opening in 1947... And when you taste their home-cured olives or magical stuffed hibiscus flowers, you'll know that these guys are not going anywhere for a long, long time.
The next stop on our Levinsky market food tour was an unassuming storefront named Albert's confectionery. As we entered this store's gloomy exterior, the dust of hundreds of years seemed to settle on our shoulders: from everywhere around us ancient, discoloured photos and hand-written signs looked down on us. A grumpy-looking old man stood in the shadows behind our tour guide, silently prepping our food.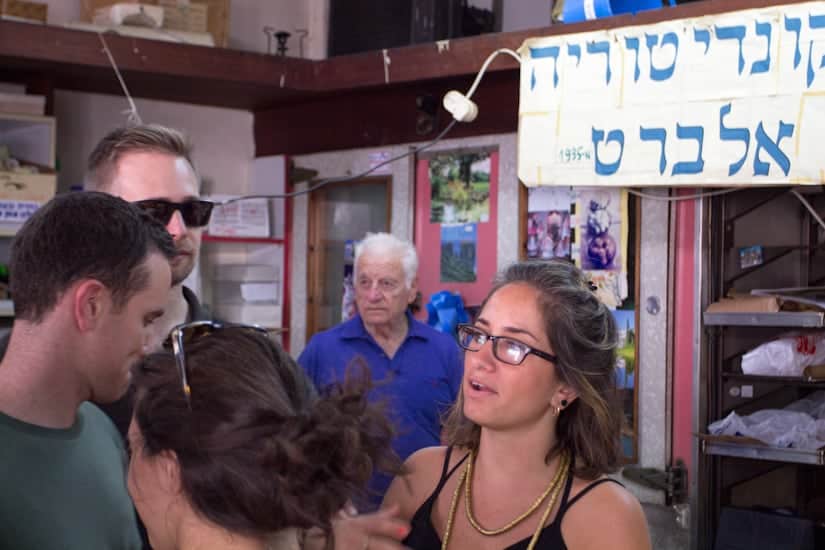 As we stood there ill at ease, shuffling from one foot to the other, we learned that Albert was the name of the shop's original owner, who founded it a few years before the State of Israel was actually formed... And after a few additional minutes of looking at Albert's photo, and then slowly looking back at the shopkeeper working in the background, we realized that he was none other than the grandson of the original Albert.
Today, Albert's confectionery offers the exact same selection as it did when it opened in 1935: handmade marzipan and meringues so soft you'd think you were biting into a cloud. Reluctant to try them at first, after just one bite of Albert's meringues we all instinctively closed our eyes, letting the heavenly taste settle in our mouths... And once the last speck of sugar dissipated, we all silently stood in line, forking over the 45 shekels - paid in cash only - that would give us a right to take 9 of those meringues home.
As we made our way out of Albert's confectionery, dazed and confused from this magical experience, I took another look at the unassuming storefront's door... And saw the countless stickers that indicated it has been a Mapa culinary choice for the last 10+ years, the Israeli equivalent of being awarded five stars by the Zagat guide for over a decade. Clearly, we were not the first ones to be wowed by Albert's confectionery.
To wrap up a gloriously gluttonous day on the streets of the Levinsky market, we ended our meal with a taste of Tel Aviv's legendary halwa. But as we were all stuffed beyond recollection, I can barely report on the taste of this sesame-seed delicacy, except to say it melted on your tongue, just like real halwa should.
All in all, our Levinsky market food tour took us from one specialized vendor to the next. With each store clearly holding within it a lifetime of tradition, it was evident that the makers offering their delicacies at Levinsky market take their job very seriously.
So the best you can do is go offer your patronage to their shops.
To book yourself a spot on the Levinsky market food tour, check out the Delicious Israel website. I received no compensation or incentive for writing this piece; I just really loved this tour, and the worlds it opened up for me. As always, all opinions stated here are my own.
Tried and loved this recipe? Please leave a 5-star review below! Your reviews mean a lot to me, so if you've got any questions, please let me know in a comment.