Fall, with its crown of fiery foliage, ripe blood-red apples and sweater-perfect weather, is the best time to explore the Quebec cider route. Stretching from the north to the south, cidreries and wineries dot the landscape as far as the eye can see - and a day's drive can open you up to a world of flavours, en francais.
The first time I met the man who would become my husband, he took out his phone, showing me the locations of Quebec's cider route and top cider breweries, and said, "Maybe this fall, when it's apple picking season, I can take out a car and we'll go." I looked at him and thought, "well, maybe this one could work."
It only took us a year, three seasons and a joint house purchase to actually get there, but it's the thought that counts? Yet now that we have done the Quebec cider route, in two different trips, I'm here to report to you on what I think are Quebec's top cider breweries (or "cidreries," as they're known here). So now that it's fall and the perfect season to visit, pour yourself a tall glass of chilled cider, sit back and start Google mapping your next vacation.
Located south of Montreal and running largely within a 20-minute drive from the U.S. border, Le Circuit de Paysan (the Farmer's Circuit) is a large region encapsulating some stunning hikes and especially fertile lands. A number of top-tier Quebec cidreries are nestled here, alongside farms, wineries and apple-picking orchards. A trip to this region can take half a day, and include within it some top Quebec cider route landmarks, including the birthplace of ice cider.
617 Route 202 est, Hemmingford, QC J0L 1H0
Though it is not the first cidrerie to open in the region, the inventor of ice cider is perhaps the gem in the crown of this beautiful route. Rebranded today as Domaine Neige, this beautiful cider house and adjacent family home was for years known as the La Face Cachée de la Pomme (the Hidden Face of the Apple). Now famous for its slender bottles and snowflake logo, the Neige ice cider has won many awards the world over. Yet even more inspiring than the range of ice ciders on offer is the house's commitment to sustainability, artisanship and community involvement - Domaine Neige's winter harvest is a celebration for nearby residents, who are invited to take part in the picking, but also the feasting, drinking and overall merriment. Our favourite sips here was the rose wine and the house amber. We were also impressed that Domaine Neige offers many unique products that could only be purchased on location.
376 Chemin de Covey Hill, Hemmingford, QC J0L 1H0
Cidrerie du Minot's roots date back to the 19th century, with a history of cider making that starts in Bordeaux, France. Visitors to the property can even see the original 19th-century apple press that the current owner's great-great-great-grandmother received as a wedding gift. But you wouldn't guess any of it by tasting the Cidrerie du Minot's most well-known product, Mystique cider, the most popular sparkling cider sold in the province, and a markedly modern, fun drink that is perfect for the hottest days of the year. If you're familiar with Mystique, however, it is no reason to skip the rest of the delicious discoveries on offer here - and especially our favourite Cremant de Glace, a 58-time award winning ice cider that is produced in winter through the cryoextraction process, which consists of freezing apple must in barrels outside and then extracting sweet, flavourful and concentrated syrup that is then fermented into the finished product.
389 Route 202, Hemmingford
Closed on the initial day of our visit, Vergers Ecologiques Philion nonetheless deserves a worthy mention on our list. This organic farm is hyper-focused on one thing, and one thing only: great apples. Visitors can take a leisurely pick through a few apple and pear varieties, enjoying a true day on the farm. Philion then turn their ecological fruit into two ice ciders, one apple, one pear, as well as a host of apple goodies, including homemade apple pies and jelly, offered for sale during harvest time alongside maple and honey products from right here in the region.
Where to eat:
Local goat cheese makers Fromagerie Ruban Bleu or the Swiss-inspired Fromagerie Fritz Kaiser both provide excellent options for sampling fine local cheeses, along with a slew of other delicious products like scrumptious spreads and breads.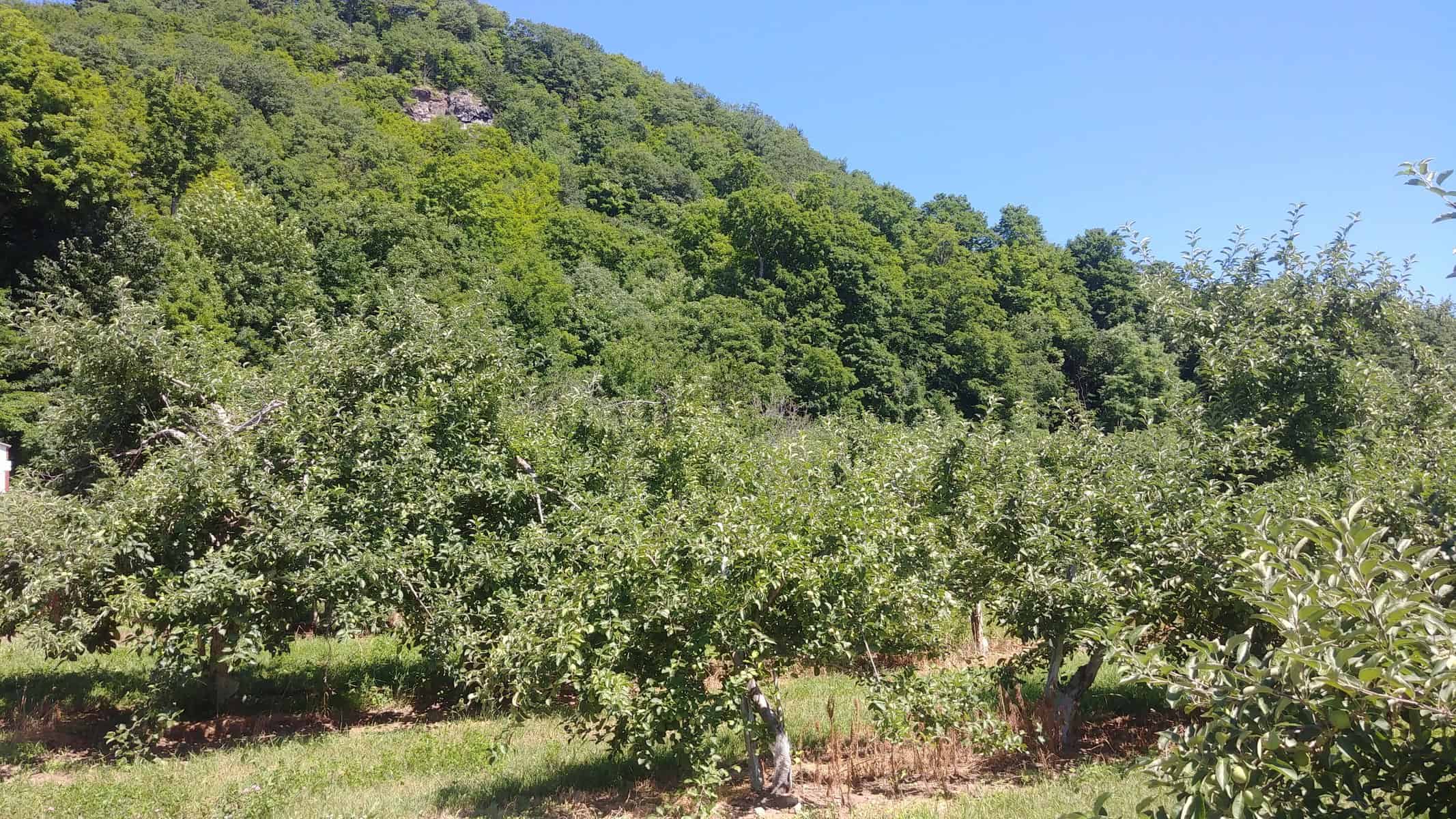 The Montérégie cider route
The ultimate, northern Quebec cider route is home to 12 cidreries, some of them world-famous. Local farms, apiaries and cheesemongers dot the landscape between them, offering a world of tastes to complete the perfect culinary journey through Quebec's original cider region.
1130 Rang, La Petite-Caroline, Rougemont, Quebec J0L 1M0
Cidrerie Michel Jodoin was one of the original cidreries to receive a public license in Quebec in 1988 - yet its origins date back much further, with illegal cider brewed on the premises since the early 1900s. Today, Cidrerie Michel Jodoin is now a (legal) powerhouse with an incredible range of products. From its attention-grabbing, graphic aluminum single-serve bottles to its own impressive line of spirits (mistelle, vermouth and brandy are only some of the liqueurs on offer), Michel Jodoin is a household name in Quebec - and now, the world over, thanks to its unique naturally rose-coloured ciders, made from the red-fleshed Geneva apple. A fun fact is that the cidrerie is home to a stunning walking route you can take even if you're not interested in cider - or if you need to walk off a few too many tastings.
1105 La Petite-Caroline, Rougemont, QC J0L 1M0
With its picture-perfect background of rolling hills, the family-owned Coteau Rougemont would make a beautiful setting for a wedding. It's a good thing its wine and cider selection is good enough to accompany this lady's catering! Though we enjoyed the entire selection of still, sparkling and ice ciders on offer, our favourites were the pear ciders. Come here for lunch, grab a cheese and charcuterie plate and a bottle of your favourite sparkling, and enjoy an al-fresco meal from one of the picnic tables available on the property, overlooking nearby orchards and grapevines.
100 Rang de la Montagne, Rougemont, QC J0L 1M0
Driving past an entrance lined with apple trees and grape vines, the red rooftops of Domaine de Lavoie paint a picturesque scene of bucolic idyll. Though their ciders are great, the standouts for us were the Effehl, the fortified Trappeur Cider (an aperitif to be had by a crackling fire if ever there was), and the fortified cider. And with a great range of wines and even beers to choose from to boot, Domaine de Lavoie really tries to have something for everyone visiting.
Where to eat:
Au Gre de Champs is a little piece of paradise at the foot of a large farm range. With a range of fine, locally produced cheeses, available for snacking in the form of a formidable cheese board that will leave no one unsatisfied, this is the perfect ending to a beautiful tour of Quebec's cider route. After you've eaten, we recommend following the short path to the forest in order to enjoy the scenery - and maybe check out the latest litter of piglets.