Celebrate freedom and enjoy delicious Passover-friendly recipes with your loved ones around the dinner table. This slideshow features 15 amazing Passover recipes that are sure to impress your guests and satisfy your taste buds. From classic matzo ball soup to creative sides and sweet treats, there's something for everyone to enjoy. So, let's dive in and discover some mouthwatering dishes that will make this Passover truly special.
Passover Matzo Crack AKA Chocolate Matzo Toffee
Passover Matzo Crack, aka Matzo Toffee, Matzo Bark or Matzo Brittle, will become your favourite holiday snack. Rich in chocolate and homemade toffee flavors and topped with nuts, this is the easiest and most addictive Passover treat!
Get the Recipe: Passover Matzo Crack aka Chocolate Matzo Toffee
Ottolenghi's Chicken Marbella With Dates And Olives For Passover
Ottolenghi's chicken marbella is a one-pan tray-bake of chicken with Medjool dates, sweet potatoes, and olives in a sweet and zesty sauce.
Get the Recipe: Chicken Marbella Ottolenghi with Dates and Olives for Passover
Homemade Gefilte Fish Recipe With Beet Chrein For Passover
Make your own gefilte fish balls for Passover with this homemade gefilte fish recipe. Grind carp, whitefish and matzo meal, shape it into light and fluffy patties, and poach and simmer them in a homemade fish broth. This remarkable appetizer will add a bit of nostalgia to any Seder meal, and is so much better than store-bought gefilte fish!
Get the Recipe: Homemade Gefilte Fish Recipe with Beet Chrein for Passover
Last-Minute Homemade Matzo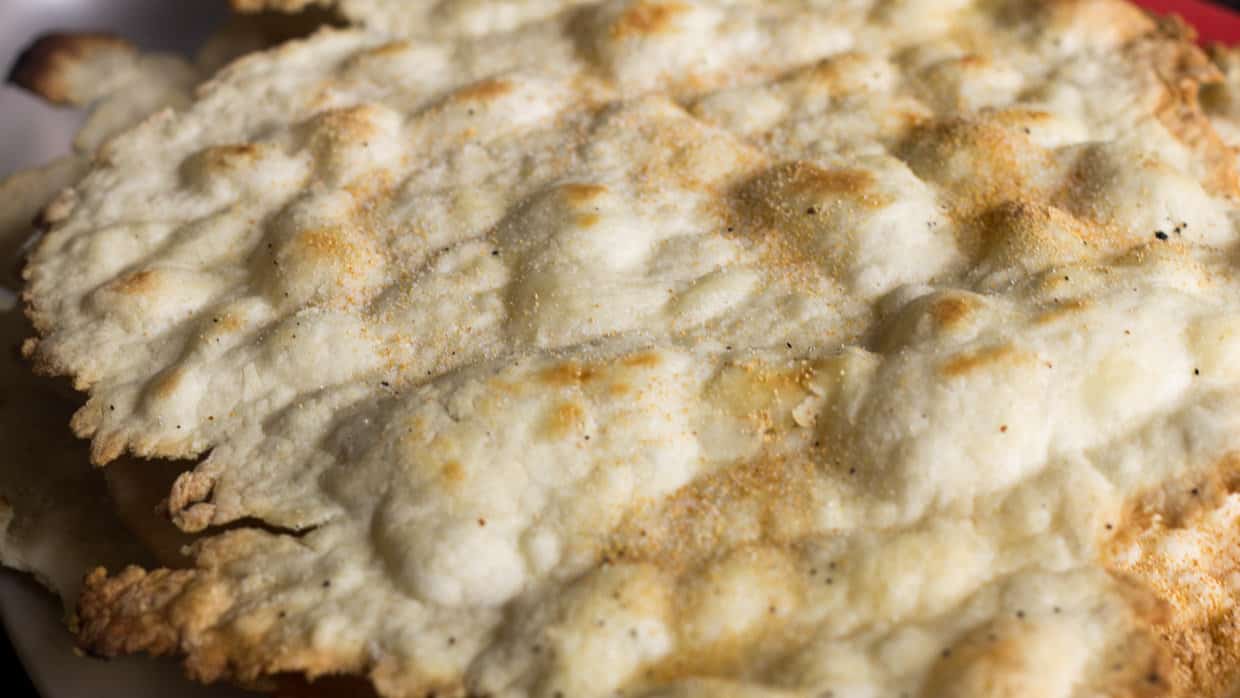 Homemade matzo is crispy and delicious, golden and perfectly salted with the best flaky sea salt, and none of the dryness of store-bought.
Get the Recipe: Last-Minute Homemade Matzo
Argentinian Dairy-Free And Gluten-Free Alfajores Recipe
A traditional Latin American sandwich cookie that will melt in your mouth, this Passover gluten-free and dairy-free alfajores recipe will leave you wanting more. The delicious caramel-like Argentinian gluten-free alfajores are made with cornstarch and filled with creamy dulce de leche or Meyer lemon curd.
Get the Recipe: Argentinian Dairy-Free and Gluten-Free Alfajores Recipe
How To Make The Perfect Vegetarian Plov
The perfect vegetarian Russian plov is a glorious mound of perfectly cooked basmati rice, jeweled dried fruit and crunchy nuts.
Get the Recipe: How to Make the Perfect Vegetarian Plov
Soft And Chewy Coconut Macaroon Pyramids
These Passover chocolate coconut pyramids combine sweetened coconut and non-dairy coconut condensed milk and are a perfectly sweet, dairy-free ending to a beautiful Jewish holiday meal. If you love coconut, you're going to love this updated take on my family's traditional Russian Jewish recipe!
Get the Recipe: Soft and Chewy Coconut Macaroon Pyramids
Chocolate Hazelnut Bars
These chocolate hazelnut bars are sinfully chocolatey and crunchy, with a filling as luscious as a cheesecake. Raw, vegan, paleo, gluten-free & perfect for Passover.
Get the Recipe: Chocolate Hazelnut Bars
Whole Roasted Paprika Chicken And Veggies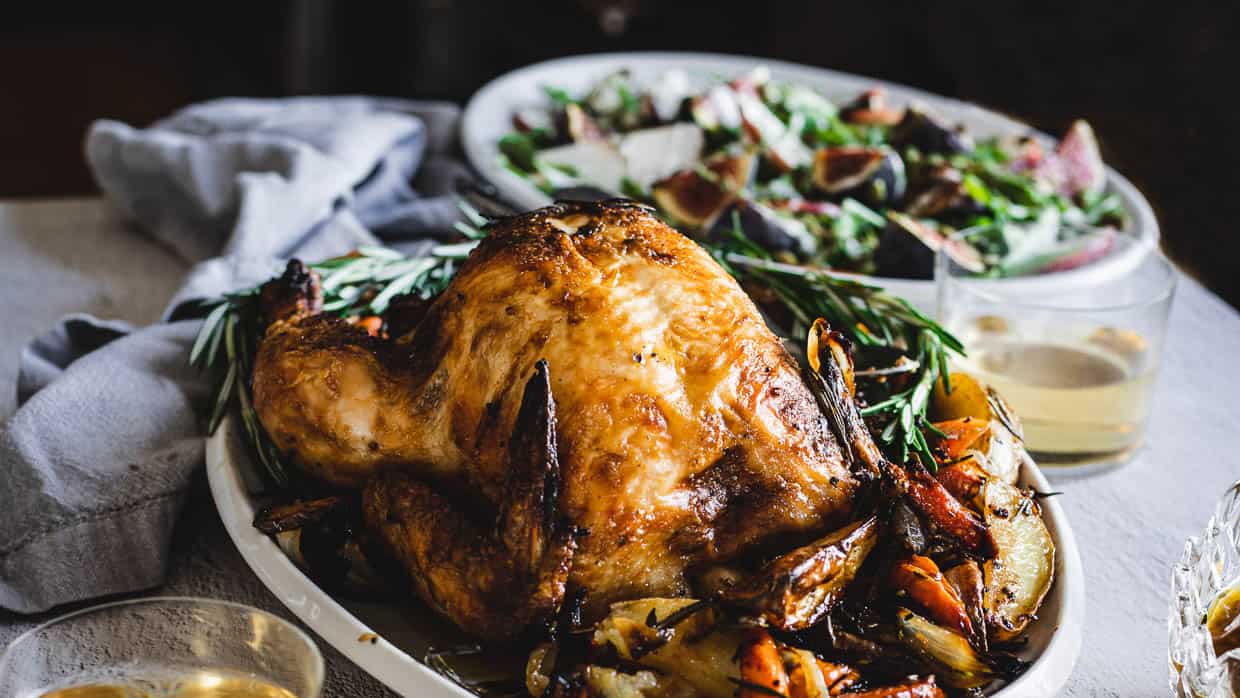 A whole roasted paprika chicken with a creamy mayonnaise chicken marinade, baked with root veggies and rosemary. Once you taste this mayonnaise marinated chicken recipe, you will never bake chicken any other way!
Get the Recipe: Whole Roasted Paprika Chicken and Veggies
Kneidlach: Homemade Matzo Ball Soup
The kneidlach is soft and pillowy, faintly eggy. The onions lend it a distinctly Jewish scent, reminiscent of chicken soup and soggy noodles. It is a surprising morsel, full of texture and flavour. Just remember that they're quite fatty, and don't overeat.
Get the Recipe: Kneidlach: Homemade Matzo Ball Soup
Classic Matzo Brei Recipe (Eggy Fried Matzah)
This matzo brei recipe is one I make every Passover! Savory scrambled eggs with soaked and fried matzah, matzo brei is truly one of life's most perfect foods: eggy, pillowy and full of delicious matzos, it's the best brunch with which to celebrate Passover.
Get the Recipe: Classic Matzo Brei Recipe (Eggy Fried Matzah)
Marinated Beet Salad With Dill
This salad brings together the holy trinity of Eastern-European Jewish cooking: beets, dill, and sweet onion, binding them with a perfect, simple vinegary marinade. The recipe can easily be scaled up to feed more for a big dinner.
Get the Recipe: Marinated Beet Salad with Dill
Gluten Free Pasta Primavera
Made with gluten-free noodles that are kosher for Passover, this creamy and colourful vegan pasta primavera is a vivid centerpiece for a springtime table. A celebration of all that is seasonal, fresh and delicious. We served it for Passover, but it would not be out of place during any springtime meal.
Get the Recipe: Gluten Free Vegan Pasta Primavera
Vegan Lemon Mango Cheesecake
This is a bright and zesty cake with a light filling and a nutty base.
Get the Recipe: vegan lemon mango cheesecake
Sweet Matzo Brei Recipe
Spice up your Passover breakfast with our easy and delicious Sweet Matzo Brei recipe! Whether you prefer your Matzo Brei crispy or soft, this recipe is a delightful twist on the classic Jewish dish. With just a few simple ingredients and easy-to-follow instructions, you'll have a sweet and satisfying breakfast in no time.
Get the Recipe: Sweet Matzo Brei
This article originally appeared on Food Drink Life.
Tried and loved this recipe? Please leave a 5-star review below! Your reviews mean a lot to me, so if you've got any questions, please let me know in a comment.