The thing I miss the most when I do my paleo months is not golden, crusty bread. It's not hot, comforting pasta, or even ooey, gooey pizza dripping with cheese and tomato sauce. While all those things have a warm place in my heart, what I dream of every day that I am on paleo are hearty, ancient, complex grains like quinoa (which is technically a seed, but ya know). And to me, these light, spring-like quinoa fritters are the perfect celebration of this humble-yet-mighty complex carbohydrate.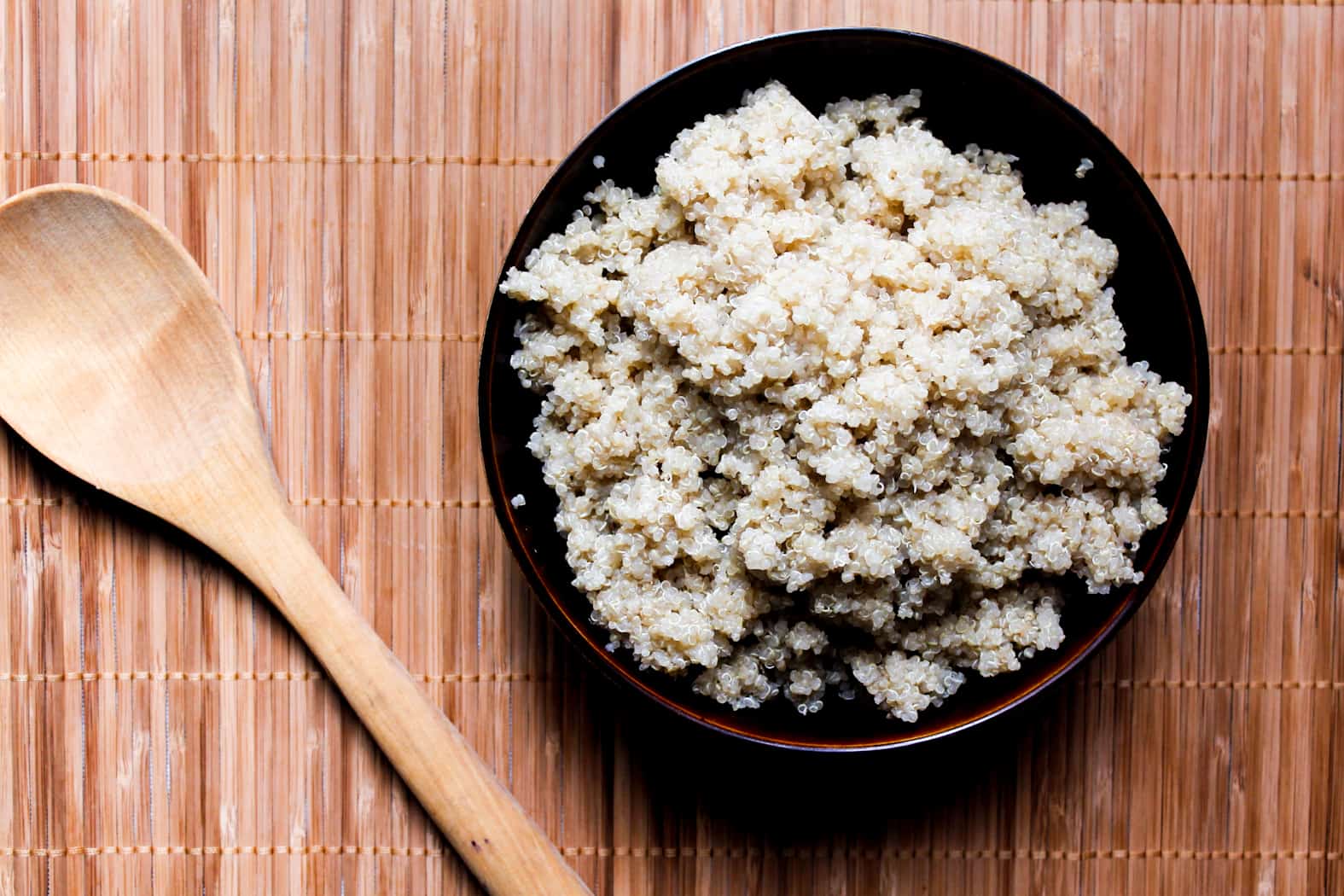 Now, I know that despite the health craze of recent years, I probably lost 50 per cent of you when you saw the word 'quinoa' in the title. This tiny seed has as many champions as haters. But I'm here to say: even if you hate quinoa, there's hope for you yet - and the key lies in these quinoa fritters.
It took me years to get to love quinoa. At first I was turned off by its maggot-like appearance (I just lost another 10 per cent of you). Then I didn't like the texture, chewy and gelatinous when cooked wrong. Then, when I learned how to cook it so it stays in its separate grains, I thought I didn't actually care for the taste.
And yet throughout it all, I kept trying. I subbed quinoa for rice in my Thai dishes. I made Mexican quinoa, drowning in so much tomato paste and jalapenos you could barely taste it. I put it in wraps and made grain salads with it. And somewhere along the way, I discovered I'm actually head over heels for it.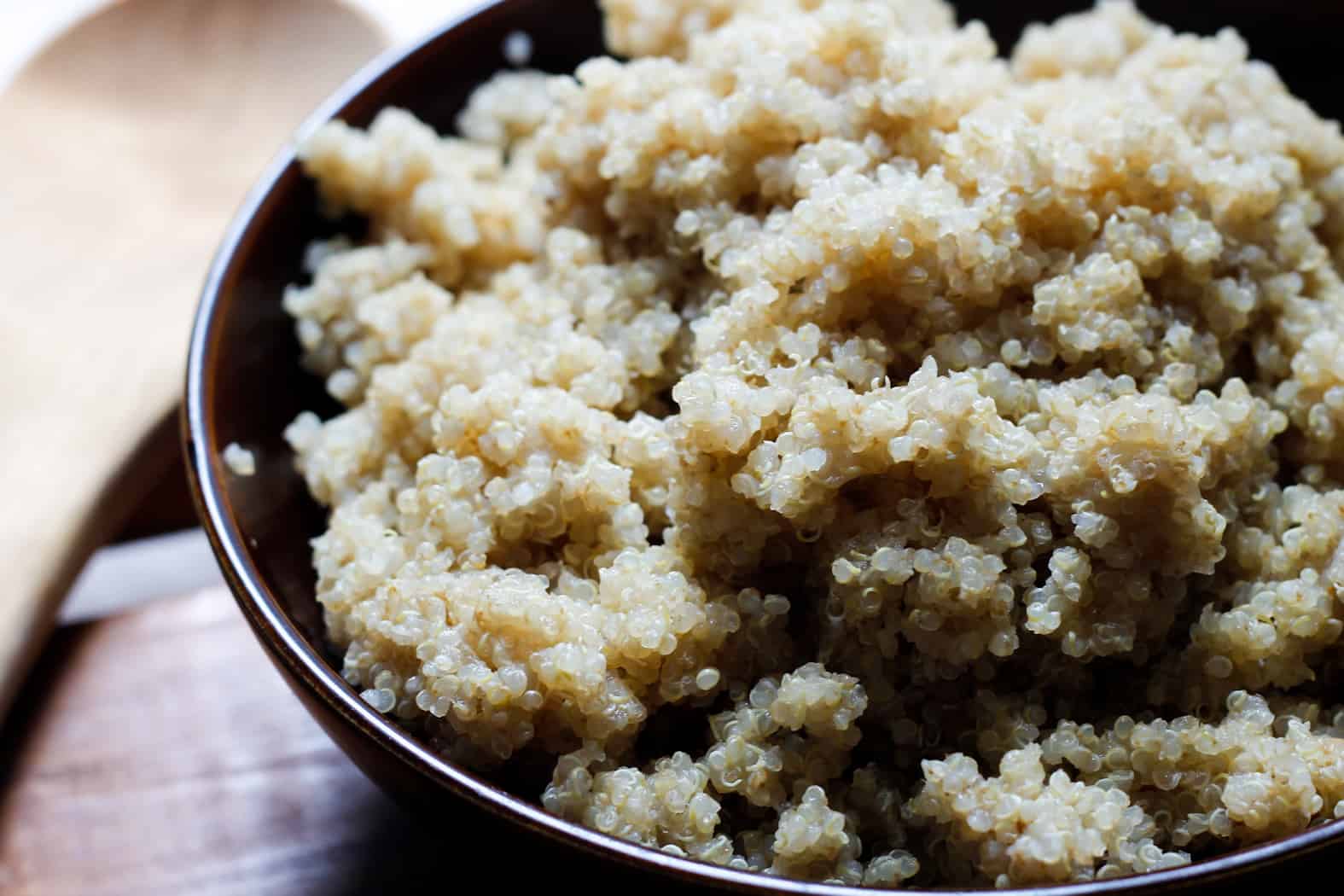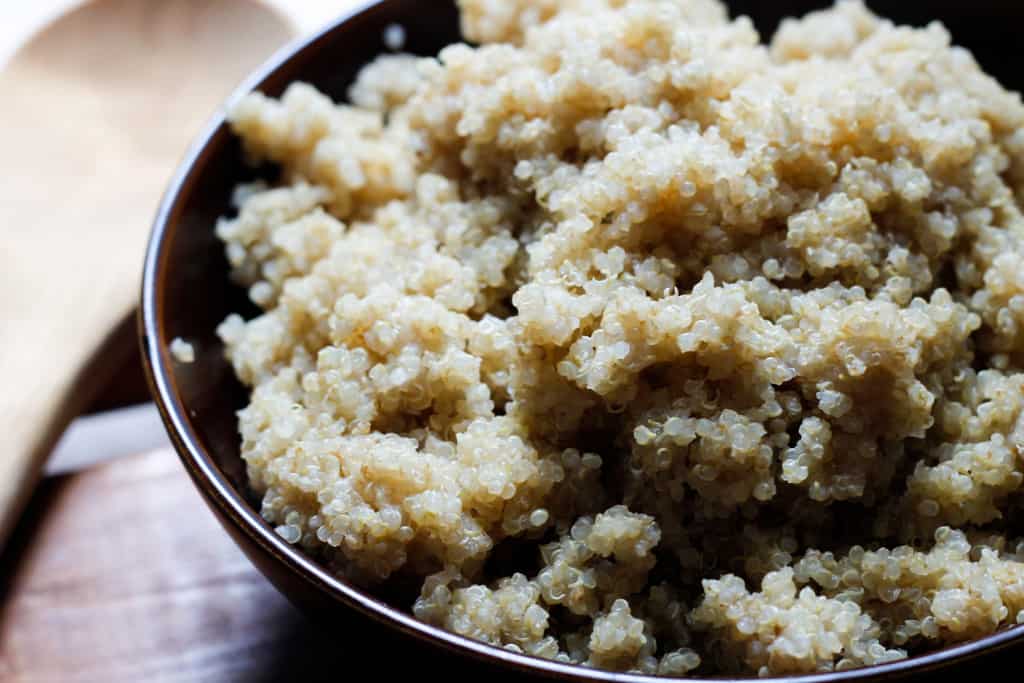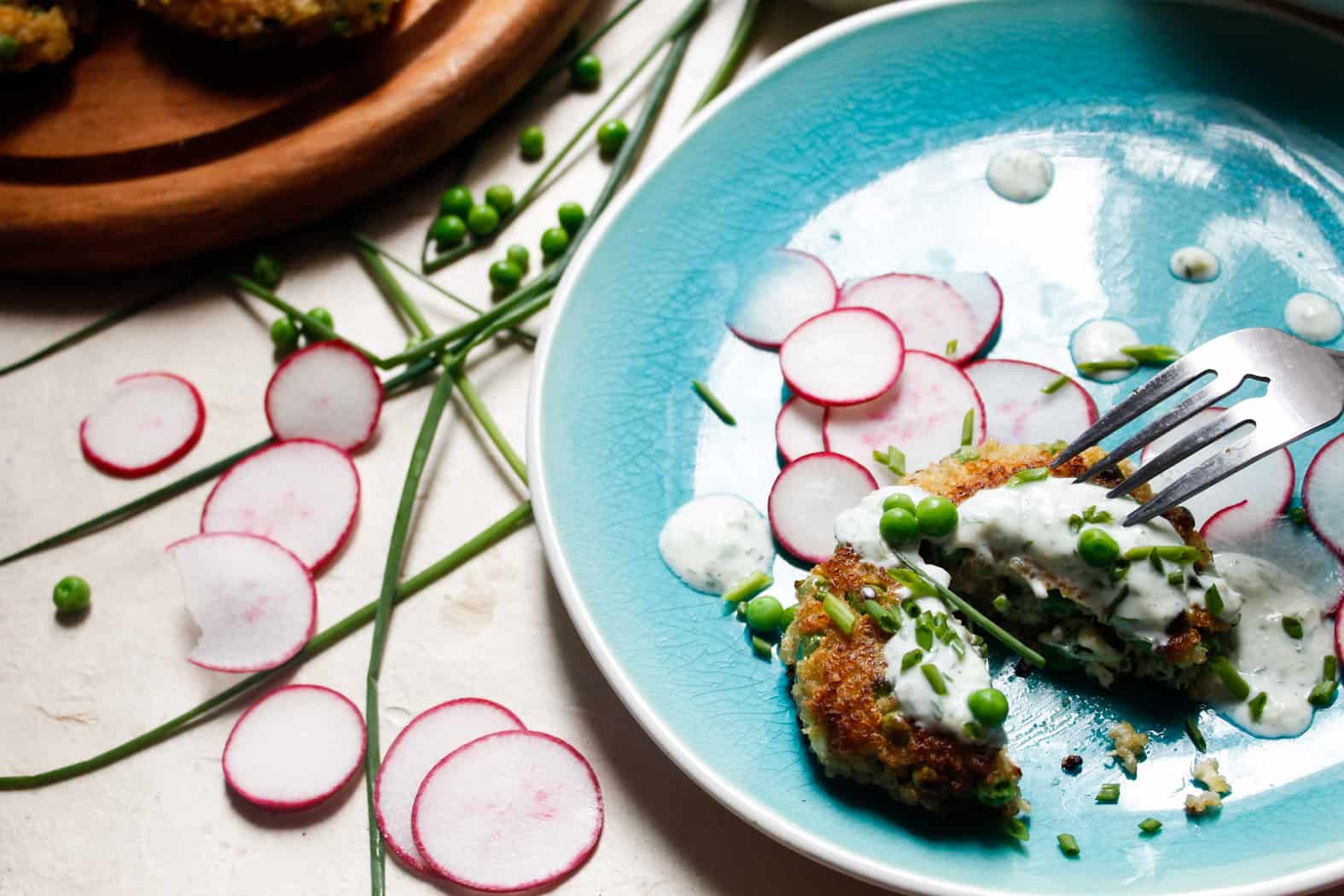 I look at G now, and see him going through the same struggle. I see him choke down spoonfuls of quinoa, stoically eating it because a) it's full of protein, and b) I made it for him.
And yet I know that tastes change. I keep telling myself that if he just keeps trying, one day, he too will be smitten with quinoa.
And dear reader, I think that the day that I made these quinoa fritters with peas, feta and cilantro-chive yogurt sauce just may have been that day.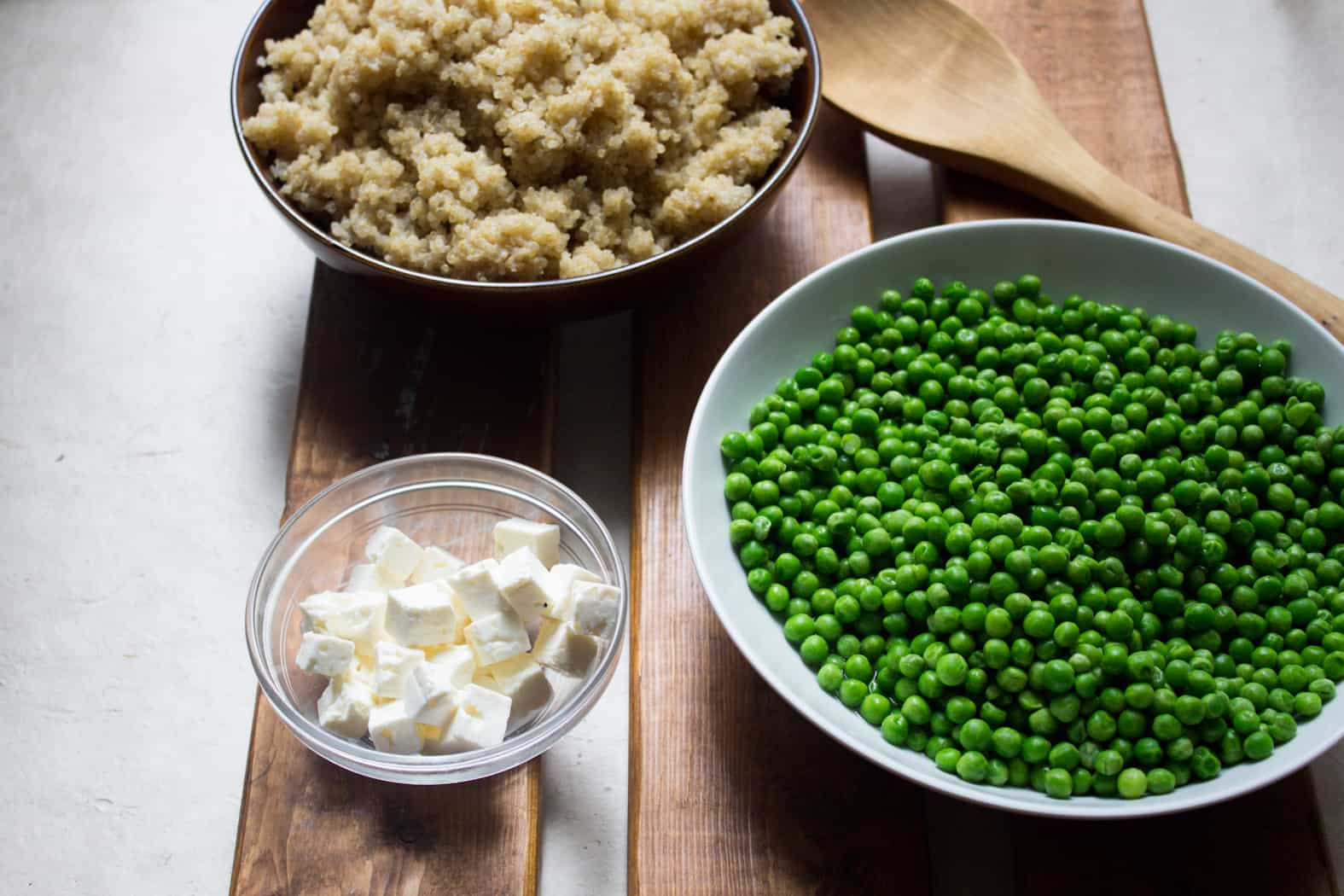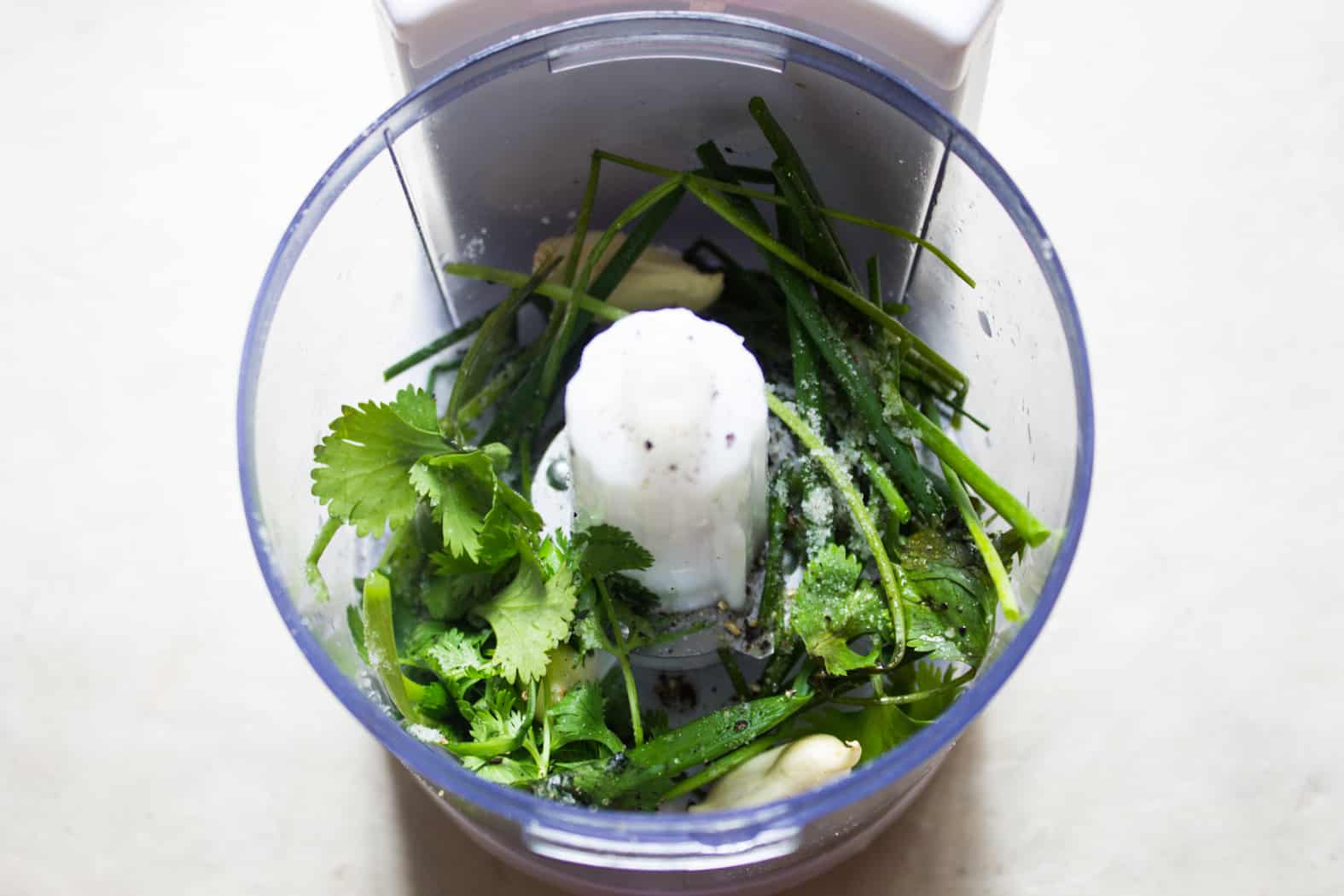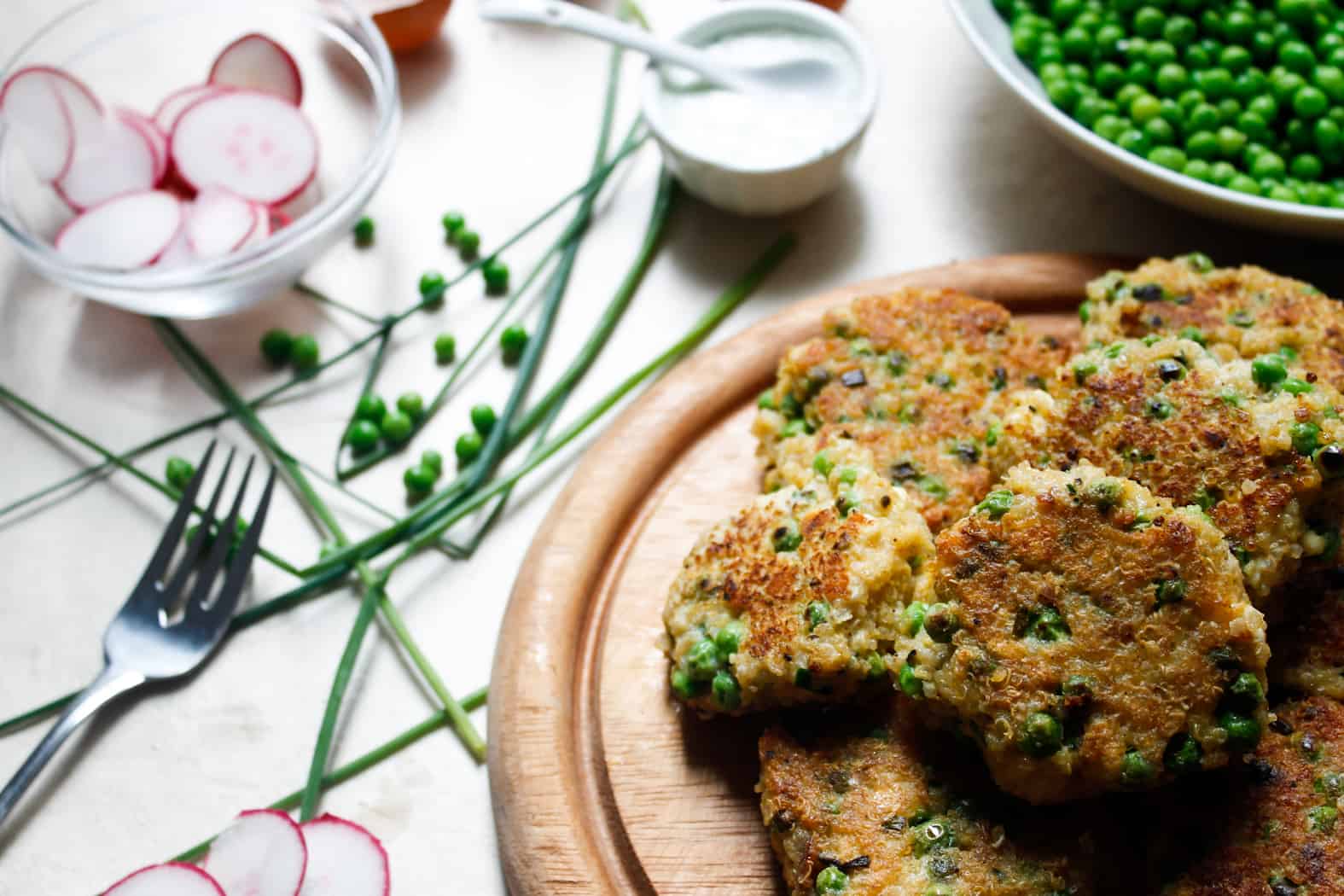 I have been thinking about them for weeks, on and off my paleo diet. I have been planning the flavour combination, the precise herb-to-yogurt ratio, the best way to cook them. I have been imagining how the chewy texture of the quinoa will play against the soft, spongy feta, the perky peas and the creamy dressing. I have been thinking of a way to take my favourite pea-and-yogurt pasta sauce and making it into something more wholesome, something packed with protein and taste. I have been fantasizing about the crispy, fried shell, in which will hide a perfectly balanced interior.
And with these quinoa fritters, I just may have found the golden nugget to get any avowed quinoa hater to love this grain (seed, dammit).
Trouble is, with the recipe for these quinoa fritters in my back pocket, I just may never be able to go paleo again.
Tried and loved this recipe? Please leave a 5-star review below! Your reviews mean a lot to me, so if you've got any questions, please let me know in a comment.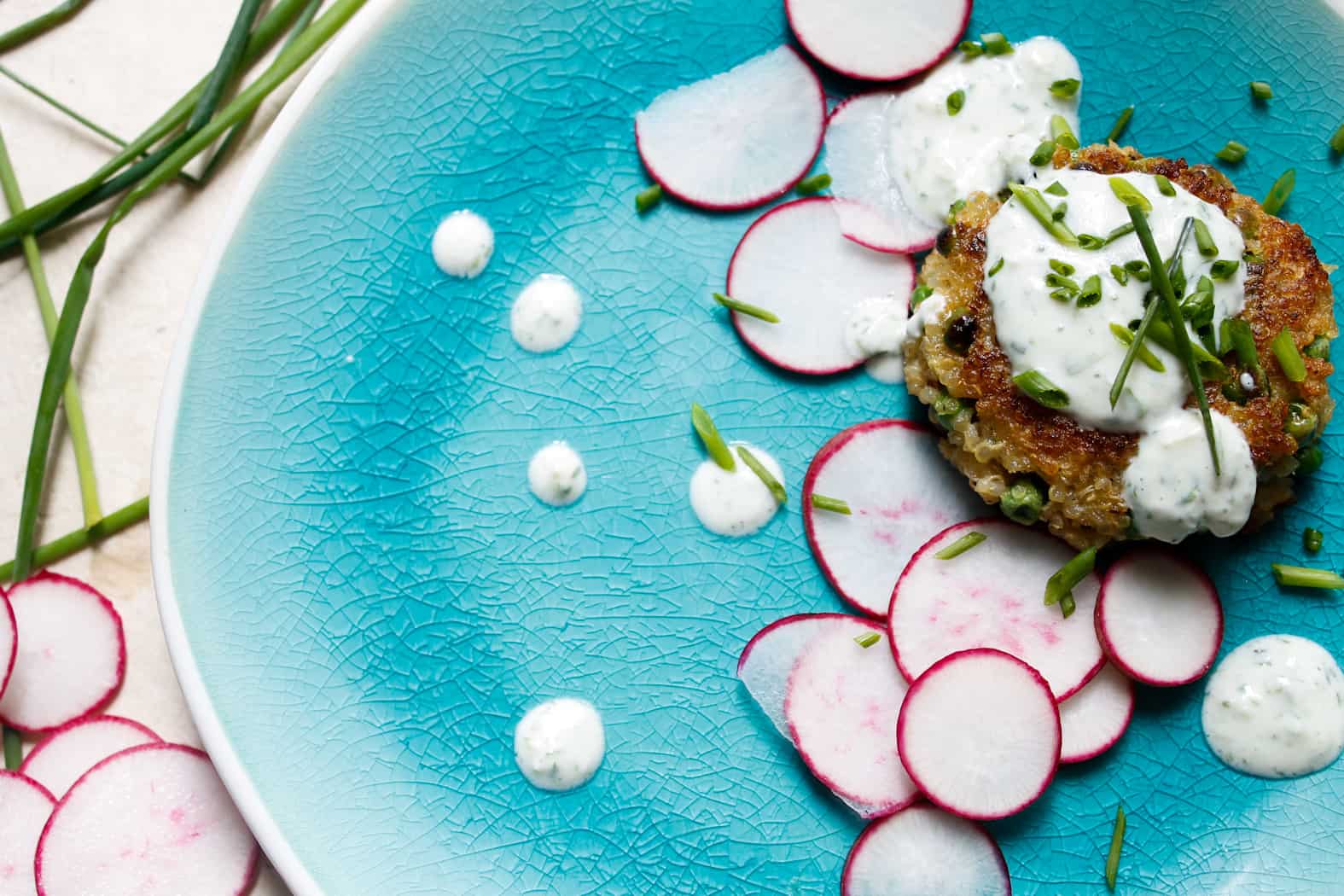 Recipe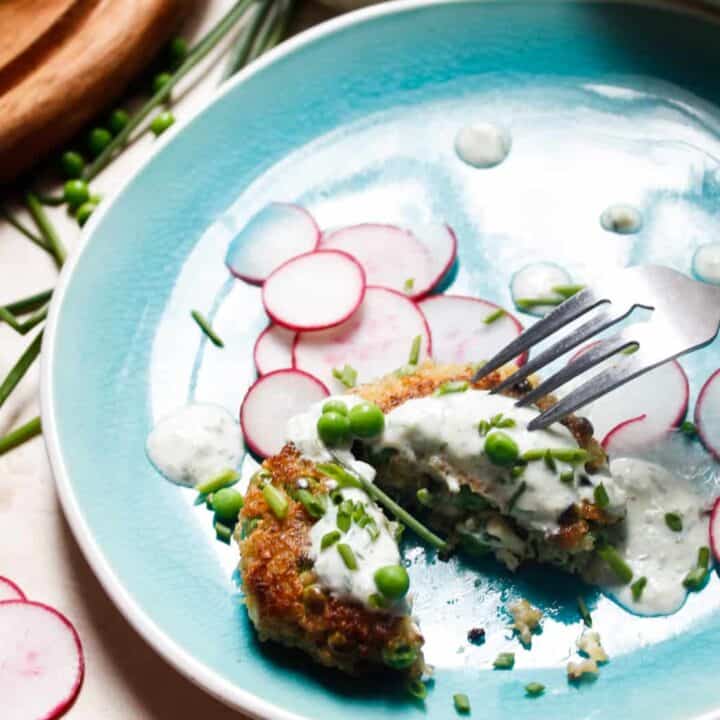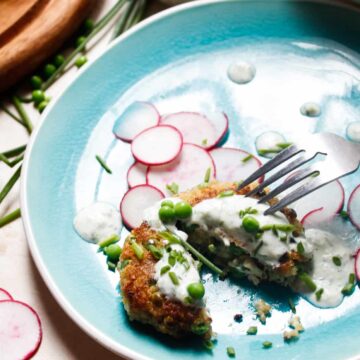 Quinoa fritters with spring peas, feta and cilantro-chive yogurt sauce
Quinoa fritters are everything that will make you love this powerful seed: crispy on the outside, studded with peas and feta, and served with a creamy, tangy yogurt sauce. You can make them with peas or edamame beans (for an even fresher taster), and serve them small, as appetizers, or big, as veggie burgers. They're delicious any which way.
Ingredients
2

c

of cooked quinoa

1

cup

peas OR shelled edamame beans

¼

c

feta

2

teaspoon

salt

black pepper

¼

сchopped chives

1

egg

1

egg yolk

1

TB

gf flour mix

For yogurt herb sauce:

⅛

cup

of fresh chives

⅛

Cup

fresh cilantro

3

garlic cloves

pinch

of salt

pepper
Instructions
Prepare quinoa: rinse ¾ of a cup of dry quinoa seed under several changes of water. Combine it with 1.5 cups of water in a large pot. Bring to a boil, lower heat and continue simmering for 15 minutes, covered. Turn off heat and let stand for 5 minutes, covered. Fluff with fork; if any water remains in the bottom, cook on low heat a little bit longer until water evaporates.

To prepare sauce, chop herbs finely in a food processor. Add garlic, yogurt, salt and pepper, and process until combined. Set aside.

Mix all of the fritter ingredients together. Preheat a pan to medium-high heat. Add 2 TBs grapeseed oil and fry fritters, one side down, for about 3 minutes. Once fritters have a golden-brown side, turn them over, lower heat a little to medium, and cook for an additional 3 minutes. Remove from pan.

Serve fritters immediately with sauce on the side, or use them as veggie burger patties with your favourite toppings.
Tried this recipe?
Comment + Rate Below!
Connect on Instagram!
Find us @immigrantstable