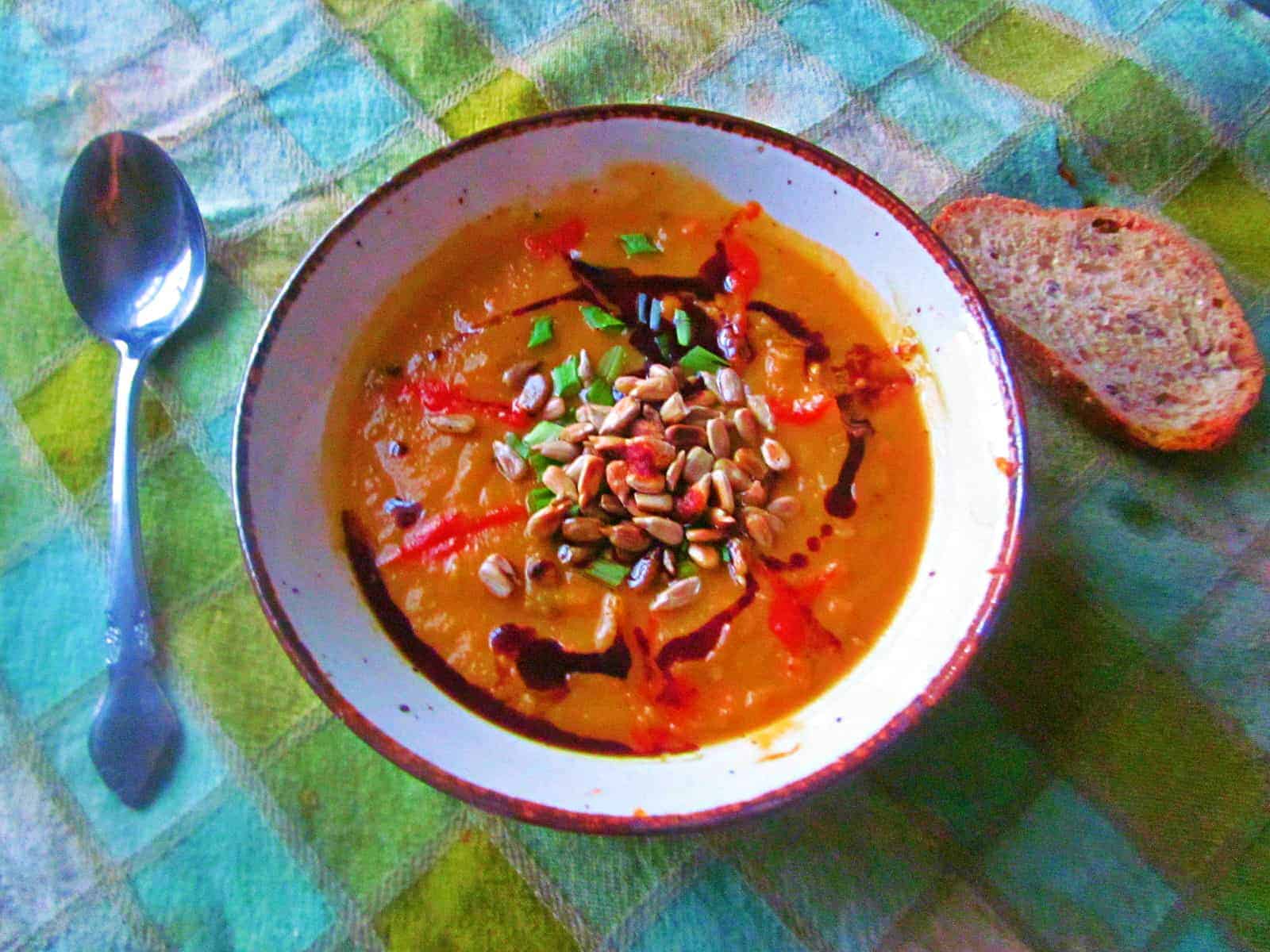 On top of being lactose-intolerant, my dad has a lengthy list of food sensitivities and dislikes. He won't touch beans, because they taste too earthy and give him gas. He doesn't like peas, partially because I believe my grandmother served them far too often when he was little. But the strangest of all is his dislike of most orange vegetables – pumpkin, squash, carrots and yams are usually left to wallow in their juices in the roasting pan, while he passes them up for the humble potato. My mom has adopted some of his food avoidances, though I don't know if it was done for the sake of camaraderie, or to avoid making – and washing – two dishes. No matter how often I would suggest we add some more beta-carotene to our diet, she shrugged and suggested adding boiled carrots to the mayonnaise-laden salad we serve on traditional holidays.


Then one summer, my parents went away to a luxurious hotel for a medical conference. My mother would phone home in the evenings, telling us of the boring presentations, the relaxing spa treatments, and the comfortable bed. So when I picked up the phone one afternoon and she told me, in an excited voice, of having eaten the best soup of her life, the last thing I expected was to hear it was an orange soup. Though the offending colour kept her from trying the soup for a few days, she finally caved on a cold evening… and was shocked to discover what she had been missing her whole adult life.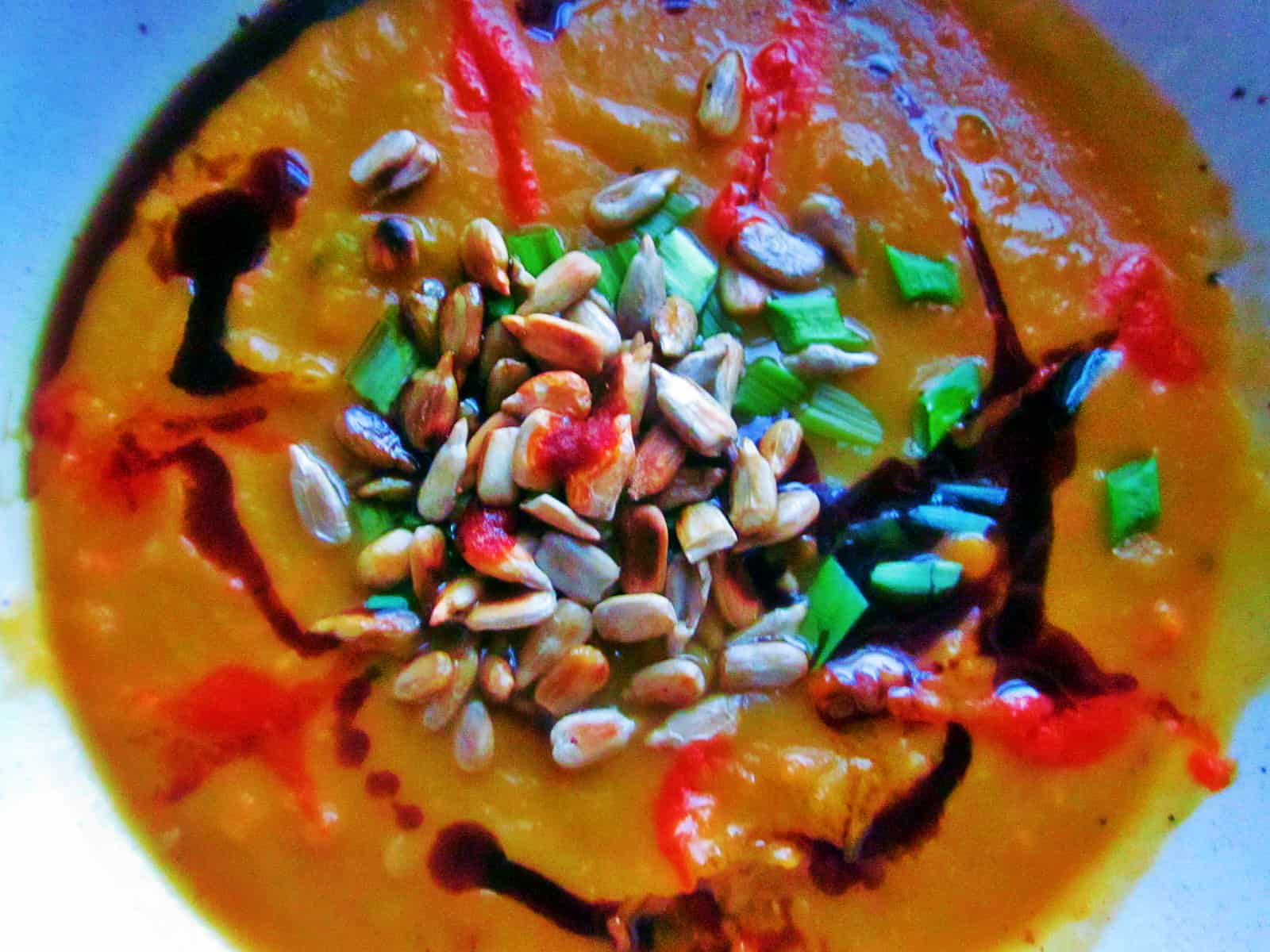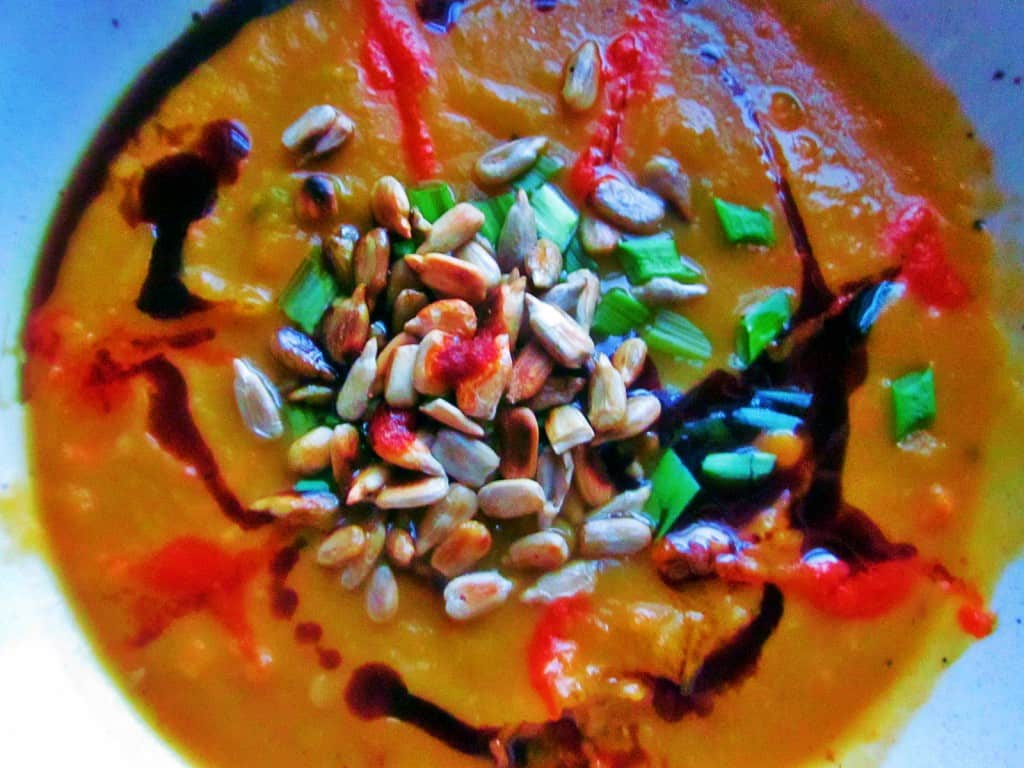 Since then, my mother and I always order yam or squash soup when we are away on holidays. We have even managed to sneak a few yams into my father's roasted vegetables portions. And on the rare occasions my dad leaves the house for a weekend, gone on a business trip or a vacation with childhood friends, my mom turns to me in a conspiratory manner, and with glinting eyes, asks, "Can we make that creamy orange soup?"
ED: This recipe has been featured on Healthy Aperture and Finding Vegan. Check out my galleries, or if you're in the market for more fresh and healthy recipe options, browse any of the other recipes featured on these fantastic sites.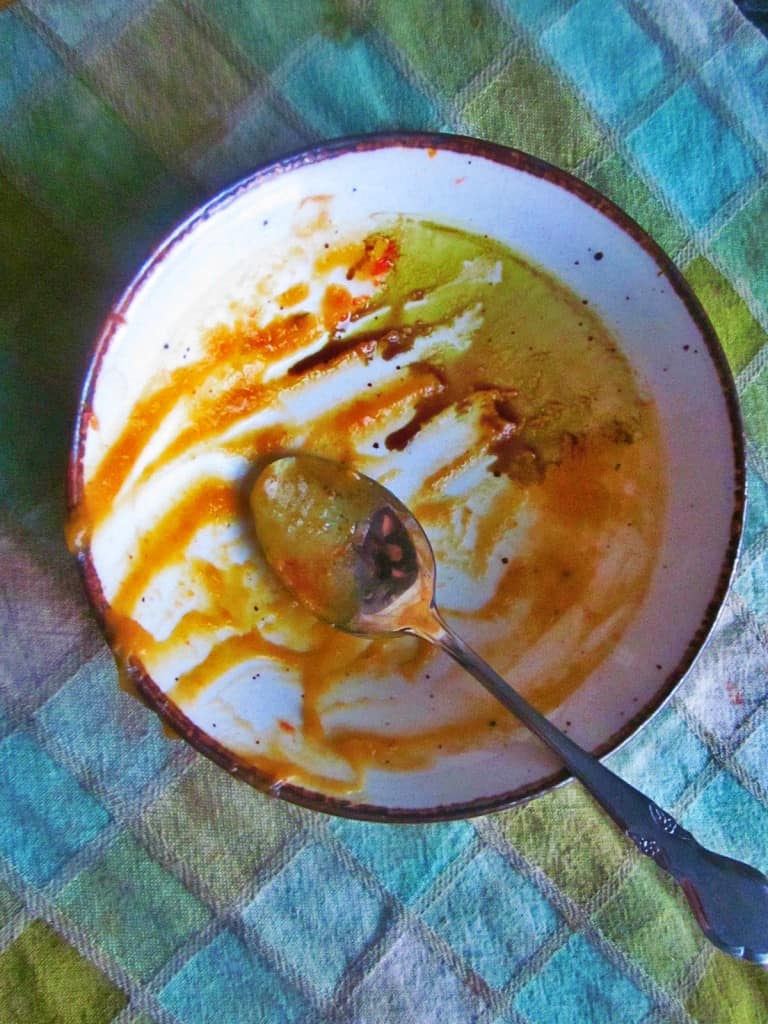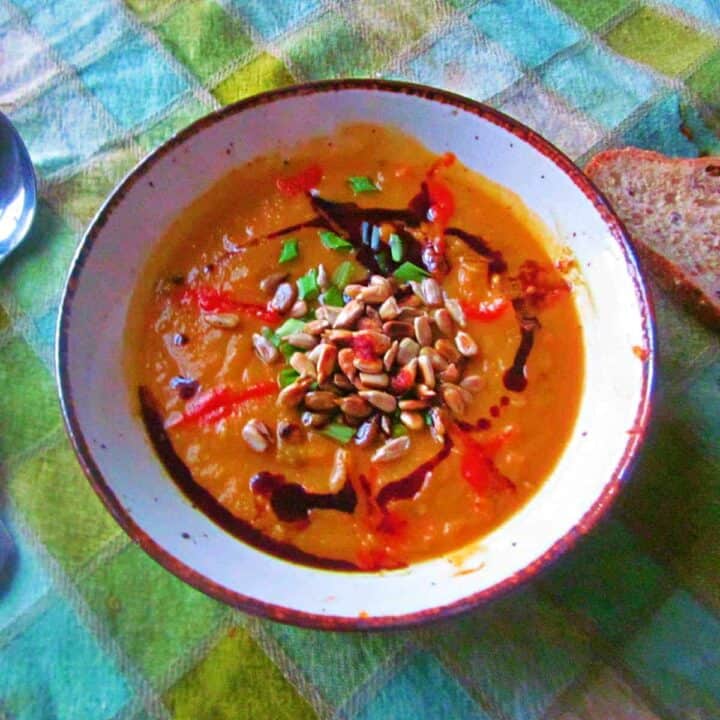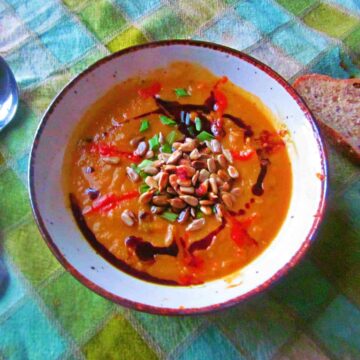 Piquant roasted squash and carrot soup
A spicy, smoky roasted orange vegetables soup. Can be eaten alone, in secret, or shared with others.
Print
Pin
Ingredients
1

medium squash

or 2-3 small ones

3

medium sized carrots

or 5 small ones

1

onion

1

green pepper

1

tablespoon

smoked paprika

more or less, according to taste – also depends on the spice level of your paprika

1

teaspoon

chili powder

¼

cup

of chopped sage and parsley

more parsley than sage, as the latter has a very dominant flavour

1

can of coconut milk

or 1 cup of soy cream (if you're not concerned with lactose, regular cream is even better here)

3-5

cups

of water

2

bay leaves

2

Tbs

of white wine vinegar

or the juice of half a lemon

Salt and pepper

to taste (start with 1 tablespoon of salt, and work your way up from there)

Roasted sunflower or pumpkin seeds

for serving

Chopped green onion

for serving

Rice

for serving (optional)

Pumpkin or walnut oil

optional
Instructions
(The first three stages can be done ahead of time) Preheat your over to 350 degrees Fahrenheit. Cover a baking sheet with tin foil and a little bit of oil.

Halve your squash lengthwise. Peel and chop your carrots into mid-sized chunks. Lay the squash, cut-side down, on the baking sheet, and cover the rest of the sheet with the chopped carrots. Drizzle with a little bit of oil, and toss the carrots to coat. Place the sheet in the oven for 30-45 minutes, starting to check on the squash after 20 minutes. If you can easily pierce through the shell with a fork, the squash is ready; remove it and continue roasting the carrots, tossing them once or twice, until they can easily be pierced with a fork as well (Reminder: this can be done ahead of time. If making the soup another day, scoop out the flesh of the squash into a tightly-sealed container, topping with the carrots. Let cool and place in the fridge until ready to use).

When ready to make the soup, chop your onion and peppers into medium-sized pieces. Preheat a large pot to medium-high heat, and coat the bottom with a tablespoon of oil. Sear the onion and peppers lightly for 10 minutes, and then lower the heat to medium and let the vegetables soften for another 10 minutes, until the onions become golden and the peppers brown.

Add the roasted squash flesh and carrots to the pot, mixing to combine everything. Let cook for five minutes on medium heat.

Add the coconut milk (or soy or regular cream, if using), paprika, chili, 3 cups of water, and bay leaves, and stir well to combine. Increase the heat to medium-high and let the soup come to a boil.

Once soup is at a gentle boil, add sage and parsley. Then, using a standing blender, blend soup until it's creamy, but no chunks remain.

Lower heat to medium, add salt, pepper, vinegar or lemon juice, and more water, if desired (I usually add two more cups). Taste and correct flavours, adding salt and acidity as needed.

Let soup cook on medium heat for an additional 10-15 minutes. Taste at the end and correct flavours, as necessary.

When serving, ladle soup into bowls and top each portion with chopped green onion and 2 tablespoons of toasted pumpkin or sunflower seeds (to toast the seeds, place them in a dry pan over medium-high heat for 2 minutes, watching the whole time). Drizzle with walnut or pumpkin oil, and add sriracha sauce, if desired.

For a complete meal, serve with ½ a cup of rice in each bowl.
Notes
- This soup is also beautiful with yams in place of squash (and if to be honest, that's how my mom prefers it). To make a piquant roasted yam and carrot soup, thoroughly wash and scrape 2-3 medium-sized yams. Chop them into medium-sized chunks and roast in the oven along with the carrots. Proceed with the rest of the stages according to recipe.