Sweet, sour and fragrant Russian marinated red peppers provide a bit of fiery red love to get you through the rough months of winter.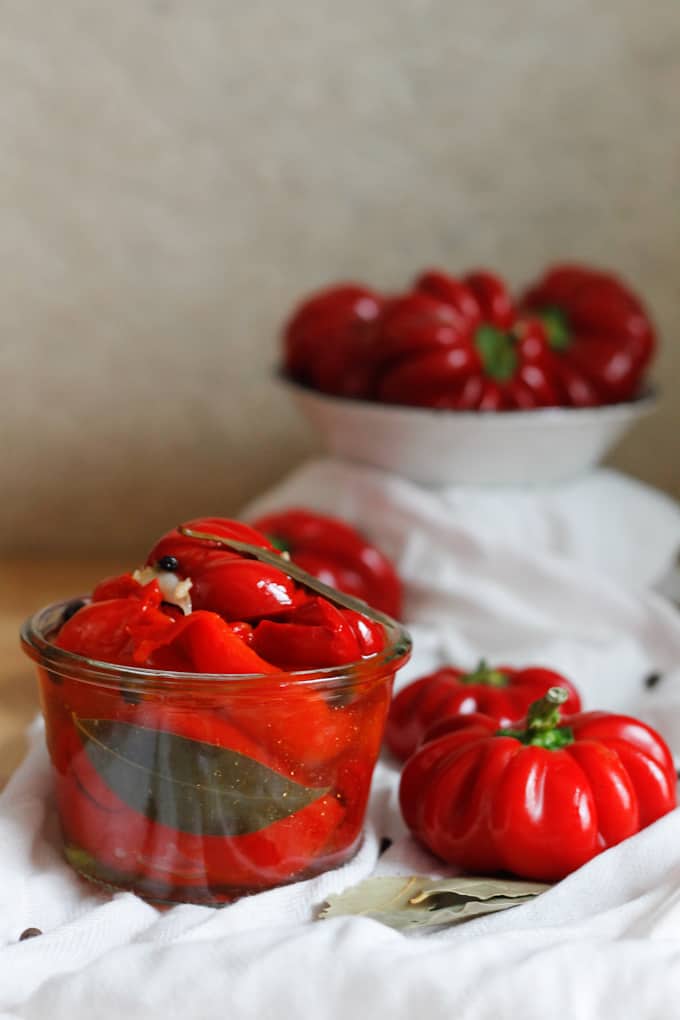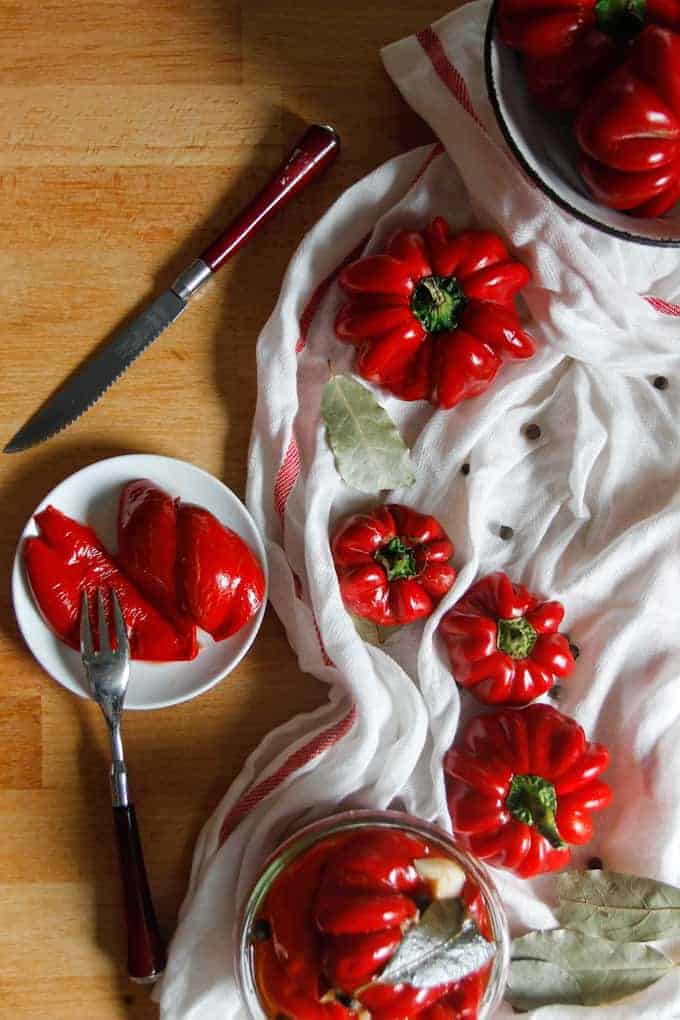 Fiery love to get you through winter
Bushels of blood red peppers, their stems reaching up like thick, perky green vines. Fragrant allspice spheres, their floral scent masking the lip-puckering bite of vinegar. Bay leaves and peppercorns, sugar and salt. These are the parts that make a whole, the parts that soothe the soul and let alchemy takes over.
I gather them all in my hands like precious stones, taking care while making the crown jewel of fall preserving: Russian marinated red peppers.
A bit of fiery red love to get you through the rough months of winter.
Market trips
Halfway through the month of June, my phone inadvertently rings. On the other end is Oxana, a co-worker and community organizer extraordinaire who has in many ways become my surrogate mother in Montreal.
"So, when are we going to the market?"
For you see, on Saturday mornings beginning in mid June, when the first local berries appear on the stands, Oxana, her husband and I make our way to a small farmer's market in a nearby Montreal suburb.
No one can say for sure why we go there of all places; it is no bigger, cheaper or more varied that Montreal's famous Jean Talon.
But its small scale, free parking and easily navigable layout make it Oxana's favourite, and therefore, my Saturday hangout.
After a cursory run through all the stalls and a few pointed questions to the vendors ("When were these onions picked?"; "Do you have any strawberries for jam making?"; "Where's your fresh horseradish?"), we make our purchases.
Depending on the season, we fill cart after cart with pungent local garlic, plump raspberries, Kirby cucumbers and, when the time is right, the reddest bell peppers you've ever seen.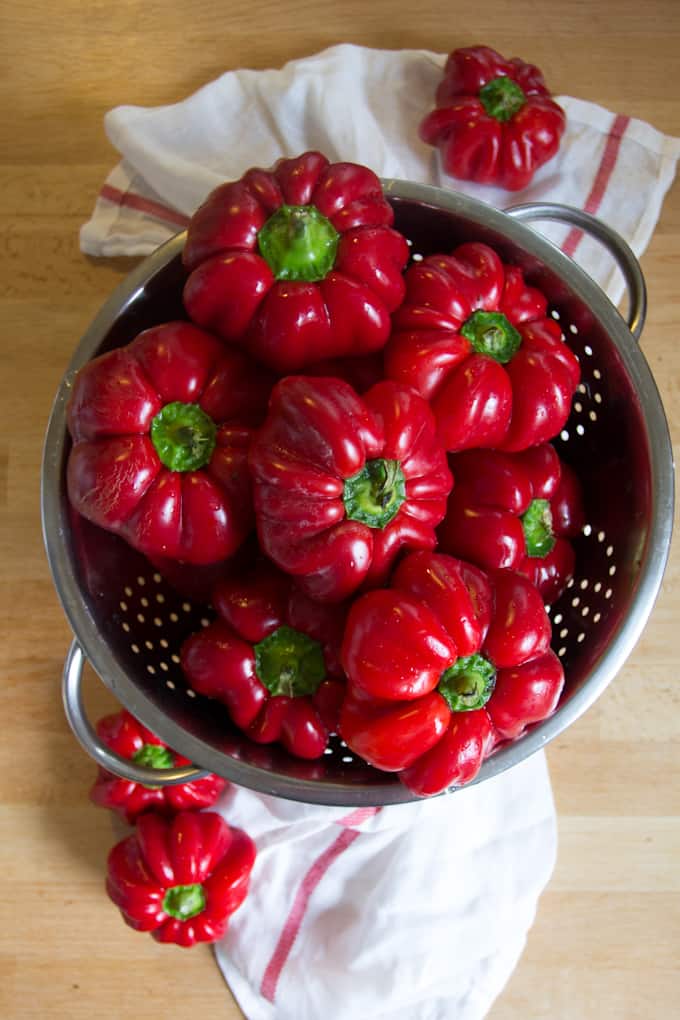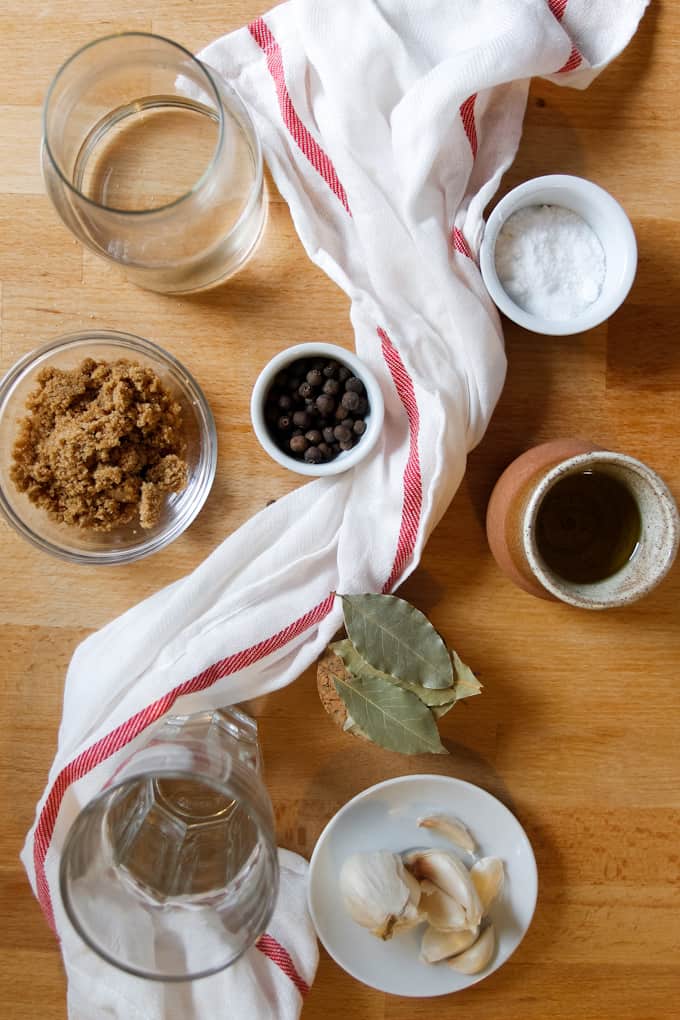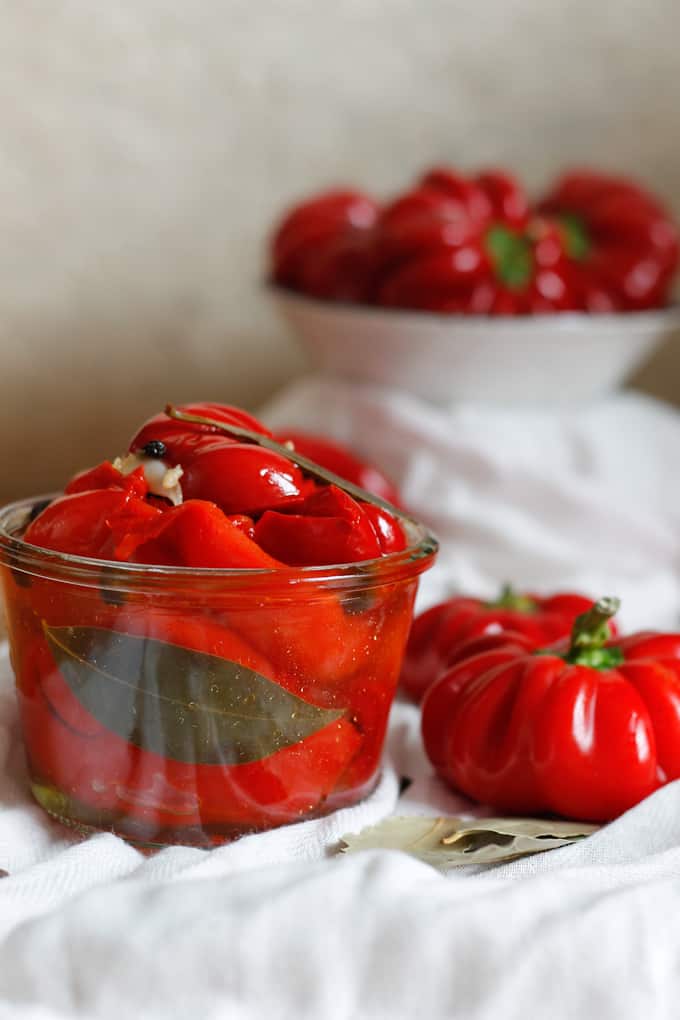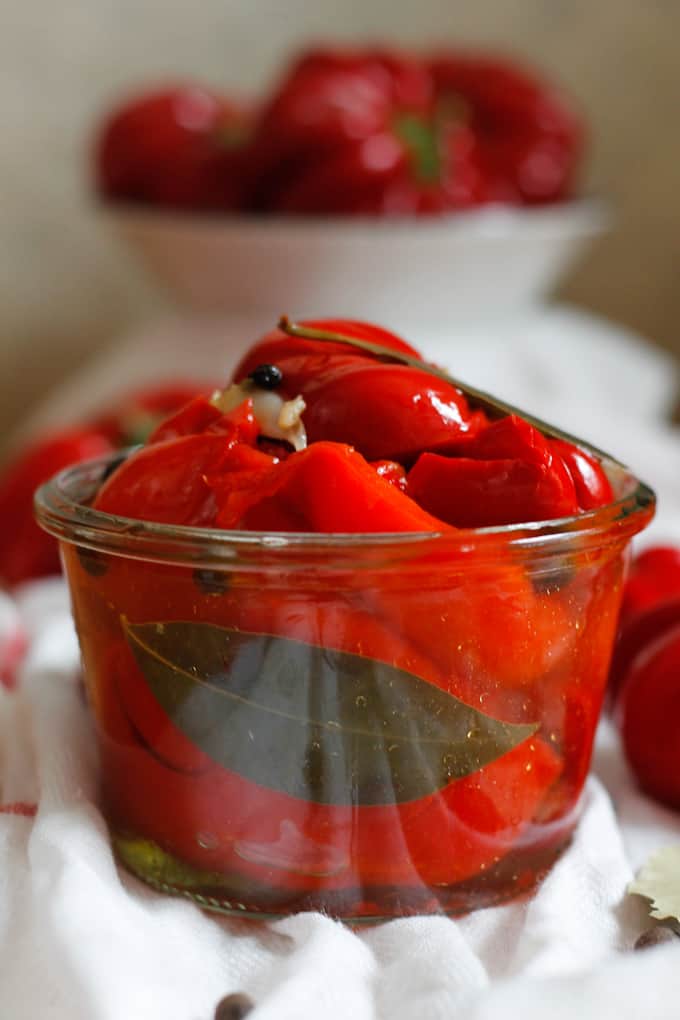 Creating magic
The same afternoon, the alchemy that is Russian marinated red peppers begins.
After carefully washing all my bell peppers and cutting out any blemishes, I turn on the stove to sterilize jars.
I cook a marinade, letting sugar and oil and vinegar and peppercorns and bay leaves and allspice work their magic together, coalescing the liquid into a viscous, shiny brine.
I add garlic in the very last minute along with my cut bell peppers, and let them cook just until they become soft and pliable.
And as I layer my red peppers into the clean jars for Russian marinated red peppers; as I smell the allspice and bay leaf and garlic; as I watch the pinkish, oily marinade pour into the jars and fill every crevice; I know that I, too, will go through the winter cocooned by the love and comfort of friends.
That with time, the heart will mellow and the soul will become softer, sweeter, more amenable. The bite of garlic and the pain of old wounds will recede.
And for the time being, that's quite alright with me.
Tried and loved this recipe? Please leave a 5-star review below! Your reviews mean a lot to me, so if you've got any questions, please let me know in a comment.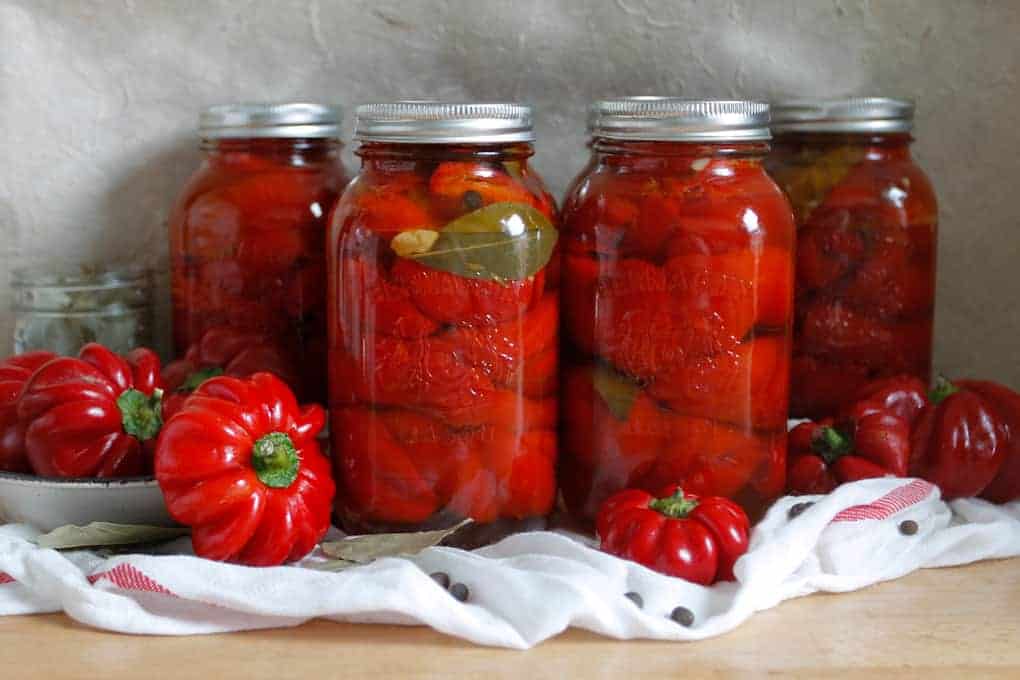 Recipe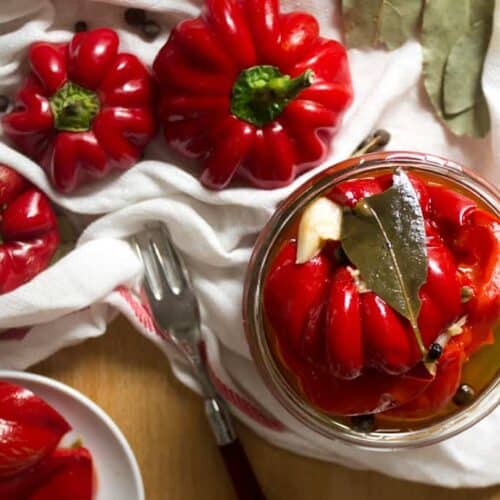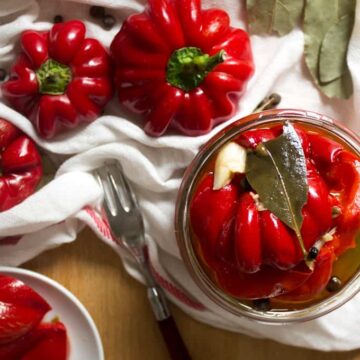 Russian marinated red peppers
Sweet, sour and fragrant Russian marinated red peppers provide a bit of fiery red love to get you through the rough months of winter.
Ingredients
2

litre jars

1

KG

red bell peppers

cleaned, trimmed and sliced in half or quarters (depending on size)

200

g

water

100

g

vegetable oil

100

g

vinegar

50

g

sugar

40

g

kosher salt

4

peppercorns

4

bay leaves

3

allspice

½

head of garlic

peeled and divided into cloves
Instructions
Sterilize jars in a hot water canning pot.

In a large pot, combine all marinade ingredients except garlic. Bring to a boil.

Add garlic and sliced bell peppers, and cook just until peppers soften and become pliable - this can take anywhere from two minutes to 8 minutes, depending on the size of the peppers (take care not to overcook!).

Distribute peppers into sterilized jars, and cover with marinade, leaving ½ an inch of headspace. Cover with lid, and gently screw down the metal rim with two fingers, just until resistance is met (do not close jar tightly - the air should be able to escape between the lid and the rim for the jar to seal properly). Process in a hot water bath for 10 minutes. Leave closed jar on the counter for 24 hours, until the lid has popped in and sealed properly (you should see a dip in the middle of the lid where the vacuum has sealed it).
Tried this recipe?
Comment + Rate Below!
Connect on Instagram!
Find us @immigrantstable