Though Argentina is known as the land of carne asado, there is plenty of vegetarian Argentinian food to eat there for vegetarians! From vegetarian empanadas to flan, these are my top 10 vegetarian foods to eat in Argentina.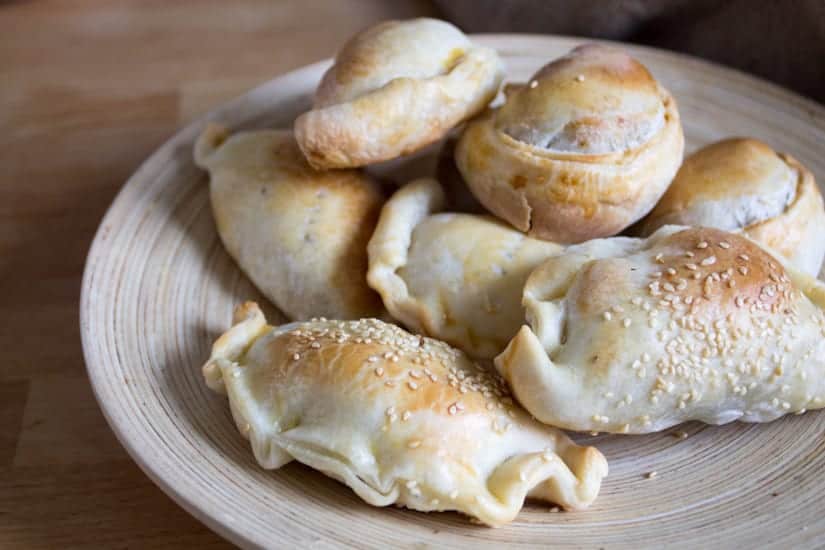 In the weeks leading up to my trip to Argentina, I spent hours looking for recommendations on what's a fish-loving pescetarian to eat in the land of steak, asado and dulce de leche. I combed through Argentinian blogs, looking for the tried-and-true. I sat with Argentinian friends over steaming cups of yerba mate, writing down phrases in broken Spanish that I could not pronounce even five minutes after. I dreamed and took down notes and made lists.
And then, my trip to Argentina resulted in this sort of eating.
So to prevent you from finding yourself hopelessly lost in the kosher McDonalds, or not sure what to order in a typical steakhouse, here is the list of the top 10 vegetarian foods to eat in Argentina. I'm warning you - these babies are enough to make any avowed meat eater set aside the steak, at least for one meal.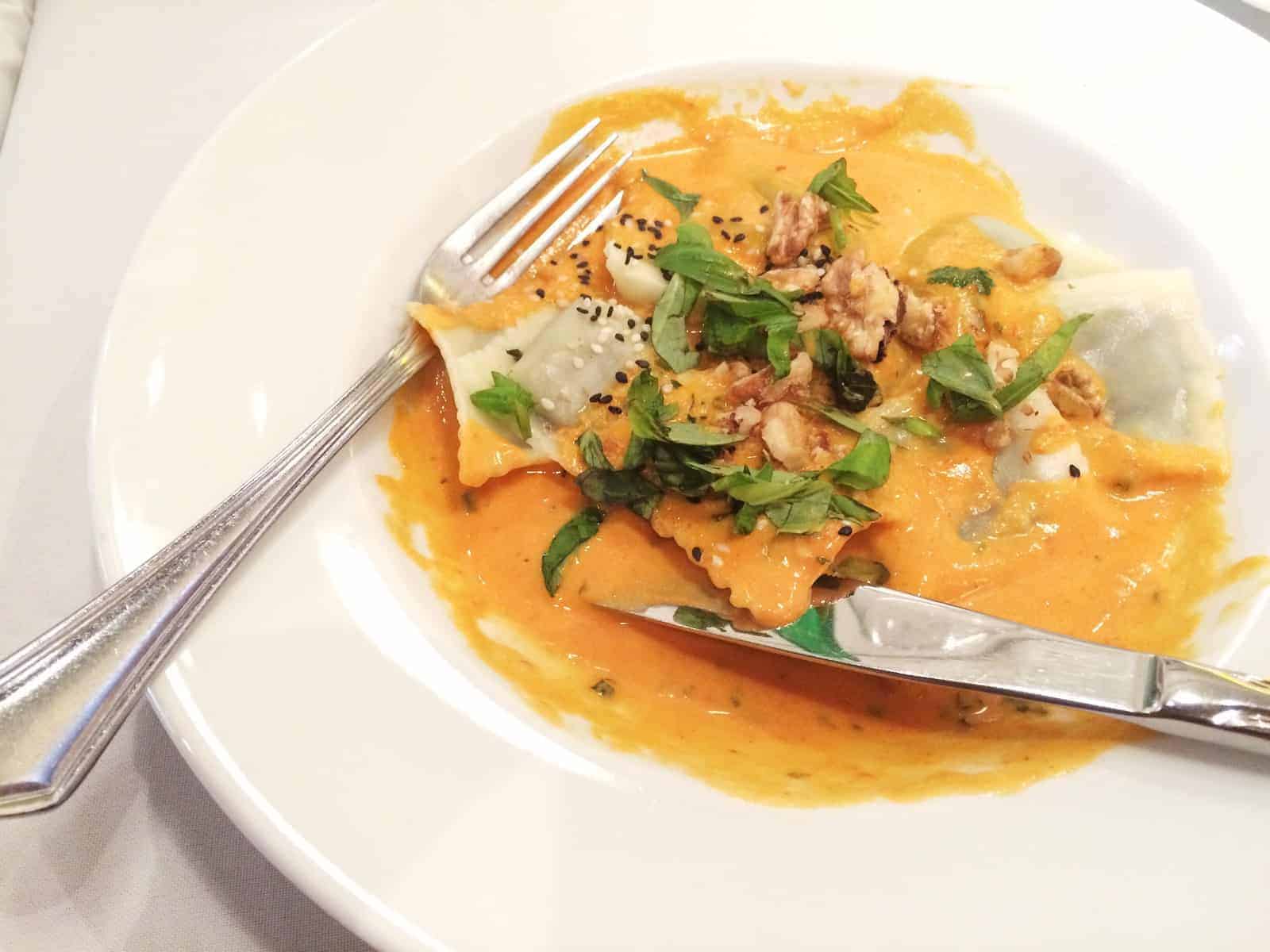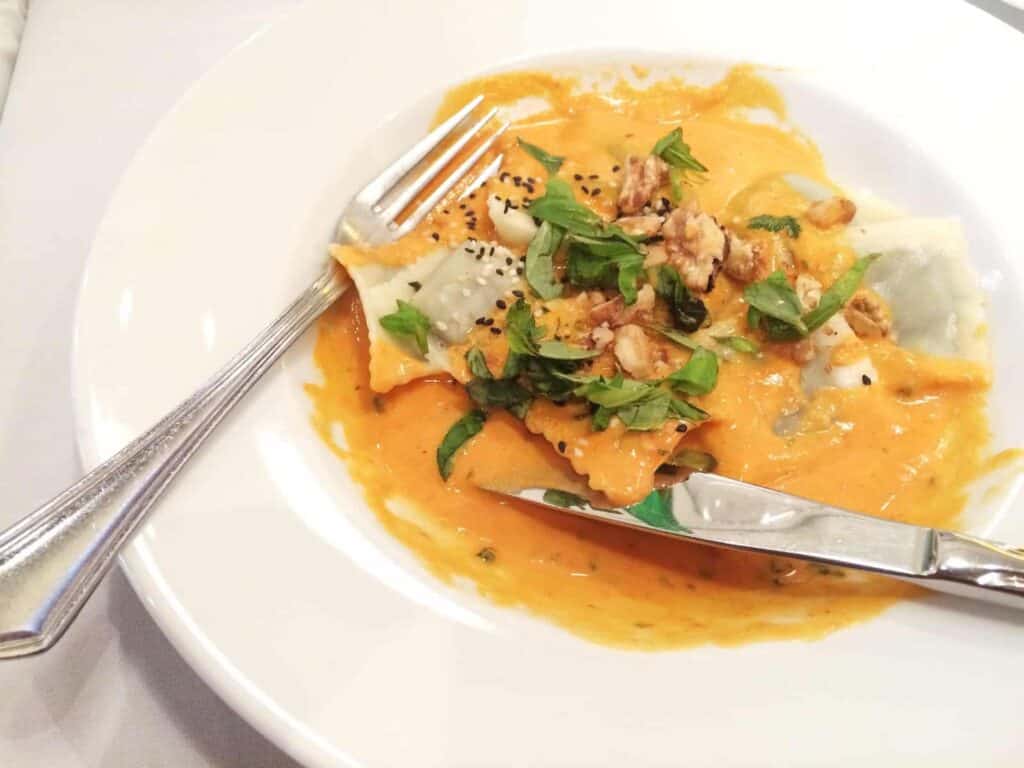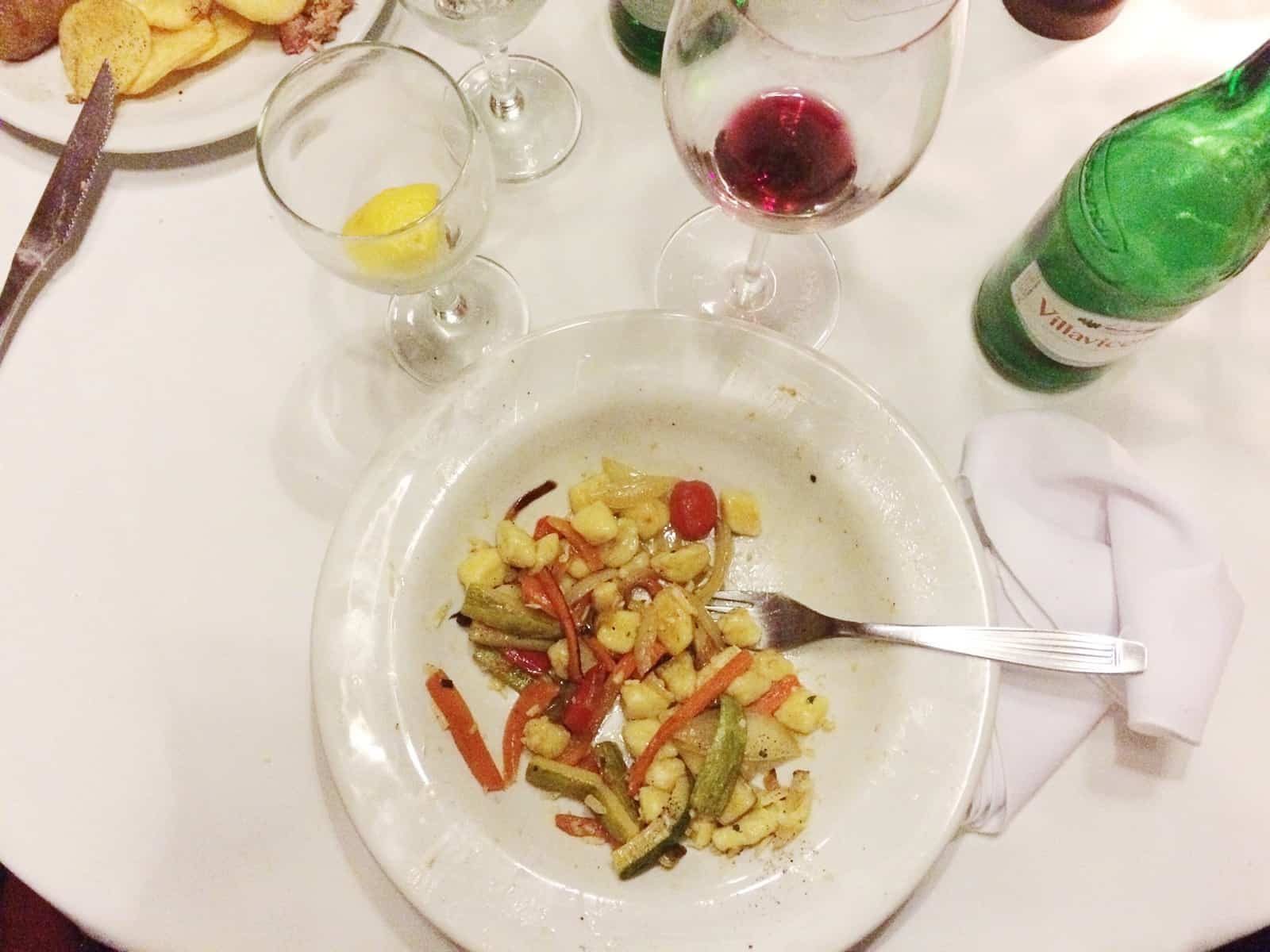 Ravioles (verdura, de calabaza, de ricotta, hongos)
Everyone I knew told me to eat the pasta in Argentina, but I'll admit that I was rather sceptical - I've eaten at some of the best restaurants in Italy, how different can Argentinian pasta be? Very, very different, as it turns out. Having also tried regular handmade fettucini and gnocchi, I have to say that the true pinnacle of perfection in Argentinian pasta is the ravioli. Silky, translucent and bursting with more filling you could possibly imagine being squeezed into this paper-thin envelope, Argentinian ravioli alone is worth the trip to Buenos Aires. Whether you go for verdura (vegetables), de calabaza (squash), or hongos (mushroom), they'll all be exquisite.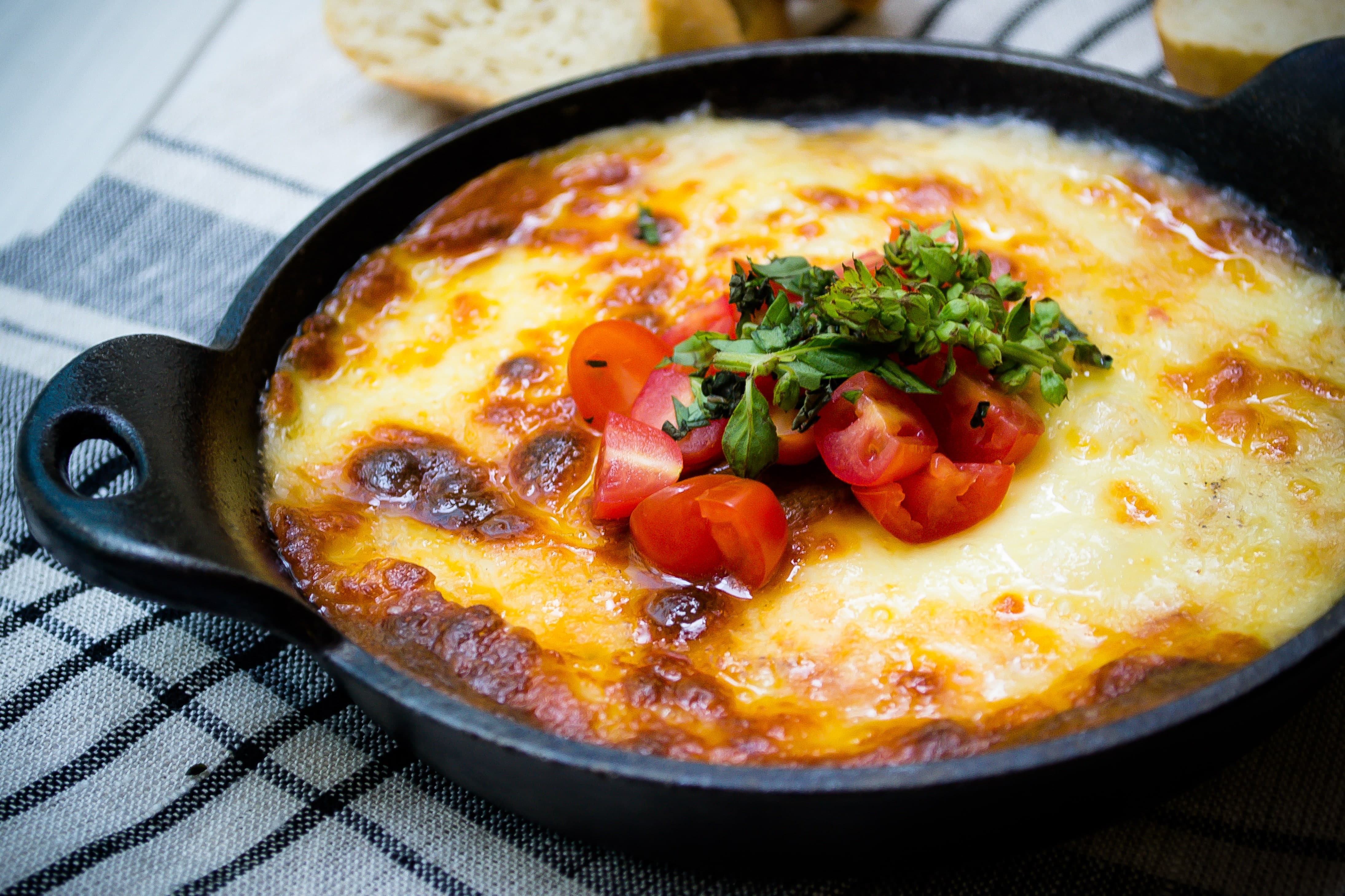 Provoleta
The best vegetarian main to order in an Argentinian steakhouse is the provoleta. A whole round of ooey, gooey provolone cheese, grilled to perfection and placed right on your plate - what could be better?? Make sure to cut through all the richness with a salad... that you'll dress at the table with lots of vinegar, in true Argentinian fashion.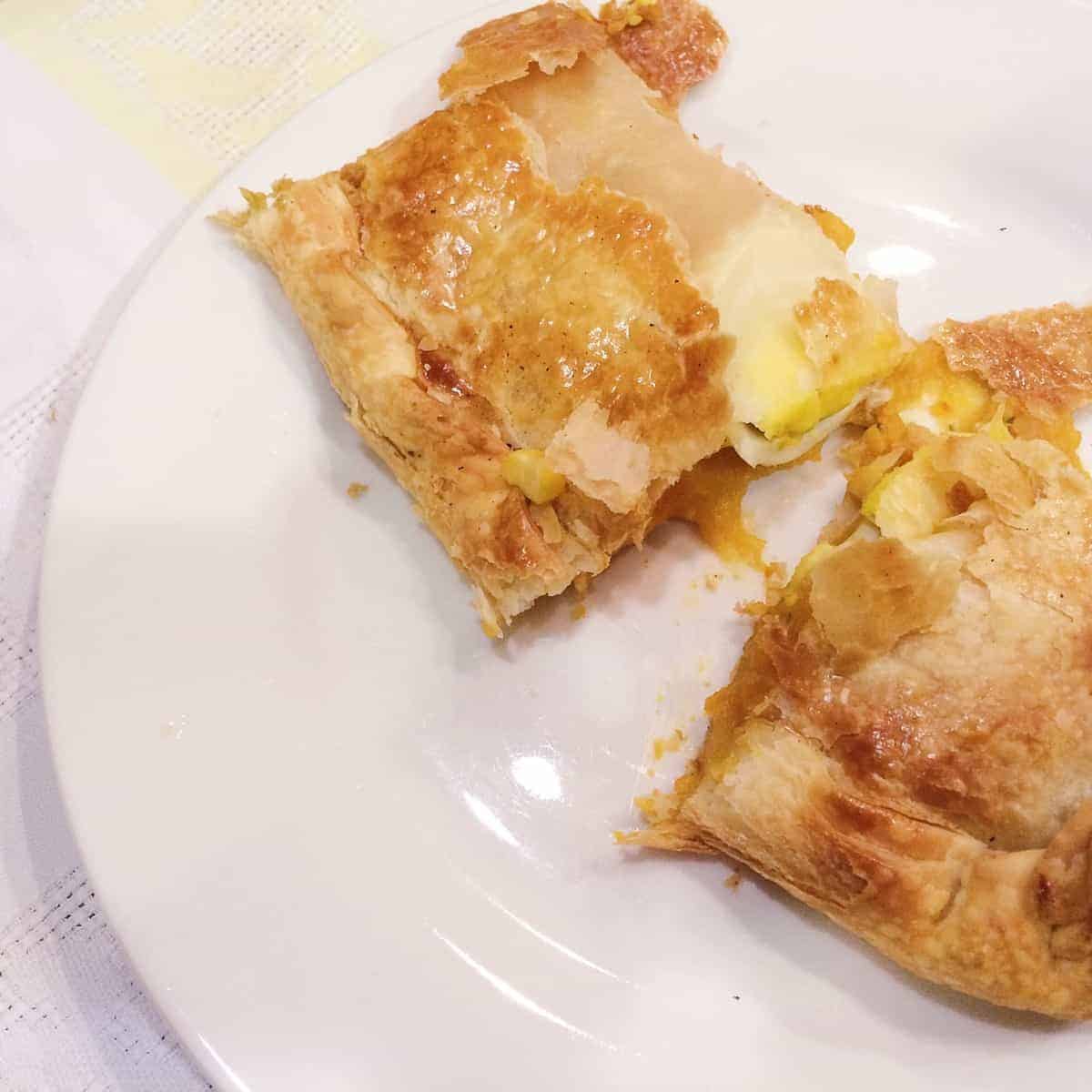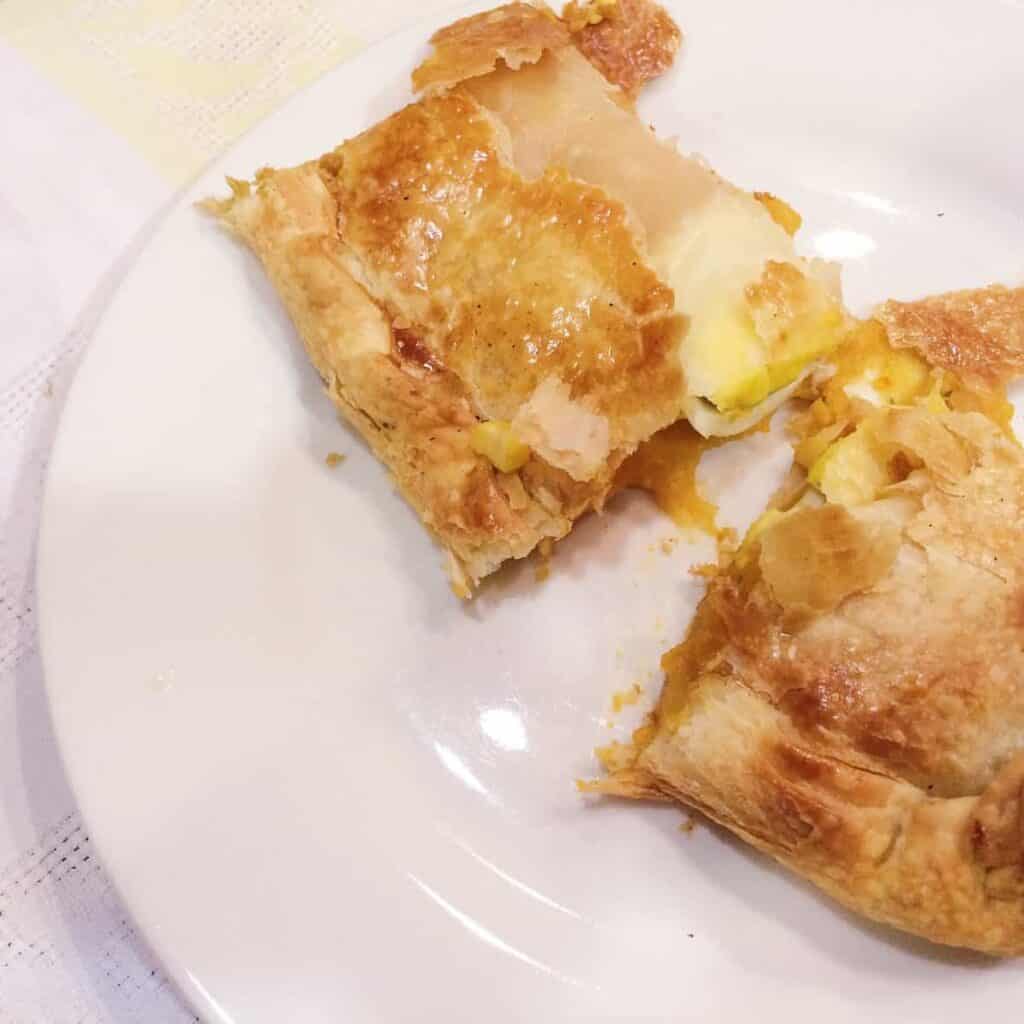 Tartas saladas
What sounds like 'salad cake' is actually the Argentinian name for a multitude of pies with savoury fillings. These include everything from cebolla y humita (onion and corn), to spinach and hard-boiled eggs, or calabaza (pumpkin) - my favourite. Each restaurant and home cook makes theirs a little differently, and I encourage you to try as many as possible!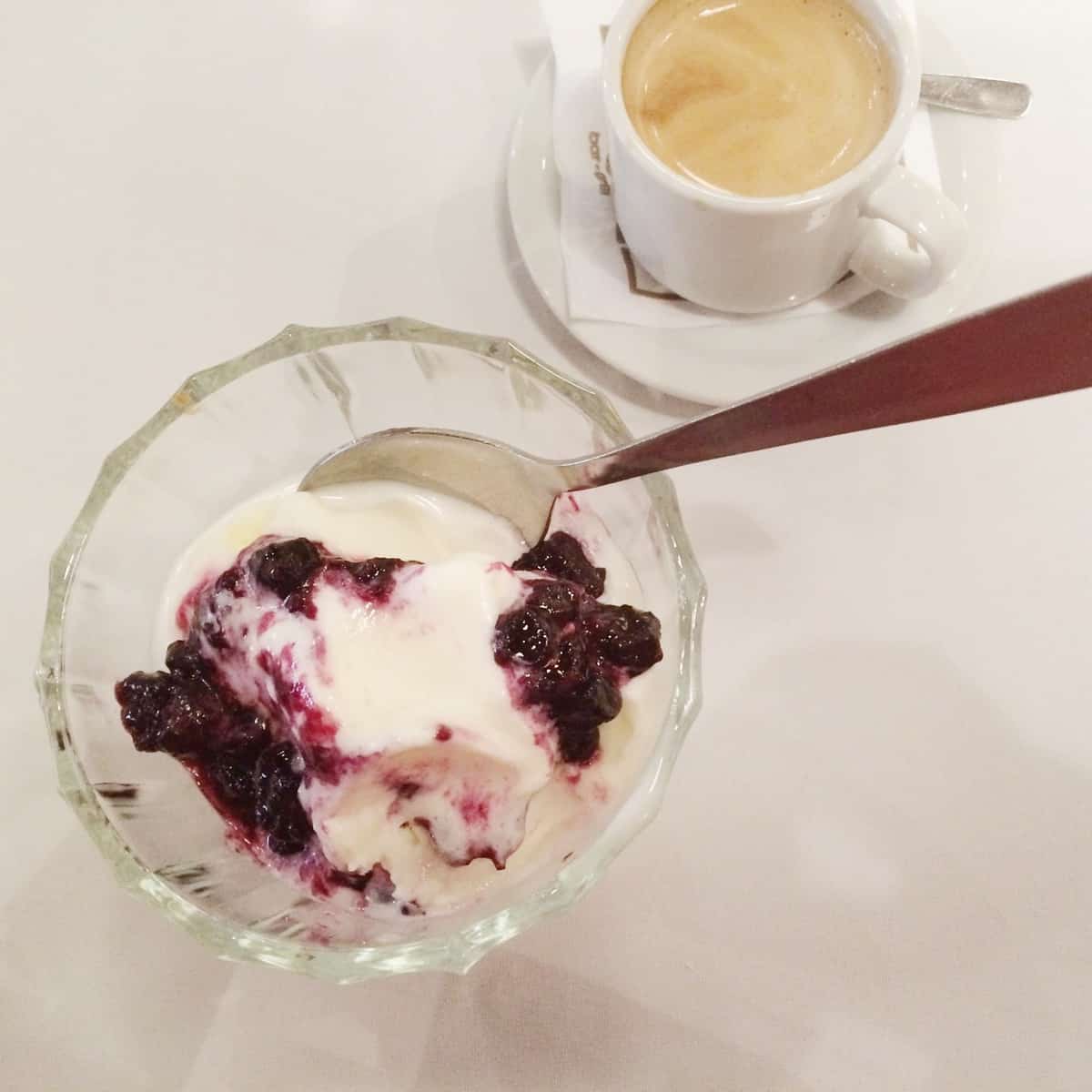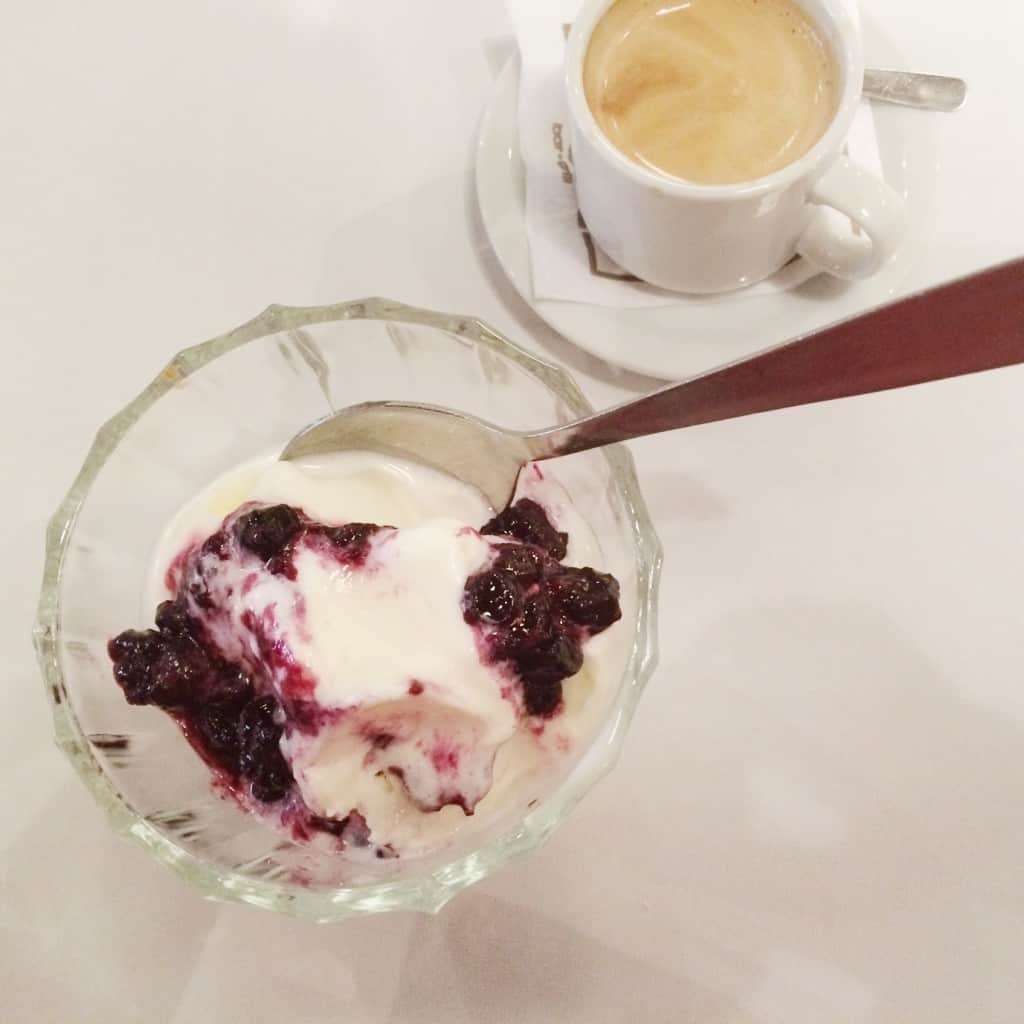 Ice cream (Dulce de leche,

vainilla, maracuya)
Whether you are a purist who likes plain vanilla ice cream, a tourist who wants to try dulce de leche EVERYTHING in Argentina, or an adventurous foodie who will combine maracuya (passion fruit) with sea salted caramel in their cone, you can't go wrong with helado in Argentina. Whether it's the cream, the milk from the local cows, or just some secret magic powder they sprinkle into the water, the dairy in Argentina is out of this world... and the ice cream is definitely the cherry on top.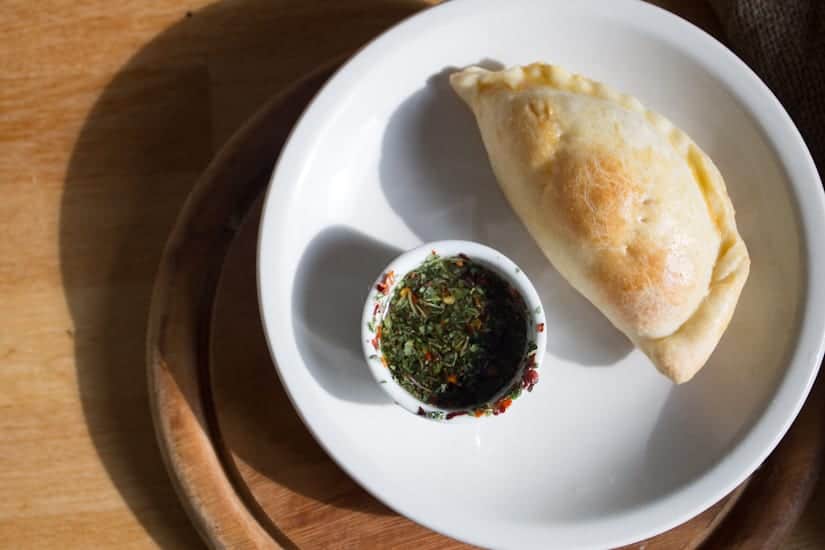 Empanadas (Queso y cebolla, humita, quatro queso)
I have a terrible secret to tell you: I didn't try Argentinian empanadas in Argentina. We were on a group tour, there was little time, yada yada yada, we ended up eating at a kosher McDonalds at a food court. But everyone I know has said you simply must try at least one of the many vegetarian empanadas combinations. Unlike in North America, in Argentina they'll put almost anything into an empanada, and it'll all be delicious. Queso y cebolla (onion and cheese) or humita (corn) are rumoured to be especially good. I also like some vegan empanada fillings, like my mushroom and kale combo.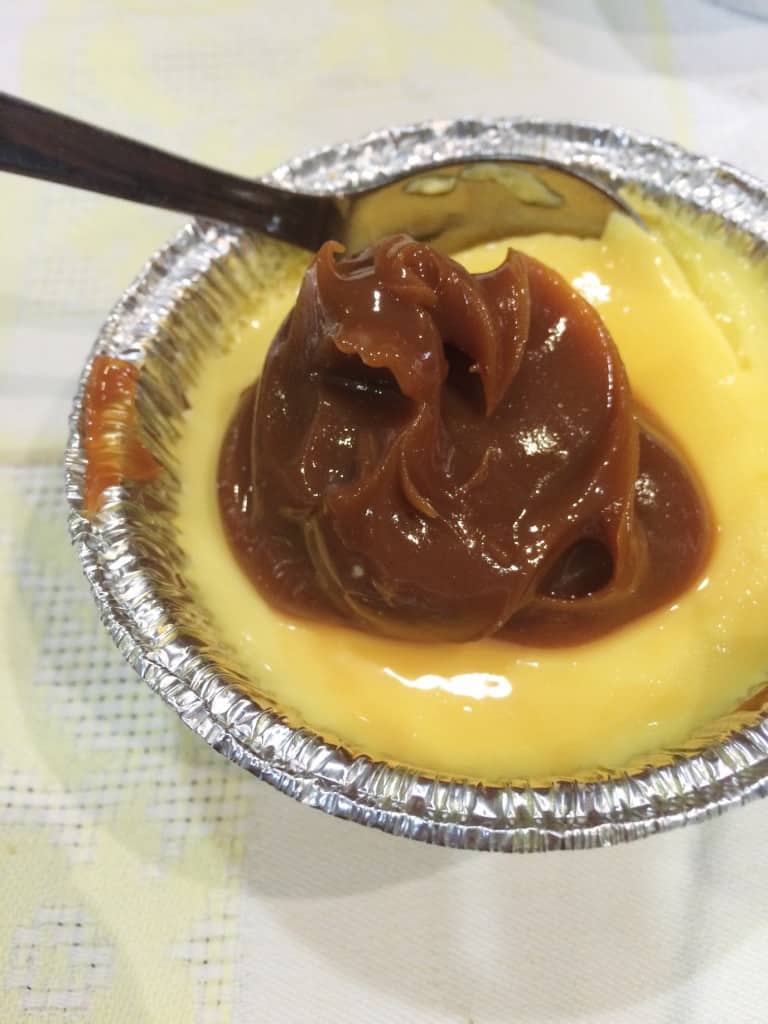 Dulce de leche flan
Turns out that flan is as ubiquitous to Argentina as ice cream! Everywhere we went, people offered us quivering globs of pudding, topped with a generous helping of dulce de leche... and once I overcame my initial textural aversion, I have to admit that I became quite smitten with this simple dessert. It may lack the pizzaz of alfajores or the devil-may-care scrumptiousness of ice cream, but flan is not to be passed up in Argentina.
If you're looking to try a simple version of flan, my Argentinian bread pudding is a good place to start.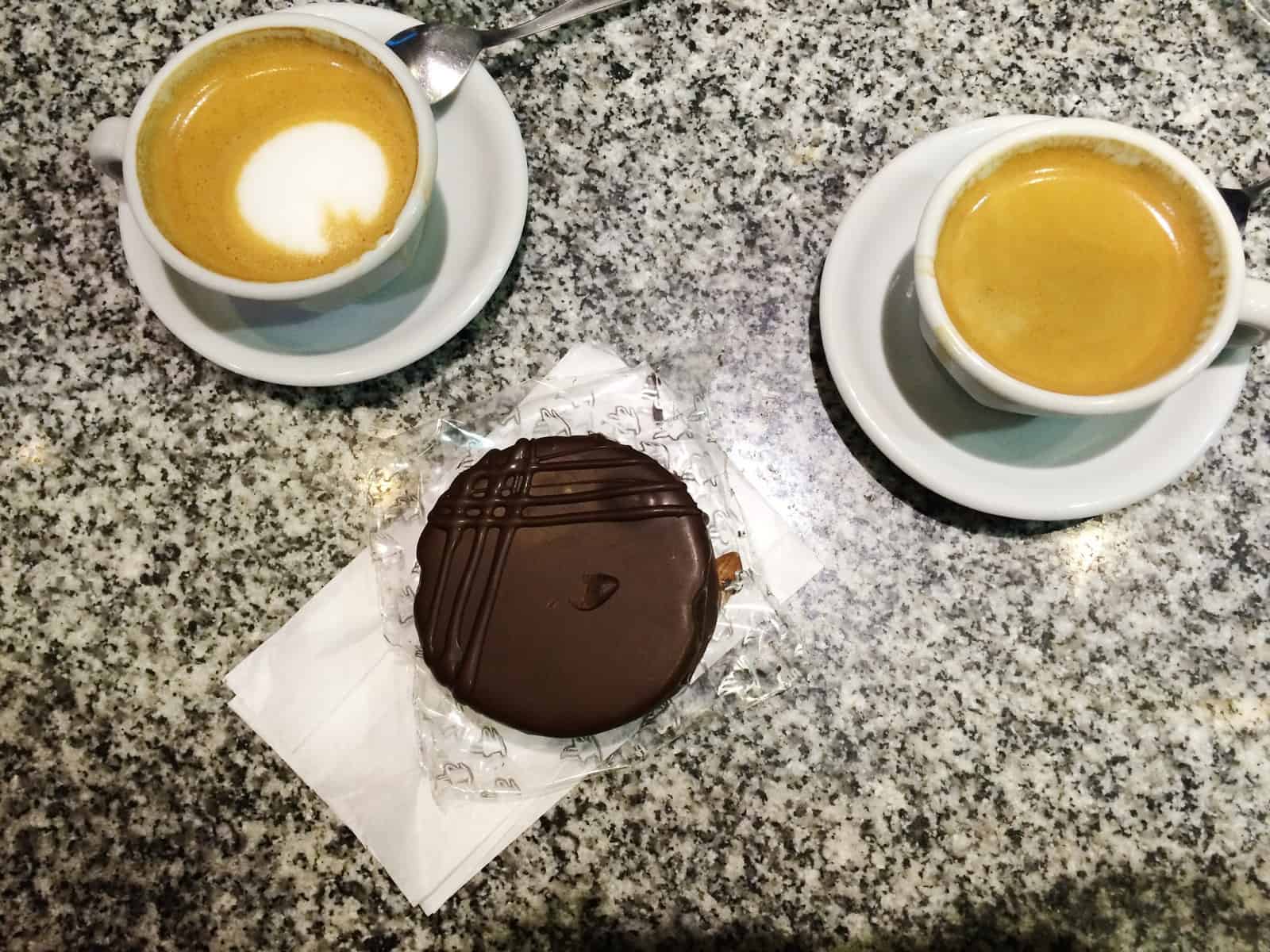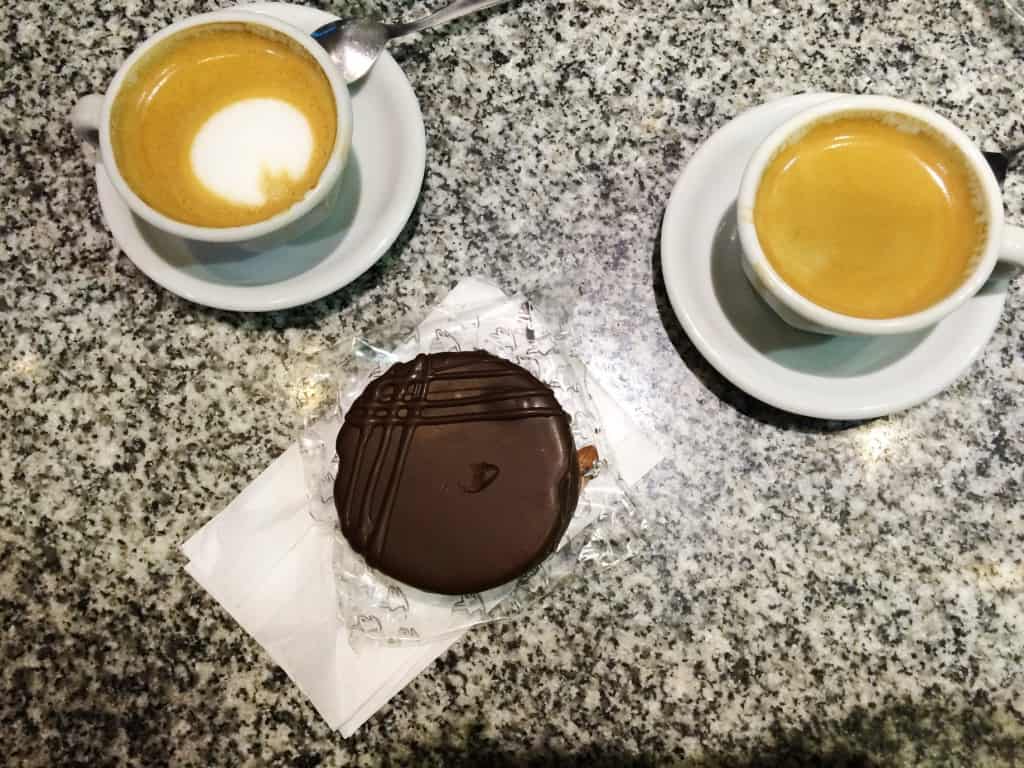 Alfajores de chocolate
Ah, alfajores. I actually thought I didn't like them before I went to Argentina - what in the world was wrong with me?? Turns out there is nothing better in the world than a chocolate-covered alfajore cookie, alongside a cup of bitter yerba mate (which I feel no need to introduce as you'll see it everywhere in Argentina). Except maybe a gluten free alfajore alongside a good espresso...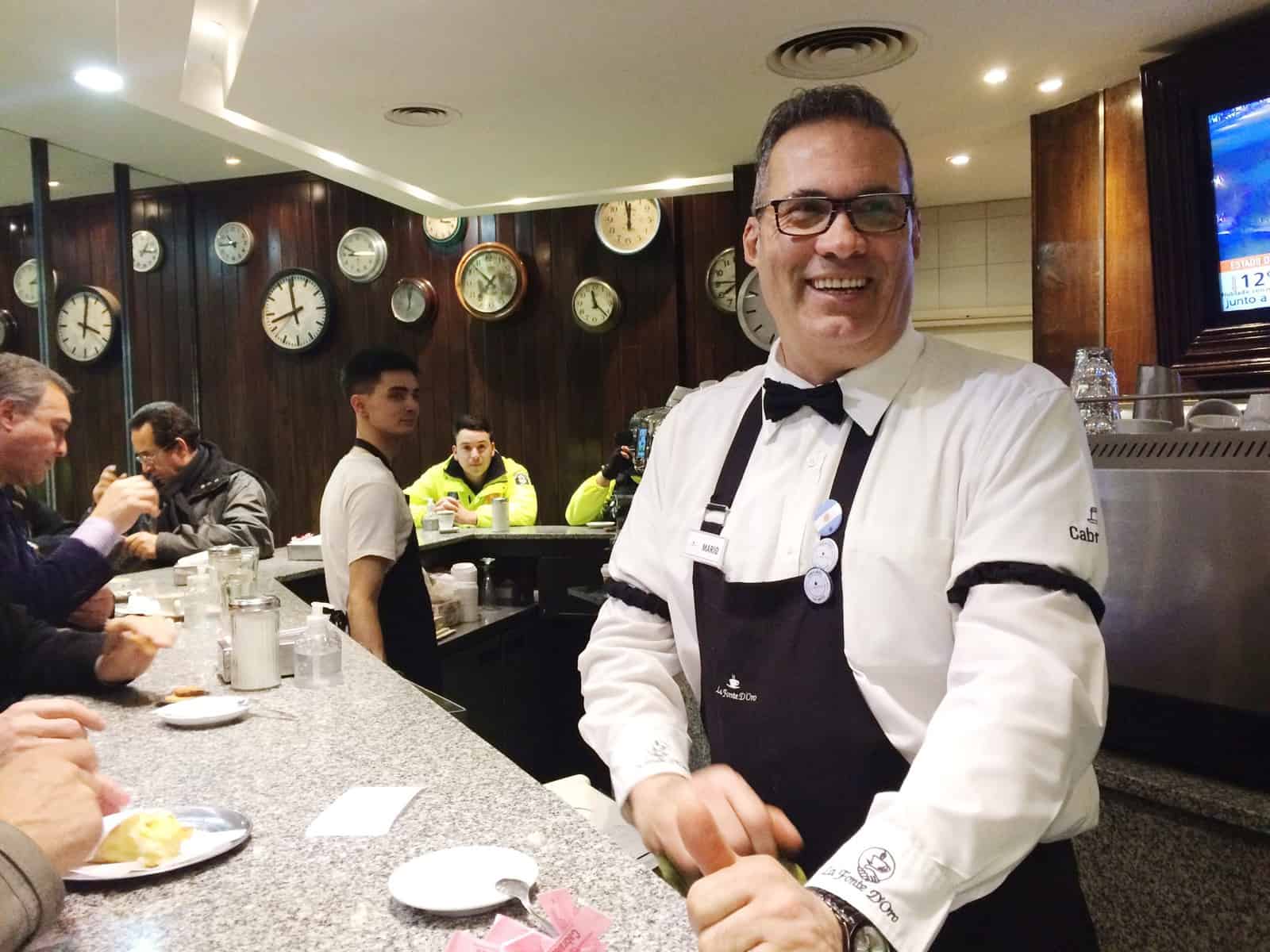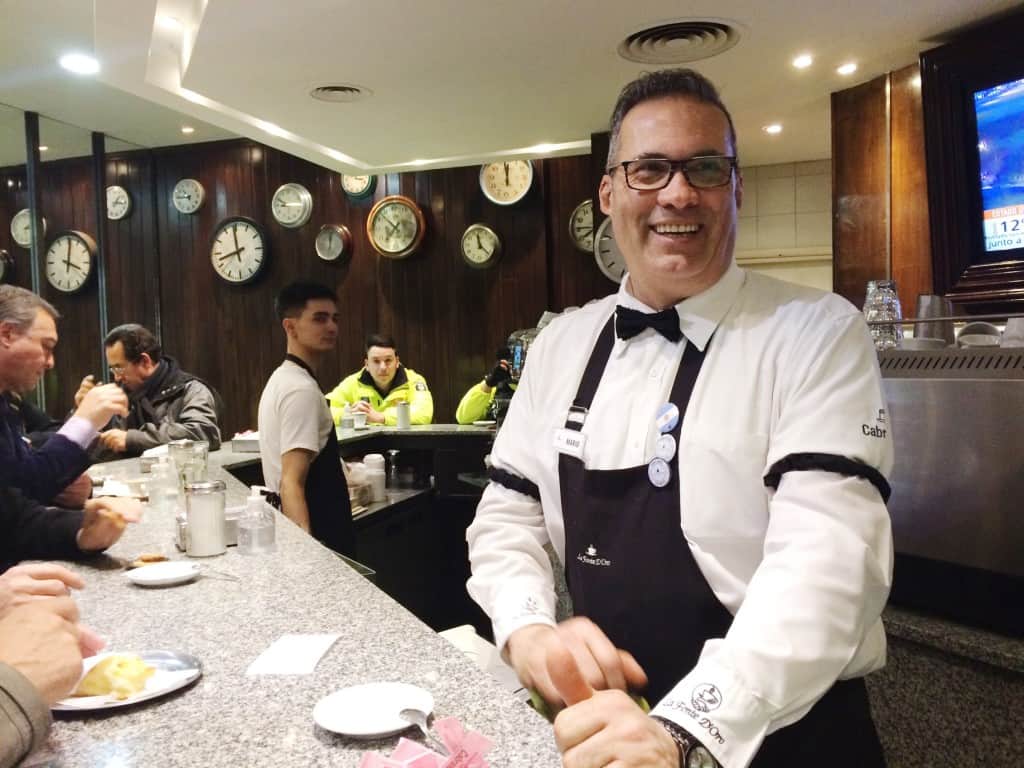 Espresso with a thimble of soda water
The first thing I put in my mouth in Argentina was a short, bitter, perfectly made espresso, served alongside a thimble of bubbling soda water. It was pure perfection, the soda helping cut through the acidity of the coffee and making the whole experience as enjoyable afterwards as it is during the process. I was then told that in Argentina, if you see a thimble of soda served alongside your coffee, you know it's going to be good... and that rule of thumb did not disappoint. Look for small, packed coffee bars that serve only desserts and cafe, and you'll be satisfied every time.
Oh, and if you want some milk in your coffee, go for a cortado, or a cafe con leche if you want a really milky concoction.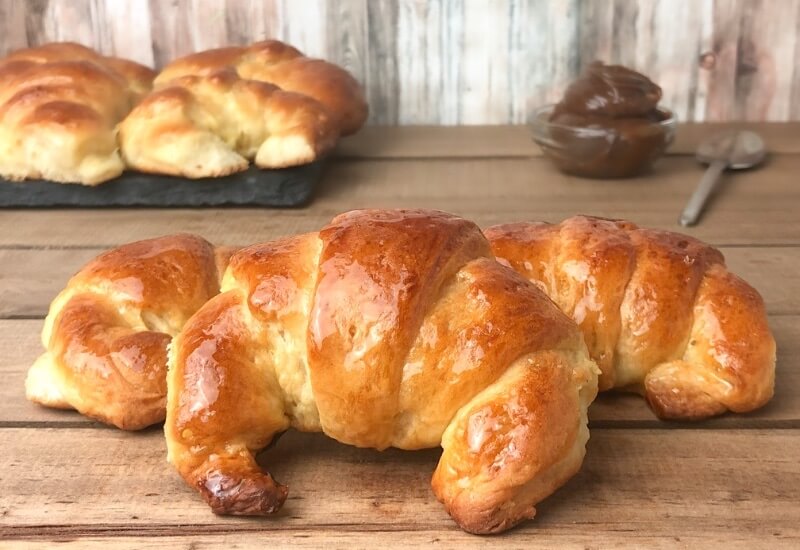 Medialunas de Manteca
My breakfast every day in Argentina consisted of a medialuna and a strong cup of espresso with soda on the side, and I couldn't have been happier (though my waist definitely noticed the extra sweet). Medialunas de Manteca are tiny little Argentinian croissants, baked and brushed with a thin layer of sugar syrup, and they are so much more than the sum of their parts.
If you eat fish: Cornelitos fritos, calamari, rabas
If you are a pescetarian like me, there is so much fresh seafood in Argentina to try. My favourites were the cornelitos fritos (little fishies fried whole, and served with just lemon on the side), the red Argentinian calamari, simply grilled, and any local fish 'a la plancha' - off the grill. The really is a huge variety of seafood in Argentina, and a lot of the fish is even kosher, if you worry about that sort of thing.
Tried and loved this recipe? Please leave a 5-star review below! Your reviews mean a lot to me, so if you've got any questions, please let me know in a comment.
Looking for more Argentinian recipes?
Looking for more Argentinian travel posts?