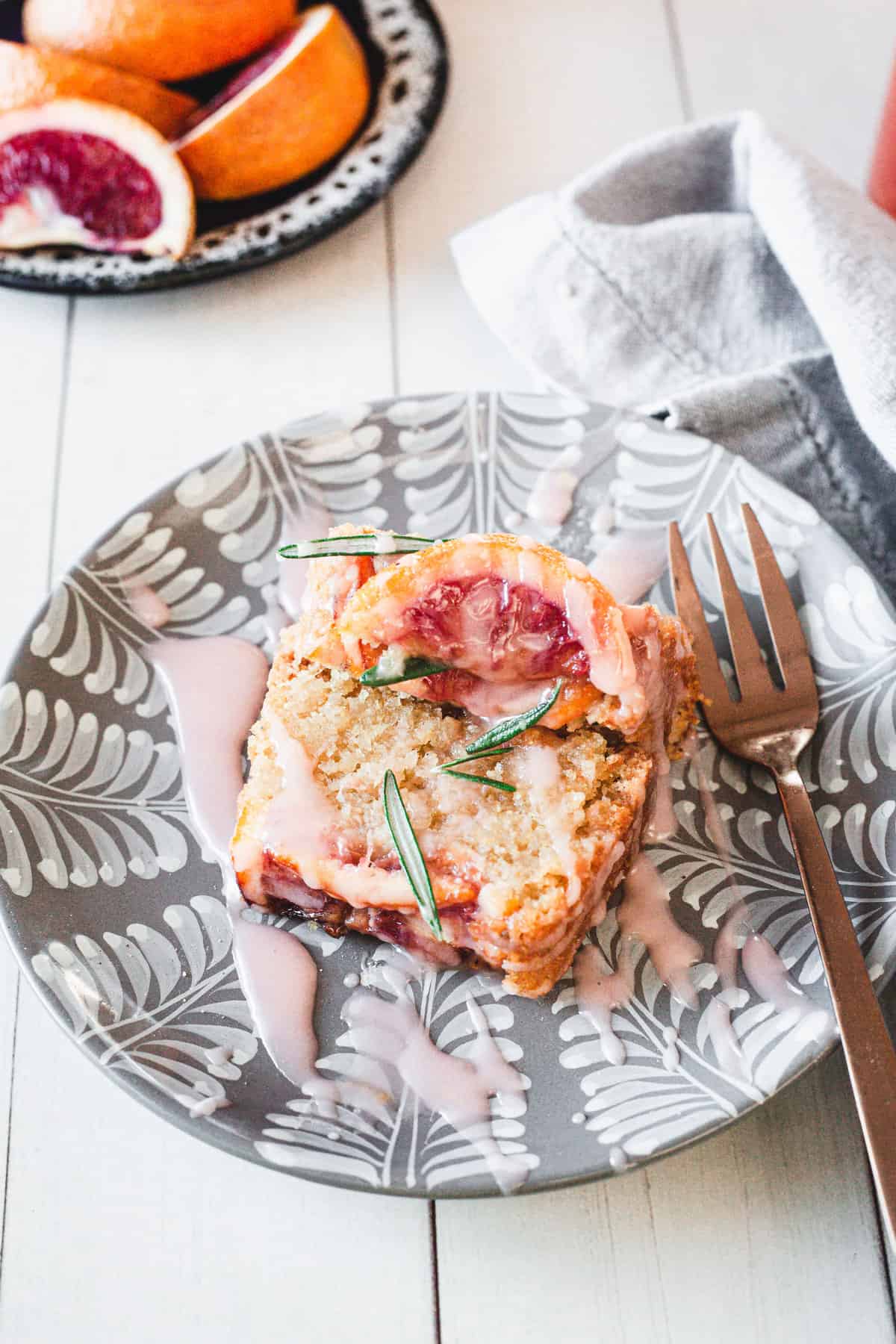 Blood orange cake with polenta and rosemary is a beautiful pound cake with a bewitching pink color. Naturally gluten-free and vegan, this is a cake for all occasions.
This post is a partnership with the Reducetarian Foundation, and first appeared on the Reducetarian Foundation's blog.
Jump to:
Whether you are looking for a winter appropriate dessert for a special occasion or just a weekend baking project, this blood orange polenta cake is the perfect choice. With its delicate pink color and rosemary fragrance, silky polenta texture and yellow crumb, it's a beautiful, feminine dessert that would be at home at every meal.
And given the fact that it's naturally gluten free and vegan, it's also a healthy polenta cake! Once you try it, you really will be convinced this is the best blood orange cake recipe out there.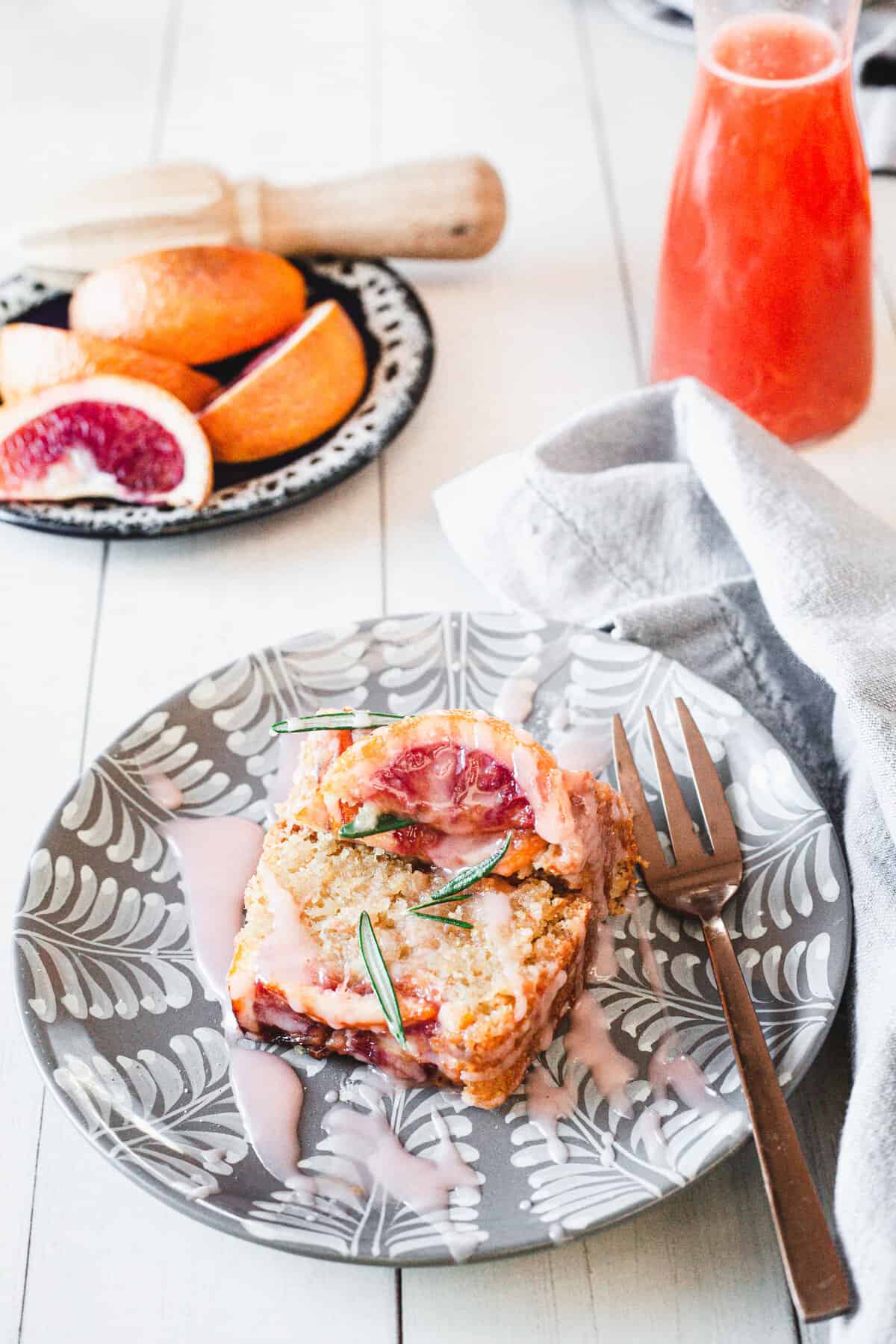 What is blood orange cake?
Blood orange polenta cake is a mix of blood orange juice and zest, coarse polenta, gluten-free or regular flours, two oils (coconut oil and olive oil) and aquafaba, which is the magic ingredient that gives this cake its texture.
My healthy blood orange cake is naturally gluten-free and vegan, but you can use regular flour with the polenta as well.
With its mix of polenta and blood oranges, this polenta blood orange cake is a modern version of a traditional Italian dessert. It's hard to imagine a more fluffy, soft blood orange pound cake!
I like to bake my cakes in mini molds, but you can use this recipe to make one blood orange pound cake in a regular loaf pan.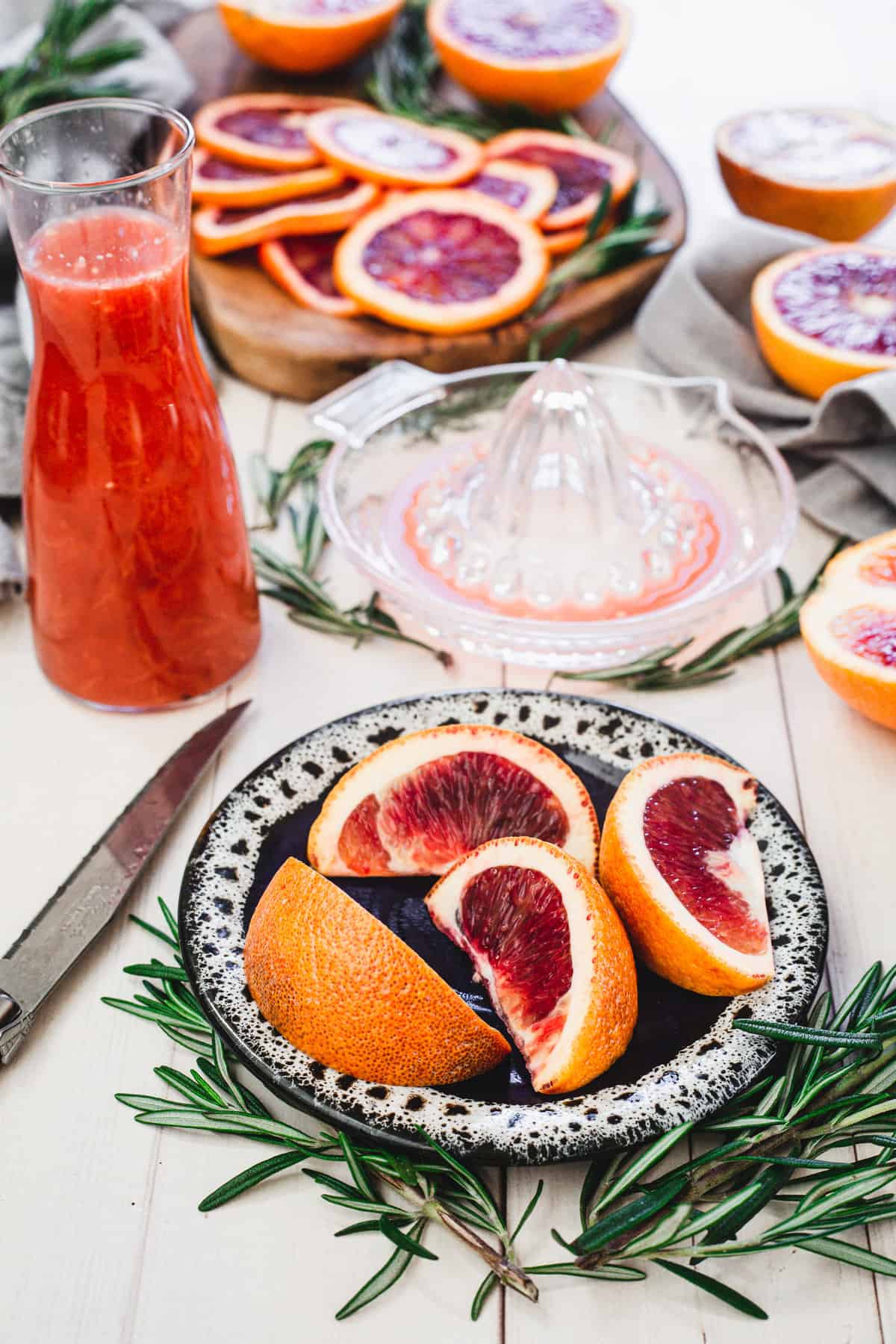 What is a blood orange?
Blood oranges are a fruit that originally comes from Sicily and Spain. They are typically grown in winter, and their growing conditions used to be a closely guarded secret. After all, you had to get things just right to naturally get that gorgeous ruby red hue! In the Northern Hemisphere, blood oranges are available from January to May - but usually, January to February across North America.
Due to the variation in soils, growing conditions and just nature's magic, each blood orange looks and tastes completely different. Some are completely red, while others have a mix of red-tinged orange flesh. While some blood oranges show their red color on the outside peel, others reveal their redness only once cut.
They have a sweet, but slightly tangy flavor with a bit of a bitter aftertaste. Imagine a juicy Cara Cara orange crossed faintly with a red grapefruit, and you've got a blood orange!
Other citrus and blood orange recipes: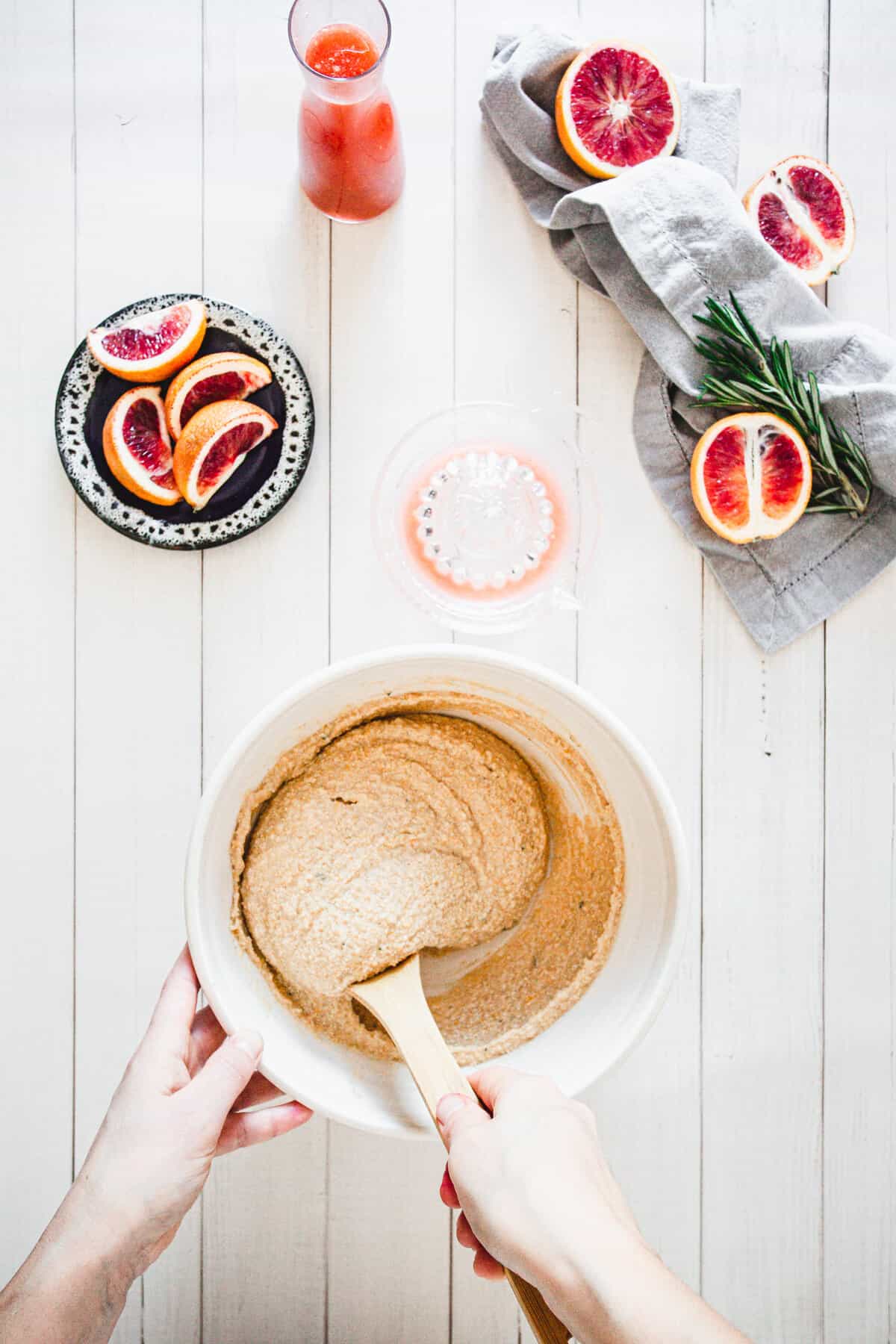 What is aquafaba?
As I mentioned, this blood orange cake is gluten-free and vegan, without compromising its texture or flavor. How is that possible? Enter the magic ingredient of aquafaba!
Aquafaba is, quite simply, the liquid from a can of chickpeas. While most of us tend to toss this ingredient to the garbage, it's actually a vegan pot of gold! Aquafaba whips just like egg whites, giving vegan baked goods lift and lightness.
In our vegan blood orange cake, aquafaba helps the flours bind together, and provides height and fluffiness to the cake, just like perfectly whipped egg whites would.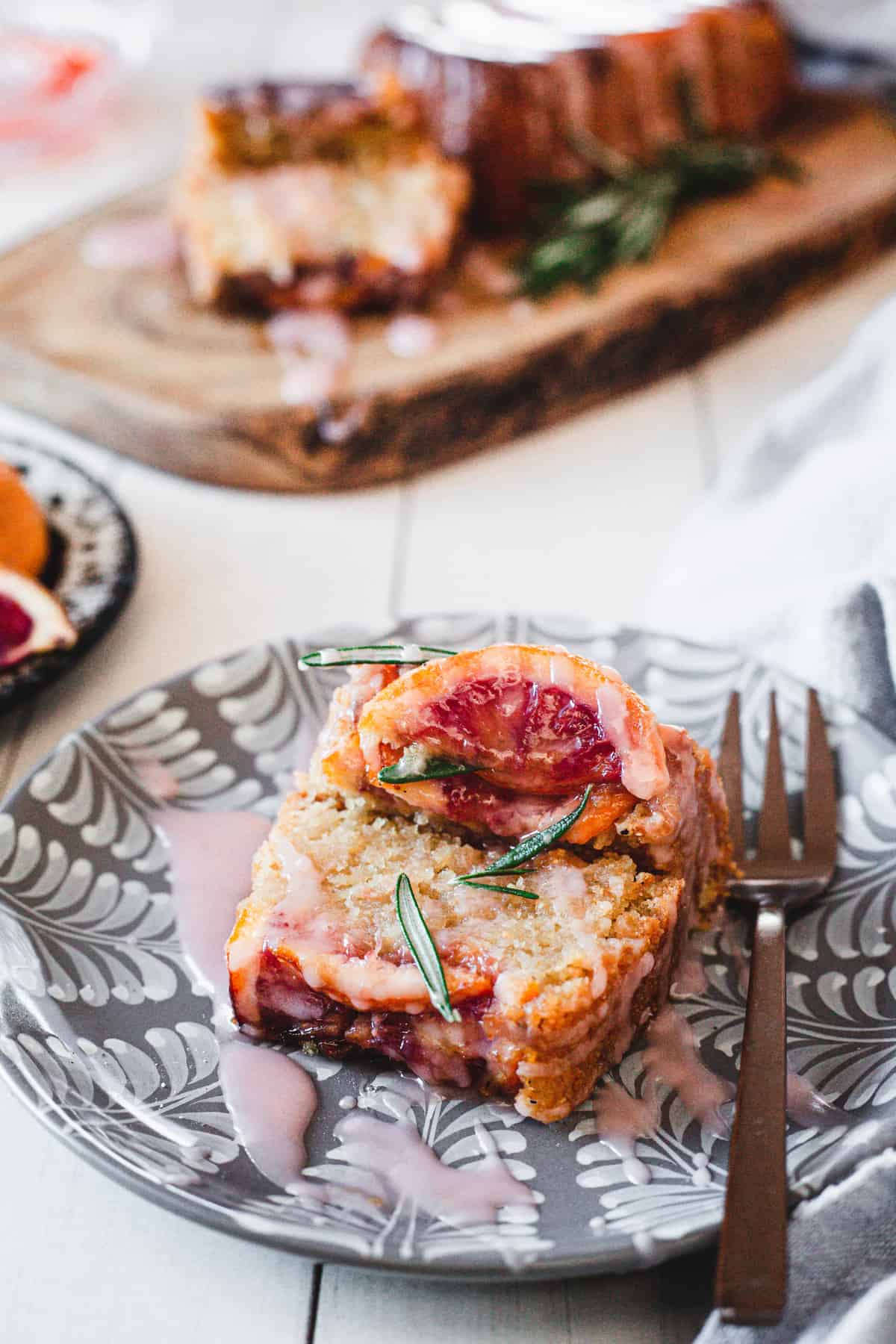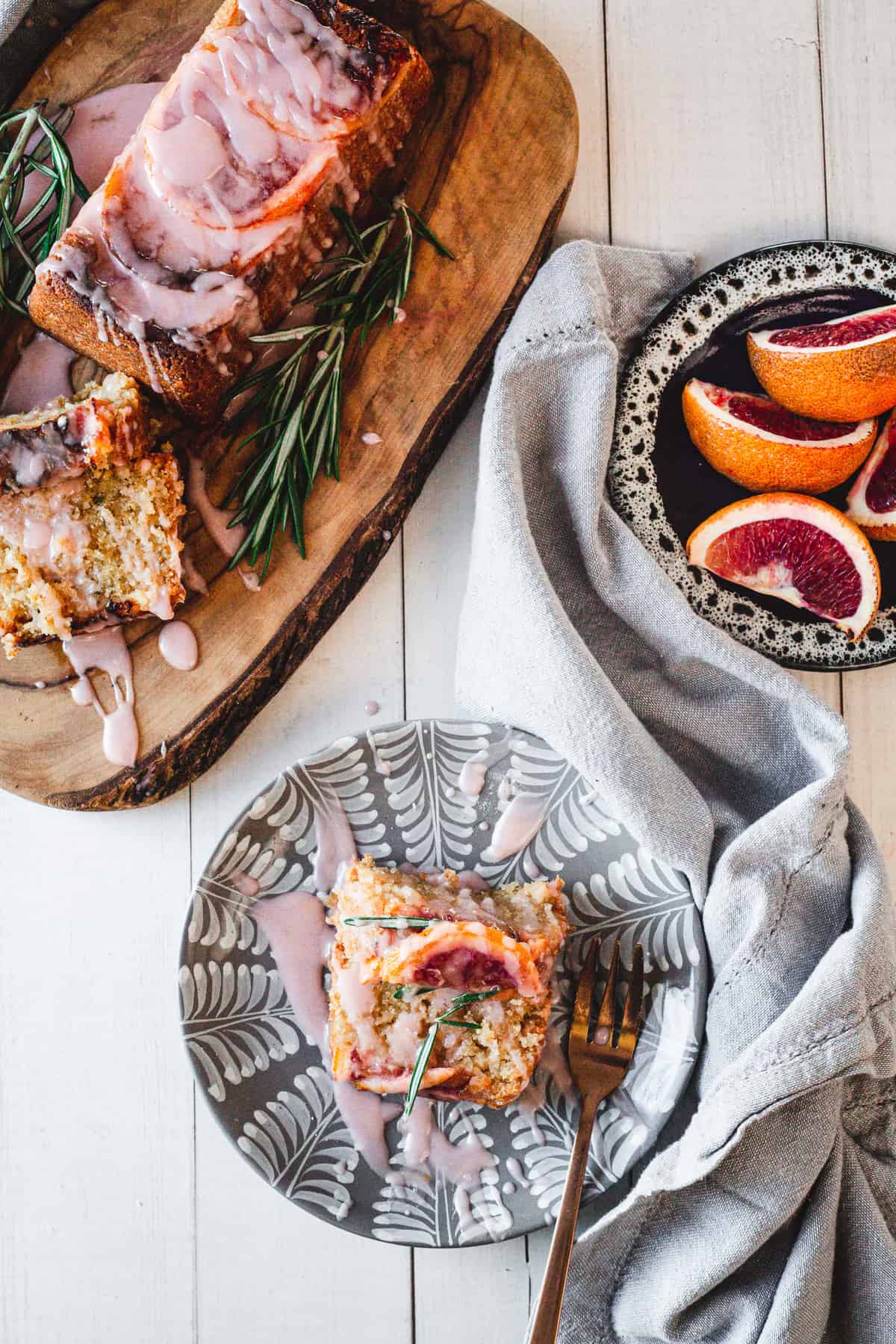 Why this is the best blood orange cake, ever
If you're not vegan or gluten-intolerant, it may be easier to skip this recipe for others. But I truly urge you to make this loaf cake, because it is:
moist
fluflly
beautiful - just look at that pink glaze!
aromatic - the rosemary is barely noticeable in taste, but it smells divine
easy to cut
easy to make
vegan
gluten-free
healthy
suitable for everyone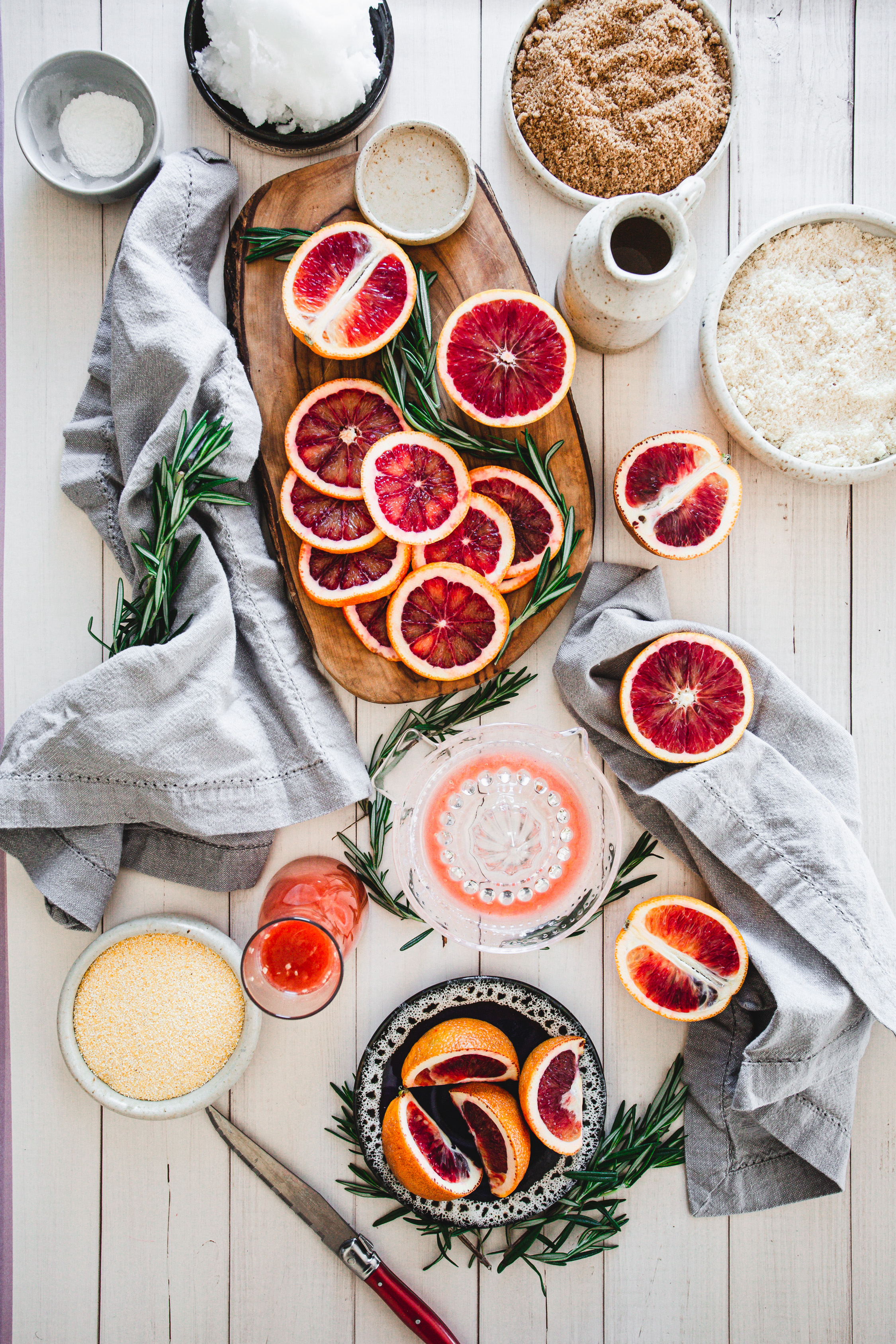 Ingredients
Here's what you need to make this blood orange pound cake:
brown sugar
coconut oil
olive oil
aquafaba (liquid from a can of chickpeas)
2 blood oranges
orange blossom water
fresh rosemary
almond meal
polenta or coarse cornmeal
GF flour mix (or regular flour)
baking powder
icing sugar (optional)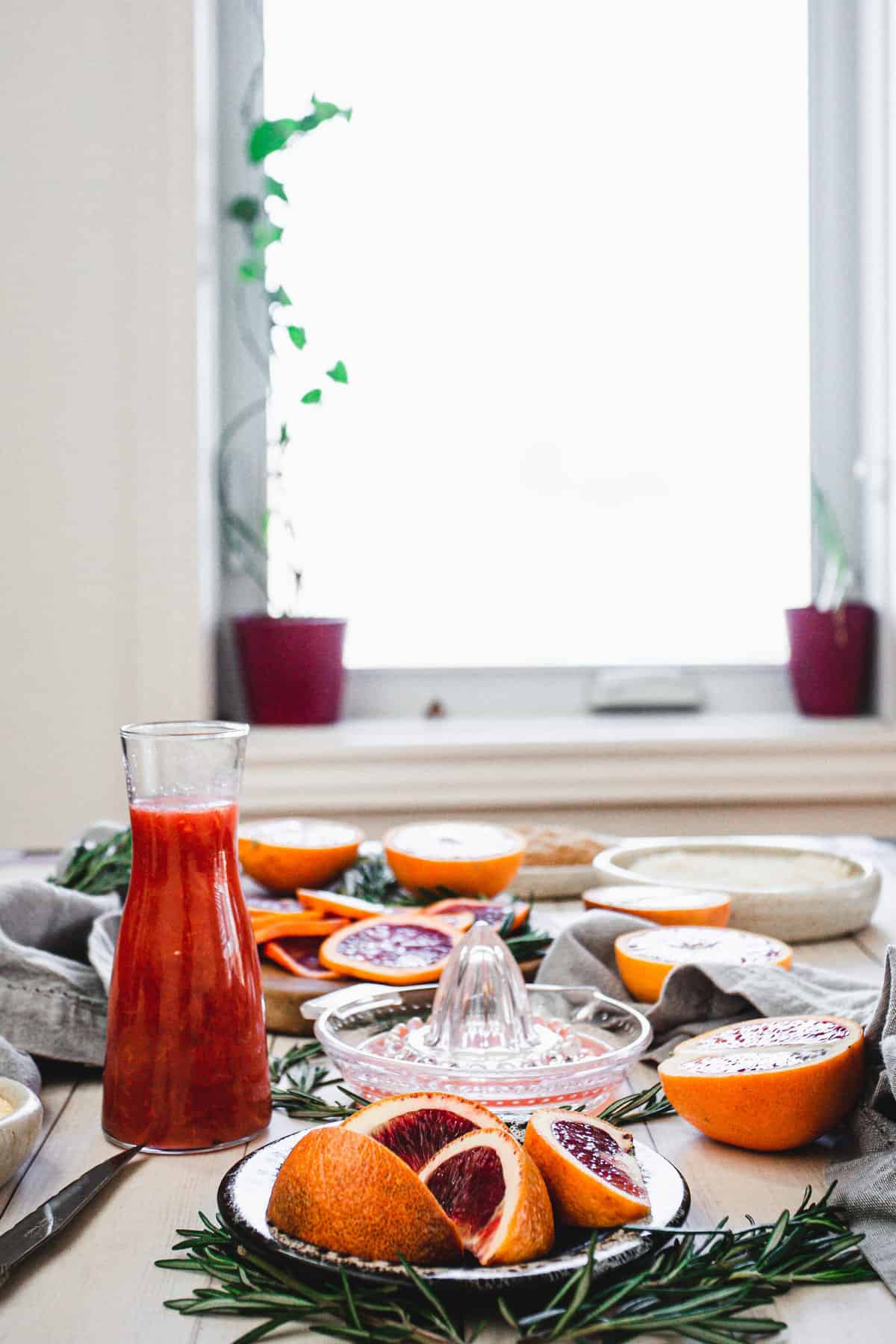 Equipment: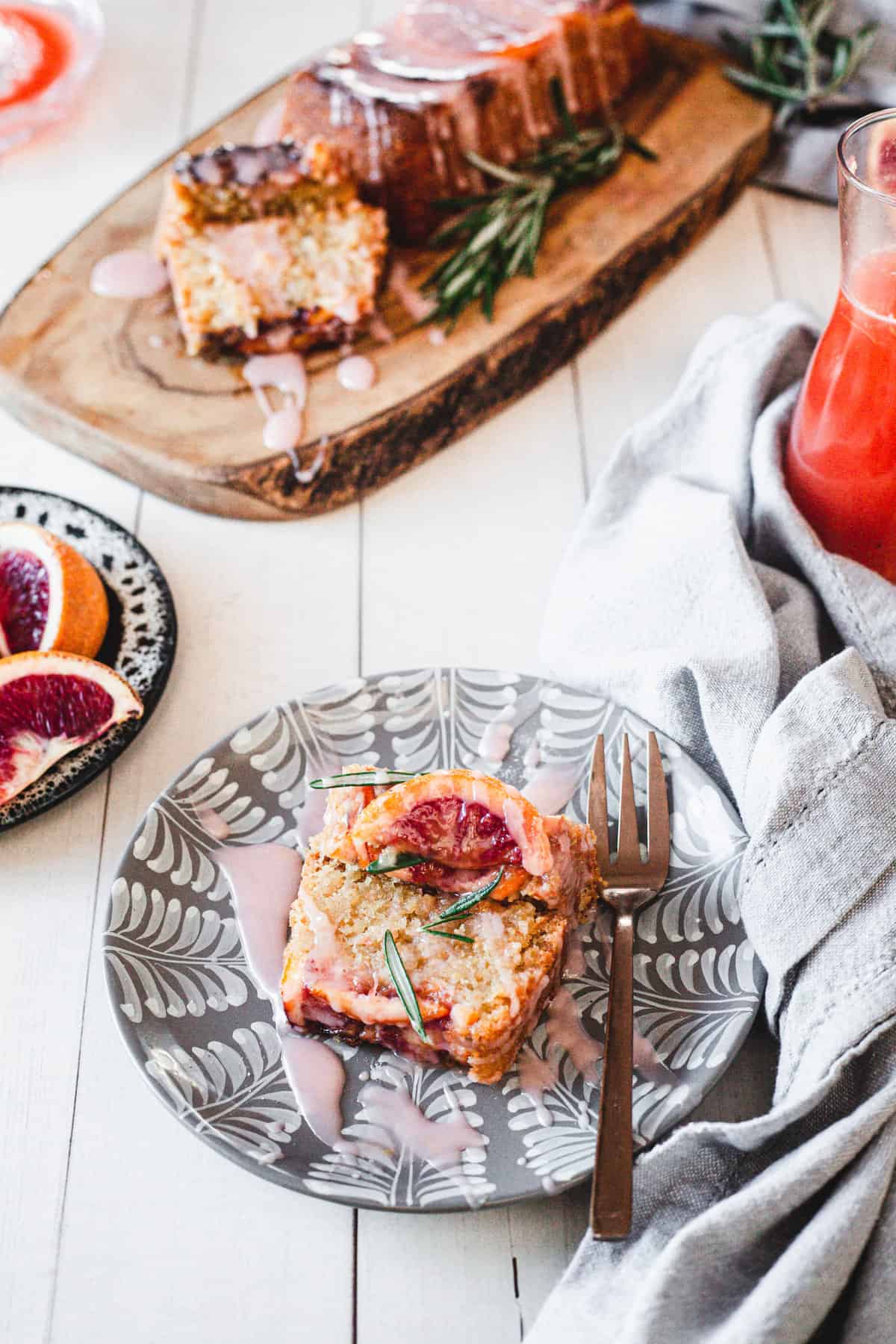 How to make blood orange cake
Preheat the oven to 340F. Grease 3 mini cake tins or 1 large loaf pan with coconut oil.
In a large bowl, mix dry ingredients: almond meal, polenta, flour and baking powder.
In a stand mixer set to a high speed (6-8), beat aquafaba until stiff peaks are formed (about 10 mins). Add brown sugar and beat until a meringue texture is achieved, another 5 mins.
In another bowl, mix together olive oil, melted coconut oil, orange zest and juice, orange blossom water and rosemary.
Add oil mixture to dry ingredients and stir to combine. Gently fold in aquafaba until just combined.
Arrange 4 blood orange slices in the bottom of each mini baking tin, or 12-16 orange slices along the bottom of a loaf cake pan. It's ok for them to overlap.
Pour batter into the cake tins.
Bake cake tins at 340F for 35-45 minutes. Remove, and let cake cool in tins completely before attempting to invert it.
Prepare glaze: Pour icing sugar into a large bowl. Gradually add in blood orange juice, one tablespoon at a time, mixing throughout until a pink glaze is achieved.
When ready to invert the cake, run a knife along the edges of the baking tins. Cover cake pans with a plate or a cutting board, and turn cake over. Tap the bottom of the cake tins a couple of times, and then remove cake pan.
Serve cake drizzled with pink blood orange glaze (optional), and topped with additional rosemary sprigs.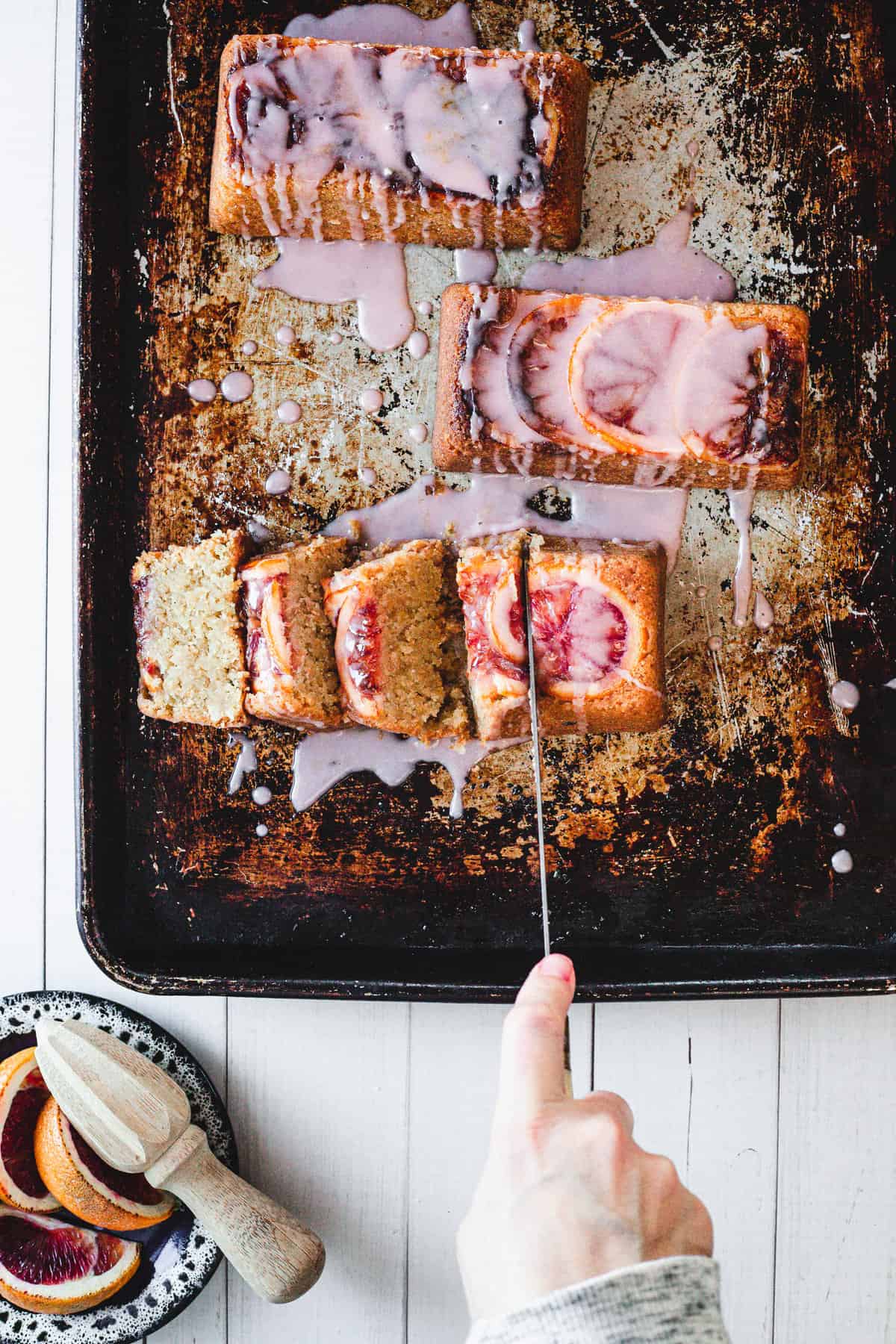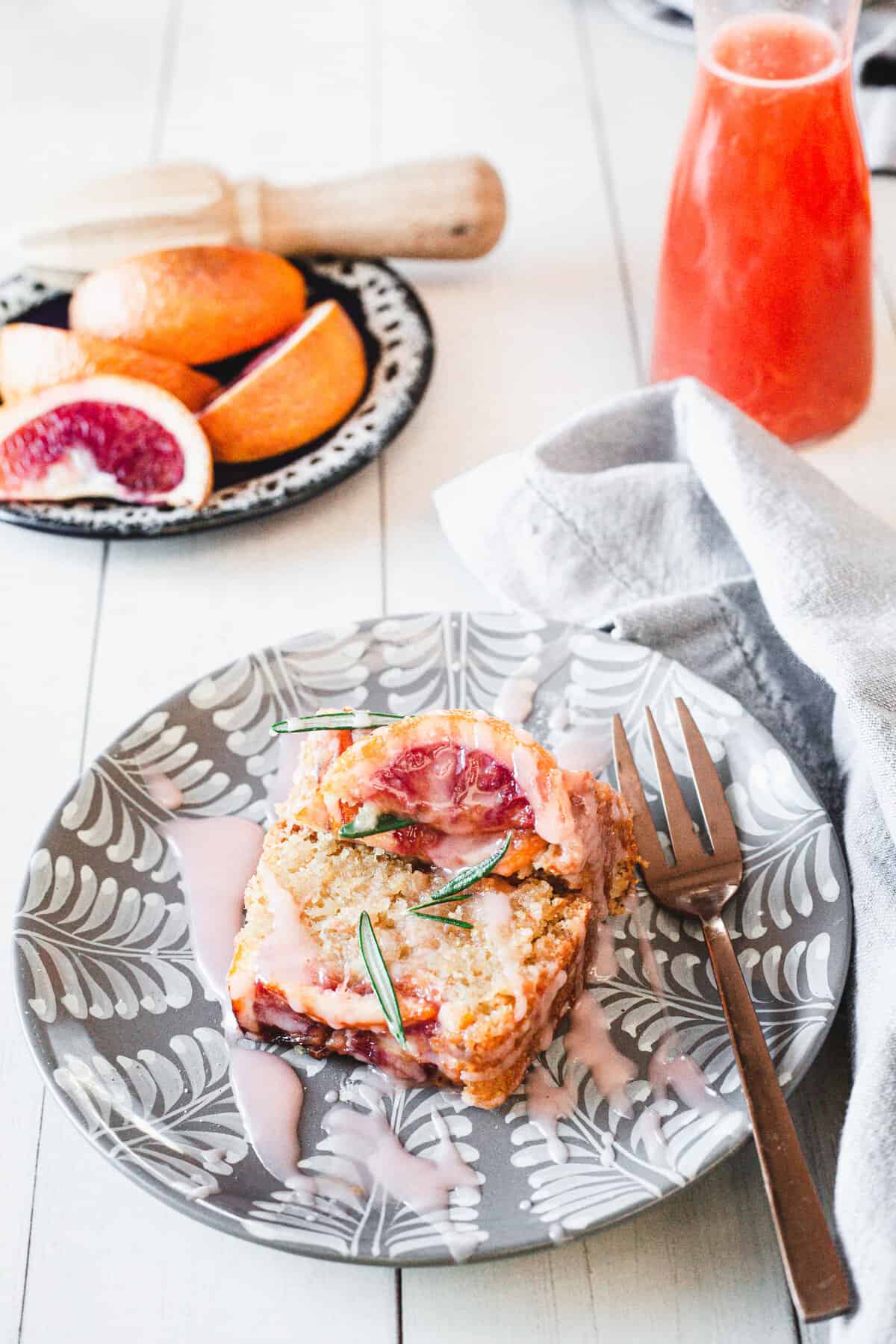 Dominant flavors
In this blood orange loaf cake, we rely on the natural juiciness and the colour of the blood orange to give the glaze its gem-like pink hue. If you don't have blood oranges, you can use regular or Cara Cara oranges instead. I also use orange blossom water to amp up the orange flavor, but you can skip it.
Coarse polenta and ground almonds give the cake its texture. I also use a gluten-free flour mix to help the cake stick together, but if you're not gluten sensitive, it works just as well with regular flour.
But we turn to another aromatic altogether - rosemary - to give what I consider the best blood orange cake recipe a certain fragrant quality unlike any other. If you're not a fan of rosemary, omit it.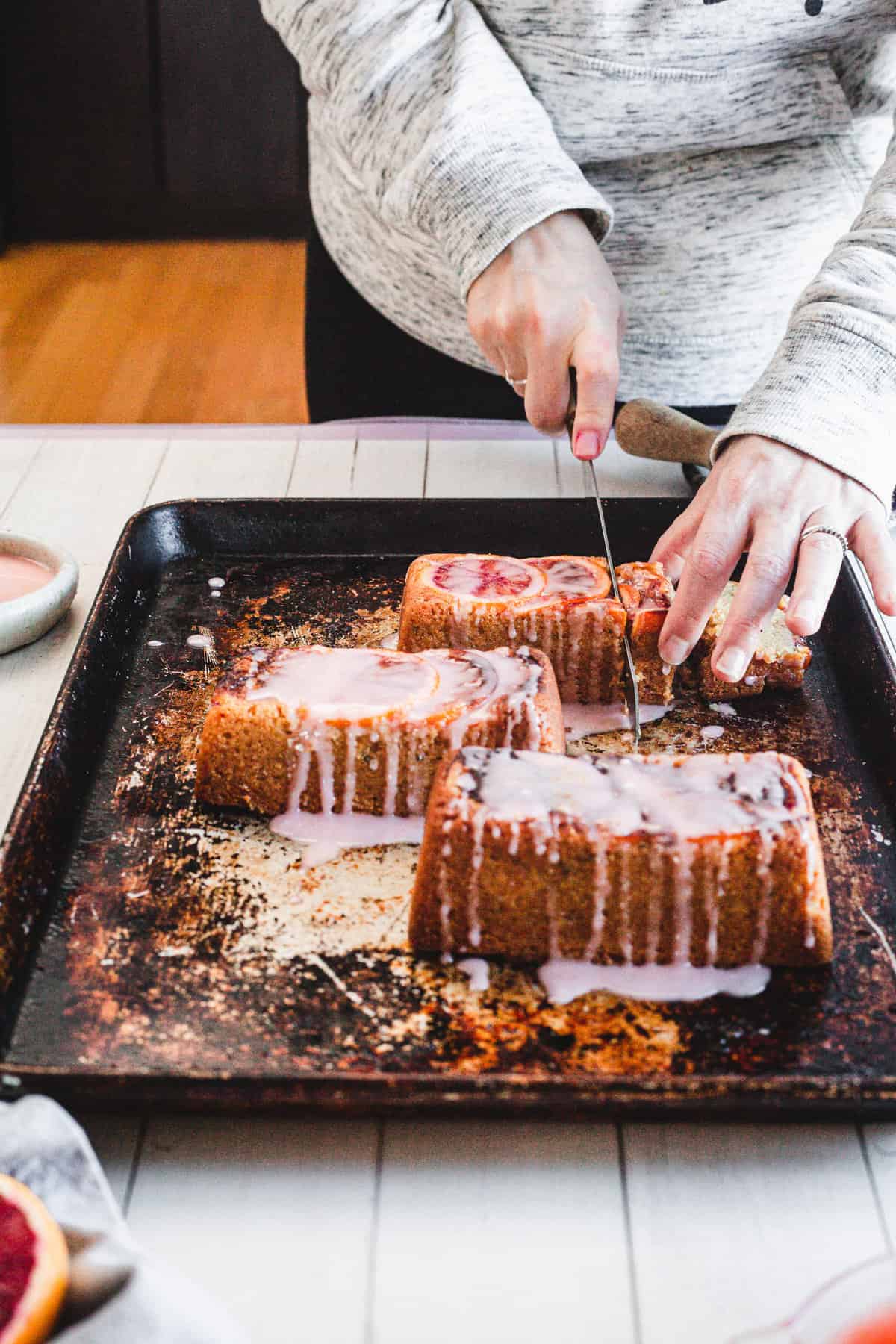 A Partnership with the Reducetarian Foundation
This post was written in partnership with the Reducetarian Foundation, and the full recipe for this blood orange cake appears on their blog.
The Reducetarian Foundation is dedicated to creating a world with better health for humans, the environment, and farm animals by reducing societal consumption of animal products.
What I love about the Reducetarian Foundation is that they do not force anyone to be vegan; they simply make it clear that a world where we all decrease our intake of animal products is a better world, for all.
And if that includes a few slices of vegan blood orange cake, that's a mission I can definitely get behind.
For more about this vegan cake and the full recipe, check out my original post on the Reducetarian Foundation's website.
Other Dessert Ideas
Pin For Later