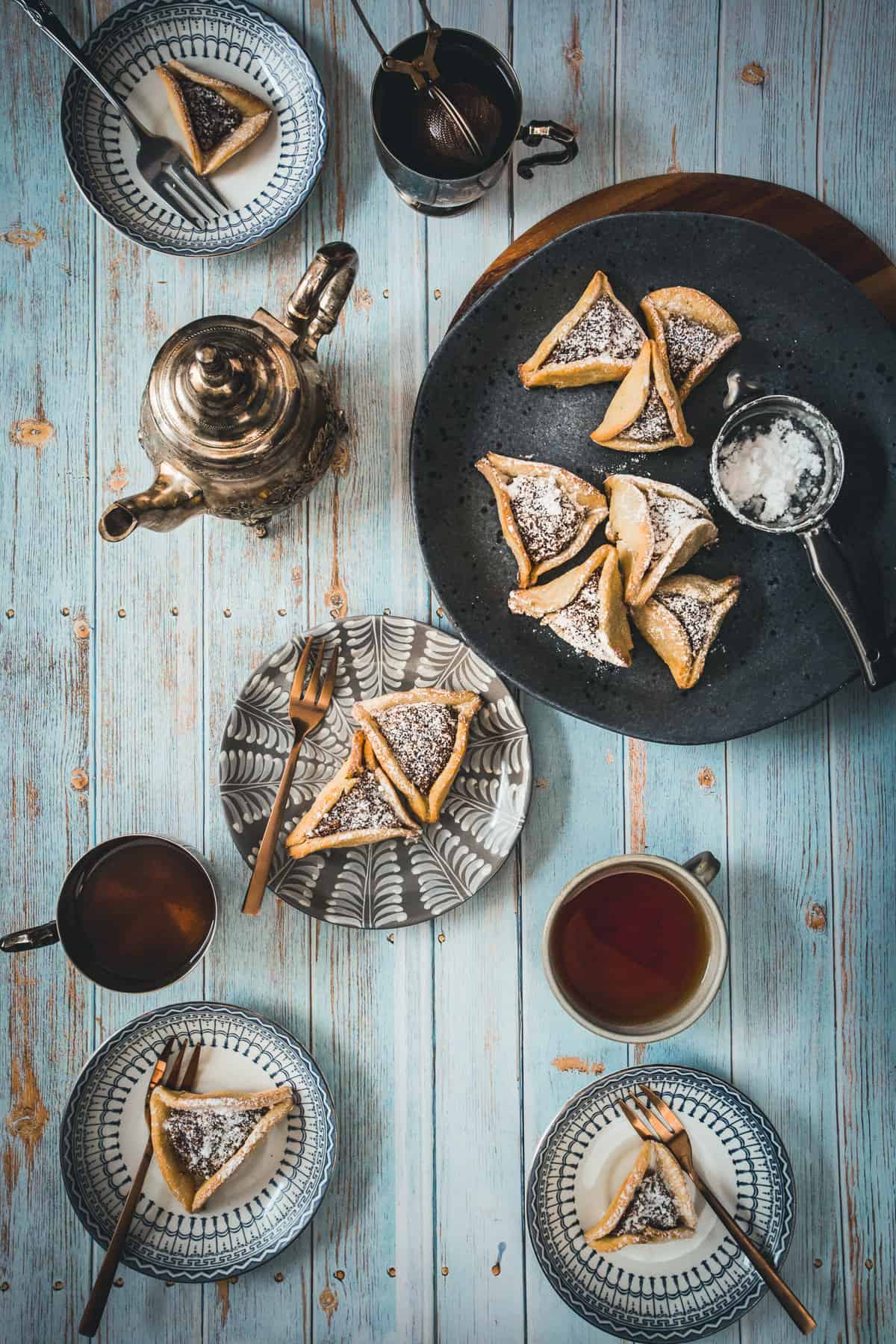 Orange and Date Gluten free Hamantaschen bring a familiar, nostalgic taste to Purim. This is the flavor of Israeli Purim celebrations!
This recipe was published in Vol. 2 of Challah Magazine. Challah is a publication for young Jewish adults, fusing cultural heritage with contemporary Jewish experiences.
Jump to: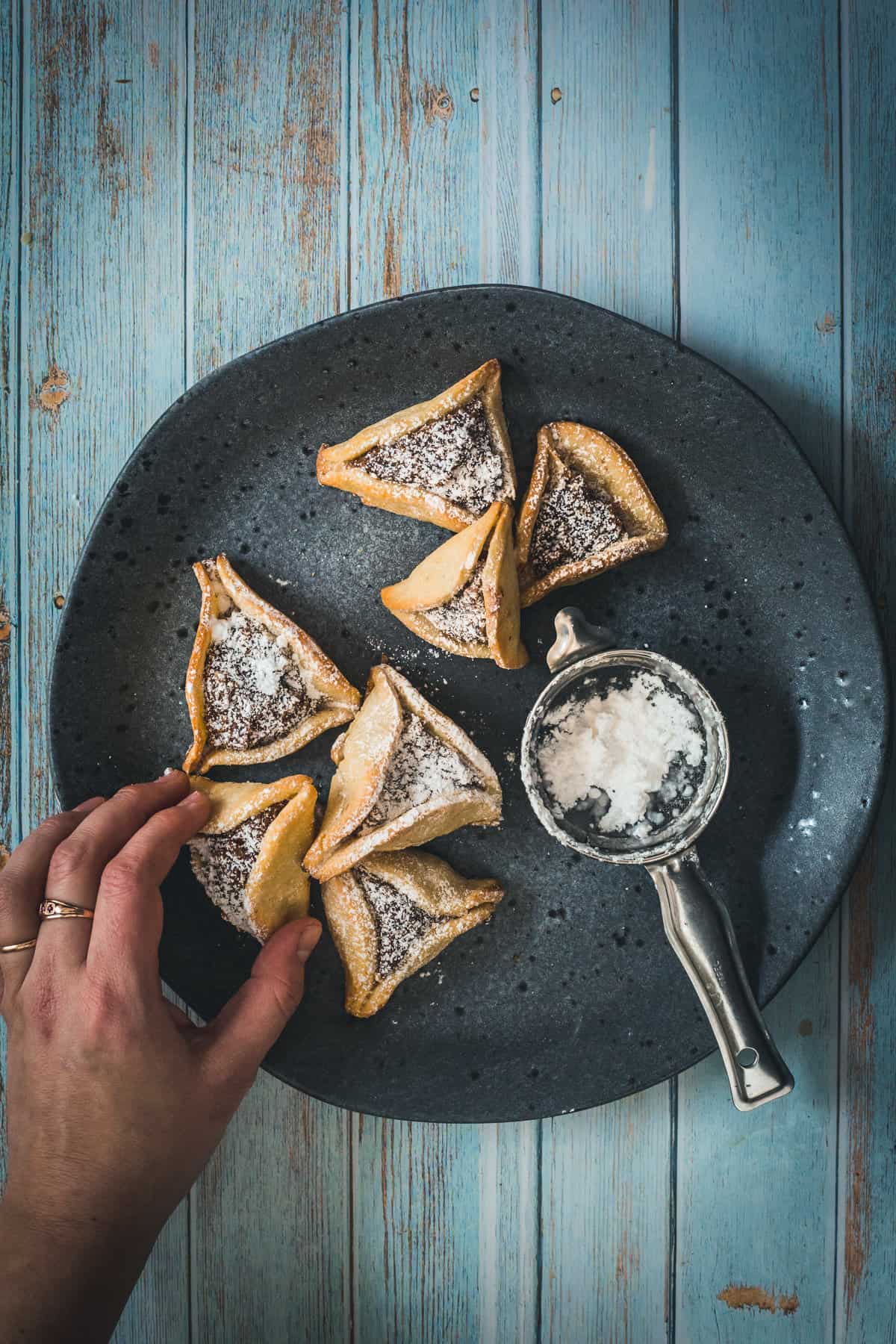 My Purim Evolution
I have written prior about how my love affair with Purim, the Jewish day of merry-making and costume-doning, started. What started as a magical enchantment quickly revealed itself to be a day of homemade costumes and stale, hand-me down treat packages. Once I realized how poor my family was, my embarrassment of Purim as a child knew no bounds.
It took me years to appreciate how precious those homemade outfits and scrounged-up treats actually were. How much time and effort my mother put into each seam, each sequin. How guilty she must have felt, sending me to school with pitiful plates of hardened candy, imagining the embarrassment of the recipient's parents, but knowing she can't do any better.
This year, as I bake my orange and date gluten free hamantaschen and wearing a mask on my face no longer feels like an exception, it's easy to think back to how the costumes and masks of my childhood made me feel. How the prettier I looked, the shinier my plate of treats was, the better it felt.
But the truth was, it didn't matter whether I went to school dressed as a princess or a sorceress. My costume - my mask - was just window dressing. The person inside - an immigrant, a dreamer, a shy little girl - remained unchanged.
While I don't sew my own Halloween or Purim costumes now, I still refuse to buy them in store. I assemble costumes from pre-owned items, thrift store finds, and DIY additions.
And most importantly, I bake my own plate of hamantaschen cookies, delighting in the childhood flavours, and give some to my sister, who lives a few blocks away.
We call our mother, who no longer sews, but who can now afford to buy herself all the gluten-free hamentashen she wants. Like all of us, she wears a mask to her work, but not because it's Purim.
And underneath it all - the masks, the make up, the adult behaviours - I realize that we're all still the same we were over 20 years ago, during those first Purim celebrations. Hopeful, well-intentioned and slightly embarrassed by ourselves.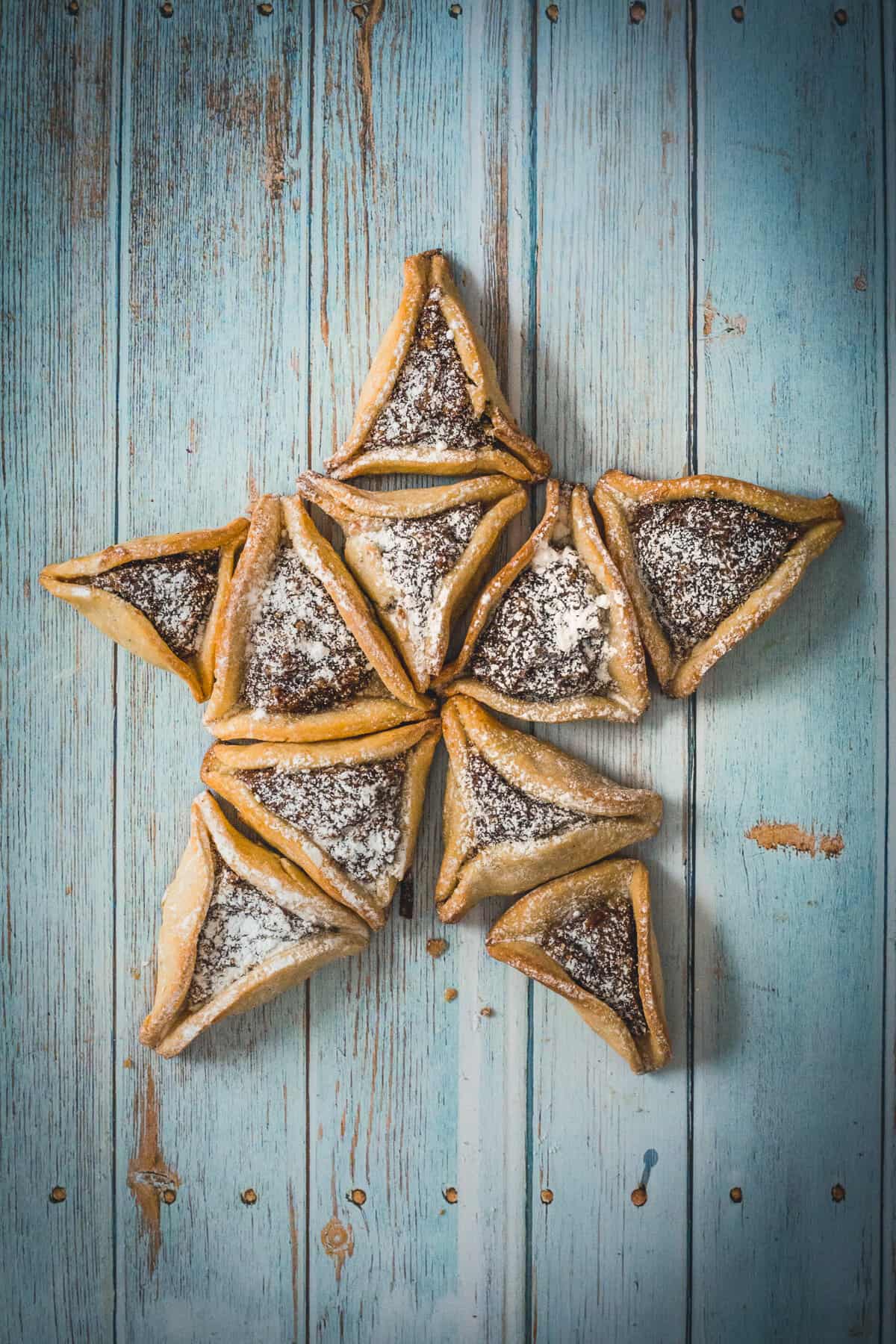 How to Spell Hamantaschen, Hamentashen or Hamentaschen?
All of these spellings work! But the most common one is hamantaschen, the plural of hamantasch. That's why this is a recipe for gluten free hamantaschen, though I use the first two spellings pretty interchangeably.
Hamantaschen means "the Ears of Haman" in Yiddish. In Hebrew, this dish is called Oznei Haman.
Haman is the quintessential bad guy in the Purim story, the man who wanted to kill all the Jews in Persia - and whose plan was ultimately foiled by Queen Esther, her uncle Mordechai the Jew, and their wits. To read more about Purim, check out this site.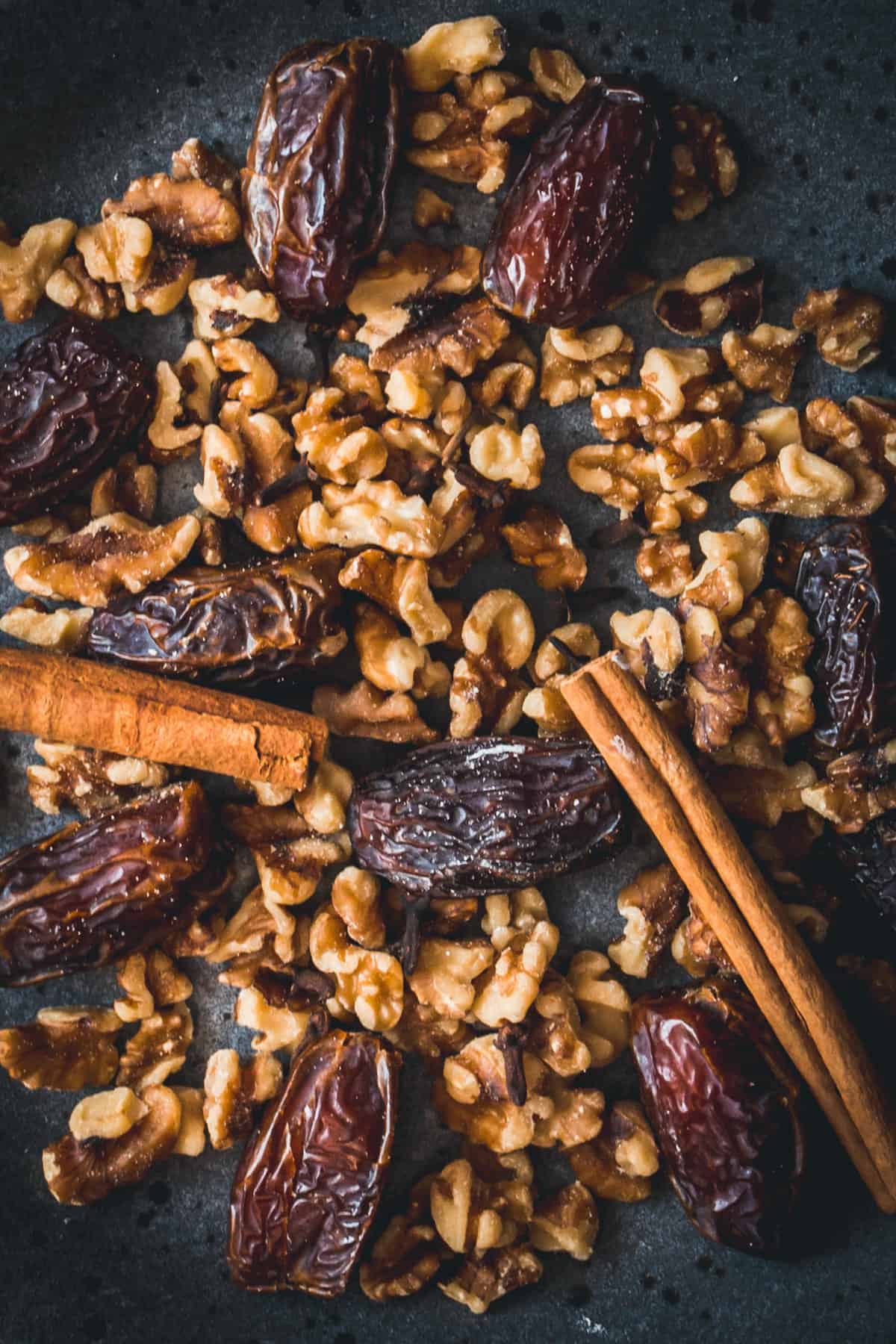 Why I Chose a Date Filling for my Easy Hamentashen Recipe
I chose to fill my gluten-free hamentashen with a homemade orange and Medjool date filling.
Date hamantaschen is the classical Israeli hamantaschen recipe. While in North America, poppy seed, prune hamantaschen or even apricot hamantaschen cookies seem to be a lot more typical, in Israeli you can buy a hamantaschen filled with a sticky date filling on pretty much every street corner. In fact, you can find ready-made date spread in every store as well, just in case you want to make your own date hamentashen, or a date Swiss roll cake.
To me, there is nothing more nostalgic than biting into a crunchy, sweet date hamantaschen cookie. It's the one flavor my sister keeps asking for year after yeae! Making these into gluten free hamantaschen means I get to enjoy my favourite childhood treat while not compromising my immune system.
I recommend using Medjool dates for your filling because they're softer and don't need soaking prior to processing.
For more Medjool date recipes: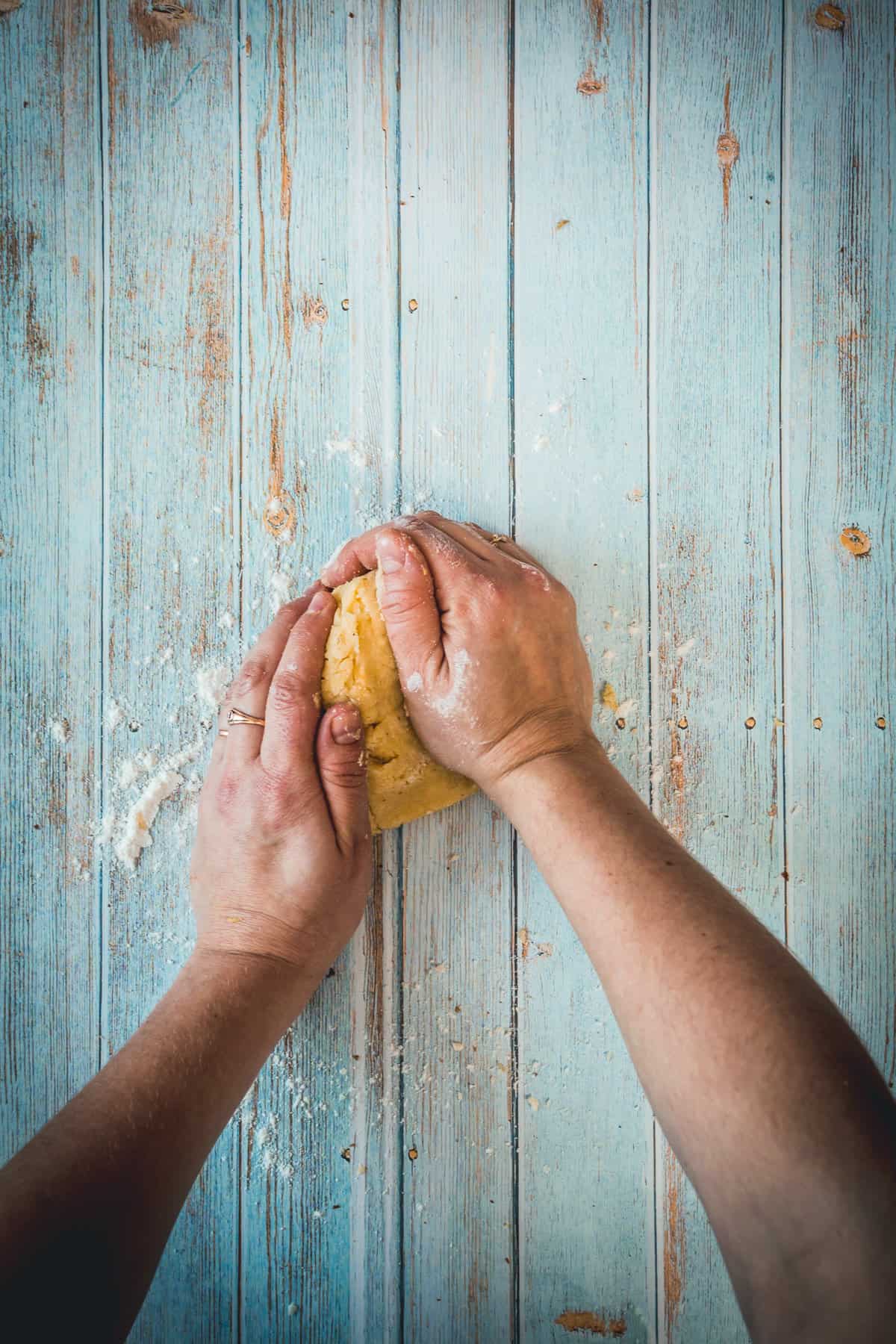 Why I think this is the Best Gluten Free Hamantaschen Dough
This dough is my third attempt at baking gluten free hamentashen. You can find my second version here.
However, I really think this is THE BEST gluten-free hamantaschen dough out there. I based it on Leah Koenig's recipe in Modern Jewish Cooking, which I have and absolutely love.
This almond meal hamantaschen dough is:
gluten free and dairy free
super simple
doesn't require any fancy preparation or extravagant ingredients
uses only basic equipment
takes 5 minutes of active work to make
has a great texture
doesn't rip
can be rolled super thin
easy to fold
easy to fill
For more gluten free recipes: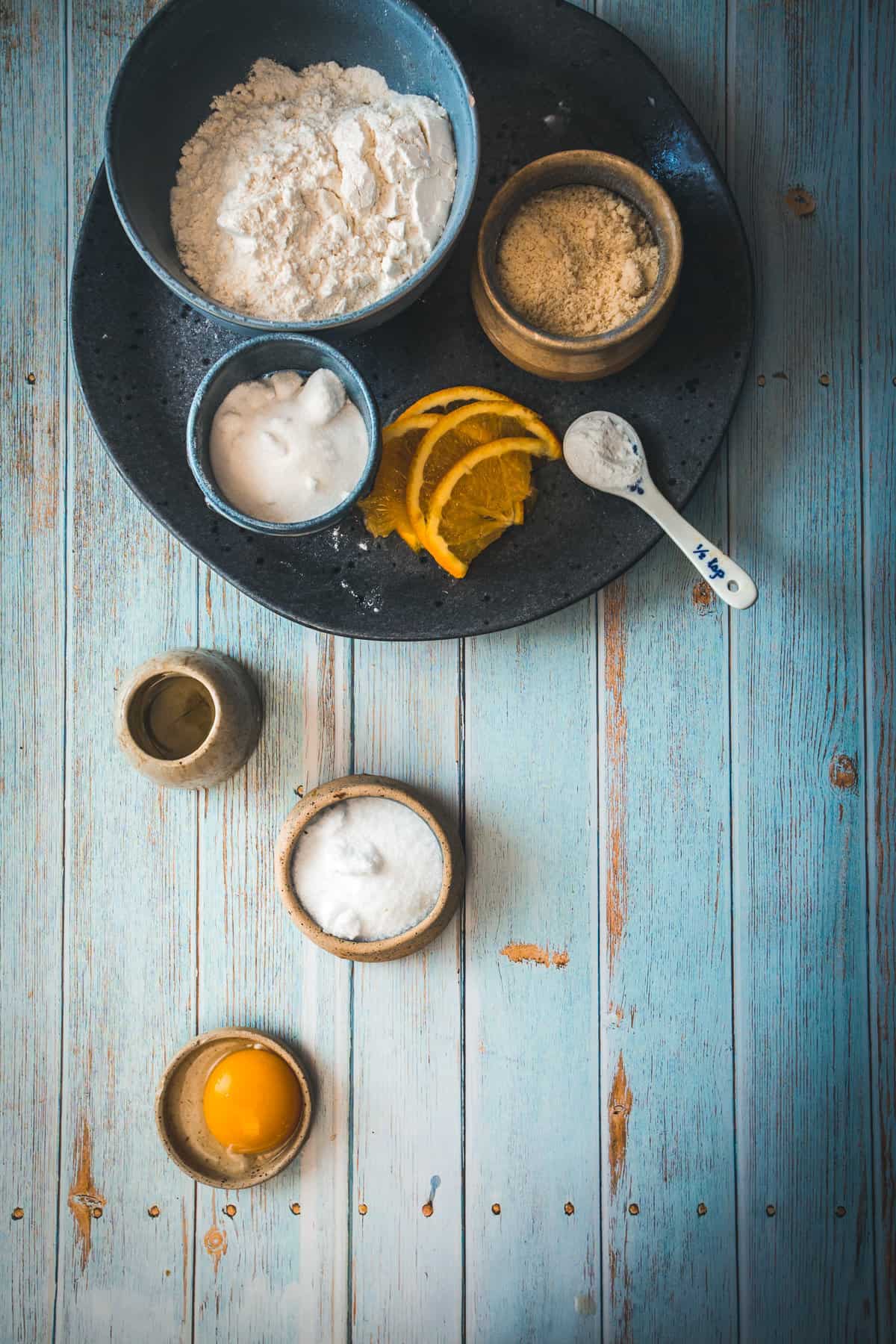 Ingredients for gluten free hamentashen
Gluten free hamentashen need the following ingredients. If you are keto or vegan, I provide substitutions and adaptations below:
For almond meal hamantaschen dough:
gluten-free flour mix (choose your favourite one. I make mine based on the gluten-free on a shoestring recipe)
almond meal
baking powder
orange juice
orange zest
oil (Canola, grapeseed or vegetable will all do. Just make sure you go for a flavorless oil)
sugar
eggs
For filling:
Medjool dates
orange juice OR non-dairy milk
walnuts (or other nuts)
cinnamon, ground
cloves, ground
Equipment
You need the following equipment to make orange and date gluten free hamantaschen: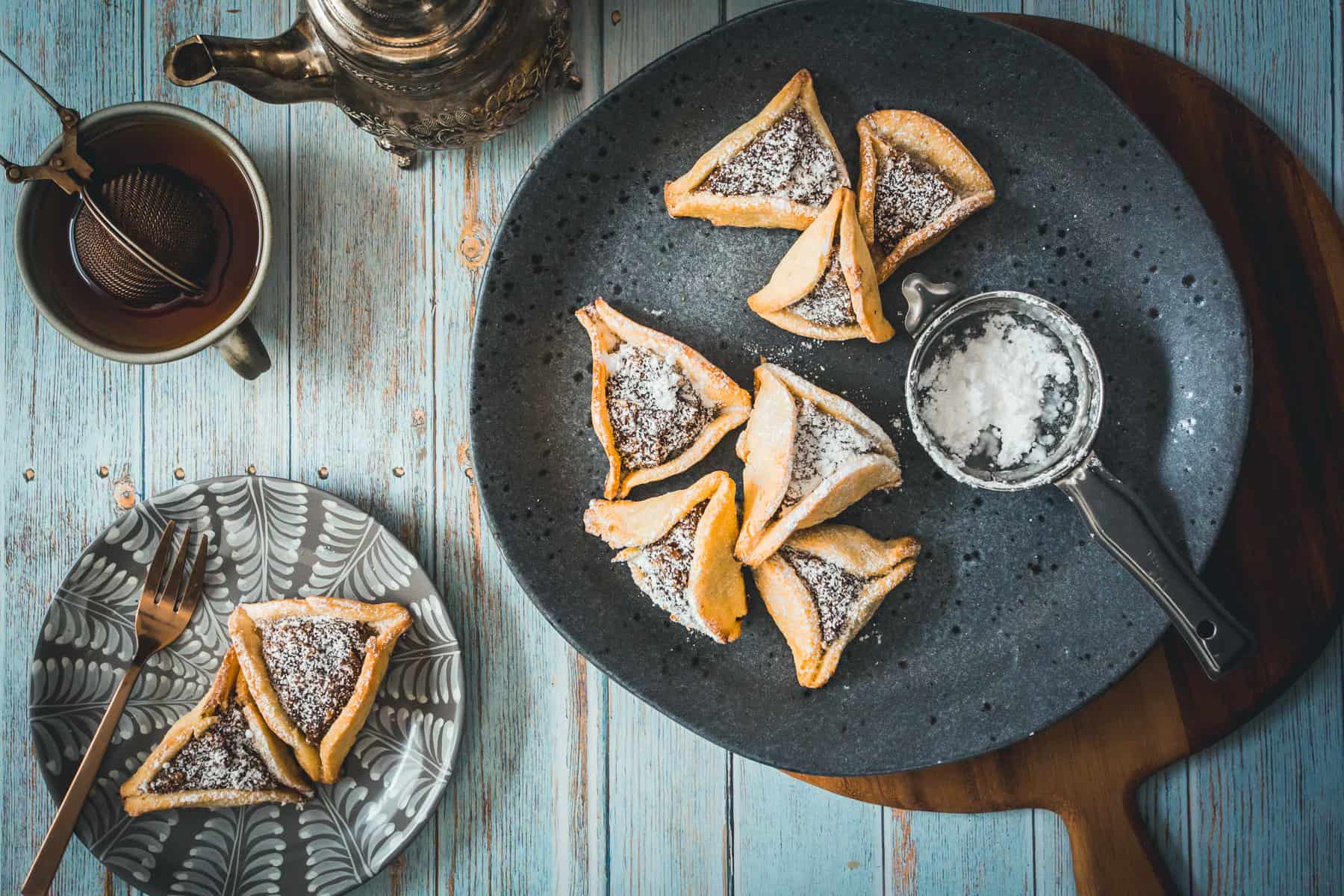 Directions for making gluten free hamantaschen
Prep the ingredients
To make your life easier, start by taking out and measuring all the ingredients you need. This makes baking so much easier and faster.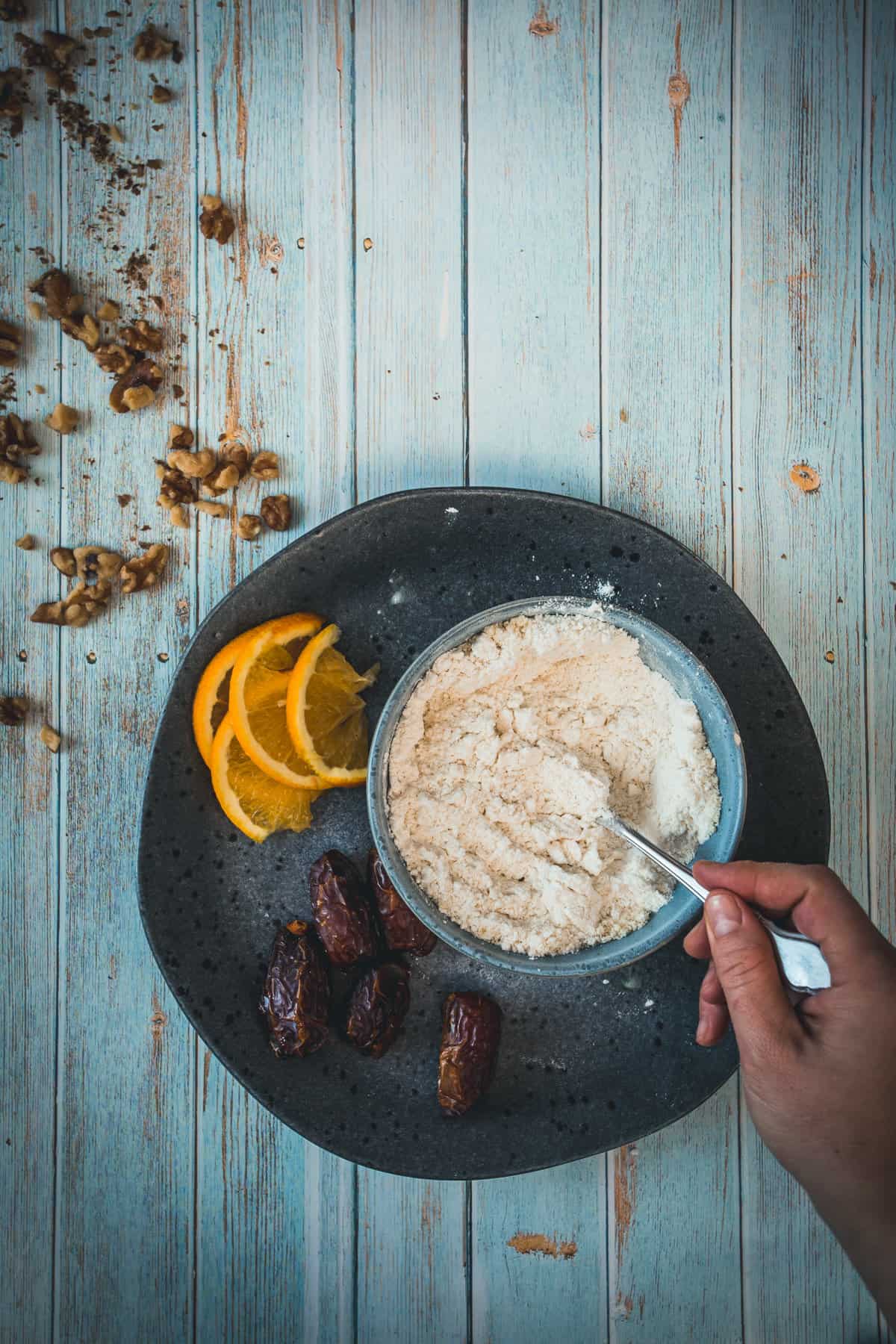 Combine dry dough ingredients
Combine gluten-free flour, almond meal, baking powder and salt in a medium-sized bowl.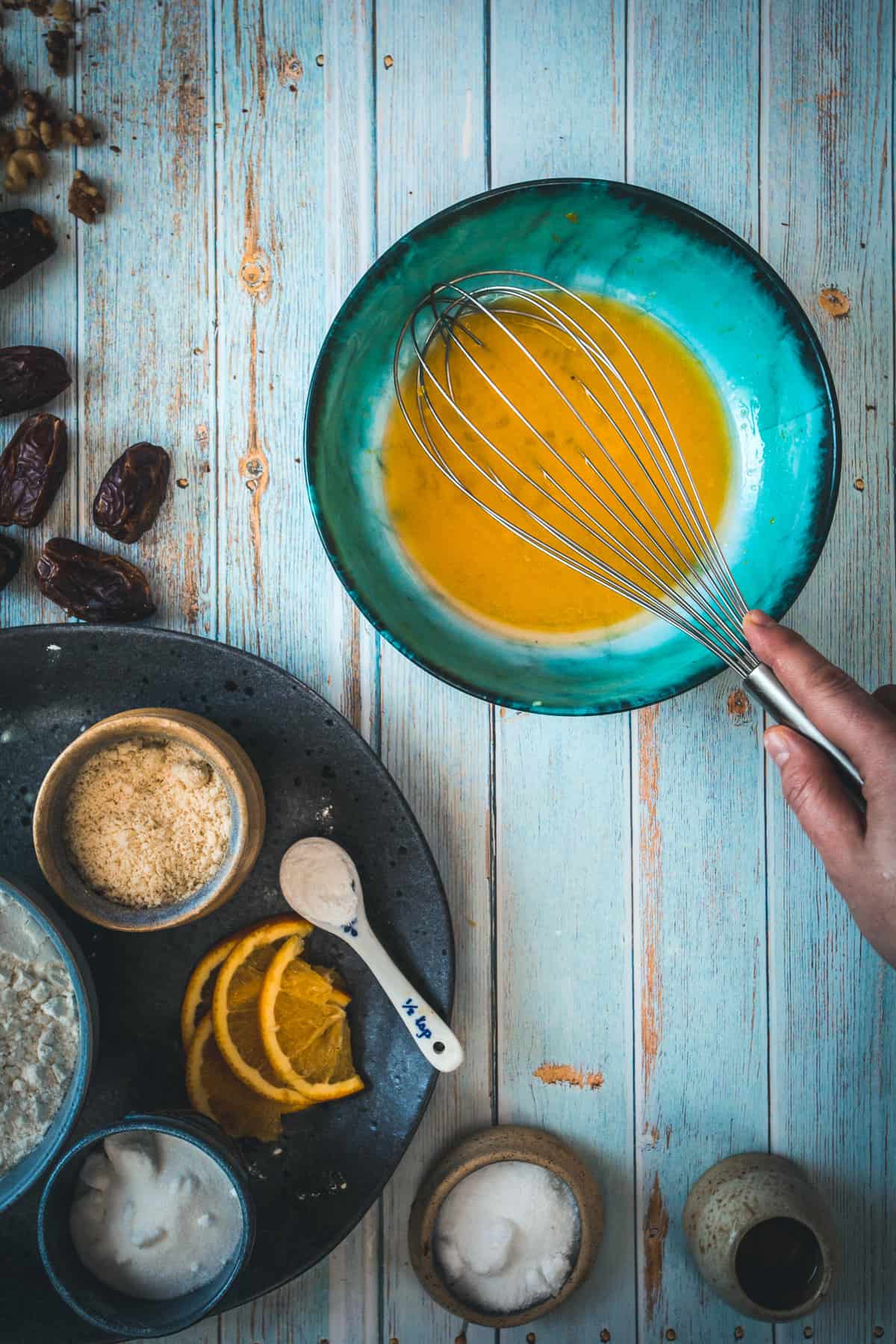 Combine wet dough ingredients
In a large bowl, combine orange juice, orange zest, oil, sugar and egg, and whisk together.
Add dry ingredients to wet ingredients
Working slowly and in batches, add flour mixture to the wet ingredients (working in ½ cup at a time). Stir the dough a few times, just until it starts to come together. Do not overmix!
Transfer the dough onto a flat, floured surface and knead a few times. Dough should be smooth but not sticky; if it's too dry, add more orange juice, 1 teaspoon at a time, or more gluten-free flour, 1 tablespoon at a time, if it looks too wet.
Refrigerate gluten free hamantaschen dough
Shape dough into a flat disc, wrap in plastic wrap and refrigerate for at least 3 hours.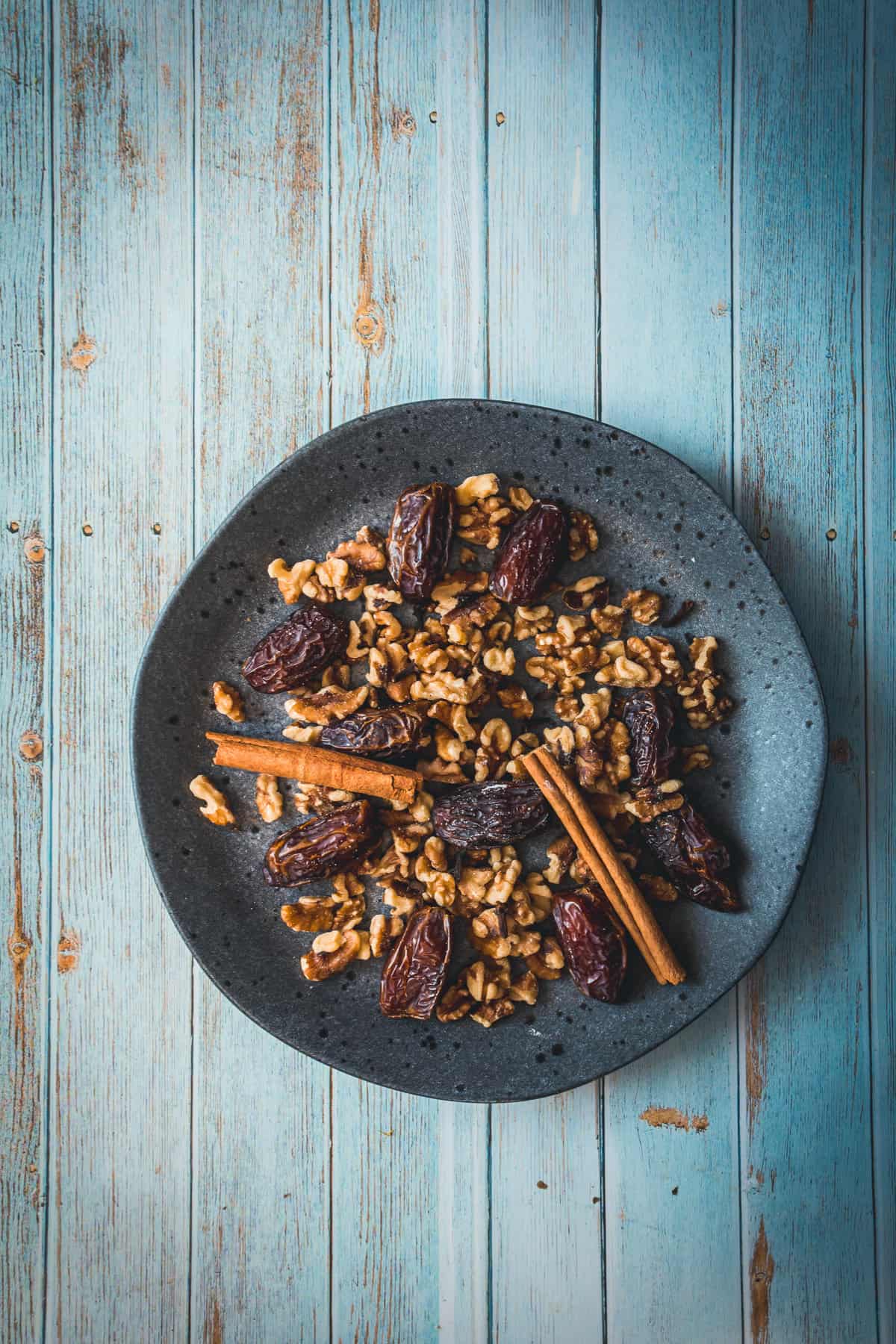 Make filling
Add all filling ingredients to the food processor. Process until smooth, scraping down the walls of the food processor with a spatula a few times to combine everything.
You may need to add more or less liquid, depending on the age of your dates. Your filling should be a sticky, spreadable paste that can be formed into a ball. If it's too liquid, add more dates and nuts; if it's too hard and not spreadable, add more orange juice or non dairy milk.
Preheat oven
Preparing hamantaschen: When ready to bake the gluten-free hamantaschen, preheat the oven to 350F. Cover a baking sheet with parchment paper or a reusable silicone mat.
Roll out hamantaschen cookies
Remove dough from fridge, and using a rolling pin, roll it out on a lightly floured surface to about 4-mm thickness.
Using a cookie cutter or a glass, cut out circles and transfer them onto a baking sheet, leaving some space between the cookies. Roll scraps of leftover dough back together, and repeat process until all dough is done.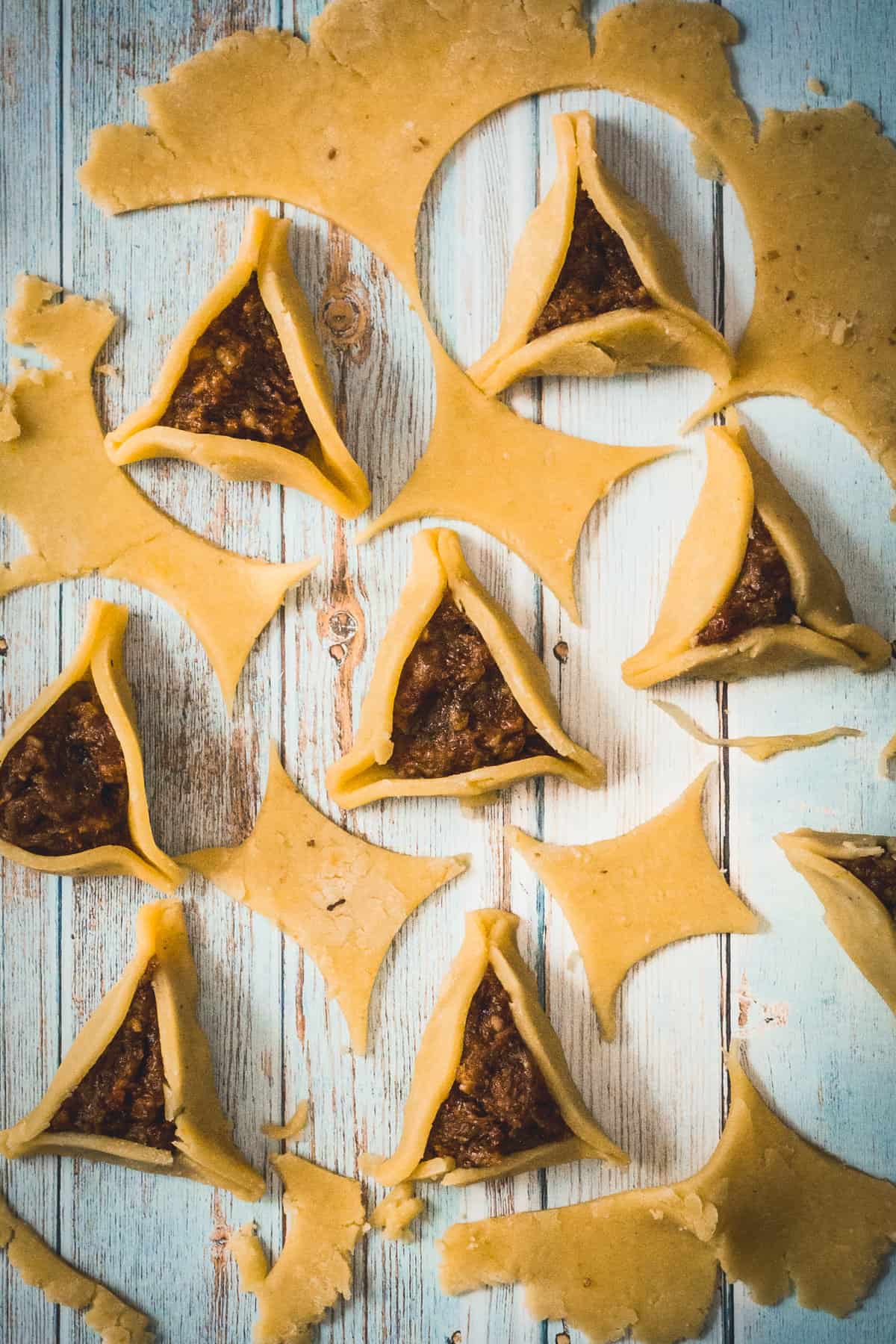 Fill gluten free hamentashen
Spoon a 1-teaspoon of date filling in the middle of each circle. Fold into a triangle: fold the left side over on an angle, followed by the ride side and then the bottom, forming a triangle-shaped pocket. Pinch the seams firmly. Repeat with remaining dough.
Bake orange and date gluten free hamantaschen
Bake for 20 minutes at 350F. Let gluten-free hamantaschen cool on baking sheet for 5 minutes, then transfer to a wire rack to cool.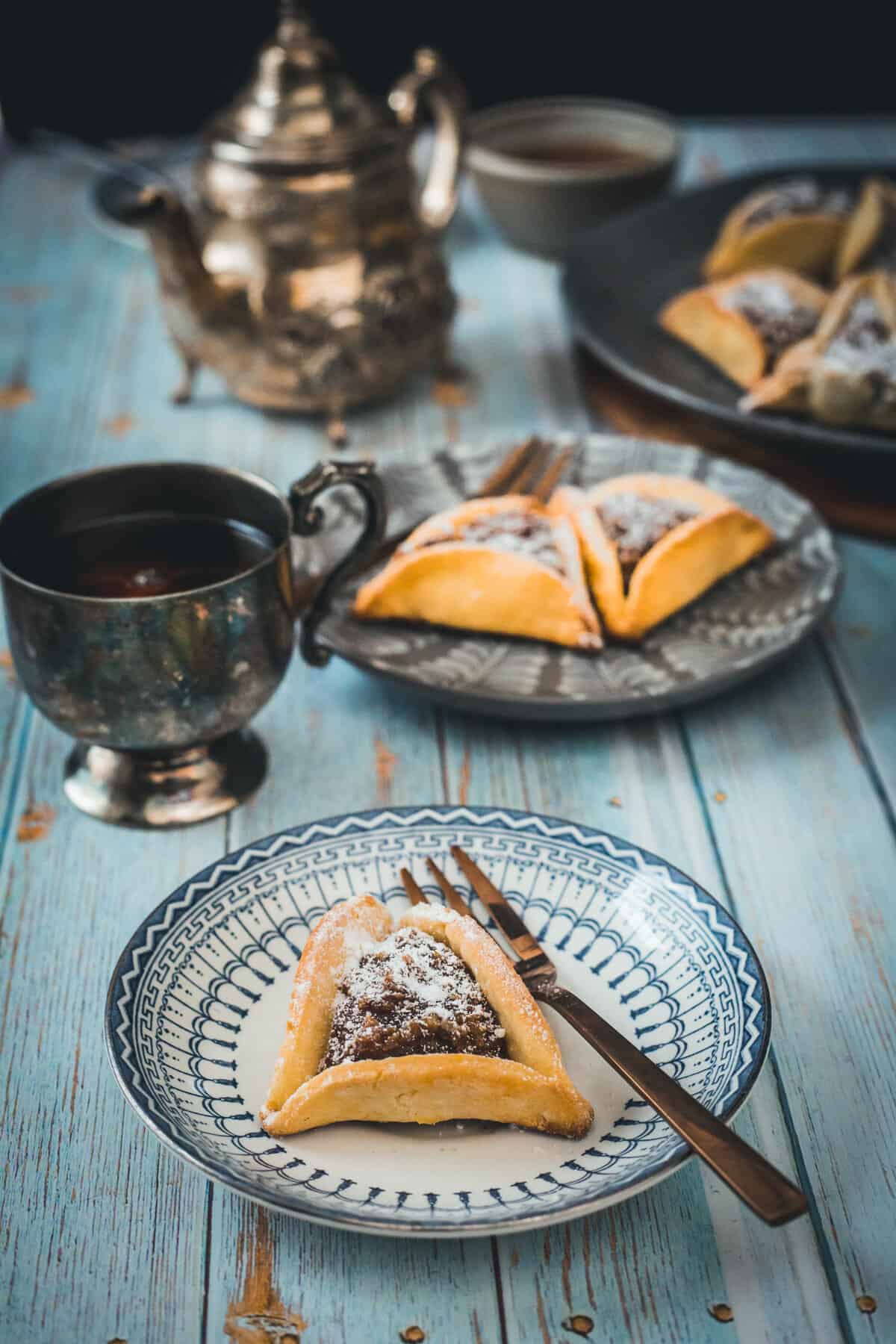 Scaling the recipe
This recipe makes 12-16 hamantaschen cookies, depending on the size of your cutter or your diligence in rolling out the scraps. You can easily increase the recipe to make more - and I recommend doing so if making this for a crowd.
Storage
This hamantaschen recipe keeps really well and can be frozen.
Gluten-free hamantaschen will keep for 4 days outside the fridge. If you place them in the fridge, they'll soften a bit but will keep longer.
You can freeze them as well, and they will keep for 6 months - more on that in the next section.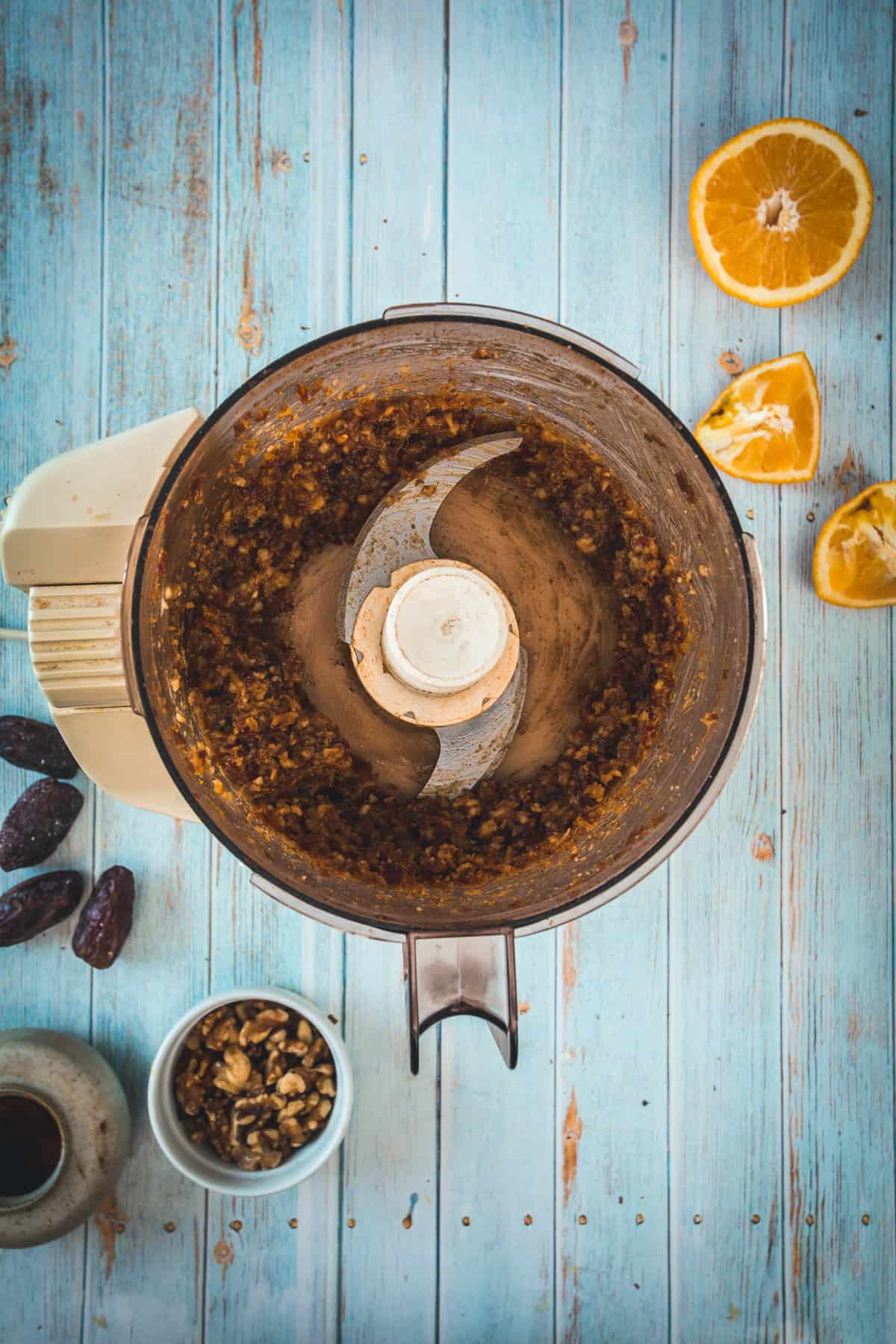 Making in Advance
Orange and date gluten free hamantaschen can be made days in advance. For best results, eat them within two days of making them - but they'll be good for 4 days outside the fridge.
However, if you'd like to bake your hamantaschen cookies fresh, but want to make the ingredients separately in advance, you can easily do so!
The dough requires at least 3 hours of cooling, so you can make it the day before.
The filling can be made up to 2 days before, and kept in an airtight, sealed container in the fridge.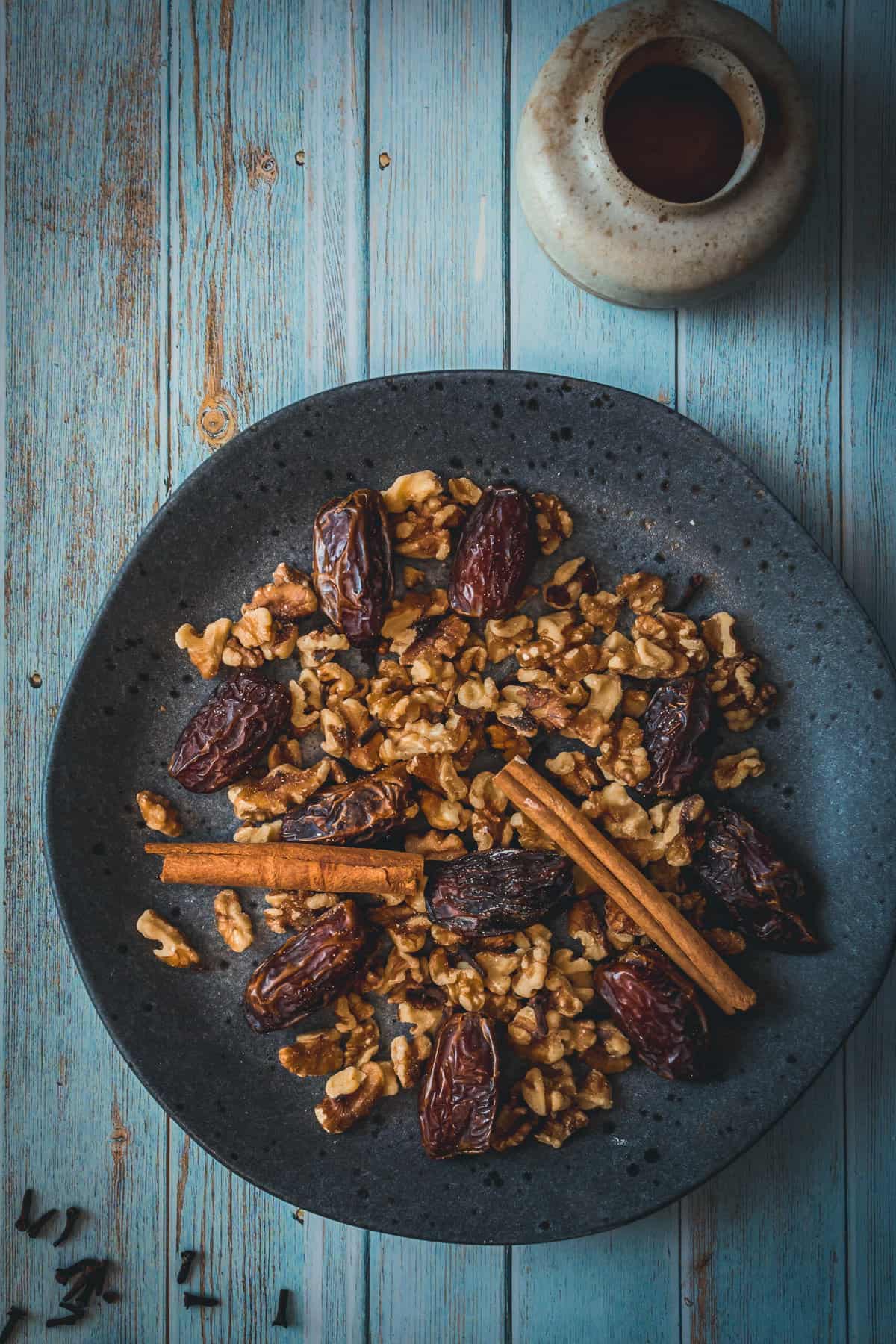 Dominant flavors and ingredients
I added a pinch of cloves and orange to my gluten free hamentashen date filling, to add a curious floral and fresh note to my hamantaschen cookie. You can choose to omit these, but you'll have to use another liquid in place of the orange juice. I recommend a non-dairy milk.
This filling also includes walnuts. You can use any other nut you like. If you are allergic to nuts, this recipe won't work as it uses almond flour.
Top tips for making this easy hamentashen recipe
Purim wouldn't be the same for me without some good gluten free hamantaschen. Here's my advice for making yours rock:
Clean your working surface, and make sure you've got plenty of space to roll and cut the cookies
Use a spoon to scoop out the filling
Buy good Medjool dates. Using old, stale dates will make your filling harder to process, and will require more liquid
Experiment with the filling. Sub the orange juice for another liquid, or switch up the walnuts and cloves for another nut and spice
Don't skip chilling your dough! Min 30 mins, but the longer the better.
In fact, if you can, stick your shaped and filled gluten free hamantaschen cookies in the freezer while you preheat the oven, and bake them straight from the freezer.
Don't overfill your hamantaschen cookies - stick to 1 teaspoon of filling.
Gluten free Hamantaschen Adaptations
This easy hamentashen recipe is naturally gluten-free and dairy-free.
Vegan
To make this into a vegan hamantaschen dough, try using a commercial egg replacer. I haven't tried using chia seed or flax seed eggs, so cannot recommend this.
Keto
You can substitute the sugar in this recipe for a keto sugar replacement like xylitol or erythritol.
Variations and Filling options for your gluten-free Hamantaschen
Here are some other filling options for your gluten-free hamantaschen for my gluten free hamantaschen dough:
Prune hamantaschen - you can use the filling from my other hamantaschen for this recipe.
Chocolate hamantaschen - put 1 teaspoon of Nutella or your favourite chocolate spread in each hamantaschen.
Dulce de leche hamantaschen - use 1 teaspoon of thick dulce de leche in your hamantaschen.
Classic jam hamantaschen - use 1 teaspoon of thick jelly or jam in your hamantaschen.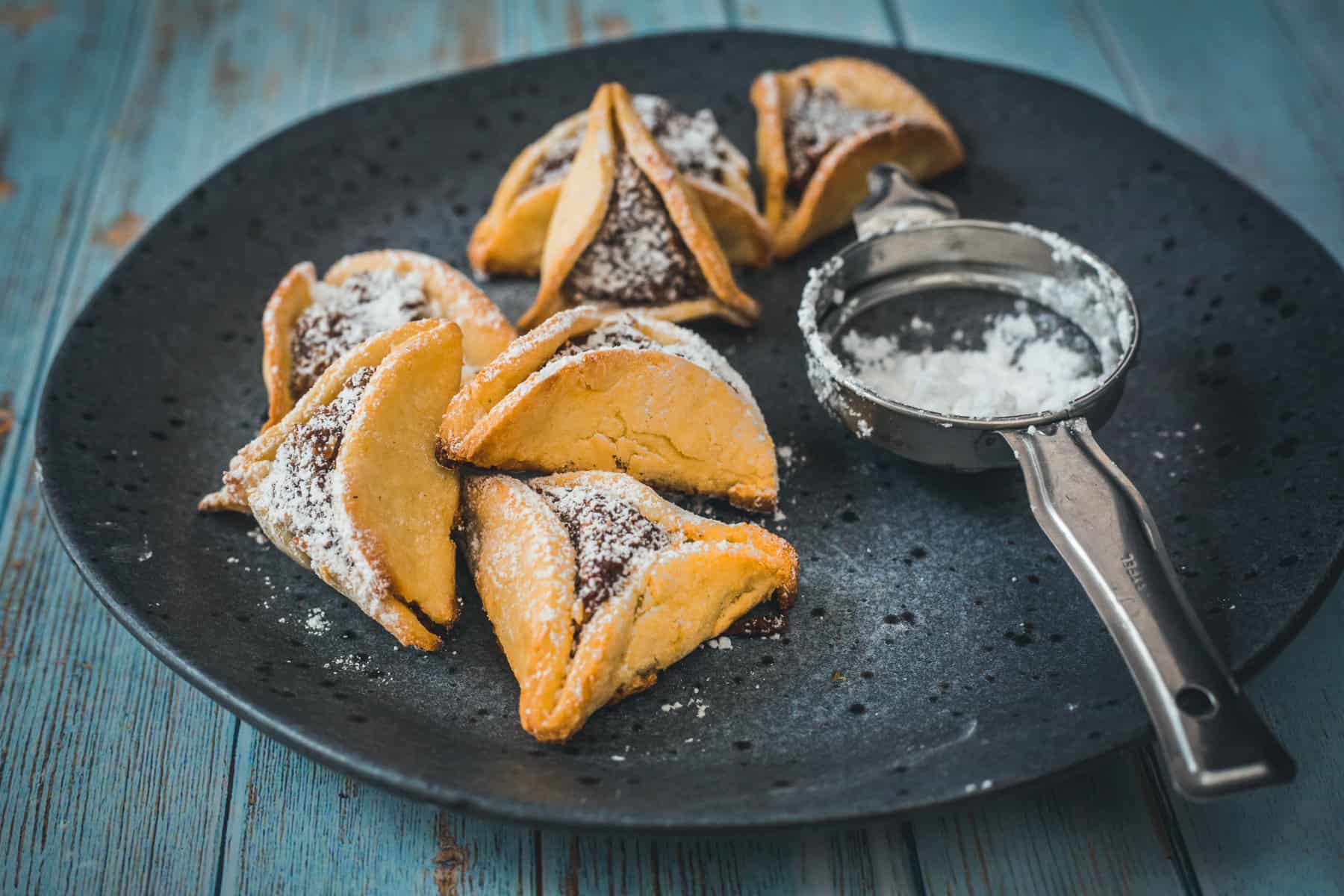 Accompanying Dishes
Here are some of my other Purim dishes:
When to Serve
Orange and Date Gluten-free hamantaschen are the perfect dessert to serve for Purim.
Check out our Orange and Date Hamantaschen Story!
To see the step-by-step Orange and Date Hamantaschen web Story, check out this link.
Other Jewish Recipes
Some of my other Israeli food and Jewish Recipes include:
Other gluten-free cookie recipes you may like:
gluten-free shortbread (vegan shortbread version here, too!)
Pin for Later!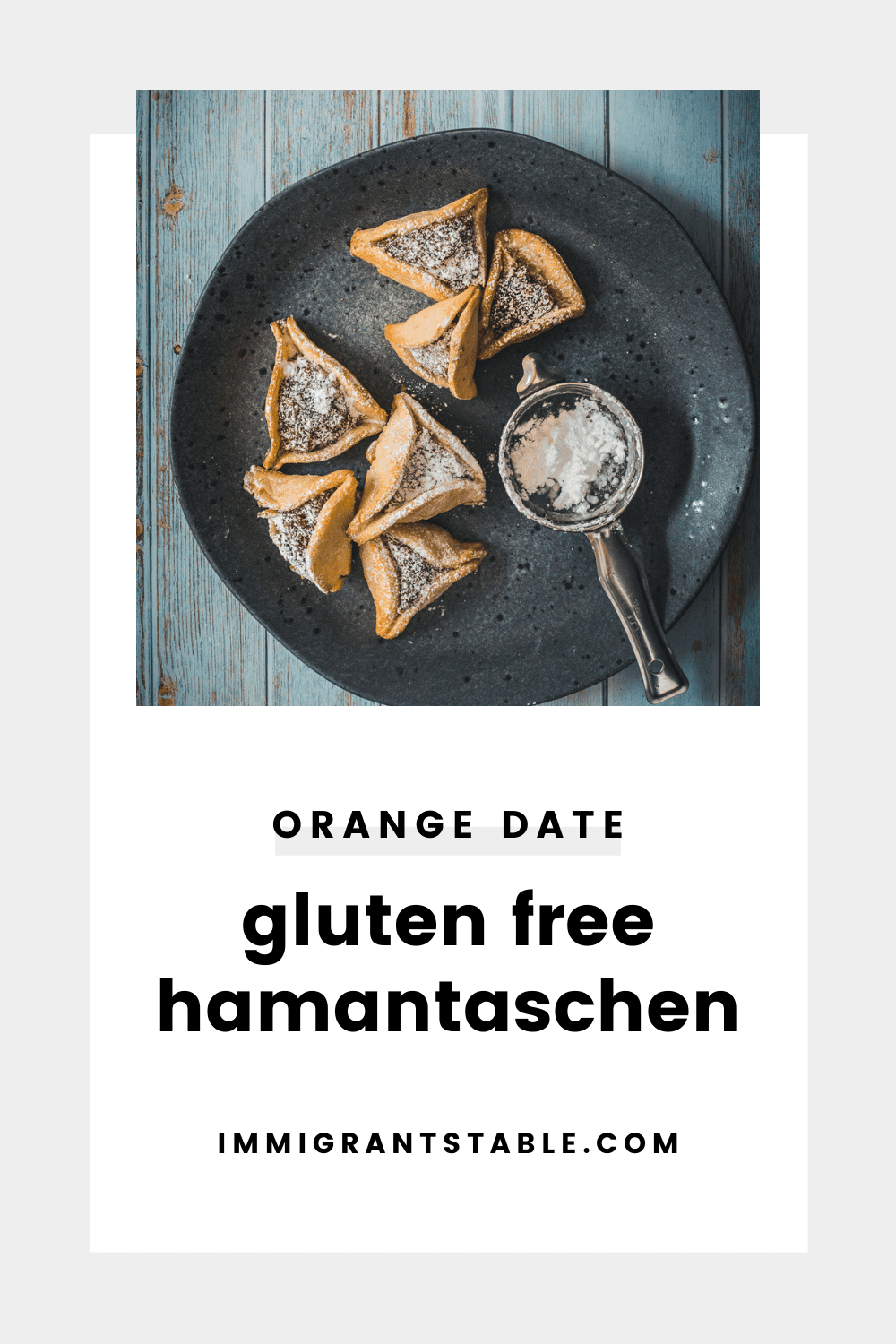 Recipe