Russian kumquat jam is an enchanting mix of Eastern and Western flavours. Kumquats, lemons, star anise and allspice blend in this jam recipe.
Jump to:
The Russian origins of Kumquat Jam
Kumquat jam is probably not the first thing that comes to mind when you think of Russian food. Yet to me, there is nothing more ubiquitously Russian than watching my paternal grandmother sit at the kitchen table in her floral blue housecoat, hunched over to hide her towering 6'2 figure, carefully slicing into thin strips dozens of little orange fruits - kumquats, or Chinese oranges, as we call them in Russian.
First, she would spend hours at that kitchen table, cutting the small fruit into transluscent, barely-there slices. She would get her entire hands covered in sticky kumquat juice as she picked out the tiny seeds from each fruit, tossing them heedlessly into a little bowl she kept aside.
Her fingers would then deftly gather spices and aforementioned seeds into a little cheesecloth sachet that she delicately tied with a string, with more dexterity than you would expect from an old woman.
The kitchen windows would fog up with steam arising from the pot as the Chinese oranges cooked and broke down into kumquat preserves, lending their acidity and natural sweetness to produce an enchanting mix of Eastern and Western flavours that, to me, tasted like my grandmother.
Except that we hated kumquat jam.
No one in my family could stand to eat the delicately balanced, exotic concoction that was my grandmother's kumquat jam, instead preferring to drizzle our breakfast syrniki with the familiar, boringly traditional strawberry jam, or to drizzle sour cherry sauce on our blintzes.
Yet each year, my grandmother continued to log bags of kumquats home from the market, and spend hours cooking them down into a runny, glistening kumquat jam recipe with the smell of faraway lands.
The jars of canned, homemade kumquat preserves stood forgotten in the pantry, lining up its walls like dusty soldiers during uniform inspection in the desert.
The great kumquat harvest
And then, in a true twist of fate, my parents bought a new house - and discovered it came replete with a blossoming, abundant kumquat tree in the garden.
Naturally, they turned the tree's generous crops to my grandmother, for more kumquat jam - and she took to the task with renewed vigour.
Over the years, her technique simplified. She stopped cutting the oranges, leaving the tiny fruit to swim whole in the jam, as though suspended in mid-fall from the tree, causing us to spit out the seeds as we ate (similarly, Aida of the Balkan Lunch Box uses whole oranges in her wonderful no-fuss, one-hour and three-ingredient orange jam).
She played with sugar ratios, making the jam more and more viscous. And she changed the flavours, sometimes omitting the Chinese spices altogether.
And overtime, I learned to love kumquat jam.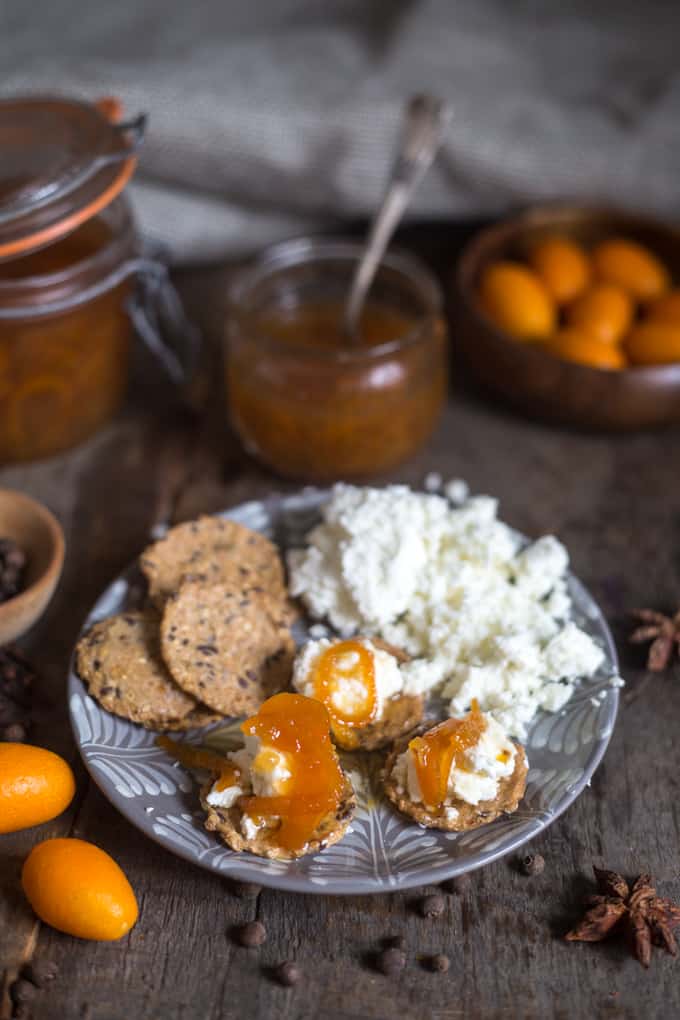 What to serve with kumquat jam?
I love kumquat jam with blintzes, or drizzled on crackers piled generously with goat cheese for a quick and unusual snack, or an appetizer.
It would also go great in this Gluten-free Peach Swiss Roll.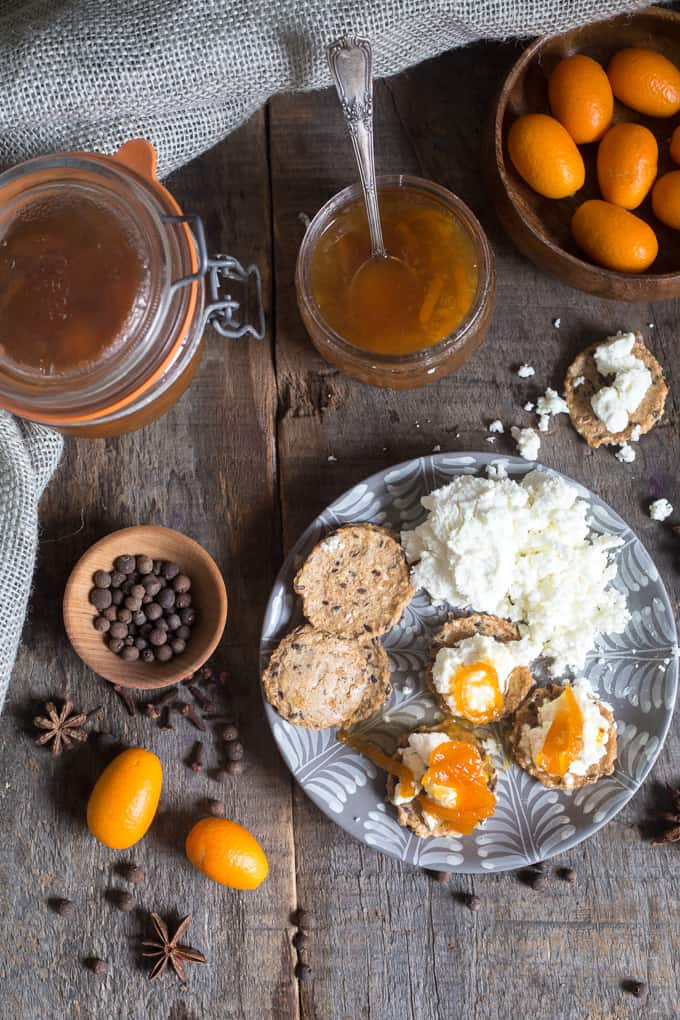 For other jam and preserves recipes: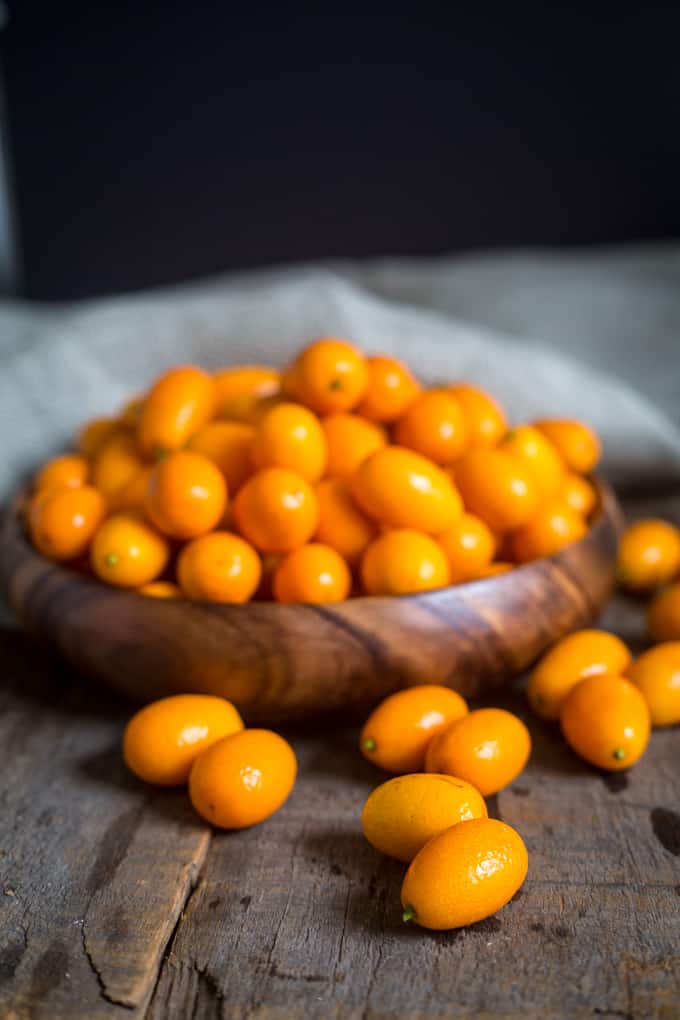 Why you should try this kumquat preserves recipe
This unique jam is one of my favourite preserves! It is:
Unique & exotic
Easy to make
Has only 4 main ingredients - the rest are water or additional optional spices!
Gluten-free
Sweet and sour
Will last you all winter long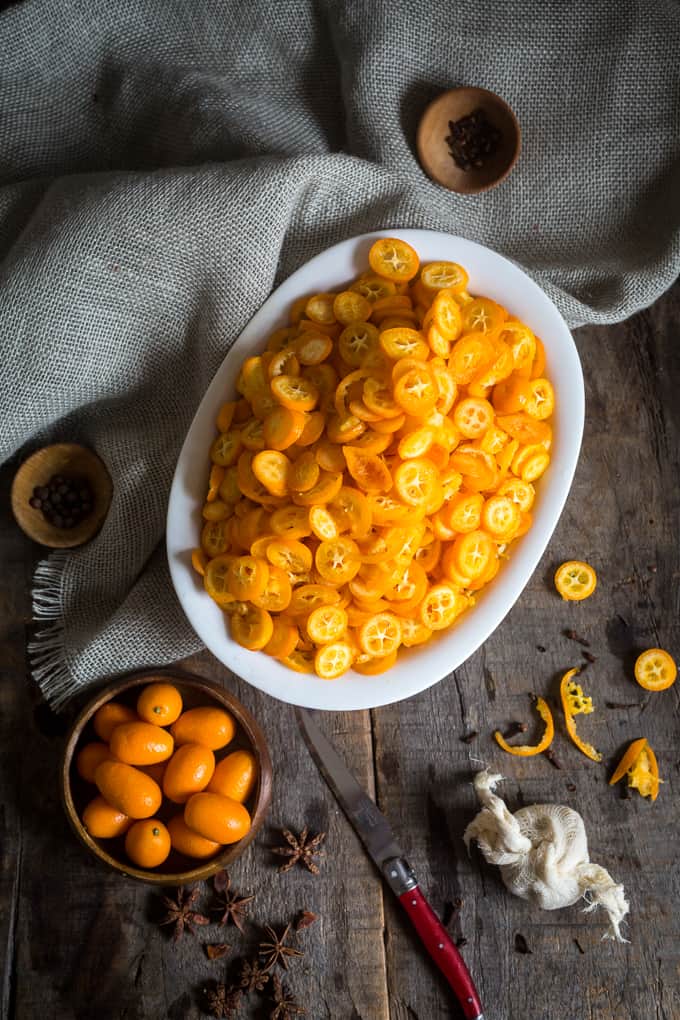 Ingredients
kumquats
lemons
sugar
Cloves, whole
Star anise, whole
Allspice berries, whole
Vodka, Grand Marnier or Triple Sec (optional)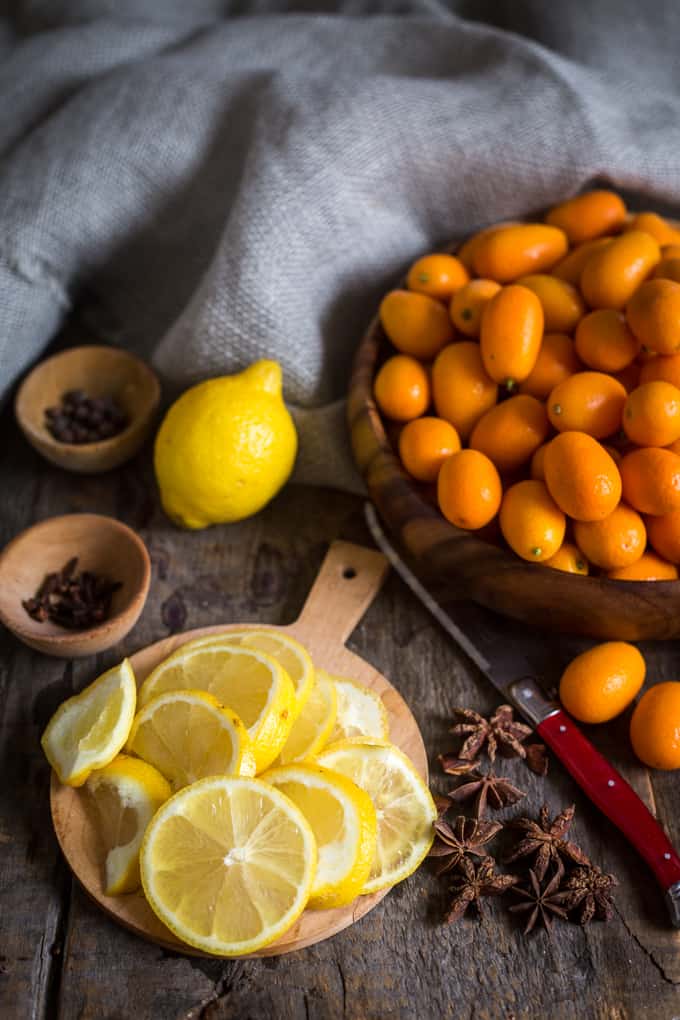 How to make this kumquat jam recipe
Sterilize two 500ml jars. Prepare hot water bath for canning.
Combine lemon and kumquat slices in a large non-reactive pot. Cover with 1L of cold water and bring to a boil. Reduce heat, cover and simmer until slices are translucent, about 5 minutes. Drain kumquats and lemon slices and discard the water.
Return citrus slices to pot. Tie the whole spices and reserved seeds from lemons and kumquats in a piece of cheesecloth, and add the pouch to the pot. Add sugar and 1L water, cover and bring to a boil.
Cook the kumquat jam for 30-45 minutes over medium heat. Remove the bag of seeds and, when it's cool enough to handle, squeeze the seeds in the cheesecloth with your hands or the back of a wooden spoon into the jam (take care not to break the bag). This will ensure that the natural pectin from the citrus slices is added to the kumquat jam to help it thicken. Continue cooking until jam has thickened to your liking, about 15 minutes. Remove from heat, then stir in liquor (if using), and ladle the mixture into clean jars.
Continue cooking until jam has thickened to your liking, about 15 minutes.
Remove from heat, then stir in liquor (if using), and ladle the mixture into clean jars.
If canning, seal with a two finger seal and process in a hot water bath for an additional 10 minutes.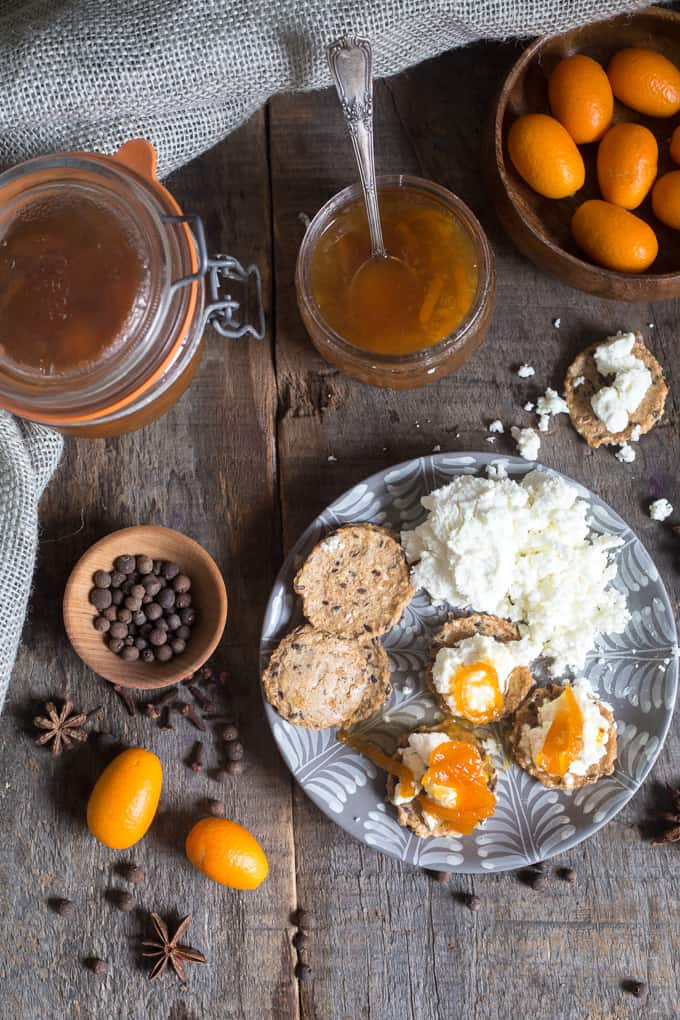 Top Tips for making kumquat jam
Plant a kumquat tree in your yard for regular supply of this unique ingredient!
Grab kumquats whenever you see them in the stores. Now, when all-too-rarely I see the little orange jewels appear in our stores in winter, I rush to grab a bag.
Save your cheesecloth sachets between uses - they can be recycled for making tea, flavoring soup and panna cota and other such things.
How this kumquat jam recipe was born
Last year, I sourced 2 kilograms from an unnamed vegetable supplier, and canned jars of kumquat jam to use for an event. I took these photos, stashed a few jars for gifts... and promptly forgot about publishing the recipe.
Until a week ago, when I pulled the last two remaining jars to use at my maslenitsa celebration, and realized that I owe it to you, my readers, to tell about my grandmother's kumquat jam.
When at the end of the event, several people came to me to compliment the kumquat jam, faintly fragrant with intriguing Chinese spices, I realized that perhaps the dark days of this marmalade are over.
So here is her recipe, in all of its glory, tweaked and adapted by me. Hopefully, you'll appreciate it more than our childish palettes could.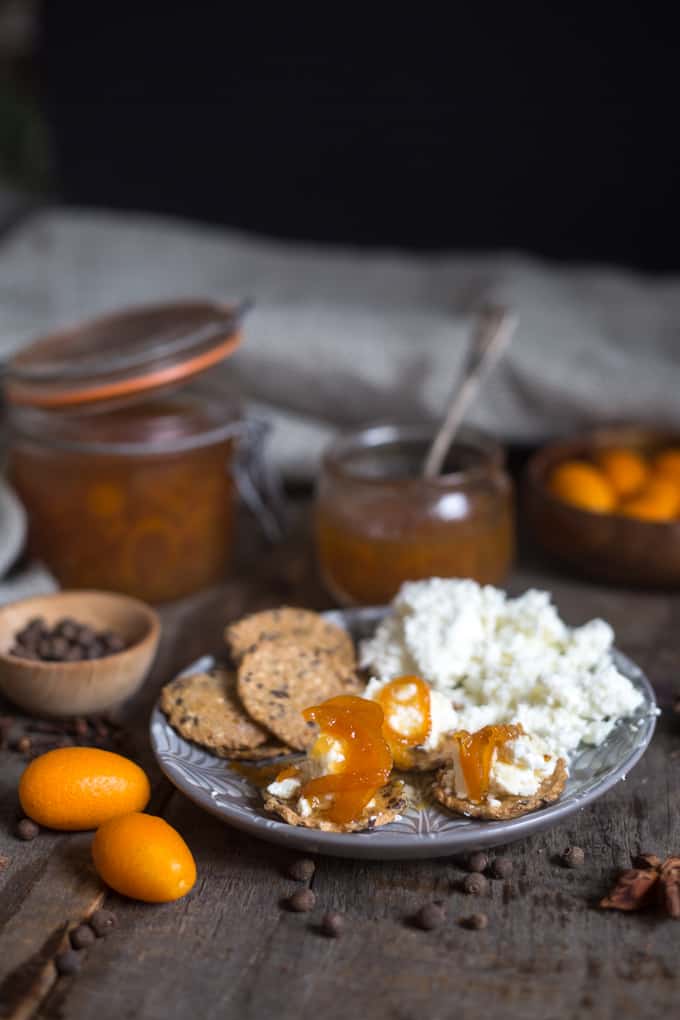 Storage
Canned in jars, these kumquat preserves will last years! Otherwise, they will keep in a sealed container in your fridge for 3 months.
Freezer
Kumquat jam can be frozen in a plastic jar with at least 2 inches of room off the top.
Adaptations
This jam is gluten-free and vegan.
You can easily change up the flavors by experimenting with different herbs and spices. Also, adding grated stem ginger is a great way to add depth to the recipe.
Accompanying Dishes
Pin for Later!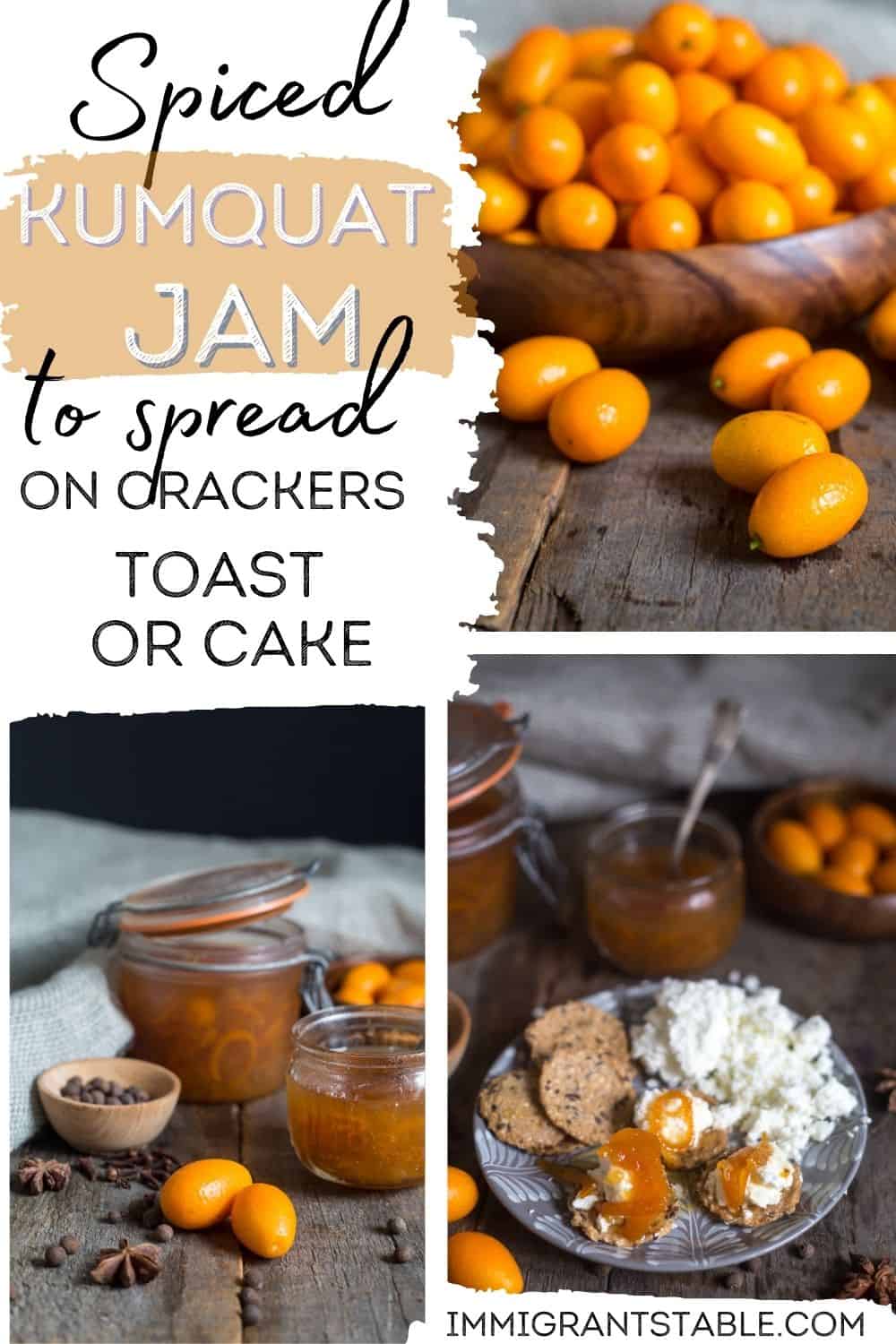 If you make this Russian kumquat jam, we'd love for you to leave a comment and rating below! We also love to see your creations on Instagram – tag us at @immigrantstable so we can see what you've been cooking.
Recipe