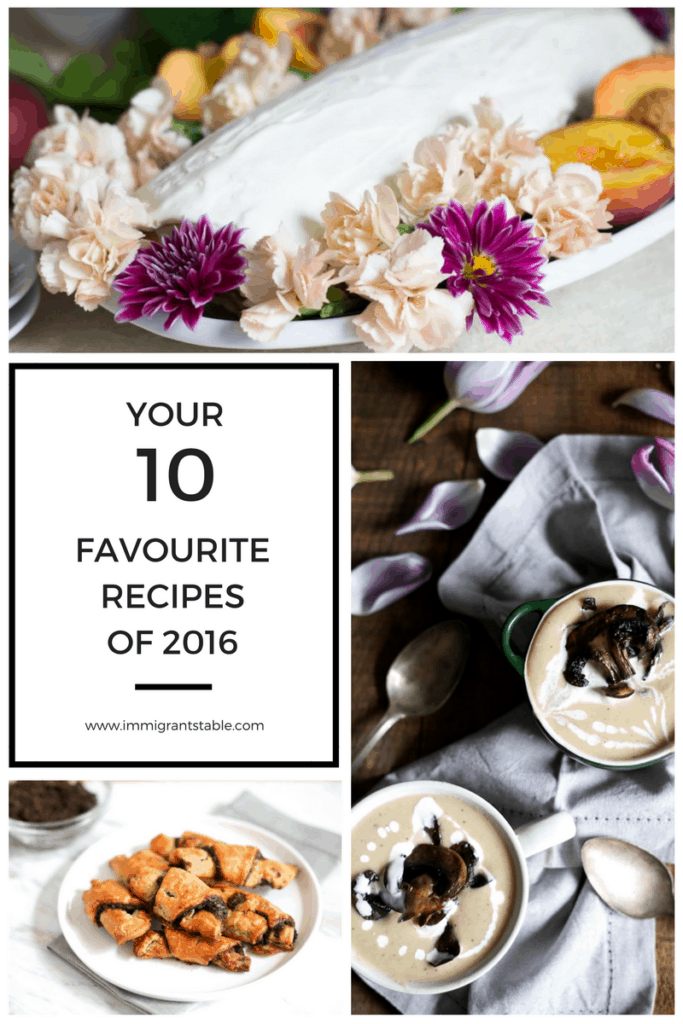 After much celebration, heartbreak and adventure, 2016 came to a close for me at the deafening sound of fireworks and the company of some wonderful friends. I have never been this happy to see a year end - or this excited to see one begin (I've got a good feeling about ya, 2017)! To pay homage to the year that felled many of our idols, saw some major political upheavals (and some minor personal ones), I'd like to remember it in the best way I know: by reviewing your favourite recipes of 2016!
This year brought a lot of change: new foodie trends (hello spiralized everything and way too much avocado toast!), new diets (or are people still doing paleo?), and some new traditions (on a personal level: Christmas at a chalet, Rosh Hashana dinners with friends, the Kvartirnik series). This was also the year that saw At the Immigrant's Table branch into events, do more personal posts, lose a few key members of the team, and gain new ones. There were many days when I was too busy living it up to wrap my mind around cooking and recipe development. But you stuck with me throughout it all - and on most days, I thanked you for your trust in me with some pretty tasty recipes. So without further ado, here's a look back at your favourite recipes of 2016! There are some delicious gems here.
"I don't have anything to eat," are usually the first words to come out of my grandmother's mouth, as she gets up slowly on her way to the fridge. "If I had known you were coming, I would have prepared something." What follows immediately after is a feast of czarist proportions - pickled fish, red pepper stew, strong black tea - which culminates with a slice of homemade peach Swiss roll. My gluten-free version is a worthy adaptation of this Russian classic.
Delicate, creamy and beautiful, vegan Belgian endive soup is a surprise the likes of which you have never tasted. It'll be a worthy introduction to a lesser known ingredients that Montrealers just can't get enough of... And neither will you, once you give it a try.
I got this simple recipe for Slovakian sauerkraut soup from the Bar Tartine cookbook, San Francisco paean of slow food. The ingredients are all easily accessible, mostly from your fridge and pantry. The instructions are detailed and clear, a perfect blueprint for an inexperienced home cook and an expert Master Chef alike. You could delve deeply into the recipe, making each item like the sauerkraut or dried apricots yourself, or buy them from the store as I did. You could make it vegetarian by omitting the sausage and bacon, or you could follow the recipe and stick to tradition. But whatever you do, you want to make this sauerkraut soup - and to drop a spoon of mashed potatoes in its heart.
They look so innocent and pretty as they lie there, showing their underbellies to the world. Their cheeks plump and vibrant, and their skin taut, they look the picture of health. But it's when you bite into a preserved lemon that your whole perspective changes, and you begin to see them for what they truly are: assertive, strong, independent. Preserved lemons are the no-bullshit condiment of the Middle East, and this is my favourite preparation for them: with a lot of spice.
When I first added cinnamon to a stew, my Russian mother told me to move out. The second time I incorporated raisins into cabbage rolls, she poked at them suspiciously and asked me if those olives have gone bad. It's taken her years to warm up to the pinch of sugar I put in all of my tomato sauces. Yet I just know that if I let her try my orange vegetables tagine with peaches now, she'd be all over it – because even the most resistant conservative palette couldn't help hut swoon over the pairing of sweet, caramelized pumpkin, harissa-spiked chickpeas and soft, melting California cling peaches.
Some of the best things left after the dissolution of my previous relationship involve my ex's family's recipes: for cucumber salad, shortbread cookies, pickled beets... and this vegetarian Ukrainian borscht. Trust me when I say they are worth 100 memories.
Speaking of heritage recipes... These Icelandic pickled beets may not win any beauty awards, what with their neon purple colour and array of spices. But what they lack in looks they more than make up for in taste: vinegary, sharp, mustardy, but also perfectly sweet. Give them a try in these cold winter months, and see how your entire palette comes to life.
"When I'm feeling blue, I just stop at a bakery and get myself an espresso and a small, shiny, warm chocolate rugelach. And then nothing in the world can hurt me." My mom's advice for heartache includes some traditional Israeli baked goods, and has served me without fail for years. This gluten-free cinnamon chocolate rugelach is my take on it.
It's appropriate to revisit this Russian classic, my famous vegetarian Olivier salad (salada russa), around New Year's, which is undoubtedly the day when the most Olivier salad is consumer a year. In fact, just today I saw the following joke:
- Mom, what's for breakfast?
- Olivier salad.
- Oh... and for lunch?
- Olivier salad.
- And for dinner?
- Cutlets!
- Oh yay!!!
- ... made out of Olivier salad.
You guys, it's nice to see you appreciate quiche as much as I do - this was your favourite recipe of 2016! Read about my obsession with quiche, and my best recipe for vegan quiche with roasted peppers and tomatoes. Change up the ingredients, but don't pass on that beautiful sweet potato crust and the unbeatable filling.
So as you can see, 2016 wasn't a total doozy. We had some yummy cakes, soups and even a quiche or two. But like I said... I have a feeling that 2017 is going to be much, much better. Happy eating, friends!