There are those lunches that you fit in during your work day, sad affairs with mayonnaise-drooping sandwiches from corner delis. There are those lunches you sneak off to gladly, anticipating the company and thinking about allowing yourself that extra slice of piece. And then there are those lunches that you have on vacation: long, boozy affairs with many dishes, perfect natural light and the best company you could possibly ask for. My meal at Herbert Samuel in Tel Aviv was exactly of that last sort - so good you never wanted it to end.

A giant bowl of olives greeted us as soon as we walked into Herbert Samuel, conveniently located on the boardwalk in Tel Aviv, steps away from Dan Panorama (though its address is on Koiffman Street). Nestled in one of the most elaborate bars I've ever seen, I knew those olives had one goal - to decorate a dirty martini - and I felt like we came to the right place.
Despite the promise of martinis, the three of us ordered slightly more exotic cocktails. My mother went with something with berries and lychee, I asked for the least sweet thing in the house, and Yana wanted a pink thing. All were excellent, and all had us laughing hysterically within the 15 minutes upon arrival - the markings of a good, stiff cocktail in my books.
We ordered the lunchtime menu, a steal at 88 Israeli shekels (about $22 USD, or $29 CAD). That included a magnificent bread bowl of homemade breads and extremely cold freshly churned butter, which was gone very quickly - again, the markings of a job well done for the cocktails, which needed some soaking up.
It's important to note, at this point, that the staff at Herbert Samuel was incredibly kind, thoughtful and accommodating about my food sensitivities. After a discussion with the kitchen, only the appropriate dishes were recommended, and adjustments were made when I was really set on trying something that came with a butter or soy sauce. This immediately set a good tone for the meal, and made me feel much more relaxed about eating and not worrying about cross-contamination.
For our starters, we ordered the famous "Herbert Samuel" Tomatoes Salad, the Tuna & Yellowtail carpaccio with "Gunkan" Daykon & Wasabi, and the beef Santa Fe Tartare. The tomatoes salad was perfectly seasoned and colourful, a little bite of freshness in a country whose tomatoes are some of the best you'll ever have. Though I could not taste the beef tartare, my mother claimed it was the best dish of the lot. My tuna carpaccio was a feast on the eyes - the combination of colours, the presentation, and the little bites of wasabi were incredible, and came together to present a cohesive vision for a meal that would incorporate many Asian flavours, celebrate the fruits of the sea and artfully tread the line between refined and hoity-toity.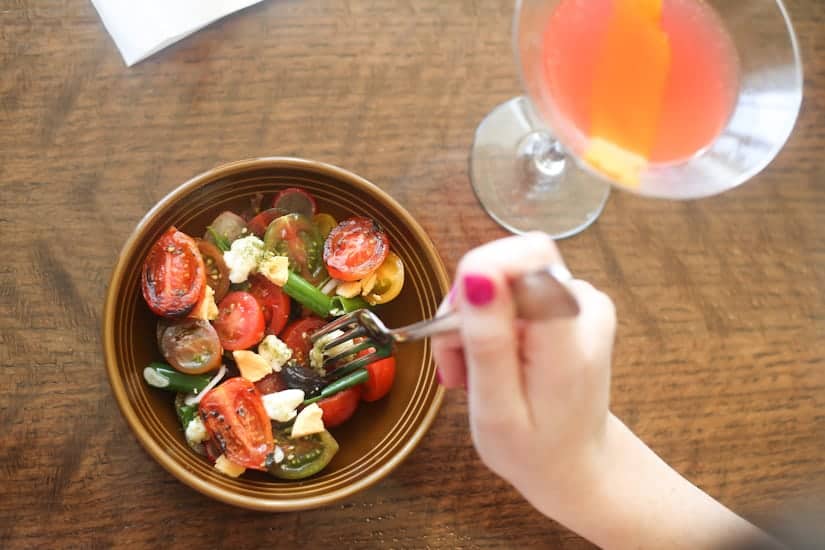 As we were located on the seashore of the Mediterranean, it only made sense that our meal would focus on fish. After the excellent starter, both my mother and I ordered more fish course: her, the Grey Mullet with Leeks, one of her favourite fish that came soaked in butter on a skillet straight to the table. The flavour here was pure perfection - grilled well on the skin side, and plump and juicy on the flesh side. The leeks themselves were a study in French cooking: almost fawning over with their own succulence and buttery sauce.
My main was the Salmon with the Red Cashew Glaze & Bok Choy a-la Plancha. Though the sauce contained a small amount of soy, it was omitted from the final presentation, and I knew I could tolerate that little amount. And I am ever glad I did - the red cashew glaze was completely unique, and the salmon tasted earthy and fresh. Though the dish lacked the refinement of my mother's grey mullet, it was still one for the books.
Yana, as per her usual, ordered the most meaty dish on the menu - the sirloin steak on the bone. I guess it was great as she inhaled it (sorry, meat eaters! Really not sure what to tell ya).
Stuffed and perfectly content with one of the best meals I've had this year, we left Herbert Samuel with huge smiles on our faces. We were so content, in fact, that I left my prized cardigan in the cab back... Another sign of a boozy lunch well done.
Herbert Samuel Tel Aviv, 6 Koifman St, Tel Aviv, 03-5166516 for reservations
Follow At the Immigrant's Table on Facebook, Instagram, Pinterest, Bloglovin', or Twitter, subscribe to my mailing list, or contact me about advertising and becoming a sponsor. If you make one of my recipes, don't forget to tag it #immigrantstable @immigrantstable!