Cast-iron pan-fried Sockeye salmon recipe with mustard, honey and wild herbs will make you feel like you're camping - in your own kitchen! This is a great cast iron skillet recipe to use at home, or at a campfire.
This post is sponsored by Papa Earth. I thank you for supporting the companies that make this blog possible.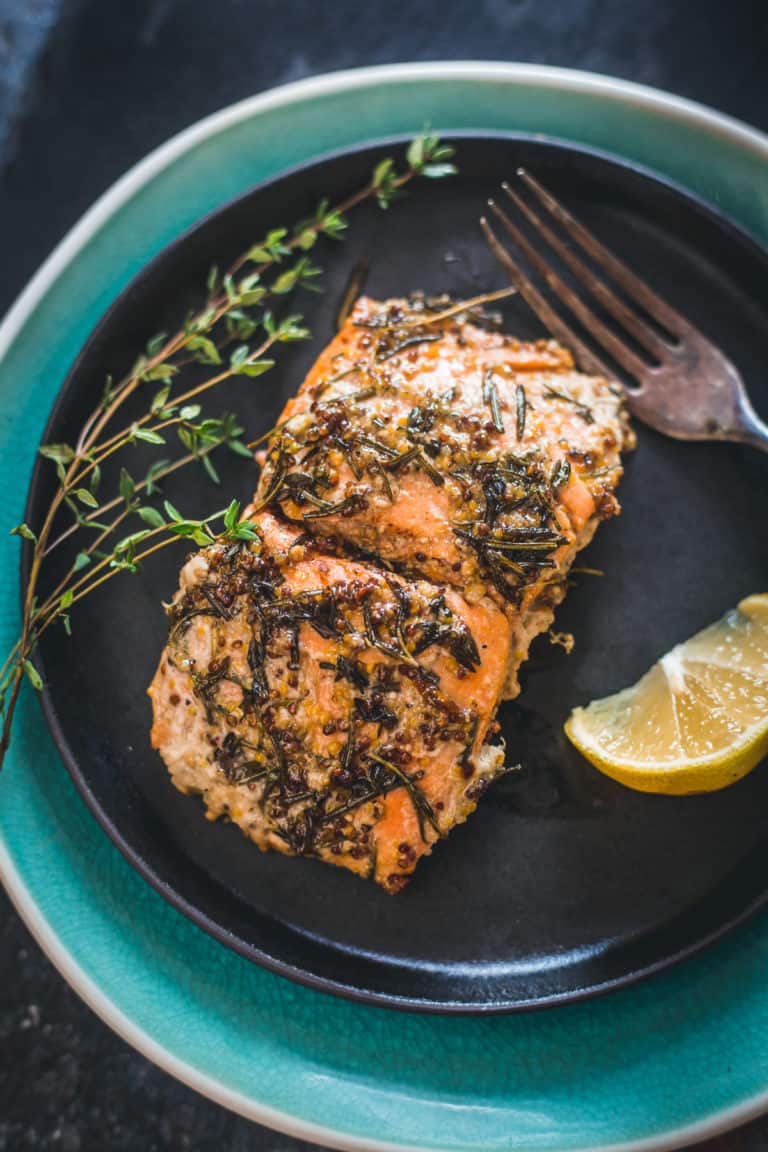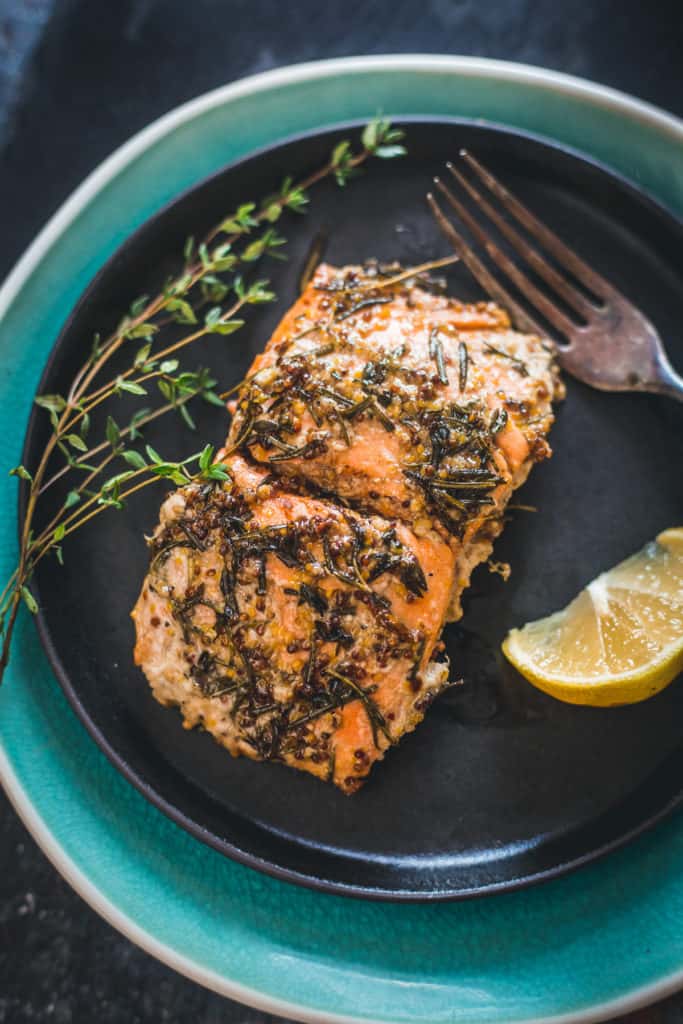 Wild campfire cooking and memories of camping
The crackle of burning firewood. The sudden splash of embers rising into the air. The hiss as liquid drips from my cast-iron pan-fried Sockeye salmon onto the fire. The heat emanating from the logs, so close to your own hands. The rush. The smoke. The excitement.
Cast-iron pan-fried Sockeye salmon evokes special feelings in me. It brings to mind nights spent feeling just a tad on the wrong side of chilly, but being heated up from inside by warm food, good company and yes, delicious booze.
The taste of slightly charred Sockeye salmon makes my ears ring with a friend's guitar songs, belted at the top of one's lungs to be heard above the roar of the fire.
The smell of smoke lends the pan-fried sockeye salmon I eat a special taste, one which transports me to the sleeping sack, huddling along friends and family or maybe, if you're lucky, that special someone.
It reminds me of tending to the flames, catching one's fish, harvesting berries.
Campfire cooking pan-fried Sockeye salmon makes me feel alive.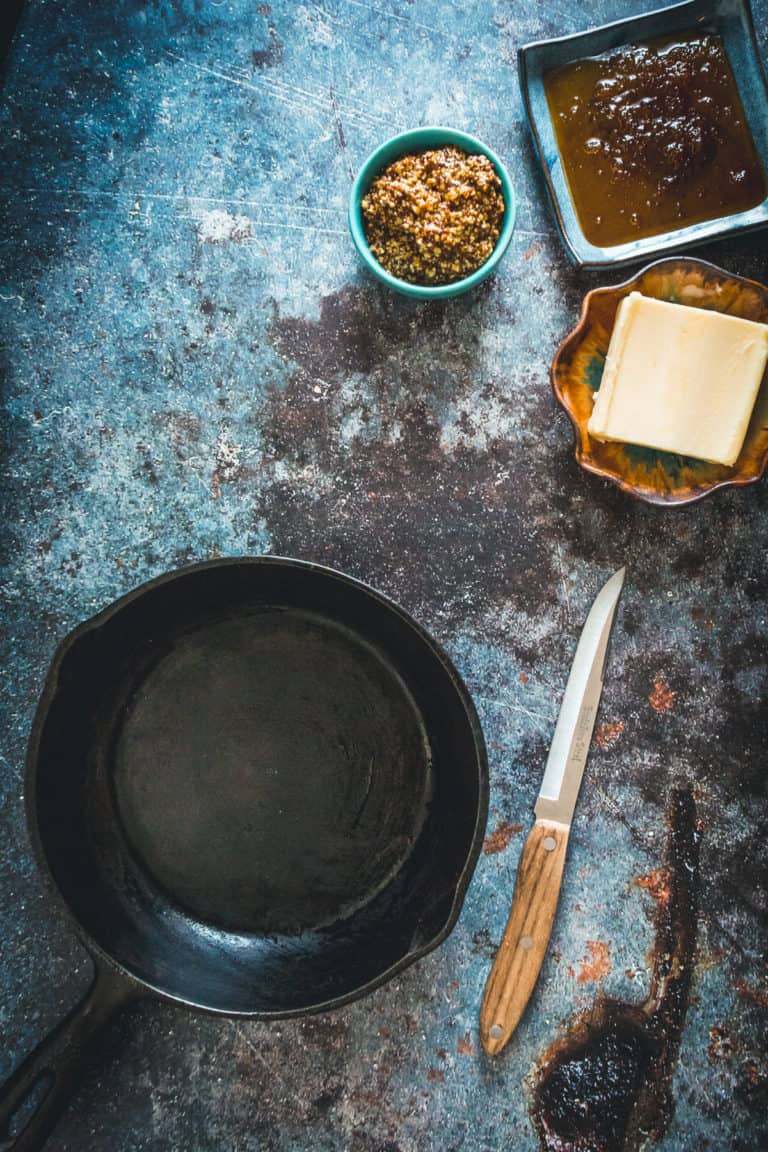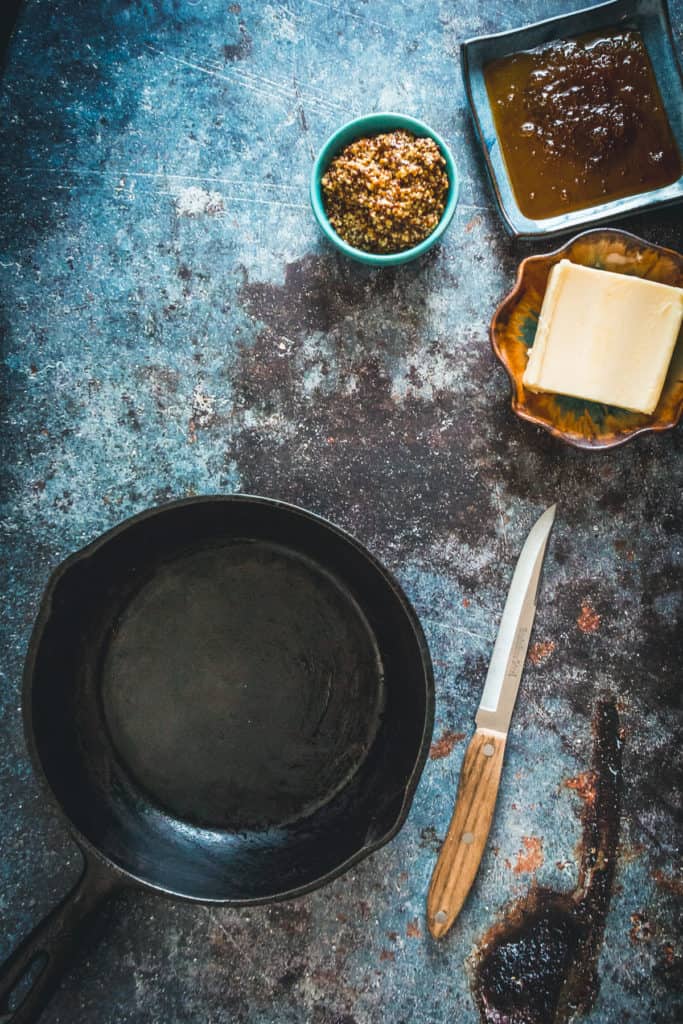 Why Cook In a Cast Iron Pan?
A cast-iron pan make your food taste like camping cooking every day. It adds a beautiful sear to the outside of your pan-fried sockeye salmon. It's also a great way to evenly cook your fish.
From a health perspective, cast-iron pans are an easy way to add iron to your food. In fact, cooking on cast-iron pans is suggested as a way to add iron to anemic children!
And honestly? It's just such a beautiful, simple cooking vessel that's been around for centuries. And if it was good enough for our ancestors, it's good enough for me.
Some cast-iron pans I love are by Lodge
, who have a number of cast-iron options:
A couple of other affordable cast-iron pans include:
Or if you're willing to splurge, Le Creuset makes some gorgeous cast-iron pans:
Just don't forget to use a cast-iron handle cover, oven mitts or a towel when reaching for that hot cast-iron pan!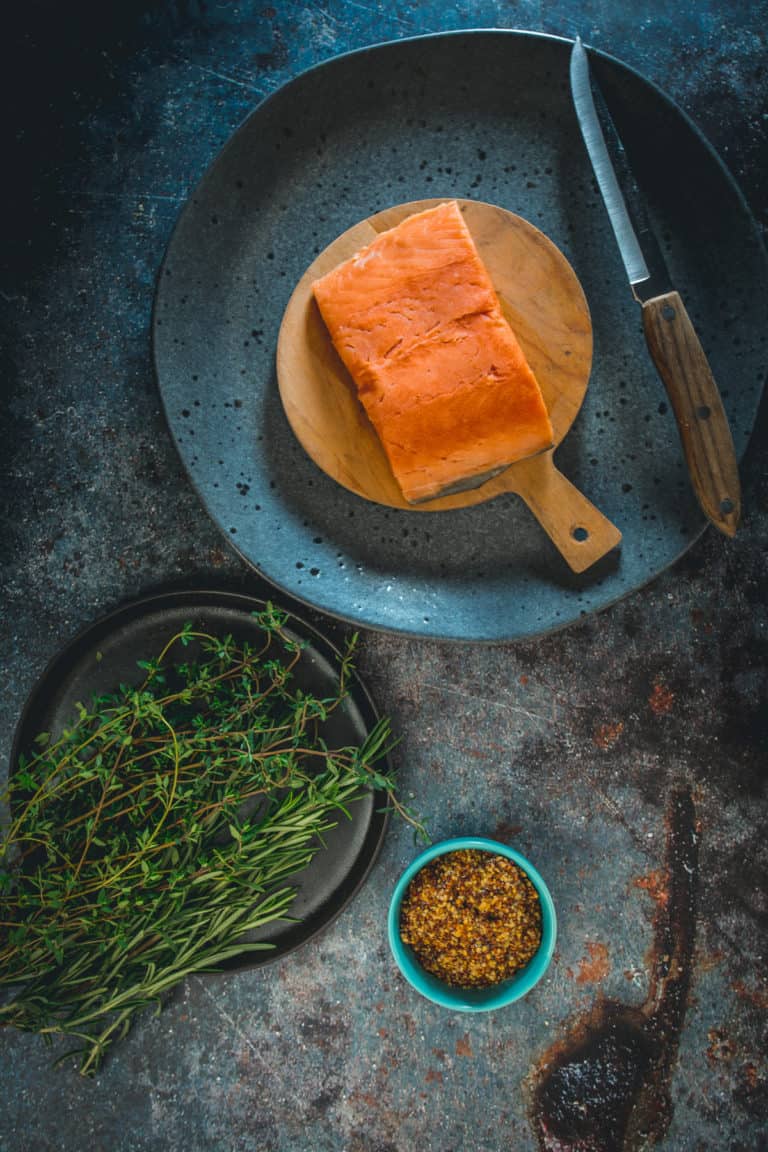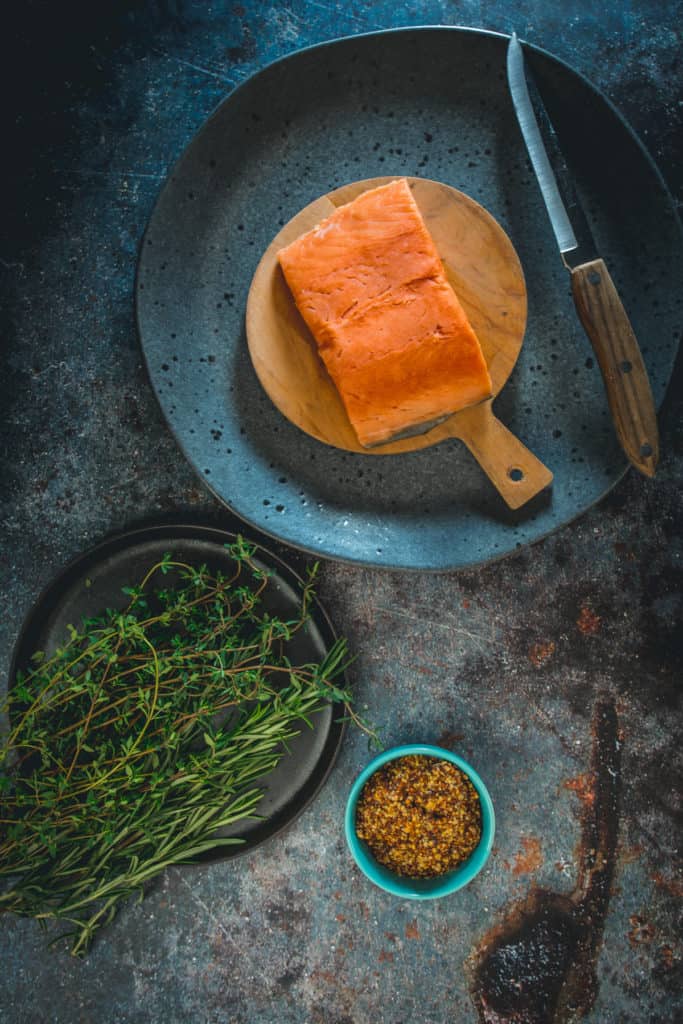 What is sockeye salmon and how does it differ from regular salmon?
Sockeye salmon is Pacific wild salmon of red colour, found in the Northern Pacific Ocean and rivers discharging into it. Its flesh is much leaner than its farmed cousin, with a strong, meaty taste.
Its a fish that is prized above all other salmon kinds, and is often called 'wild salmon' in everyday terms.
The name sockeye comes from the indigenous name suk-kegh, the Coast Salish word meaning 'red fish'.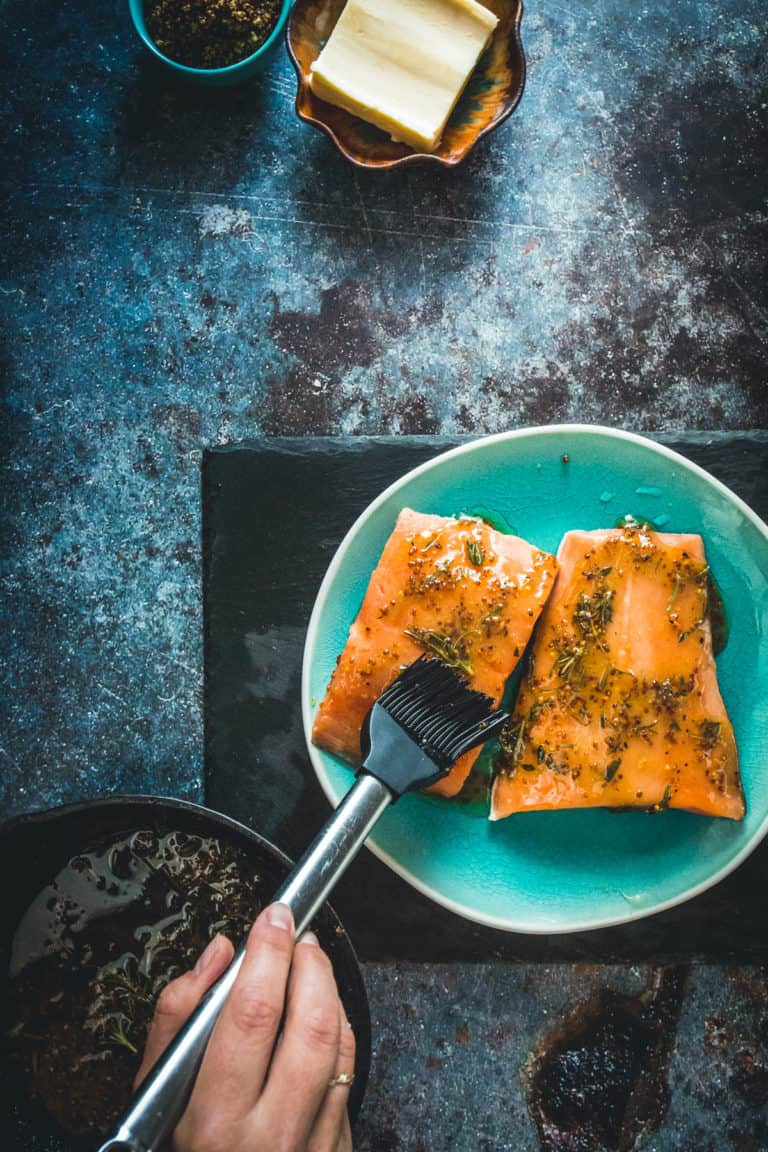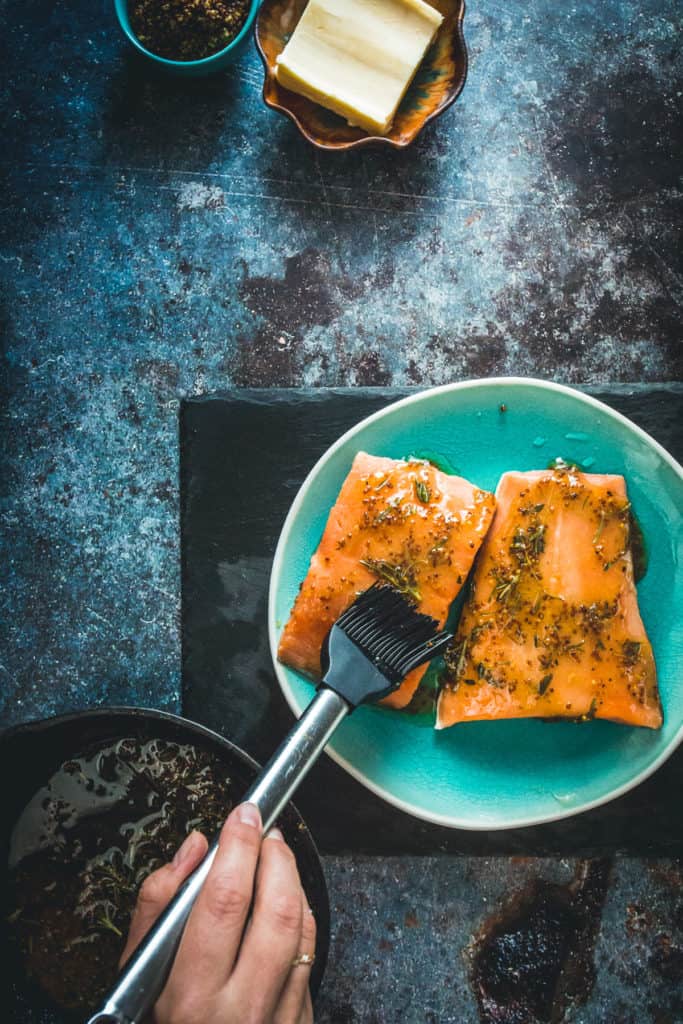 Where to get good-quality, sustainable wild Sockeye salmon?
Getting your wild Sockeye salmon from a reputable and sustainable supplier helps support local farmers, and contributes to the longevity of our eco-system. Sustainable producers ensure that our waterways are not over-fished. I recommend Papa Earth if you are in Canada. Alternatively, you can also check out your local farmer's market for a good fish monger.
Papa Earth and why I chose to get my sockeye salmon from a local subscription box
During COVID quarantine, going to the market in search of local ingredients no longer seemed like a good option. When searching for a good, sustainable source for my fish, I found Papa Earth.
An Ontario-based, family-owned online meat and seafood subscription box service, Papa Earth ticks all the boxes of what I'm looking for from my protein supplier. I have long been a vegetarian and have only fairly recently started eating fish and poultry. I want my fish and meat supplier to be as local as possible, ethical and humane, and delivering products of high quality.
Papa Earth is all of the above. They work with only the highest quality producers, mostly Ontario-based as well (with the exception of some Inuit fishermen from the north). All of their products are free-range or free-run.
And the best part, for a busy cook? All of Papa Earth's boxes are delivered straight to your doorstep, packed as efficiently as possible. In fact, my first box arrived during a large power outage - and everything remained completely frozen for upwards of four hours.
After ordering two boxes and personally speaking to one of the owners, I can wholeheartedly recommend Papa Earth.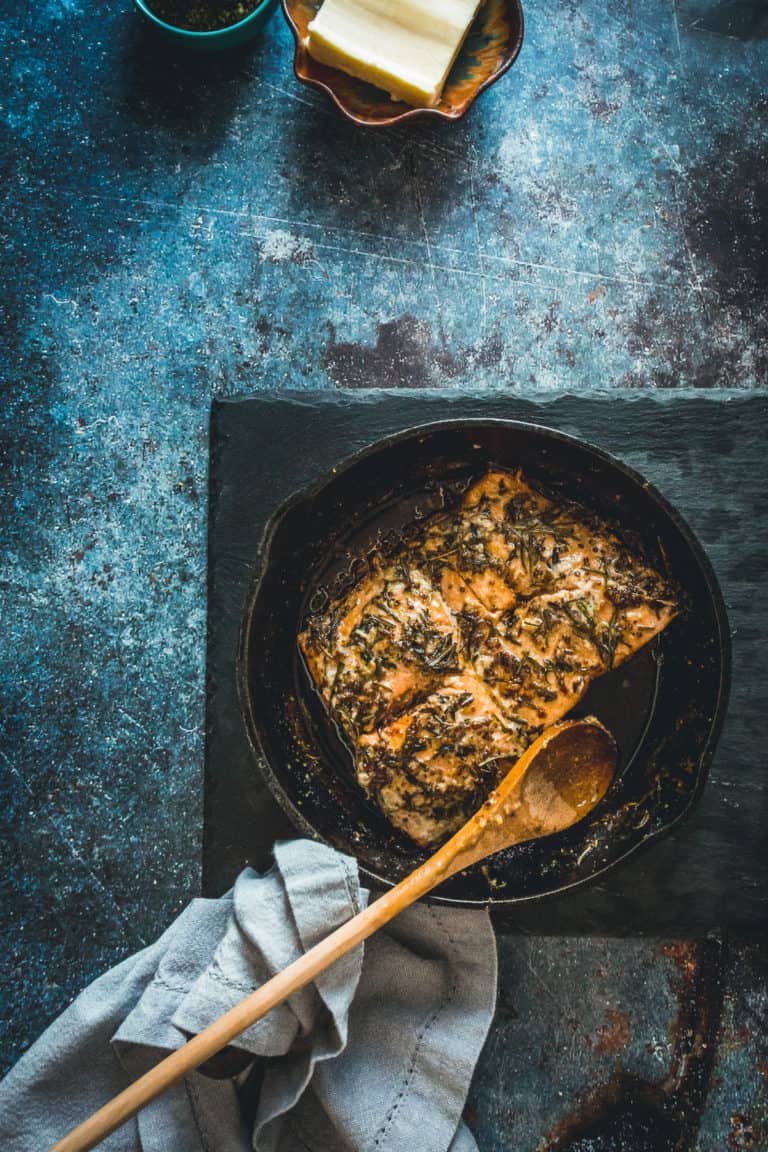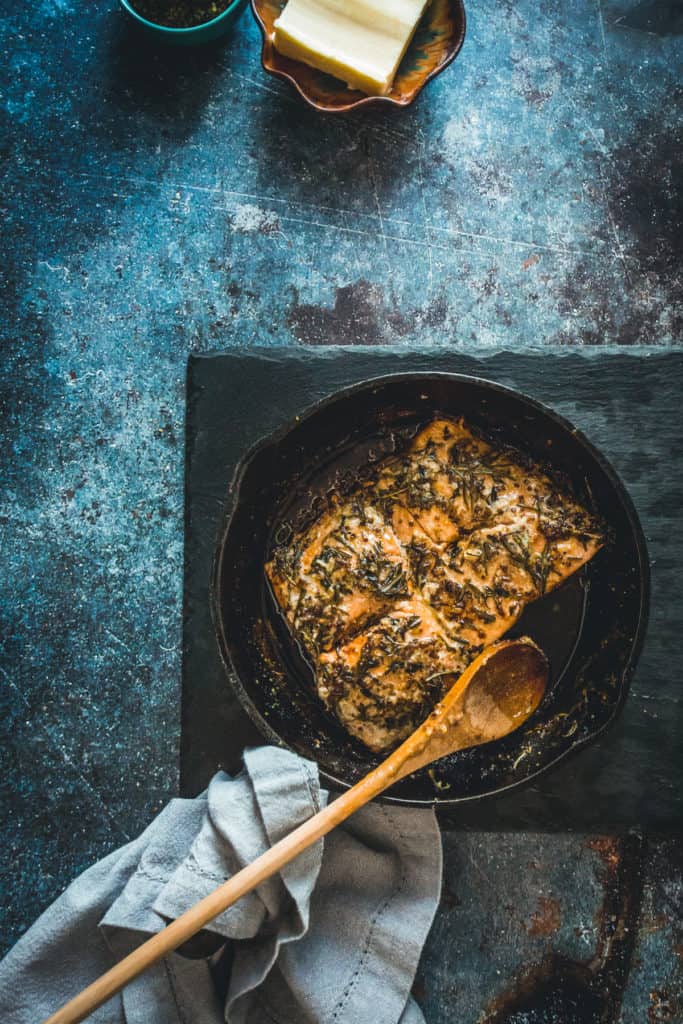 How do you know when pan-fried Sockeye salmon is done cooking?
The colour change! When cooked, Sockeye salmon will change the colour of its flesh from red to pink as it cooks. Additionally, after about 6-8 minutes of cooking in a cast-iron pan, you want to pierce the thickest part of your Sockeye salmon with a knife and check for doneness. If your Sockeye salmon is starting to flake at this point, event if it still has some translucency, it is done.
Do you fry salmon skin side up or down?
First off, keep the skin when buying your fish to make pan-fried sockeye salmon! I know a lot of people avoid eating the skin because they feel it's too fatty, and that's OK - you don't actually have to eat your skin. But the skin provides an important buffer between the salmon flesh and that cast-iron pan, helping the flesh cook evenly instead of just burning on the outside. It is also much easier to remove the sockeye salmon from the pan when the skin is on rather than when the skin is off.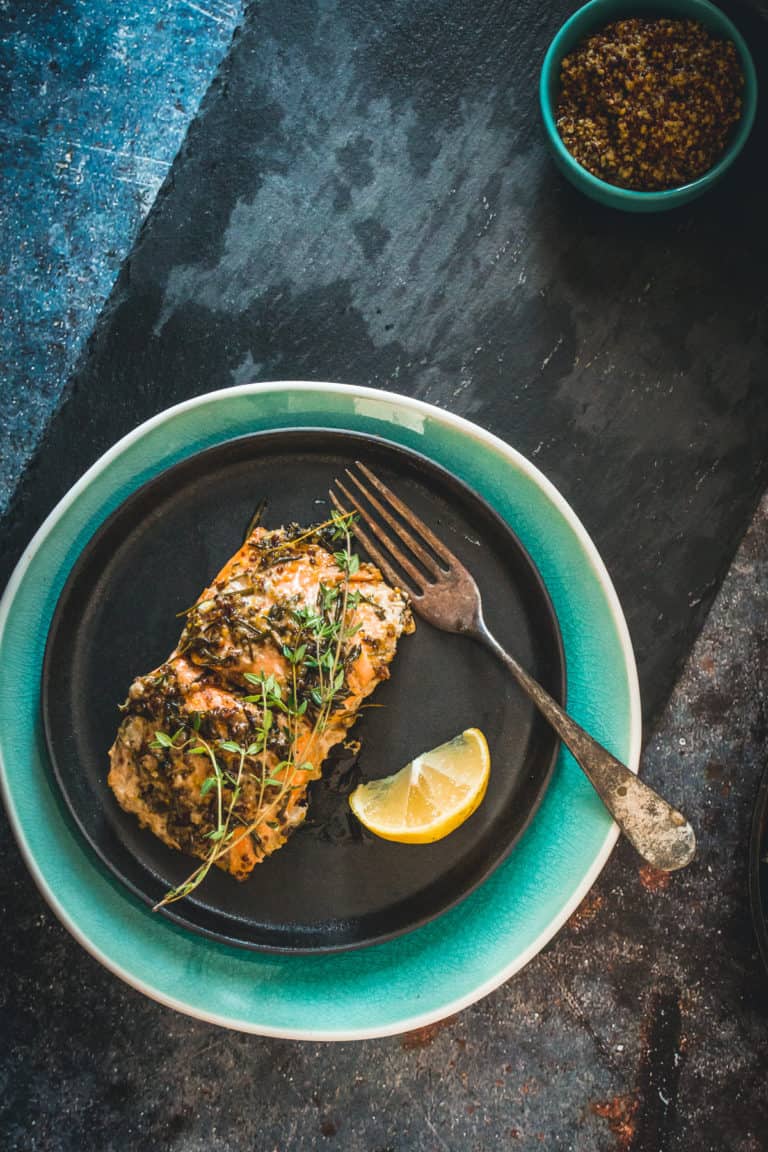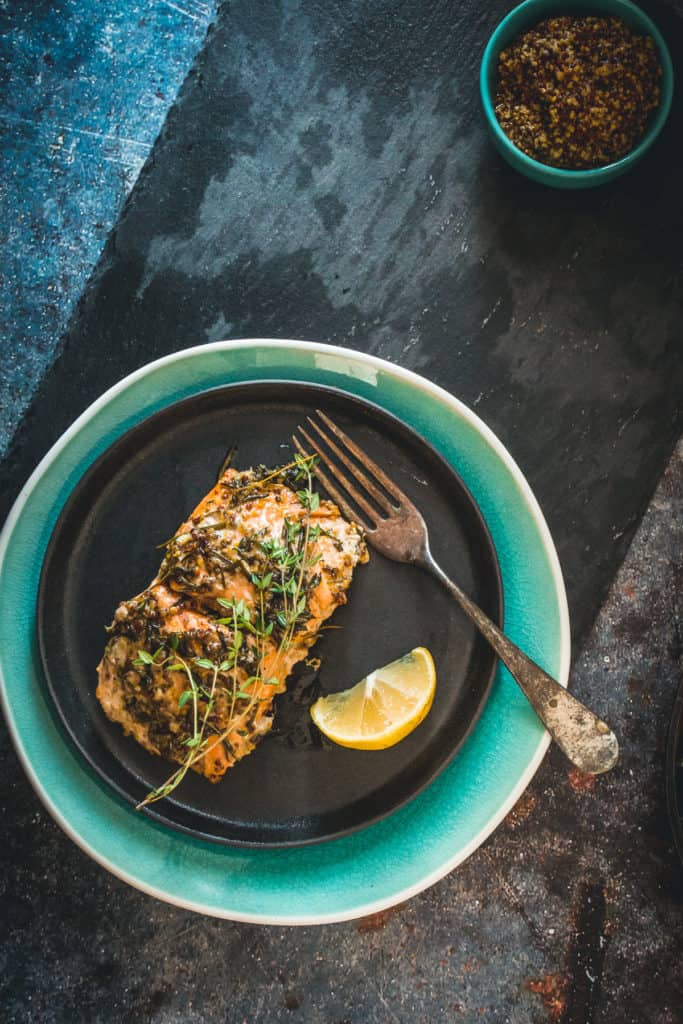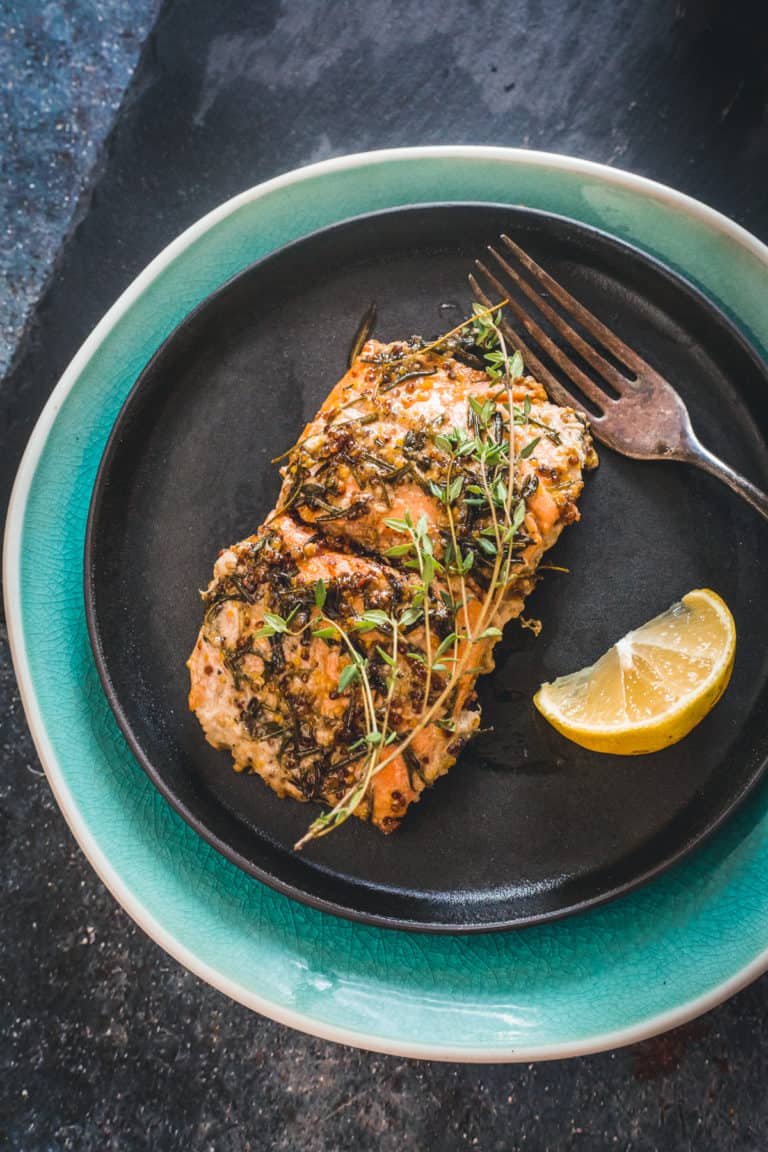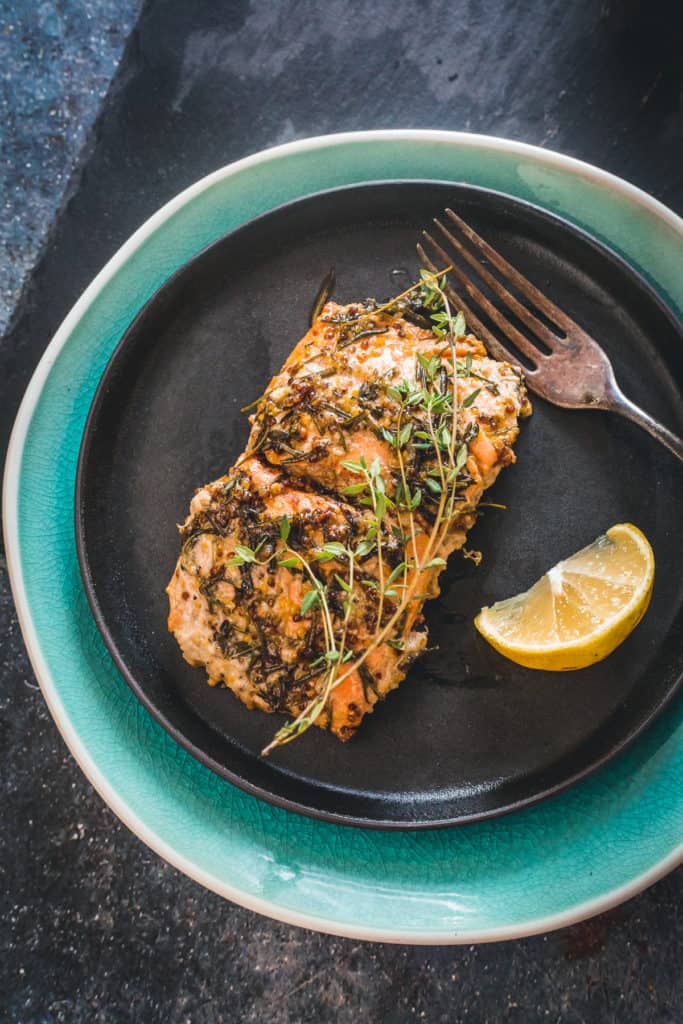 What is the best oil to fry salmon in?
For this recipe of cast-iron pan-fried Sockeye salmon, I strongly encourage you to cook your salmon in butter. It's a large part of the flavour. If you're looking for a dairy-free alternative for pan-fried sockeye salmon, use vegan butter for the closest option - or olive oil for a healthy, but different tasting alternative.
Should you flip sockeye salmon when frying?
There is no need to flip sockeye salmon when frying. It will cook through from residual heat from the pan. However, if you have a well-seasoned cast-iron pan, your salmon won't stick to it even if you do.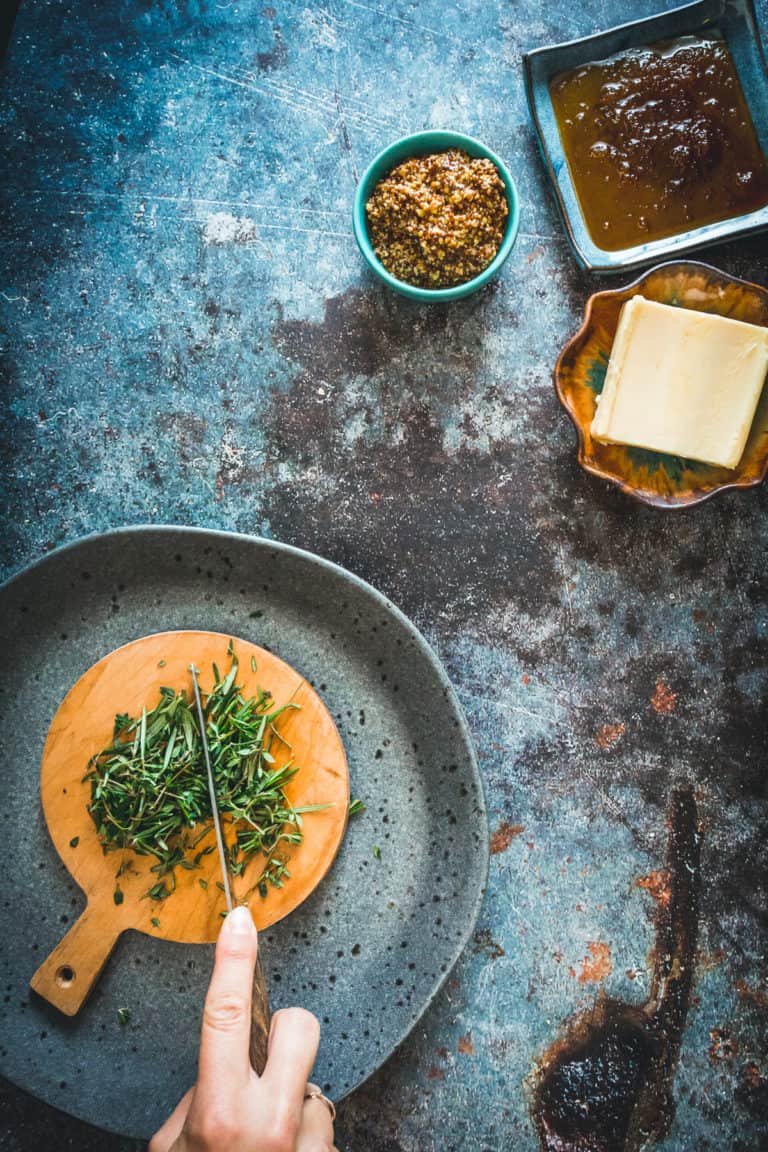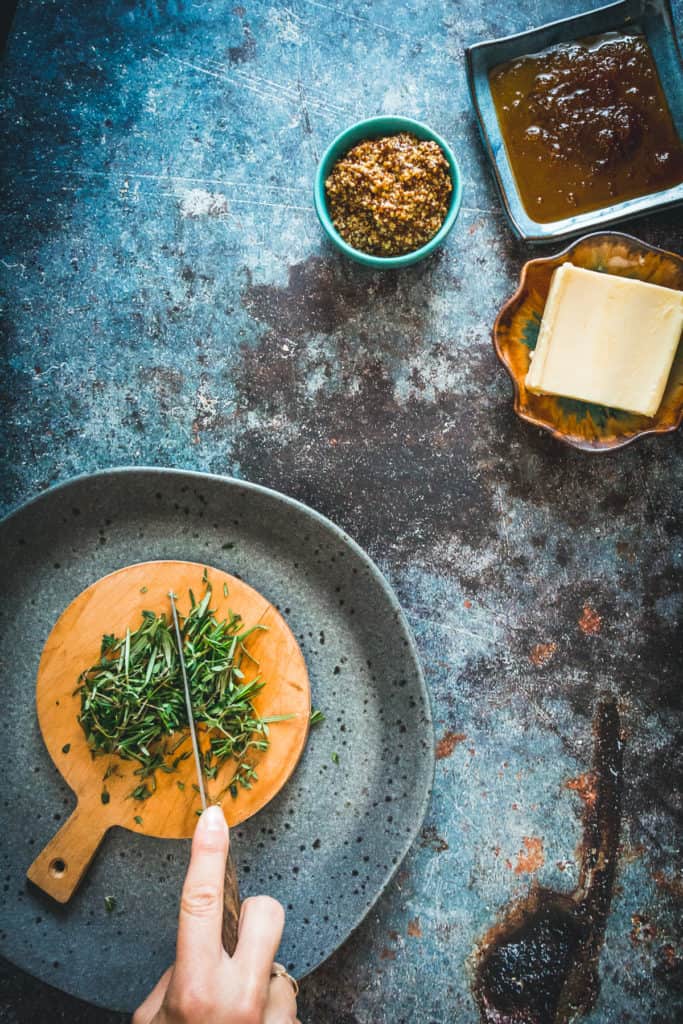 What are the best seasonings or herbs for sockeye salmon?
I love my pan-fried sockeye salmon with mustard, honey and wild herbs like rosemary and thyme. Grainy Dijon mustard has a lovely texture and a strong, assertive taste. You can use any honey you like, but if you want to maintain the campfire cooking vibe, I suggest honey from wild flowers.
In terms of herbs, rosemary has a woodsy flavour that plays really well with honey and mustard. Thyme is a very fragrant herb that stands up to the strong flesh of sockeye salmon. Both together are a great counterpart to the tanginess of mustard, the sweetness of honey, and the earthy, wild flavour of pan-fried sockeye salmon.
So grab a cast-iron pan, get into the kitchen and recreate the feeling of camping at home with pan-fried sockeye salmon with mustard, honey and wild herbs.
What to serve with this sockeye salmon recipe
I recommend pairing this salmon recipe with fried potatoes.
It would also go well with cornbread.
For dessert, I recommend having some peach cobbler.
If you're looking for a meat dish, this Blackstone ribeye would pair well. A One Pan Pork Tenderloin would satisfy the meat eaters.
For more cast iron skillet recipes:
Check out the Web Story for this Sockeye Salmon!
To see the step-by-step Pan-fried Sockeye Salmon Story for this recipe, click this link.
I received product in exchange for this post. However, I am proud to only work with those companies whose products I truly love. And as always, all opinions expressed here are my own; you can always expect me to be honest with you guys!
Tried and loved this recipe? Please leave a 5-star review below! Your reviews mean a lot to me, so if you've got any questions, please let me know in a comment.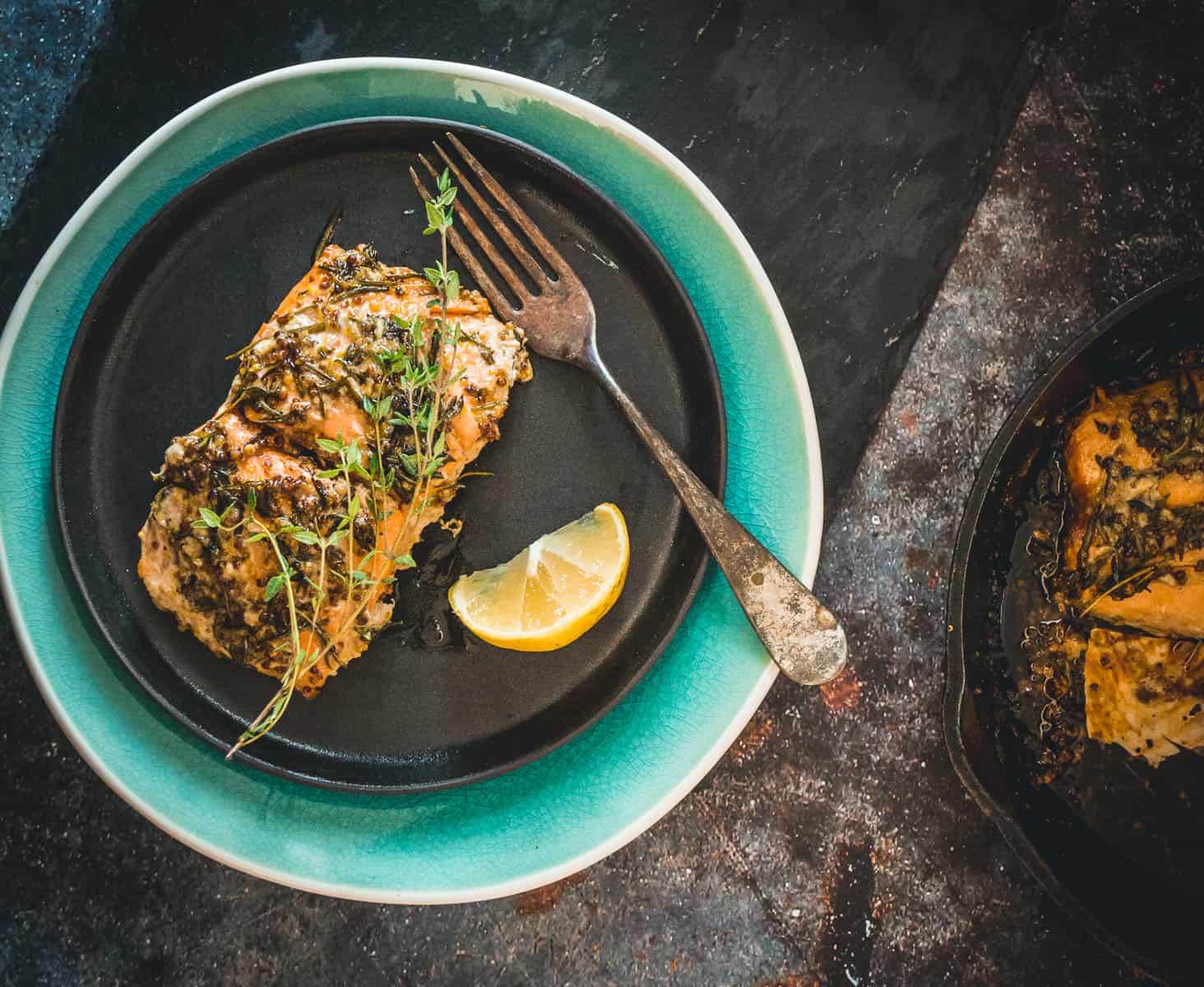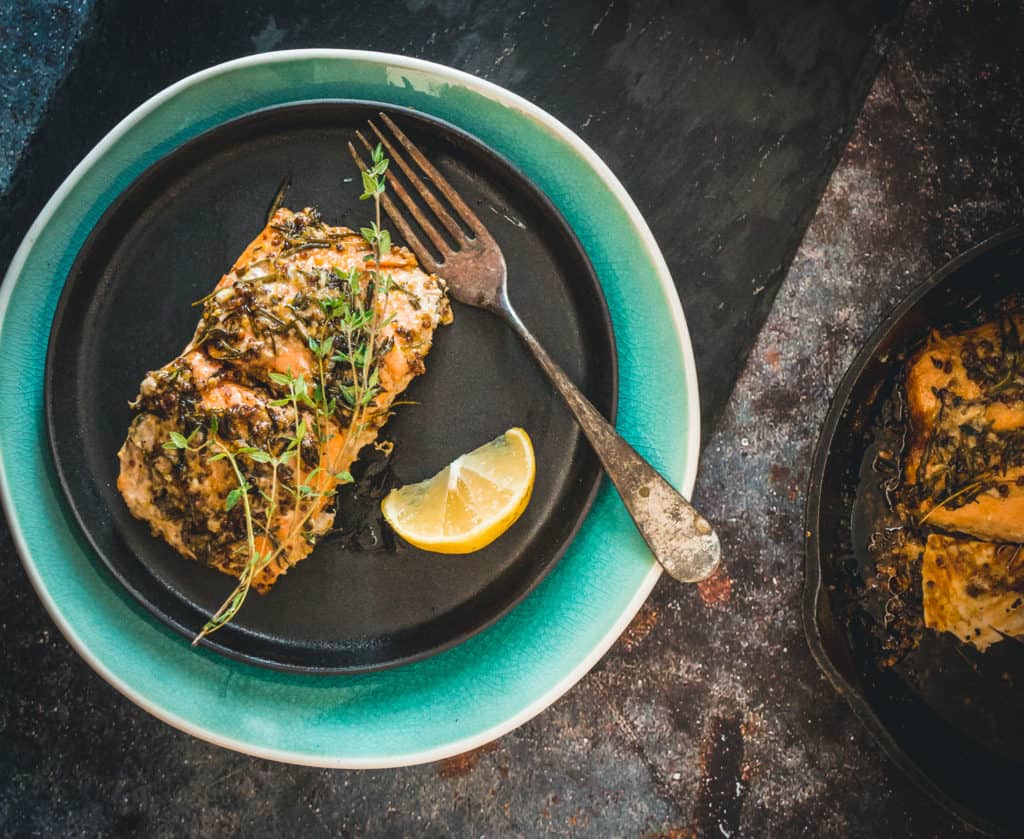 Recipe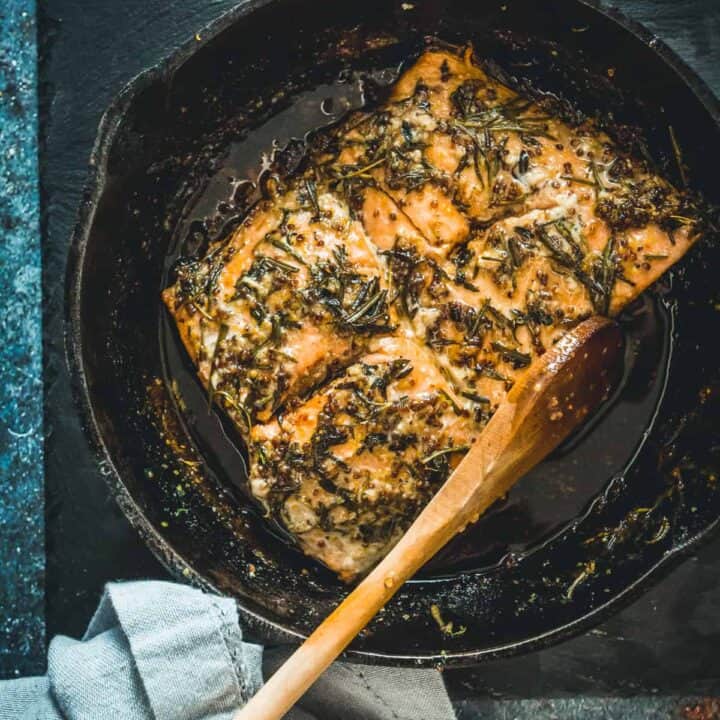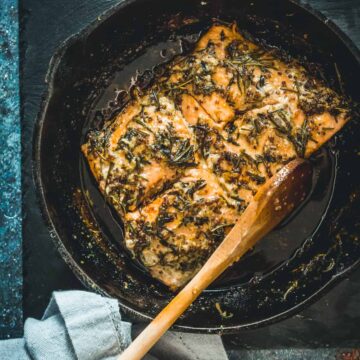 Cast-iron pan fried sockeye salmon with mustard, honey and wild herbs
Cast-iron pan-fried Sockeye salmon recipe with mustard, honey and wild herbs will make you feel like you're camping - in your own kitchen!
Equipment
1 cast-iron pan (https://amzn.to/3hXNu05)
Ingredients
4

tablespoons

unsalted butter

1

tablespoon

fresh thyme leaves

plus more sprigs for serving

1

tablespoon

fresh rosemary leaves

plus more sprigs for serving

1

tablespoon

grainy Dijon mustard

½

tablespoon

honey of your choice

1

teaspoon

kosher salt

½

teaspoon

black pepper

2

wild salmon fillets

8-oz each

2

lemon wedges
Instructions
Melt the butter in a cast-iron pan over medium-low heat. Add the thyme and rosemary, and let herbs cook for a minute just until they release their fragrance. Remove from the heat. Allow the thyme and rosemary to infuse in the butter for 20 minutes.

Add mustard, honey, salt and pepper to reserved butter. Mix well.

Add wild salmon to pan. Brush wild salmon with butter herb mixture. Add a few sprigs of rosemary and thyme to butter mixture.

If using a grill, prepare charcoal grill by heating the coals until they're pale grey and glowing orange, about 20 minutes. Move hot coals to one side of the grill, and place the cast-iron pan with fish on the opposite side.

If cooking on stovetop, bring cast iron pan to medium heat.

Using a spoon, continuously spoon butter and herb mixture on top of the wild salmon, bathing the fish in it.

Continue cooking and basting until the fish flakes when poked in the middle and it is cooked to your liking, about 8-10 minutes.

Serve sprigs of fresh herbs on top, and wedges of fresh lemon.
Tried this recipe?
Comment + Rate Below!
Connect on Instagram!
Find us @immigrantstable