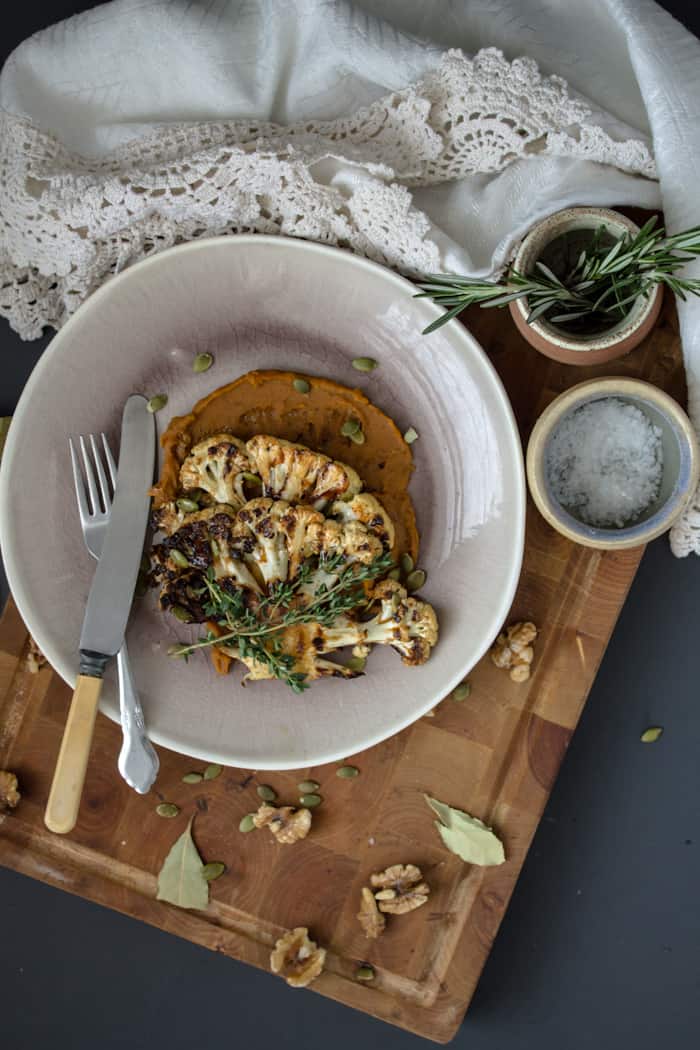 This post contains affiliate links – thank you for supporting the brands that help make this blog possible.
These stunning cauliflower steaks on spicy sweet potato puree from Vegetarian Dinner Parties are naturally vegan & gluten-free - a real party show-stopper!
Today I am delighted to present to you the second giveaway for this blog, a copy of the stunning, mouth-watering and extremely diverse Vegetarian Dinner Parties cookbook by Bruce Weinstein & Mark Scarbrough! The recipe I have chosen to showcase from this book was a true winner, an impressive plate of roasted cauliflower steaks on spicy sweet potato puree, a meal whose individual components we then re-mixed in other dishes for the week to come. Read on for your chance to win!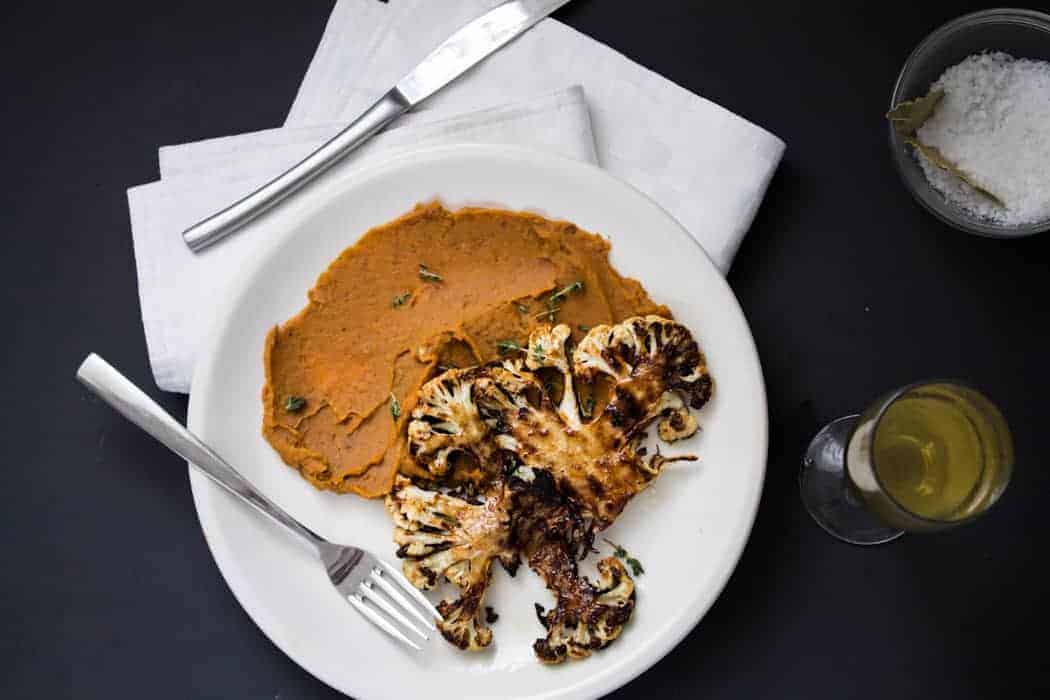 Cookbooks are designed to sell you a dream: the dream of a perfect tiered cake in a spotless kitchen, small tapas served in beautiful, slightly chipped, mismatched terracotta bowls, and overflowing pitchers of delicious sangria. They convince us that it is possible to host a dinner party without having a schwitz (or meltdown, for the more WASPish of us), or bake a key lime pie topped with elegantly broiled meringue without dirtying a single bowl (not to mention splattering all of your kitchen counters). Equipped with this book and a limitless credit card, cookbooks say, you too will be able to look like Ina Garten to all of your friends.
But the reality is, of course, far from this dream. We all know it takes many dishes to bake a pound cake, let alone a tiered creation with marzipan lilies and a raspberry coulis. Mismatched dishes are hard to come by, and require endless browsing of thrift stores and Etsy shops. And hosting takes time, money, and a steely resolve possessed by only a handful of generals.
But that doesn't stop us from trying. Each time we send out those e-vites and start planning our menu, we resort to our best, hopeful selves. Our minds fill with dreams of shiny olives and crackly homemade crostini, overflowing cheese platters and sparkly champagne coupes. And so, we rummage for recipes that will make us seem elegant, composed, and yet just a bit daring.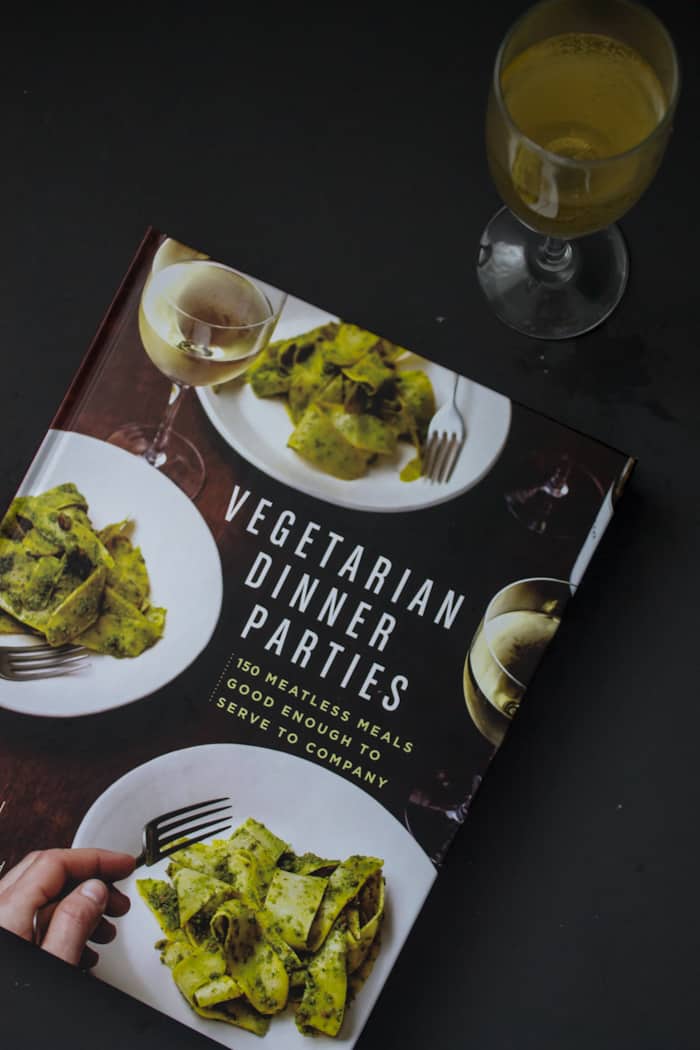 Well, this is where books like Vegetarian Dinner Parties: 150 Meatless Meals Good Enough to Serve to Company
come in. Divided into categories like small plates, no plates, pastas or salads and soups, this back houses a staggering amount of beautiful dinner party dishes. They range from the dead simple (grapefruit/avocado salad with pisachios) to the elegant and complex (strawberry/ black pepper cake with chocolate-balsamic glaze and vanilla gelato).
Included here are appetizers, cocktails and desserts, with hundreds of detailed notes, suggestions on what to make ahead, pairings and full menus, and even alterations and substitutions. Vegetarian Dinner Parties
is the kind of powerhouse cookbook every vegetarian should have in their arsenal. This is the cookbook that will make you the envy of all of your friends and relatives. This is the cookbook you want.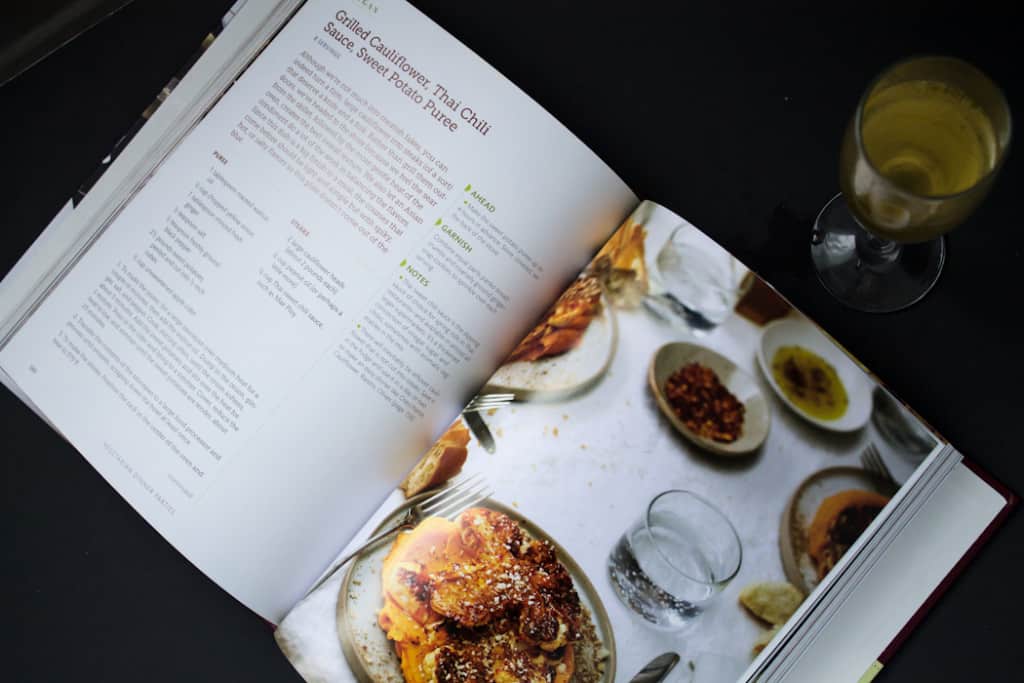 I will say that some of the dishes can be a bit intimidating and complex. Some steps don't seem to be necessary, and warrant a shrug and an adaptation in my kitchen. But, by offering the best way to do things, veteran cookbook authors Bruce Weinstein & Mark Scarbrough
allow us to find our own way. Because after all, what's a dinner party without some personal touches?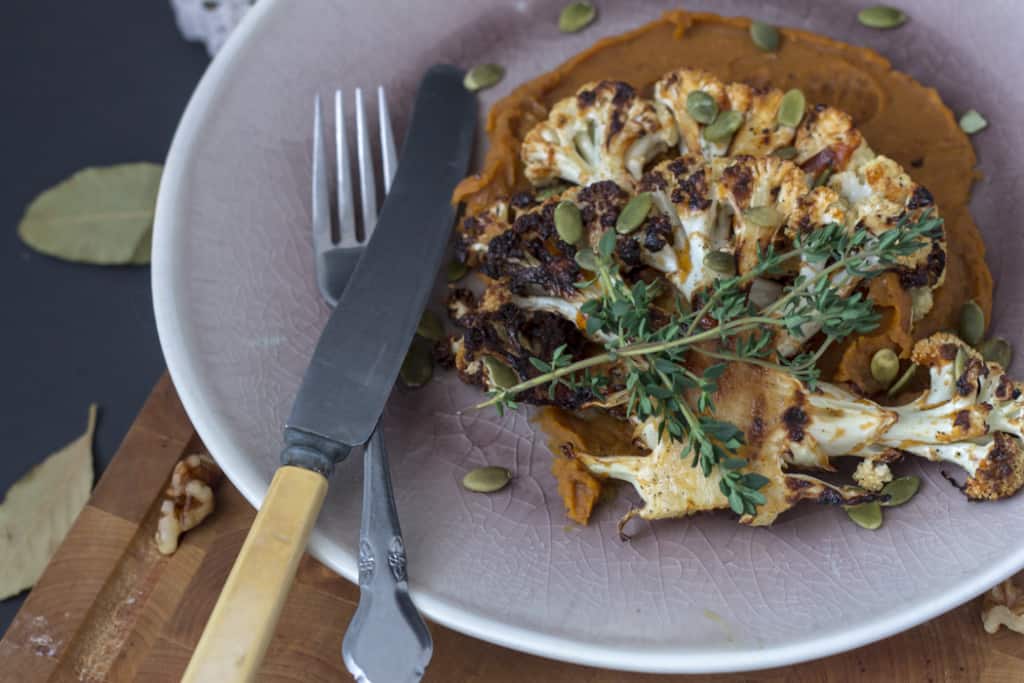 Finally, a few words on these roasted cauliflower steaks on spicy sweet potato puree. I first learned about cauliflower steaks from Dan Barber, and they blew my mind. Actually, they blew my mind two years later, because for some reason I waited that long to make them. You shouldn't; whether you follow this recipe here and use a sweet chili glaze, or just brush your steaks with a bit of olive oil, salt and pepper, the resulting creation is so much more than the title of roasted cauliflower steaks would suggest: meaty, silky, perfectly caramelized, they are truly a glorious creation.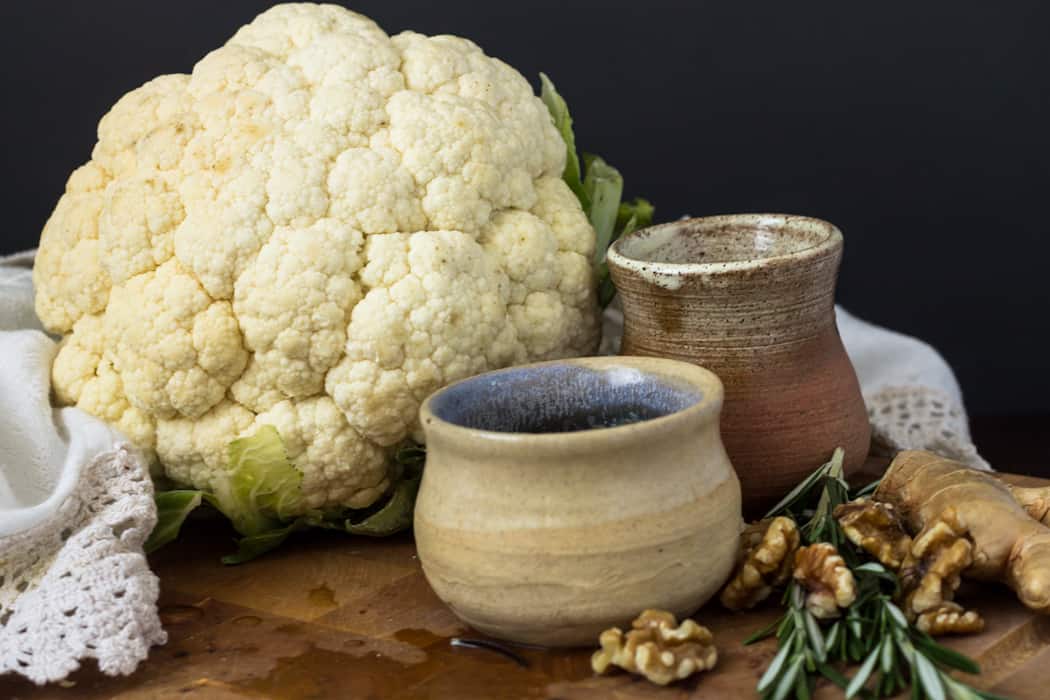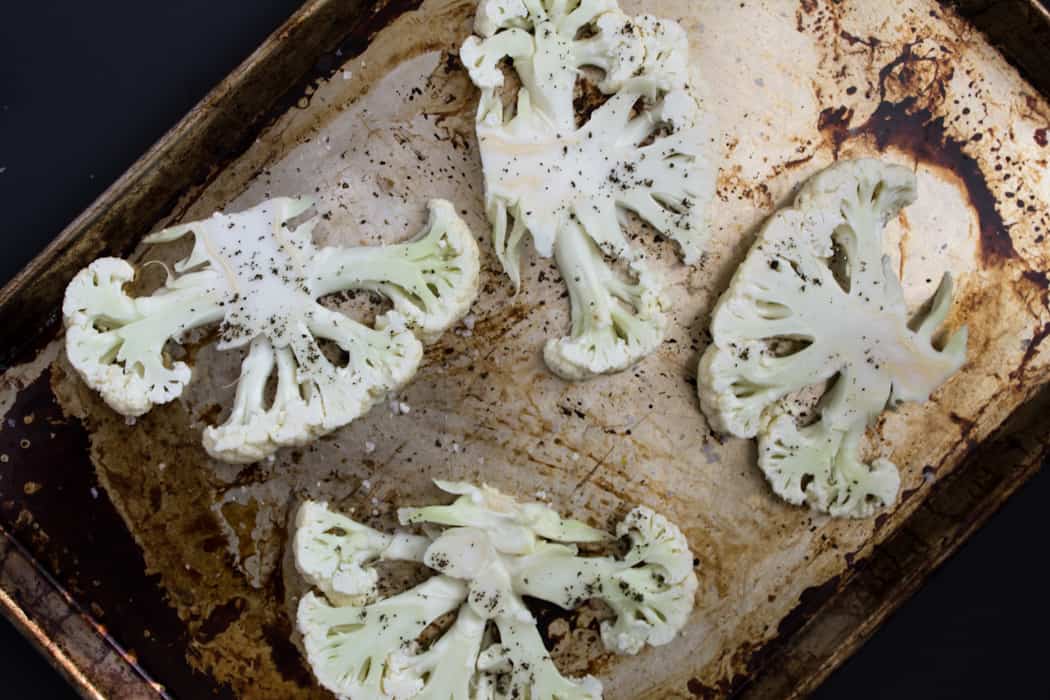 Second, the spicy sweet potato puree that serves as the bed for these angelic cauliflower steaks is also not to be dismissed; it is a bit sour from apple cider, sweet with the sweet potatoes' natural sugars, and perfectly creamy. We loved it with black beans, sprouts and tofu, and also with pan-fried salmon. This is definitely a dish we will be making again.
In order to share the love, I am happy to provide one lucky reader with a copy of the stunning Vegetarian Dinner Parties. Enter below, tell your friends, and you're halfway there to hosting the party of your dreams! Meltdowns, mismatched dishes and perfect baking skills not included.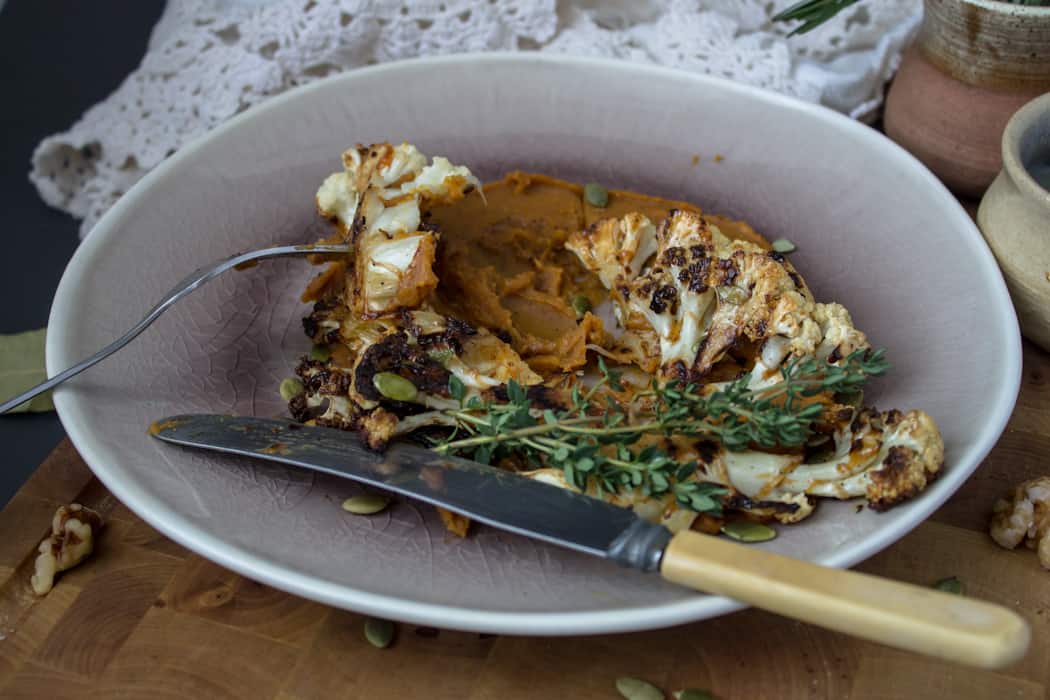 Disclosure: Rainforest Books sent me the review copy of this book I now have in my library, and they are also providing the giveaway unit. This post also uses affiliate links through Amazon that help keep this site going. However, my thoughts remain my own. Giveaway is open to any Canadian and North American entrants. Good luck!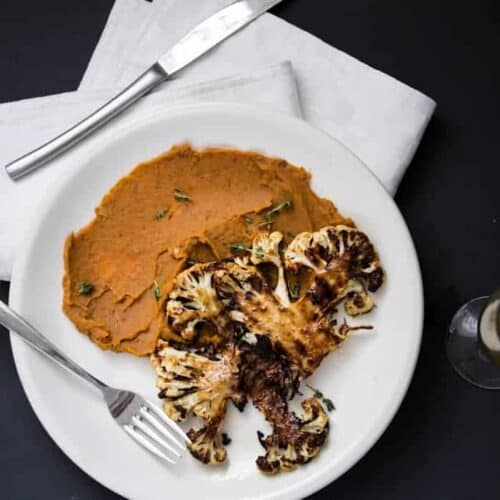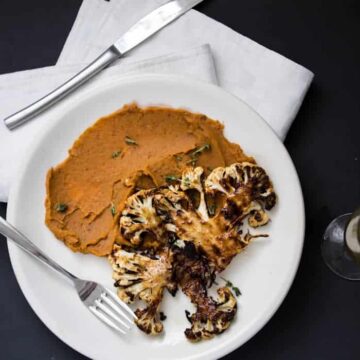 Roasted cauliflower steaks on spicy sweet potato puree
These stunning cauliflower steaks on spicy sweet potato puree from Vegetarian Dinner Parties are naturally vegan & gluten-free - a real party show-stopper!
Print
Pin
Rate
Ingredients
For spicy sweet potato puree:

1

TB

roasted walnut or pumpkin oil

½

cup

chopped yellow onion

1

TB

minced fresh ginger

½

teaspoon

salt

½

teaspoon

ground black pepper

2.5

pounds

sweet potatoes

cut into ½ inch cubes

½

cup

unsweetened apple cider

Cauliflower steaks:

2

large cauliflower heads

about 2 lbs each

¼

cup

vegetable oil

the book recommends peanut oil, but I like olive oil

¾

cup

Thai sweet chili sauce

or just salt and pepper
Instructions
To make the puree, set a saucepan over medium heat and add the oil. Add in the onion, ginger, salt, and pepper. Cook, stirring often, until the onions soften, about 5 mins. Add the sweet potatoes and stir over the heat for 1 minute. Pour in the cider and bring to a simmer. Cover, reduce the heat to low, and simmer until the sweet potatoes are tender, about 25 mins.

Transfer the contents of the saucepan to a high-speed blender or food processor and process until smooth, scraping down the bowl at least once.

To make the steaks, heat the oven to 375F with the rack in the middle of the oven. Trim cauliflower heads from laves, then slice the heads in half through the stem. Starting at the cut side of each cauliflower half, make ½-inch-thick slices for as long as the slices will hold together. You should end up with about 4 slices per head.

Set a large cast-iron skillet over medium heat for a few minutes. Swirl in 1 TB of oil, then slip in the cauliflower slices (probably no more than two). Cook, turning once, until browned, even blistered a bit, about 8 minutes in total. Transfer to large, tin foil-covered baking sheet. Continue frying the remaining slices in more batches if necessary (if you don't have any more slices to bake than your pan fits in one go, no need to transfer the slices onto a sheet - just put the whole skillet into the oven).

Once all the cauliflower slices have been fried, brush them with the chili sauce. Bake until tender and bubbling at the edges, about 10 mins.

To serve, divide the sweet potato puree between the plates and top each with a cauliflower steak.
Liked this post? Share it with your friends! For more At the Immigrant's Table, follow me on Facebook, Instagram, Pinterest, Bloglovin', or Twitter, subscribe to my mailing list, or contact me about advertising and becoming a sponsor. If you make one of my recipes, don't forget to tag it #immigrantstable @immigrantstable!