This Russian Korean kohlrabi salad is spicy, crunchy and bright, marrying a Russian Korean-style marinade of garlic, vinegar and coriander seeds with perky apples, radishes, and the bite of spicy salad topper crunch. It's a party in the mouth, and you're invited. This recipe was developed as a sponsored post for Natursource, but all opinions expressed here are my own. I am proud to support a local, family-owned business whose product I truly appreciate, and I thank you for supporting my sponsors.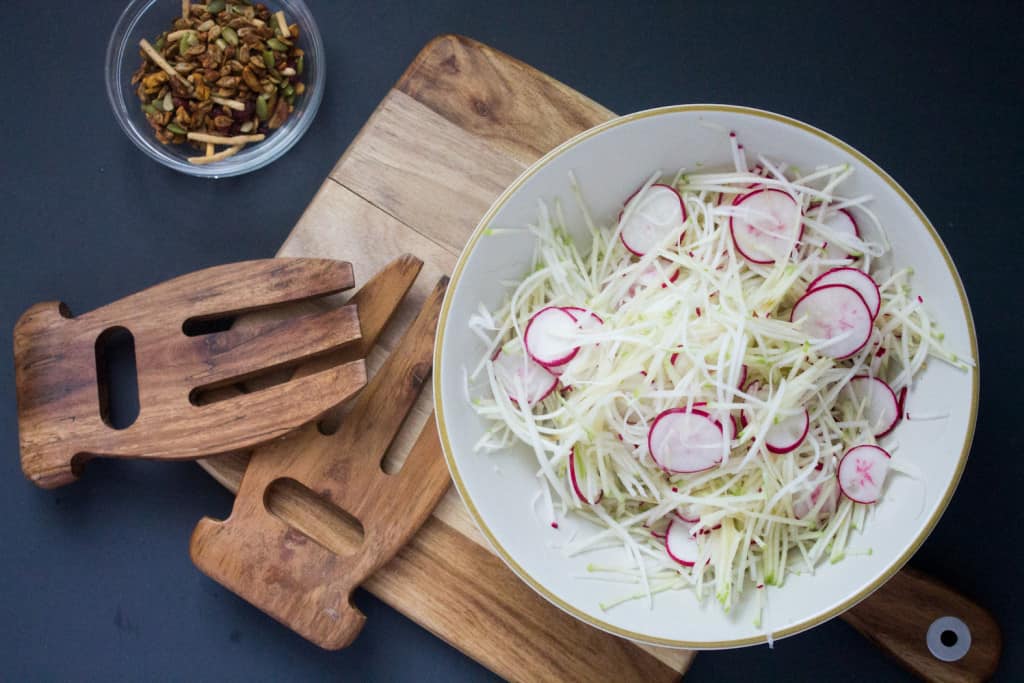 As my hand is still healing, typing remains a challenge. Add to that the new "healing" pains as the blisters move on their inevitable course towards explosion, and you've got yourself quite a package of discomfort.
So I hope you'll forgive me if I'll be short in my write-ups over the next little while. In fact, some of you may even breathe a sigh of relief; but then again, those people probably skip over the written parts anyway!
But I just couldn't hold back on sharing this incredible salad with you guys. I know, I know; how often do people gush about salad?
But THIS SALAD, you guys.
It's spicy, crunchy and bright. It brings together one of my favourite spring/summer vegetables, kohlrabi, with peppery pink radishes, and I'm now convinced those two are a match made in heaven. Apples and kohlrabi are natural bedfellows as well, and I imagine I'll use them more often together in the future, even in a simple slivered salad.
With such beautiful produce, you'd think this salad wouldn't need embellishment. But then, i wouldn't be me.
So I went and mixed a ubiquitous Russian marinade that usually goes with carrots to produce a strangely fusiony, but incredibly popular, Russian-Korean carrot salad. It's peppered with garlic chunks, laced with vinegar, and redolent with the earthiness ground coriander. It's a bunch of explosive flavours at once, and it's honestly one of the best things EVER.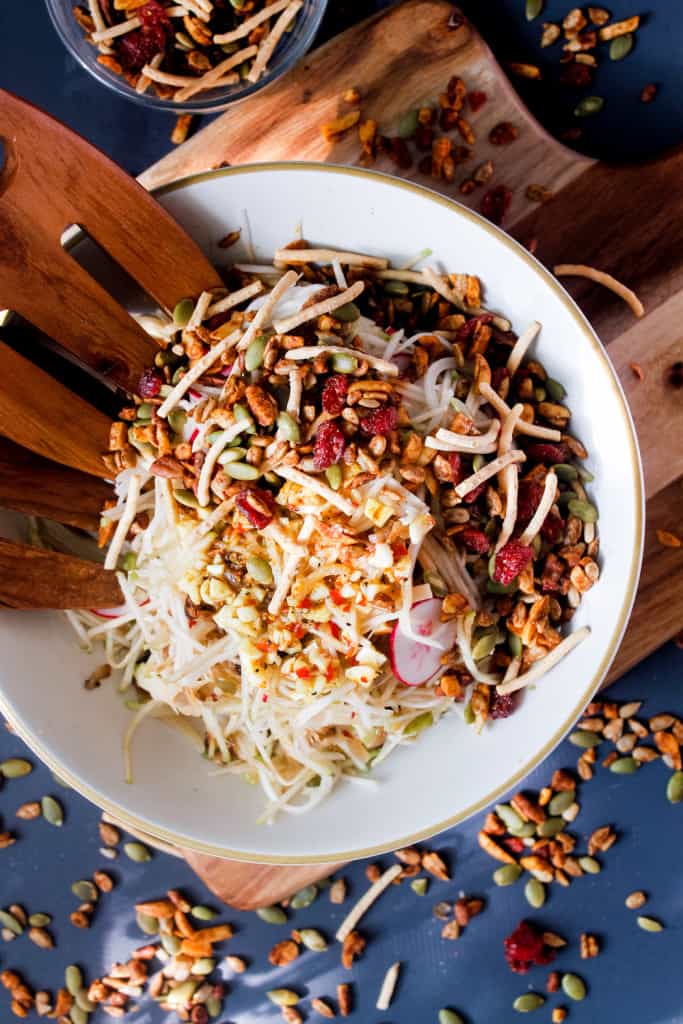 Then, to truly take this salad over the top, I added in some spicy salad topper crunch from NaturSource. I have to say that this baby, despite its strictly non-gluten-free provenance, is probably my favourite of the NaturSource salad topper line.
It's got so much flavour from a heady mix of pumpkin seeds, cranberries, roasted sunflower seeds, almonds and pecans. But what really makes it are spiced crunchy noodles with the flavourful heat of Sriracha! They might as well have gone and called this baby the Ksenia flavour.
You can use spicy salad topper crunch on any salad mix with a simple oil-vinegar dressing, and you've got yourself a great salad in seconds.
But I have to say it goes best in this Russian Korean-style kohlrabi salad with apple and radishes. All the flavours just come together in a beautiful melange, and a nice rest in the fridge only intensifies everything, so this is actually a salad you want to make ahead.
How's that for nice?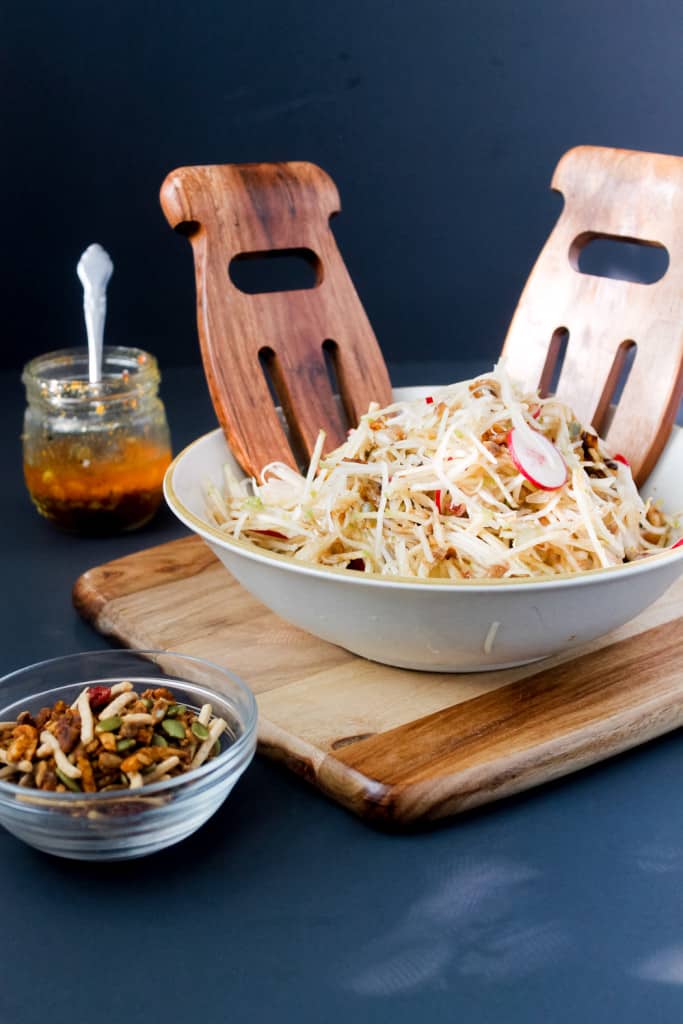 My Russian Korean-style kohlrabi salad with apples, radishes and spicy salad topper will go beautifully in a taco, or alongside fish, as we've had the last couple of days.
Or just eat with a forkful while crying and watching Grey's Anatomy by yourself until you've finished the whole bowl, as I have last night.
However you eat this Russian Korean-style kohlrabi salad, you simply have to give it a try. It'll blow your mind, guaranteed.
... and I guess this wasn't that short after all. Oy vey.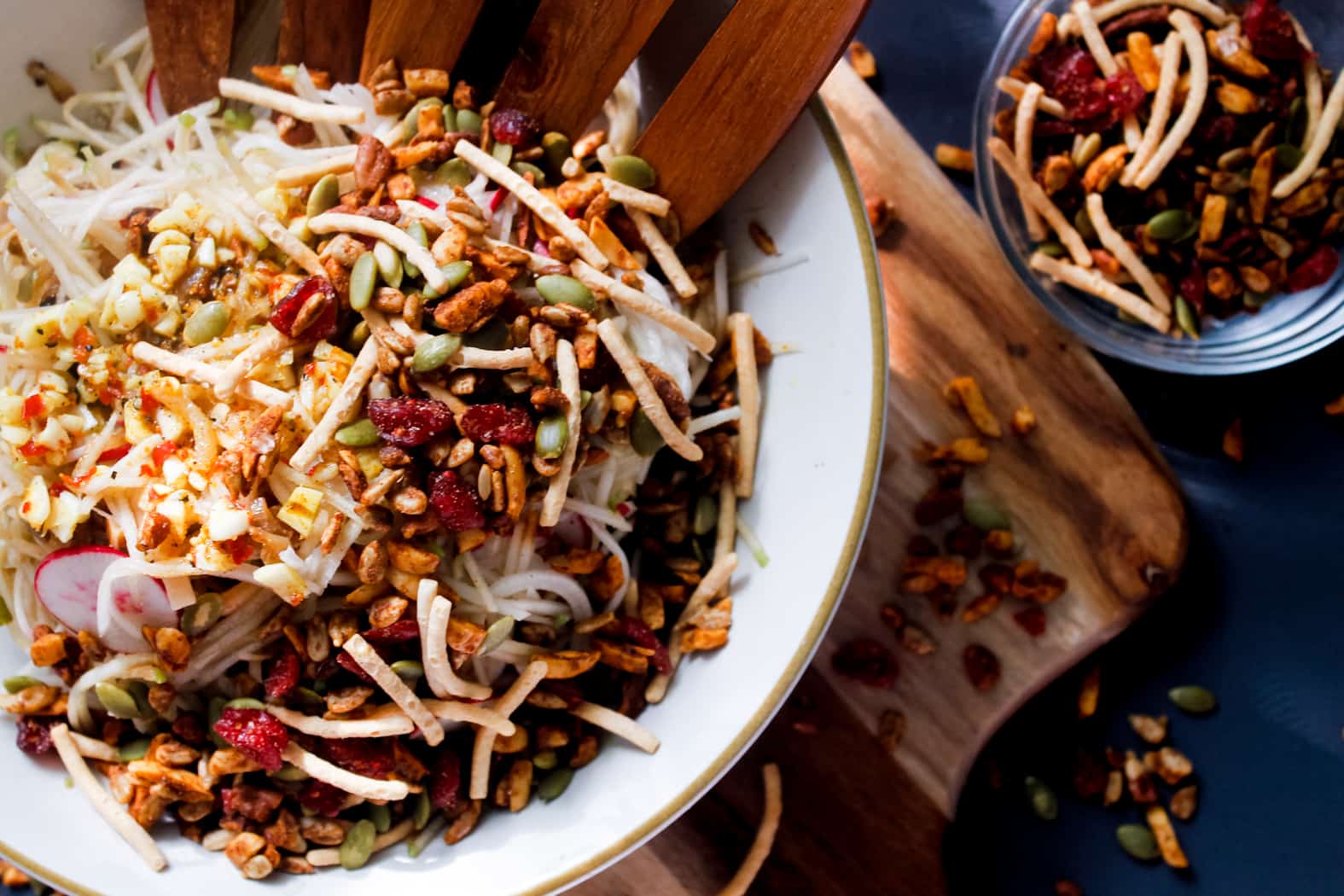 Liked this post? Share it with your friends! For more At the Immigrant's Table, follow me on Facebook, Instagram, Pinterest, Bloglovin', or Twitter, subscribe to my mailing list, or contact me about advertising and becoming a sponsor. If you make one of my recipes, don't forget to tag it #immigrantstable @immigrantstable!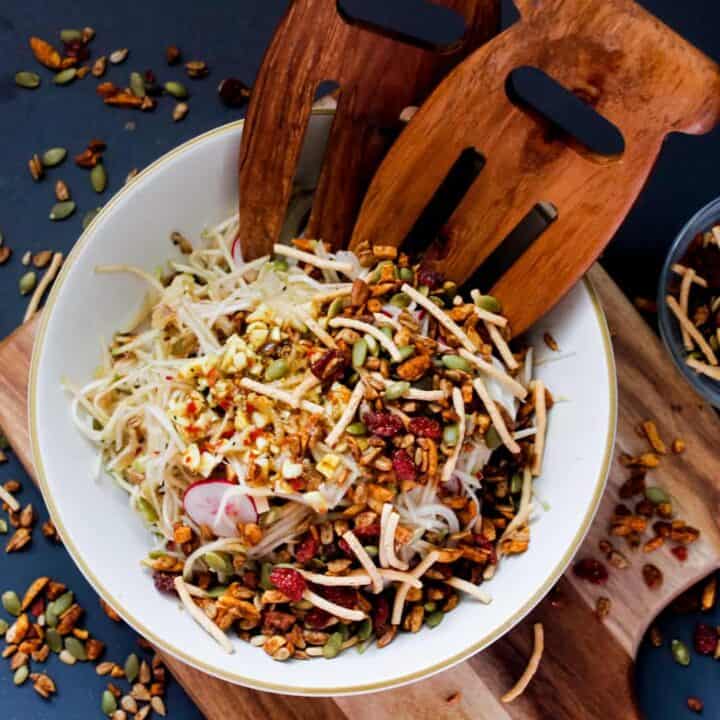 Russian Korean-style kohlrabi salad with apples, radishes and spicy salad topper
Russian Korean kohlrabi salad is spicy, crunchy & bright, marrying a marinade of garlic, vinegar and coriander with apples, radishes & spicy salad topper.
Print
Pin
Ingredients
1

onion

minced finely

1

large kohlrabi or 2 medium

1

Granny Smith apple

4

radishes

1

cup

NaturSource spicy salad topper crunch

Russian Korean-style marinade:

4

garlic cloves

minced

1

quarter cup white vinegar

1

quarter cup vegetable oil

or very delicate olive oil oil

1

teaspoon

coriander seeds

ground

1

teaspoon

cayenne pepper

ground

1

tablespoon

sugar or maple syrup

salt and pepper to taste
Instructions
Preheat a pan to medium heat. Add 2 TBs vegetable oil and onions, and saute for about 10 minutes, until onion is golden. Remove from pan and set aside.

Using a mandoline, a grater or your mad knife skills, slice kolhrabi and apples into matchsticks. Slice radishes very thinly.

Mix all marinade recipes together in a jar, and shake well to blend.

Mix sauteed onions, kohlrabi, apples and radishes in a large bowl. Pour marinade over, and mix well to combine. Let rest in fridge for 4-5 hours or overnight for flavours to blend.

Top with spicy salad topper crunch from NaturSource right before serving. Salad will keep well for a week, though there's no way it'll last that long.