Going through my master's degree in Israel, I was always commuting to and from school. While my school was located in the centre of the country, I was living with my parents in the south, partly in effort to save money, but mostly in attempt to heal a broken heart with the support of my family. A two-and-a-half-hour trip each way meant that I was often crashing on friends' couches, and returning home every other day, tired and often in need of a detox. Long days turned into longer weeks, and it seemed like I was spending most of my days inside a train car, or on a dark bus full of sleeping strangers. Though books and my ipad were certainly helping me pass the time, the doldrums of a commuter life was really starting to get to me.
The worst part about living out of a backpack meant that I was often eating out. And as the income of a living-at-home student is nothing to marvel at, my options were often dictated by economy, and therefore, pretty dismal. Pitas with hummus, bourekas, and bagel-toasts with questionable ingredients bought at train stations were my usual diet, and while my palette wasn't too happy with selection, the real grumbling was coming from my belly. The carbohydrates were starting to show.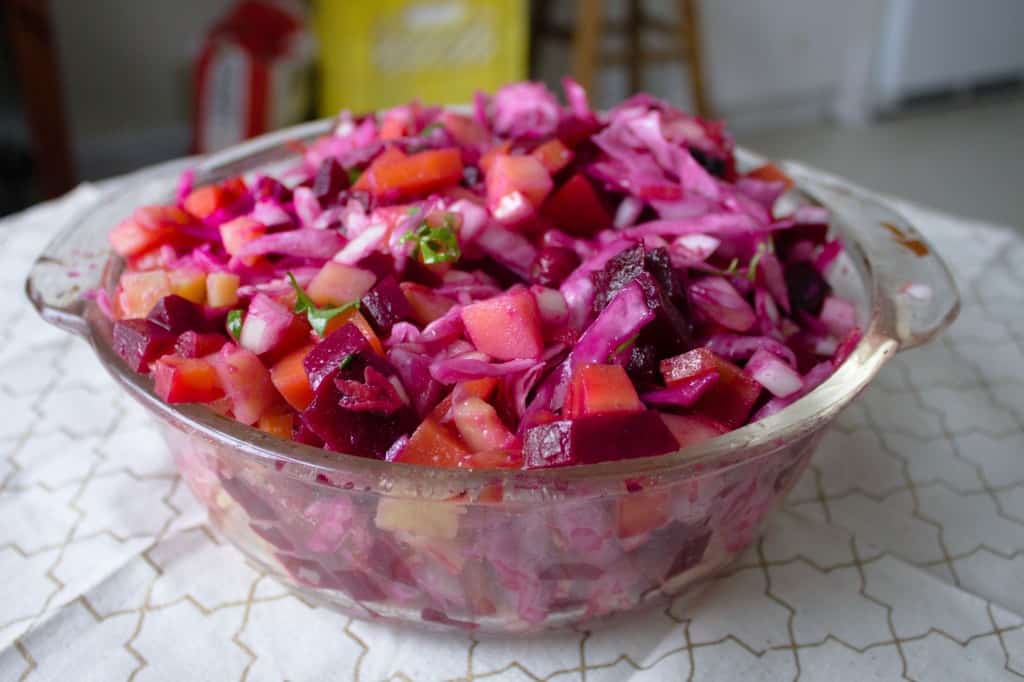 Halfway through my first year, I clued in to the fact this simply can't go on. I began trying to bring food from home, courtesy of my generous mother's supermarket trips: individually packaged salads, small containers of soy milk and yogurt, and lots of durable fruit. I also started packing some leftovers in plastic containers, and eating those while commuting. Through some disasters (books soaked in oil from a leaky box of eggplant salad, an overly ripe banana that smeared all over my ipad), I learned that some dishes were more portable and amenable to lack of cooling than others.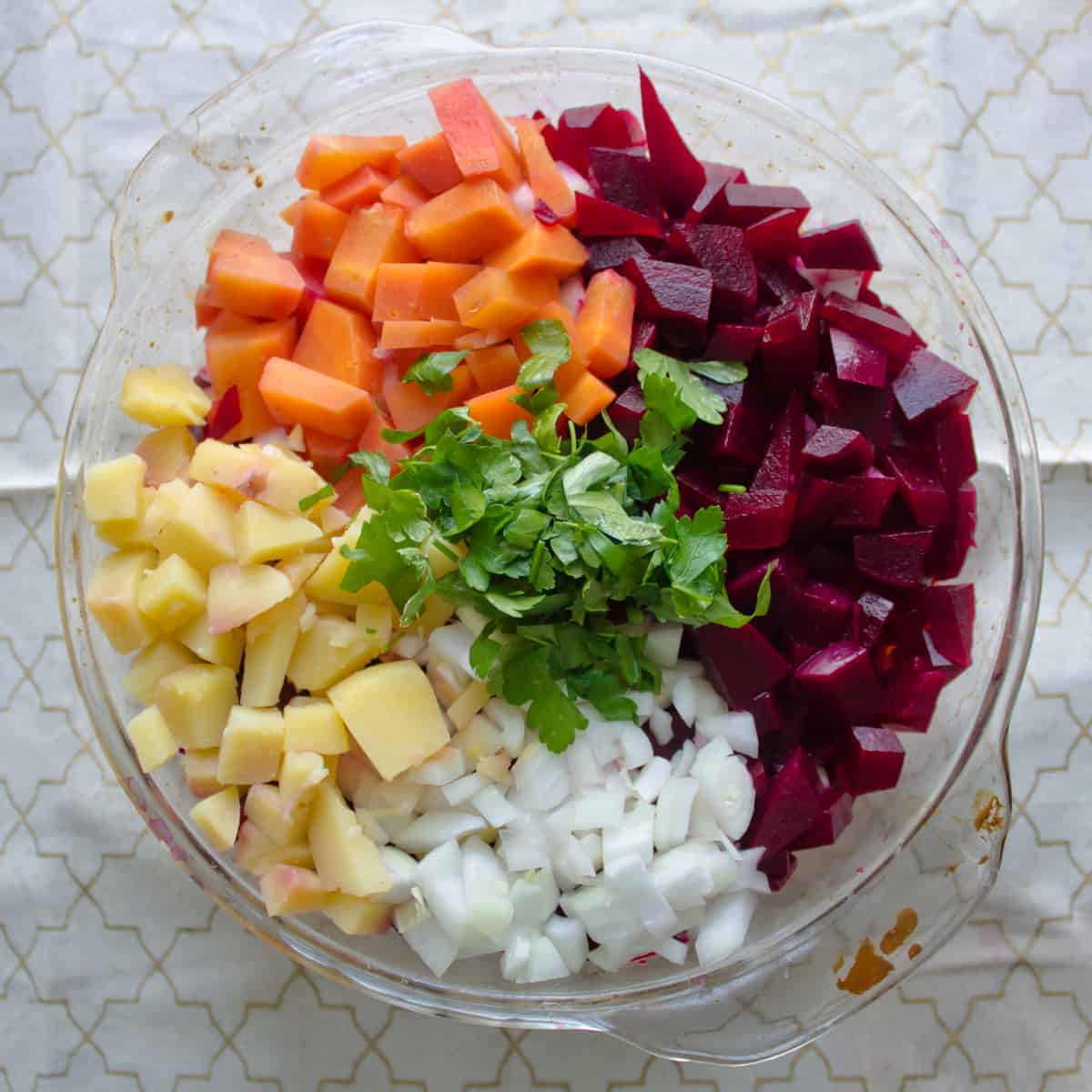 My grandparents' signature Vinaigrette salad quickly became a commuting favourite. This Russian vinaigrette salad is comprised of a medley of cooked beets, carrots, and potatoes, which get perked up by some sharp onion, zesty pickled sauerkraut (or regular pickles, according to my grandmother Berta's recipe), and a drizzle of good ol' oil and lemon. This Russian vinaigrette salad was portable, did not require refrigeration, and, after the greedy vegetables soaked up all the dressing, it didn't leak. Low in fat and chock-full of nutrition and vitamins, it was also a perfectly filling meal. I was finally in salad heaven.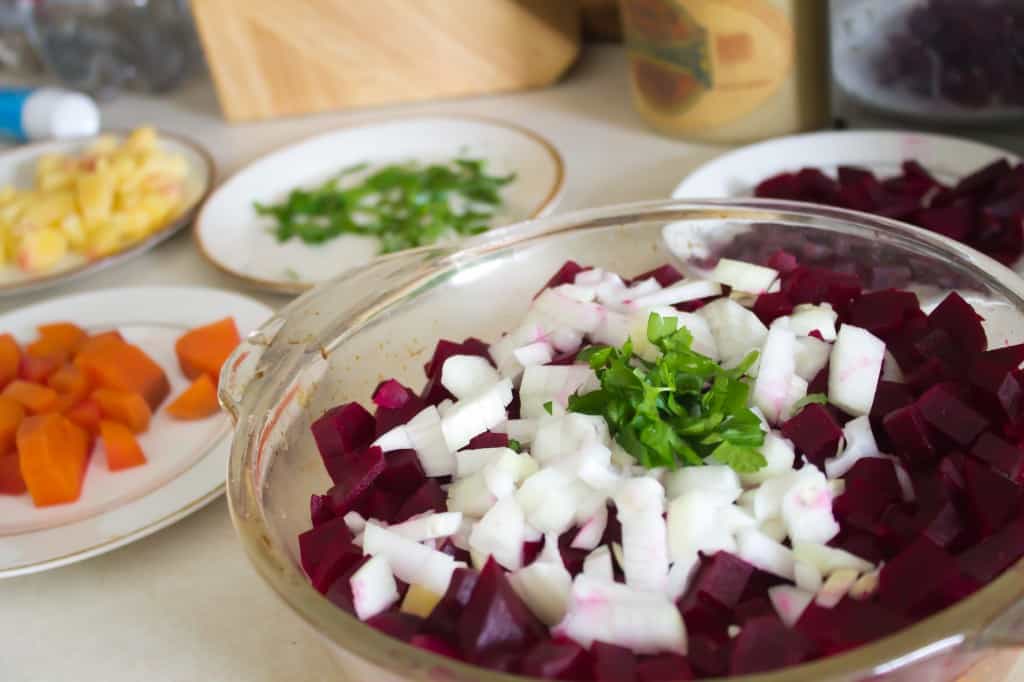 Now, I make this Russian vinaigrette salad when all winter is at its worst, and I feel like I can't possibly eat another roasted yam. One look at the humdrum line-up of potatoes, beets and carrots may not seem too inspire, but trust me - with the treatment of a simple tangy dressing and the bite of pickled vegetables, this salad becomes a serious contender for a signature winter dish.
Russian vinaigrette salad (root vegetable salad)
A tangy salad that sings with the sweetness of beets, the earthiness of potatoes, and the zing of a pickles. A meal on its own, or serve as part of a traditional Russian holiday table (it's a must at every Russian family's New Year's celebration).
Print
Pin
Rate
Ingredients
3-4

medium-sized potatoes

3-4

beets

3

carrots

1

onion

1

cup

of pickled sauerkraut

or 3-4 pickles

the juice of one lemon

3-4

Tbs

vegetable oil

Table salt - to taste.
Instructions
Thoroughly wash and clean beets, carrots and potatoes. Prick each vegetable a few times with a fork. Place all vegetables in large pot, and enough water to cover. Bring to a boil and continue cooking for 20-30 mins, until they are easily pierced with a fork. Let vegetables cool to room temperature.

When cooked vegetables are cool enough to handle, do your best to peel them (potatoes will peel easily, beets a little less so, and carrots will likely be the hardest to peel), but don't worry if some skin remains. Chop them finely, into ½"-1" cubes, and mix them in a large bowl.

Finely chop onion, and add to bowl with cooked vegetables.

If using sauerkraut, add to bowl as is. If using pickles, chop finely and add to the rest of the vegetables. Mix well.

Stir together vegetable oil, lemon juice and salt. Season salad with dressing, mixing to ensure all vegetables coat well.

Let rest in refrigerator for 1.5 to 2 hours. Taste, and adjust seasonings if necessary.