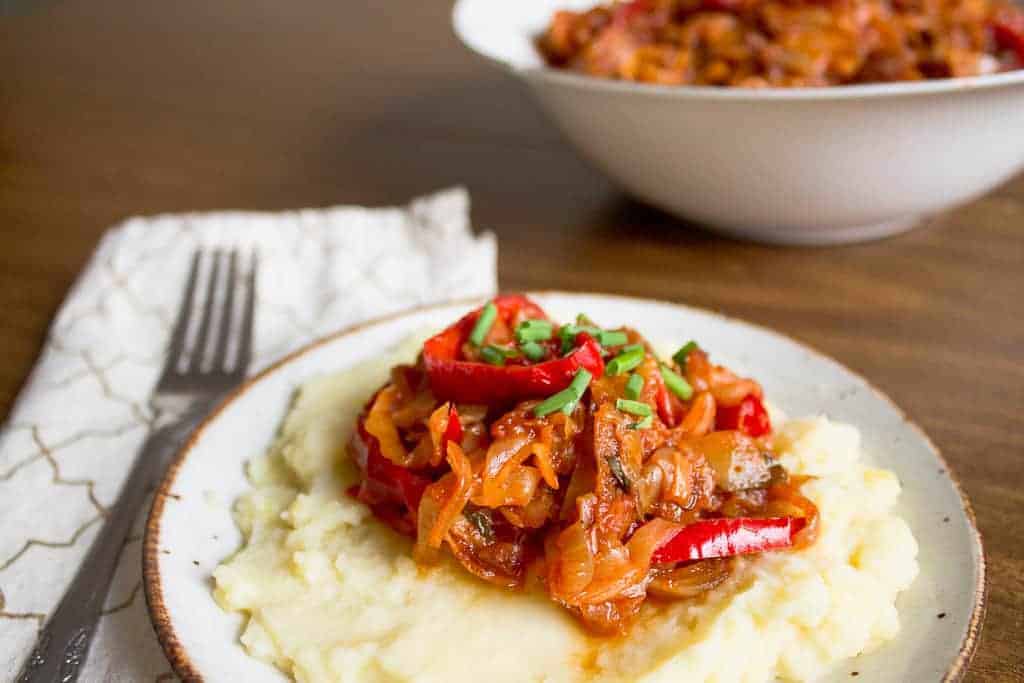 As I return home after a long day, my mother is standing at the kitchen counter, chopping vegetables. She greets me enthusiastically, asking how my day was. As she comes over to give me a hug, her leopard-print robe is falling off her shoulder, revealing a homely pyjamas underneath. Her hair is up in a messy bun and her make-up isn't fully off yet, but the smudging is already visible. She smiles at me, the gap between her teeth showing.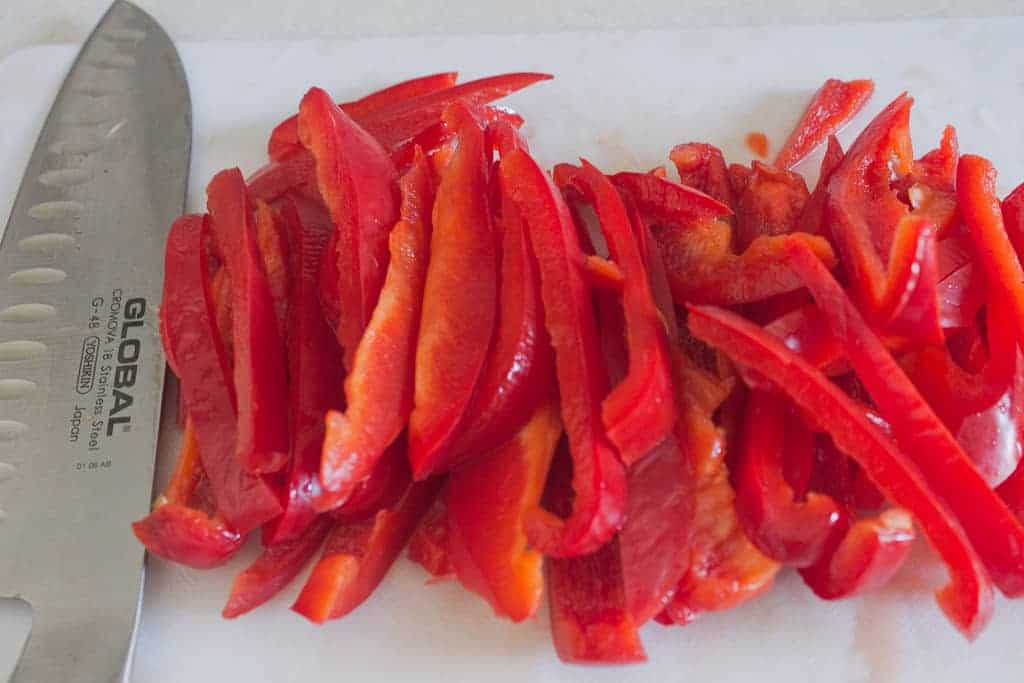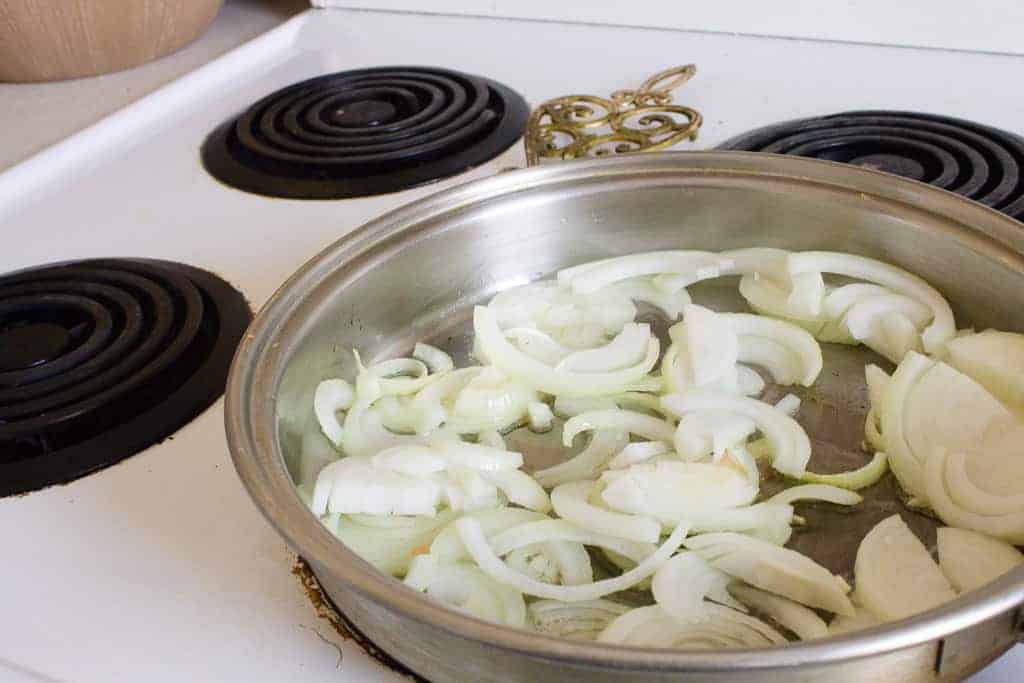 The smell of fried onions and freshly cut tomatoes is in the air. As I peek at the cutting board, I see she is chopping a full head of white cabbage, following my grandfather's signature technique: cut the head in half, remove the core, and hold one half firmly in place, cut-side down. Move your knife around it, slicing thin strips of cabbage off the sides, not moving the head until you get to the last little nob. The cabbage is quickly reduced to a pile of shreds. She barely avoids cutting off her finger with the dull knife.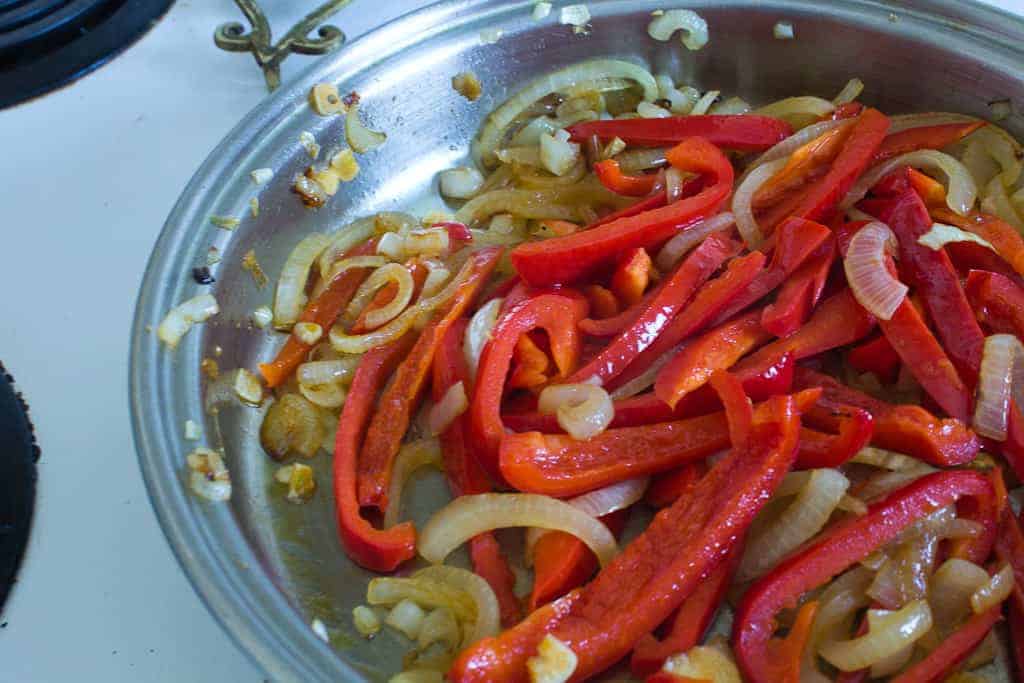 Meanwhile, tomatoes and red peppers are browning in the pan. Their once-firm forms are now lazily strewn across the non-stick surface, crisping at the edges. I give them a toss, allowing more peppers to come into contact with the heat of the pan. My mother adds the cabbage to the pile, giving everything a good stir. The pan is then covered with an ill-fitting lid that belongs to a long-lost and forgotten pot. Our pot drawer is an orphanage for abandoned cookware of all shapes, sizes and pedigrees. Some enamel pans date back to the Soviet Union, and though nothing ever cooks in them, we still hold on, refusing to throw the dented memories away.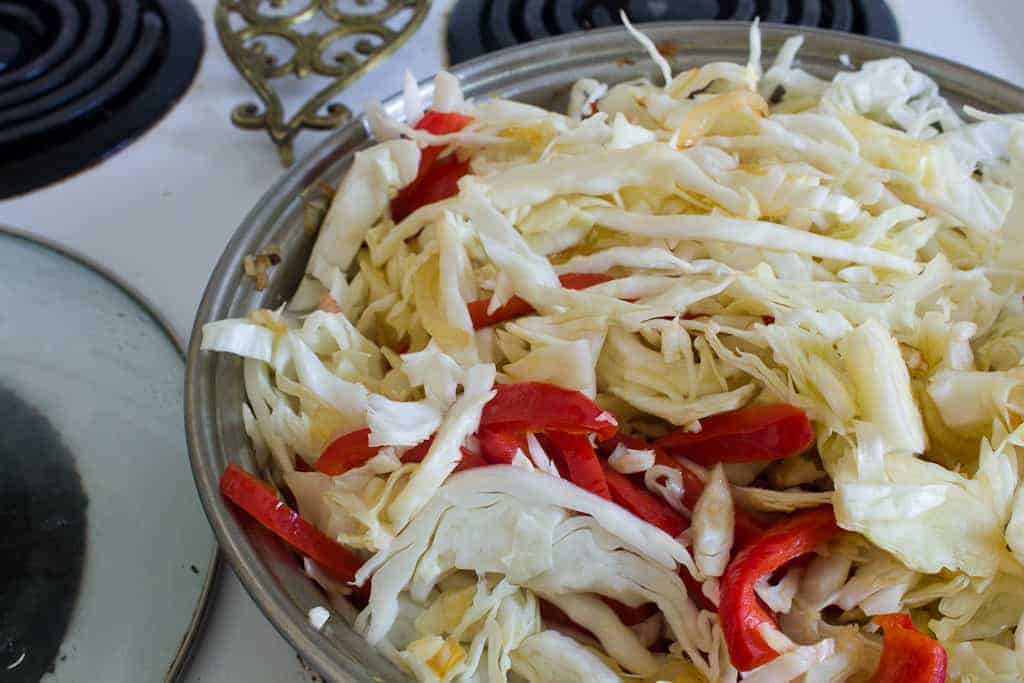 We sit down at the little kitchen island. My dad makes me a cocktail, and I am privy to whatever strange concoction he is working on this week. Bitter grapefruit mixes with blue carcao, and I wonder for the umpteenth time if he gets his recipes from the Risky Business bartender's book. We chat about this and that; my graduate studies are of some interest to them, but I avoid going into too much detail. The nuances of political theory and international affairs usually lead to arguments at our dinner table, and I would like to preserve the peace at this rare time that we all sit together. Time floats by as we nibble on cheese and olives. My mother adds tomatoes to the pan.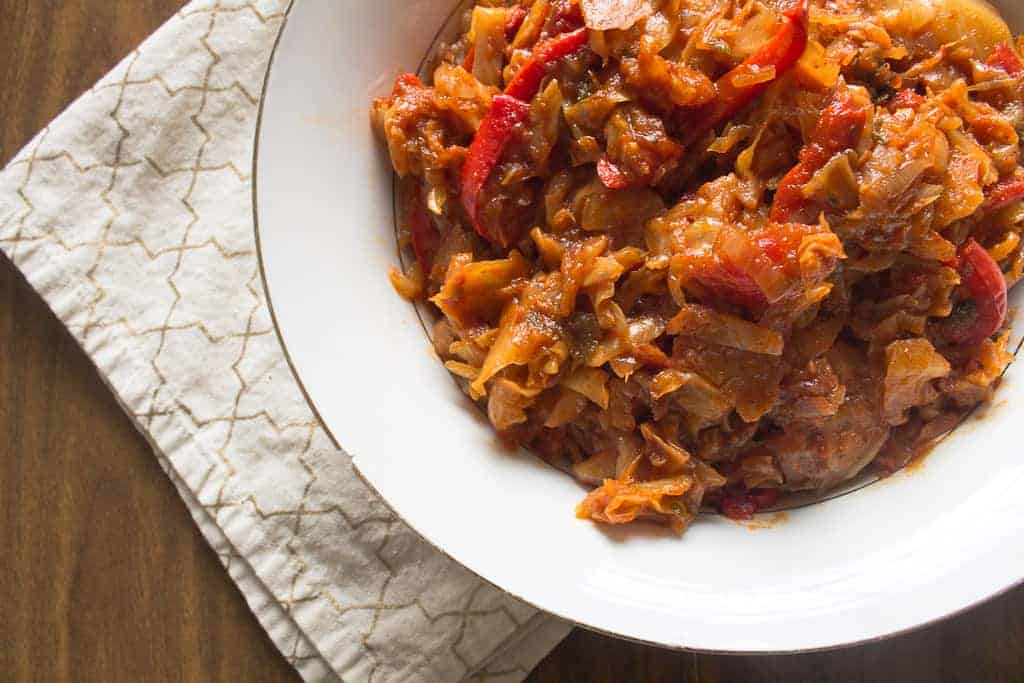 After a few minutes, the cabbage is done. We reheat leftover potatoes and rice in the microwave, and I rush to remove them at the last second in order to avoid the machine's ear-splitting beep. We ladle strands of cabbage smothered in smoky tomato and pepper sauce into our bowls, cooked into submission by the heat of the gas flame. My father replenishes our cocktails.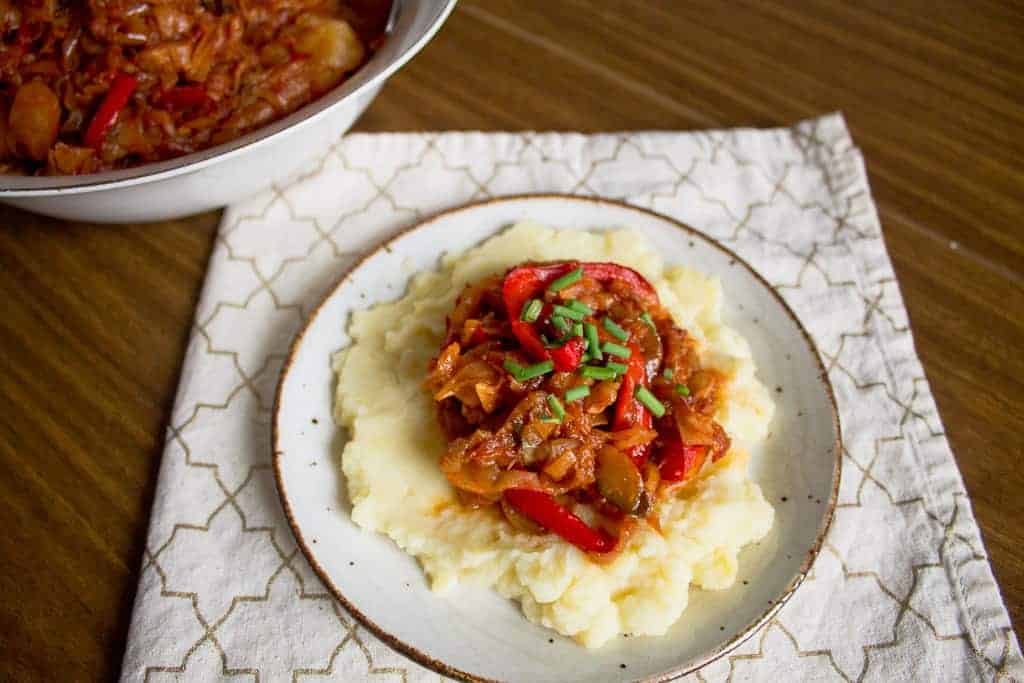 We continue sitting there, eating languidly. It's a dimly lit kitchen island in the middle of a crowded home. The table is laden with cheese, bread, packaged salads, chocolate, nuts, pills and yesterday's mail. My mother and father are laughing, sharing stories over plates of brown rice and cooked potatoes, covered in silky, stewed cabbage. The stovetop is splattered, and the smell of a home-cooked meal is in the air.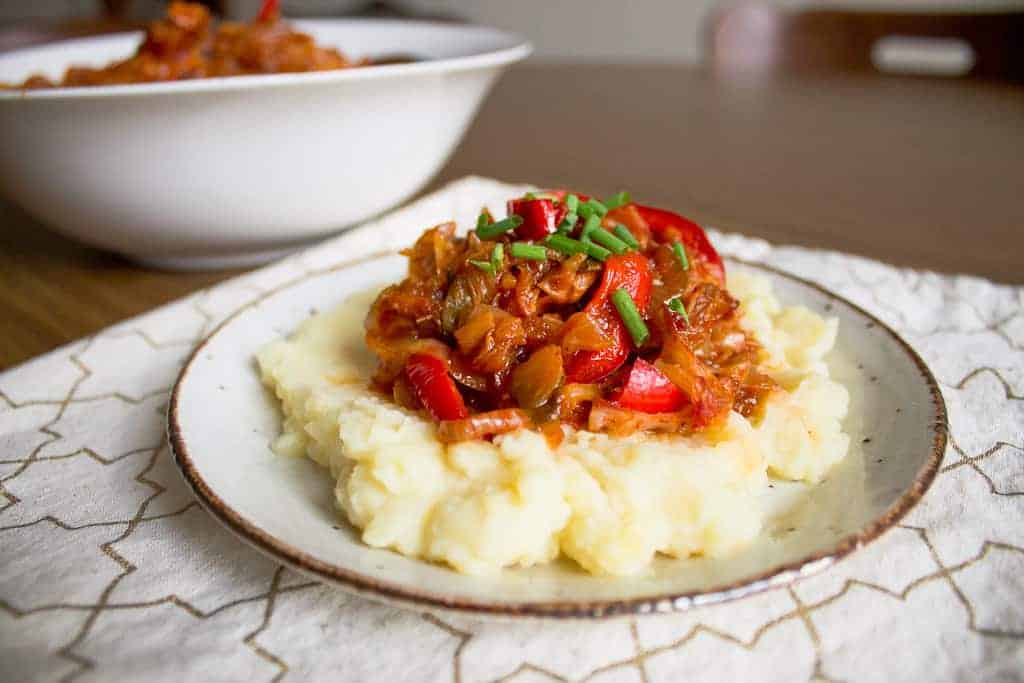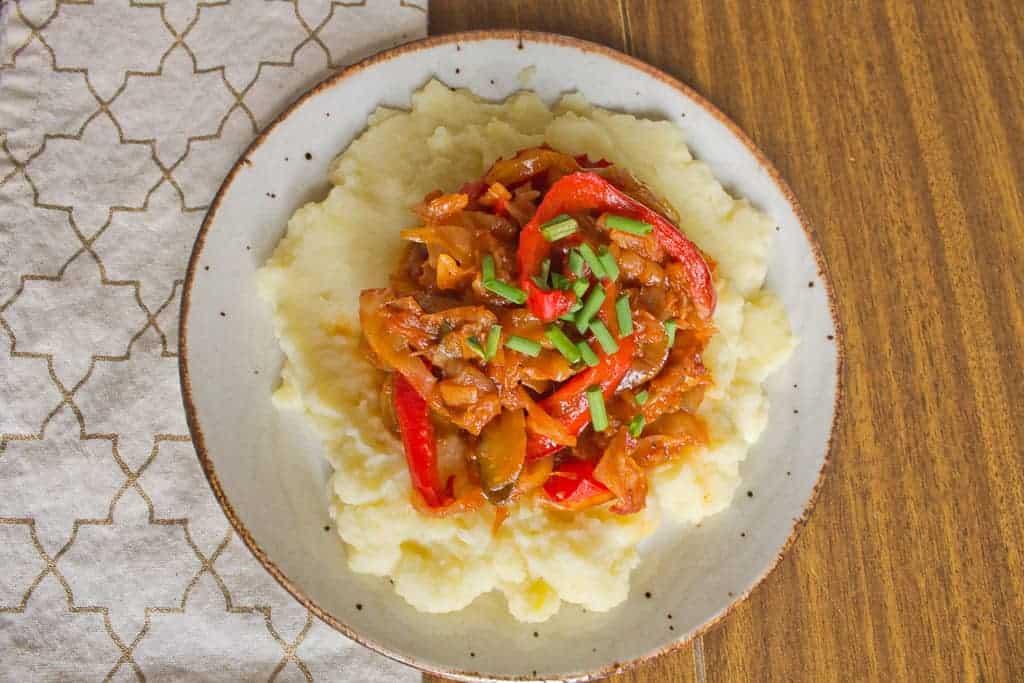 Stewed cabbage with peppers, or the one dish to get right
My partner describes this as "the best cabbage he's ever had." To me, it's one of the only dishes my mother could get right, thrown together at the end of a long day. It's comforting, delicious, an Eastern European dish with real flavour pedigree. You can serve it over brown rice, alongside potatoes, or just eat it on a crusty piece of wholegrain bread. If you're out of bell peppers, don't worry and omit them.
Print
Pin
Rate
Ingredients
1-2

onions

1-2

red

yellow or orange bell peppers

1

small or medium head of cabbage

4

cloves

of garlic

1

can tomato paste

or 4-5 tomatoes, in season.

2

tsps

dry oregano or basil

if using fresh, 2 Tbs

1

tsp

of salt

½

tsp

chili flakes

or more, to taste

1

Tb

sugar

optional

1

Tb

vinegar

white wine, apple cider. or regular

Chopped parsley

cilantro, or chives, to taste (optional)
Instructions
Slice onions and peppers into thin strips.

Sauté onions on medium heat for 5-10 mins, until they become translucent. Add peppers, sauté another 10 mins, until pepper strips and onions start to caramelize, stirring occasionally.

Chop garlic coarsely. Add to pan, sauté for 2 more minutes.

Chop cabbage head into fine strips. Add to pan, stir to mix with other ingredients, cover with lid, and sauté on medium heat for 15 minutes. Every 5 minutes or so, check that the cabbage and peppers aren't sticking to the bottom, and give the pan a good stir.

If using fresh tomatoes, chop them finely and let them cook without adding the spices for 10 minutes on medium-high heat. If using tomato paste, add spices right away and let cook, uncovered, for another 15 minutes.

Taste, and adjust flavours as necessary.