Impress your guests with delicious beet hummus! Packed with flavor & nutrition, this roasted red beet dip is a perfect appetizer to serve with veggies or pita.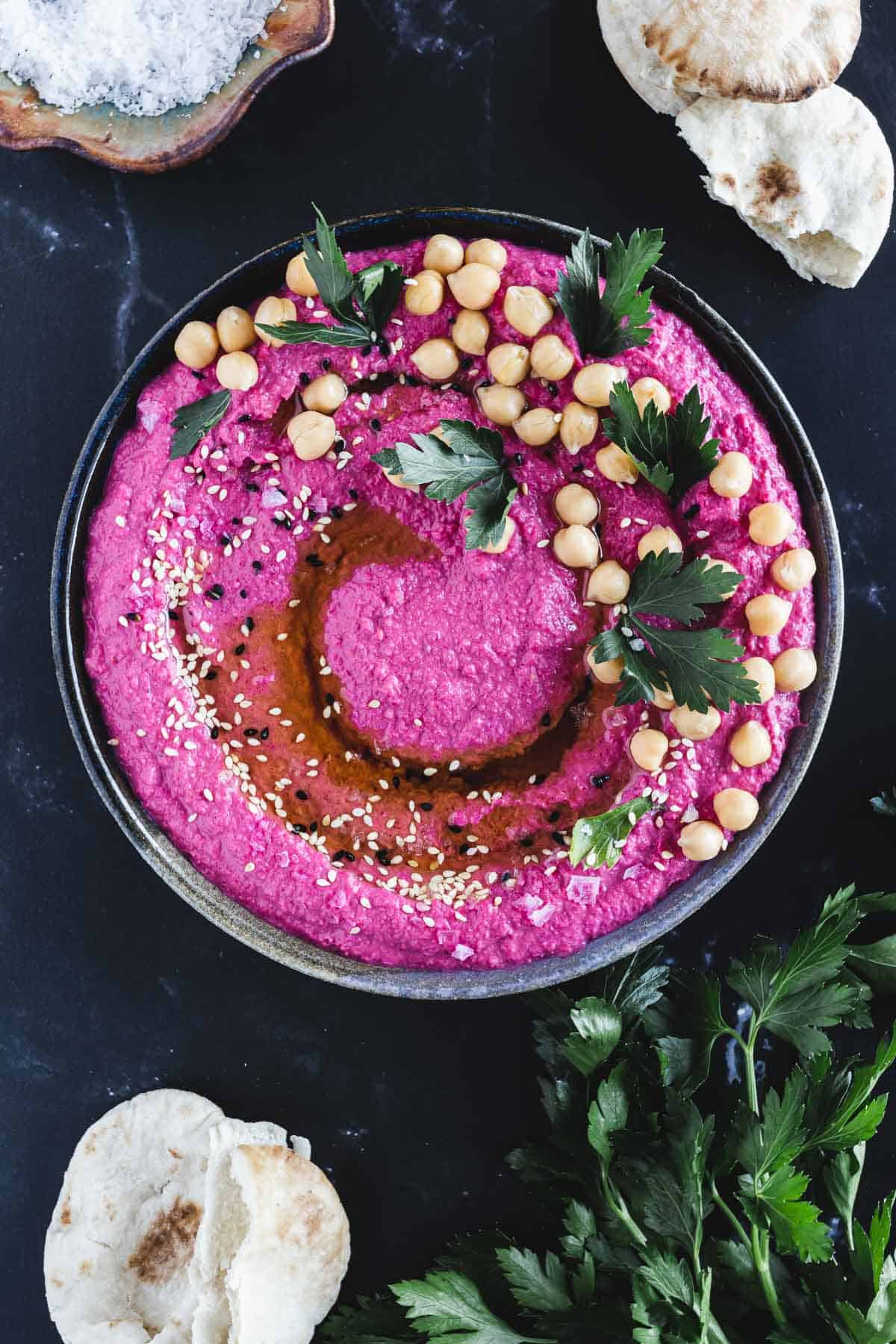 Beet hummus is a unique and nutritious twist on the classic hummus recipe. Incorporating beets adds an earthy sweetness and vibrant color to the hummus, making it an eye-catching and healthy addition to any snack or appetizer spread. Not only does it taste amazing, but it also packs a punch with its numerous vitamins, minerals, and antioxidants.
I've tried various beet hummus recipes and discovered that balancing the flavors is the key to the perfect beet hummus. Cooking beets brings their natural sweetness, which pairs beautifully with the tangy lemon, garlic, and warm spices. Using high-quality tahini and extra-virgin olive oil adds a creaminess that elevates this dip to perfection. And finally, my one secret ingredient to making your beet hummus flavor more nuanced comes from Asian cuisine: sesame oil.
In my quest for the best beet hummus recipe, I picked up that Asian ingredients like sesame oil and sesame seeds interact well with beetroot's rich flavor. The result is a speedy, no-fuss recipe that tastes like more than the sum of its parts while preserving the earthy, sweet, and tangy flavors we all love in beet hummus.
This recipe is my kids' favorite hummus recipe of all time!
What Is Hummus?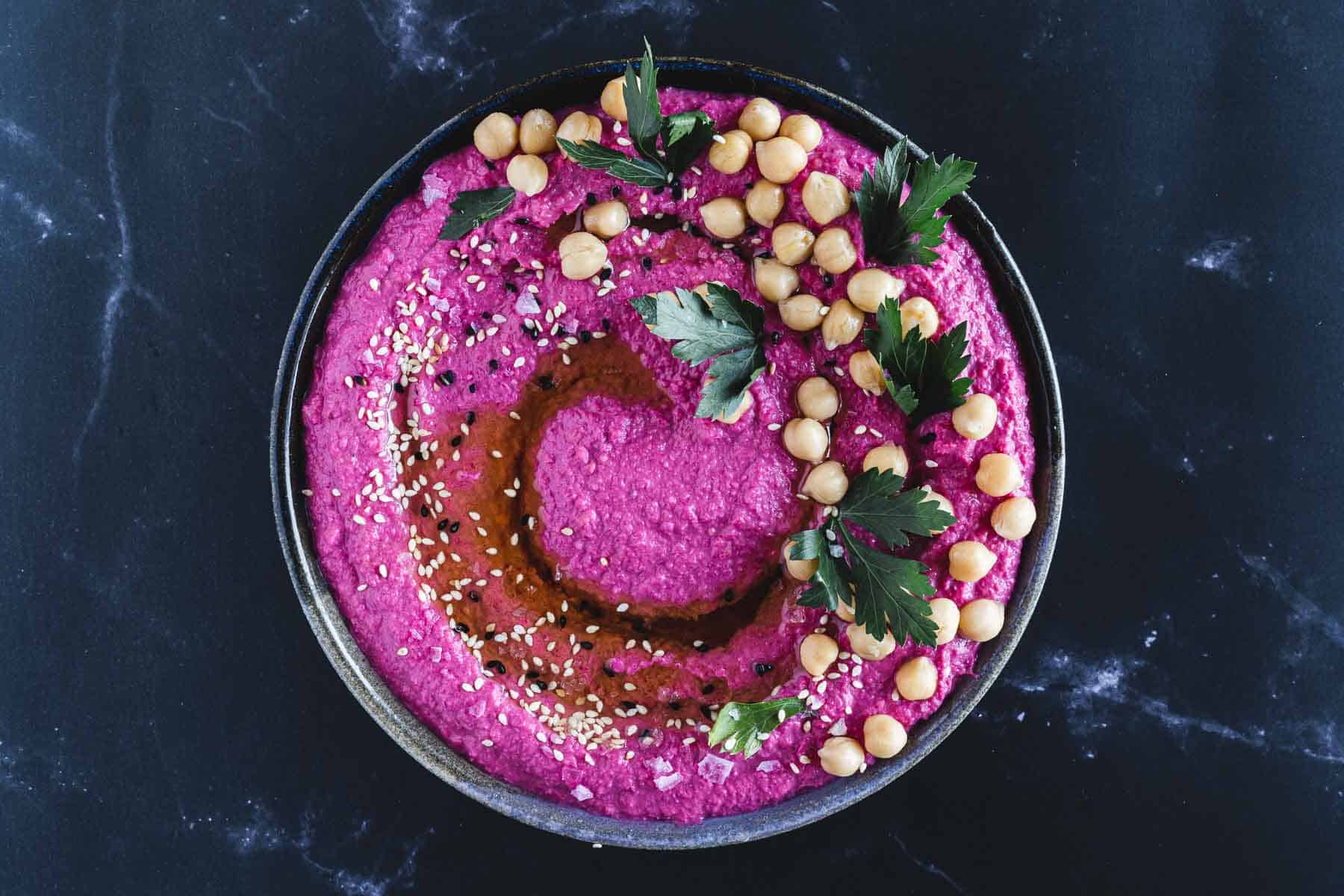 Hummus is a popular Middle Eastern dip and spread made from chickpeas, also known as garbanzo beans. The main ingredients in a classic hummus recipe are chickpeas, tahini (a sesame seed paste), lemon juice, garlic, and spices. Beet hummus adds cooked beets and sesame oil to the mix, giving it a vibrant color and unique flavor profile.
Hummus is a versatile and healthy option for snacking or adding to meals. It is rich in protein, fiber, and healthy fats, which makes it an excellent choice for vegetarians, vegans, or anyone looking for a nutritious and satisfying snack. My kids love having hummus as a snack or a light lunch spread.
Beet hummus is particularly appealing to kids and adults because it takes the classic recipe to a new level. The addition of beets provides stunning color and infuses the spread with extra vitamins and minerals such as iron, potassium, and Vitamin C.
Give it a try and elevate your snack game with a serving of healthy beet hummus dip!
Health Benefits of Beets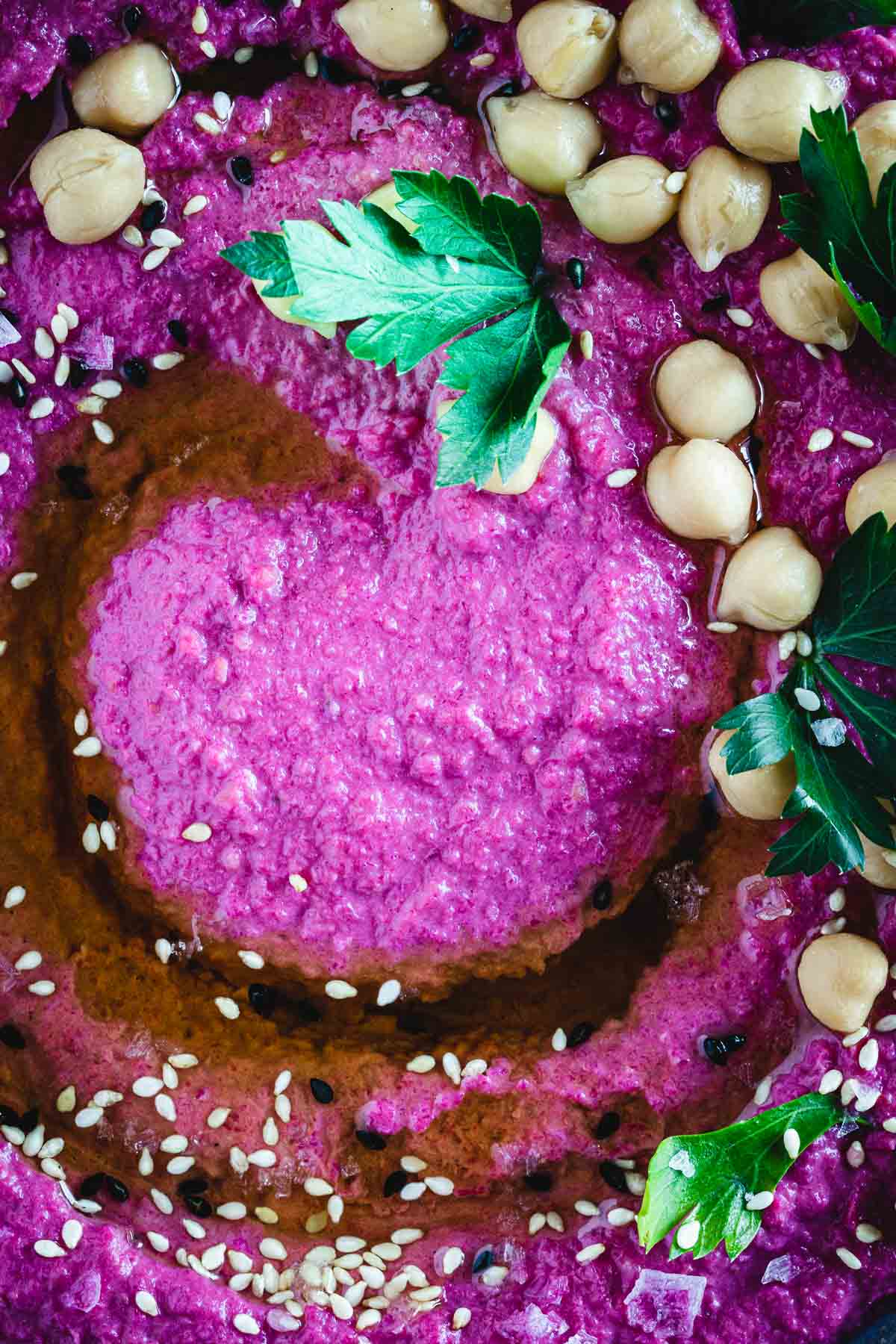 This vegan beet hummus not only tastes rich, but it's also packed with essential nutrients that support overall health. Beets, the star ingredient of this recipe, are low in calories yet loaded with nutrition. They are an excellent source of fiber, which aids in digestion and supports heart health by reducing cholesterol levels naturally.
I appreciate that beets are rich in vitamins and minerals such as vitamin C, folate (vitamin B6), and potassium. They also contain magnesium, iron, and calcium, contributing to increased energy levels and proper muscle function.
In addition to their nutritional value, beets have been linked to various health benefits from their anti-inflammatory properties to supporting brain health, making them a great addition to any diet.
Including beet hummus in your meals is a tasty, easy, and nutritious way to enjoy the benefits of beets while getting the added protein from chickpeas.
Why You're Going to Love This Recipe
This homemade hummus recipe is a delightful twist on the classic hummus variation we all know and love. I adore this recipe for several reasons:
Visual appeal: Beet hummus has an attractive, vibrant pink hue that's visually enticing and perfect for impressing at gatherings.
Flavor combination: The beets provide a slightly sweet, earthy flavor that pairs well with the tang of fresh lemon and the nuttiness of tahini.
Variety: This recipe offers an interesting change from traditional hummus, with a unique and delicious taste that will leave an impression.
Ease of preparation: Canned beets and chickpeas make this recipe a breeze to whip up. No need for hours of preparation or cooking.
A hit with kids and adults: My kids love this beet appetizer's sweet, rich flavor!
Healthy: Not only is this hummus recipe simple to make, but it's also a powerhouse of health benefits. High in valuable nutrients, low in fat and sugar, and a great source of carbohydrates and fiber, this spread aids in digestion while offering an energy boost.
Make this hummus your own, and I'm confident you'll enjoy it as much as I do. The delightful blend of flavors and simplicity of the recipe makes it a must-try dish that will keep you coming back for more.
Ingredients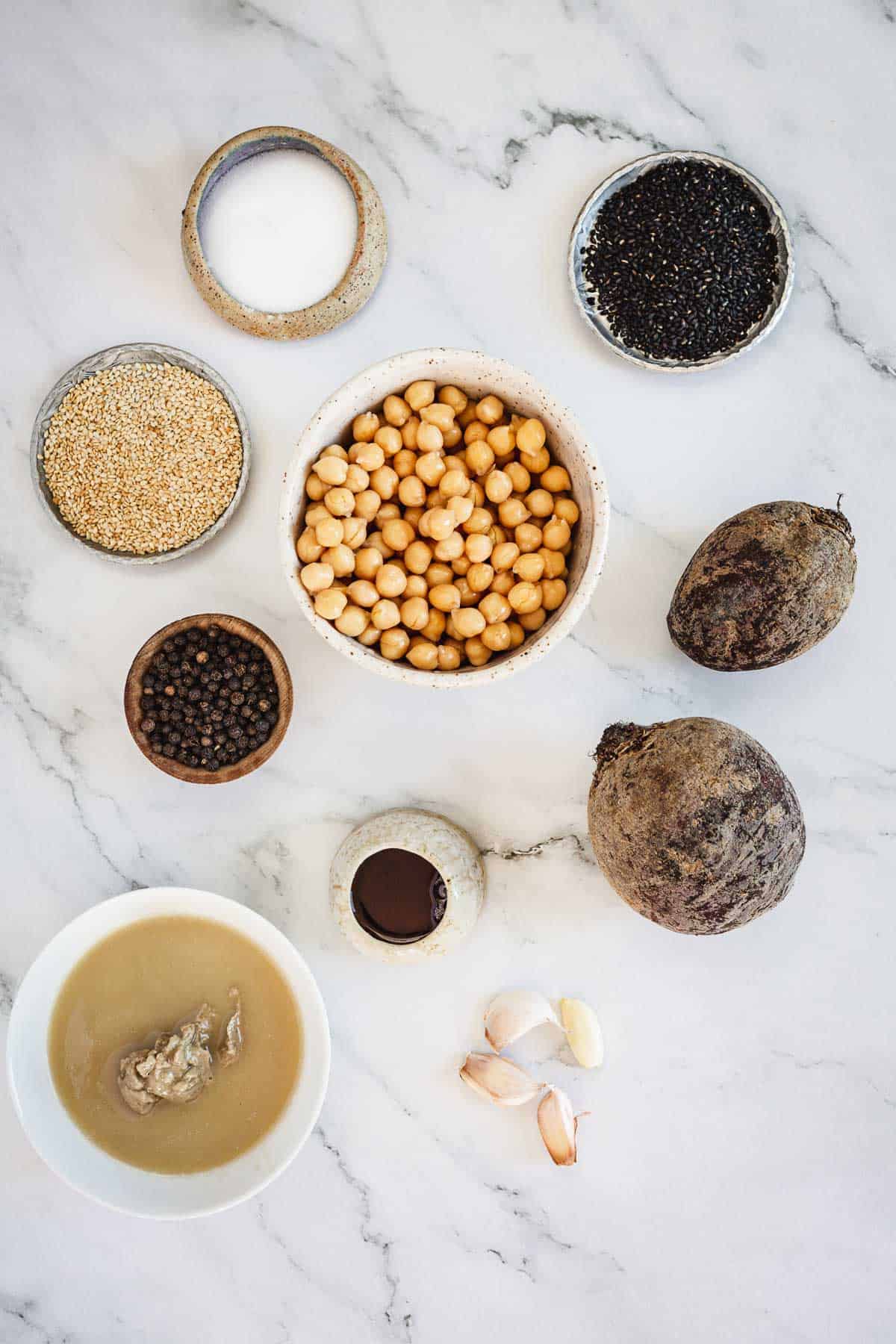 When making beet hummus, the key ingredients are quite simple. I like to start with the basics of traditional hummus, then add beets to give it that vibrant color and mild earthy flavor. Here are the main ingredients I use:
Beets: Typically, I would use about 2 small beets or one beet of medium size, boiled or roasted until tender. Roasting brings out their natural sweetness, but cooking beets in a saucepan, Instant Pot, or using canned beets is also quick and convenient. You can also use golden beets.
Chickpeas: Our foundation for the hummus, around 1 can should do the trick. Make sure to save some of the liquid to achieve a smooth consistency. If you want to use dried chickpeas, follow my garlic hummus recipe where I offer a step-by-step guide to making hummus with dried chickpeas.
tahini: A few tablespoons of tahini (sesame seed paste) provide a rich, nutty flavor to the hummus.
Lemon: Fresh lemon juice adds brightness and zing to the beet hummus, so I like to use the juice of one whole lemon.
Garlic: 1-2 garlic cloves will elevate the hummus with a savory punch. Add more or less depending on your preference for garlic intensity.
Sesame oil: My secret ingredient for this beetroot hummus recipe! You don't need much to get the flavor.
Salt: Just a touch of salt helps to enhance all the flavors in the hummus.
Sesame seeds: optional. This is more for decoration, but they play very well with the sesame oil in the hummus.
Directions for Making This Recipe
Cook the beets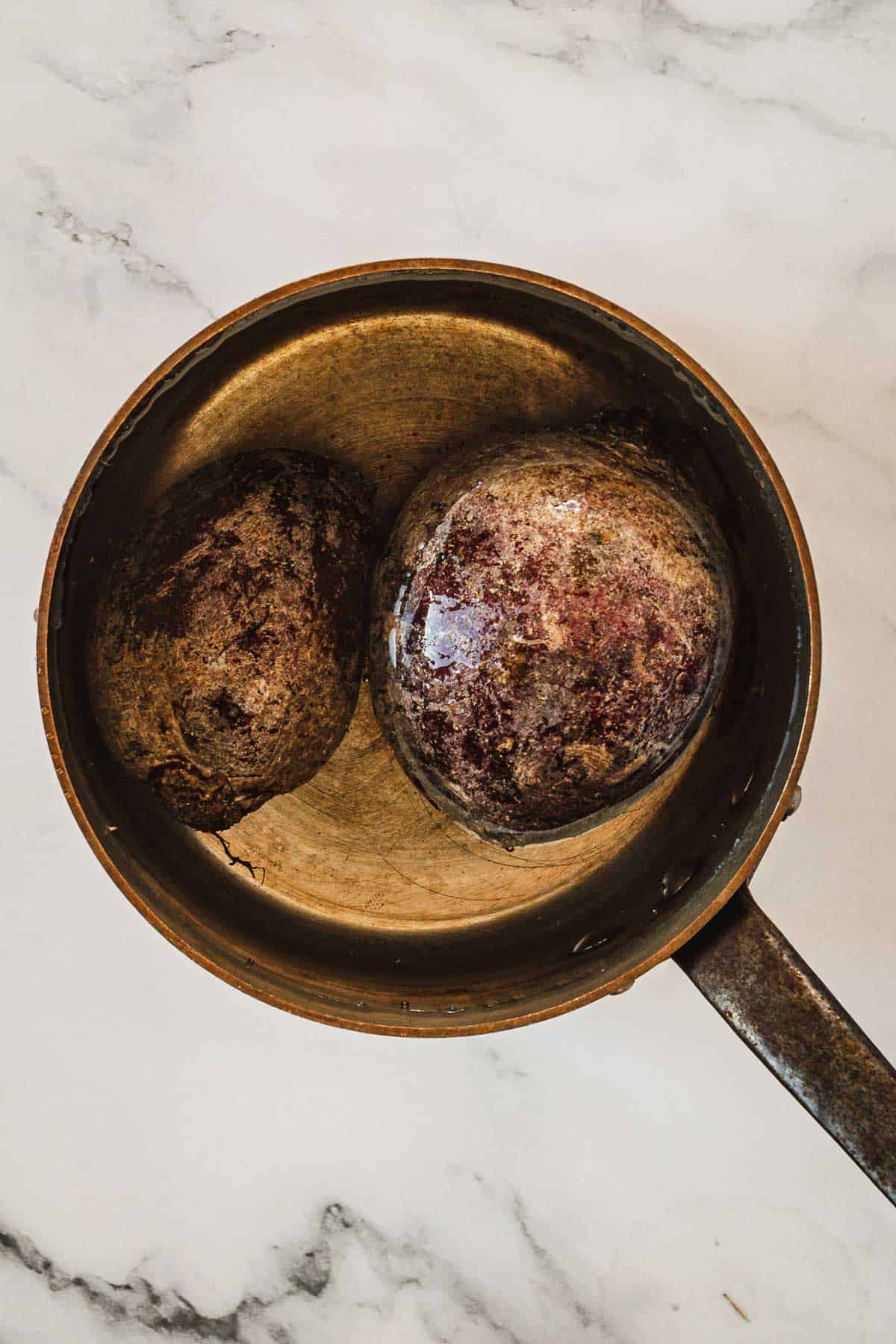 To make this beet hummus recipe, first, I need to cook the fresh beets. You can roast beets in the oven for 45 minutes, but I prefer boiling them or using my Instant Pot to cook them quickly.
To boil beets for this recipe, simply peel the beets, cut into medium-sized pieces, and transfer to a saucepan filled with water. Cover with a lid, and cook until beets can be easily pierced with a fork. Once the beets are cooked and cooled, drain them.
Blend the hummus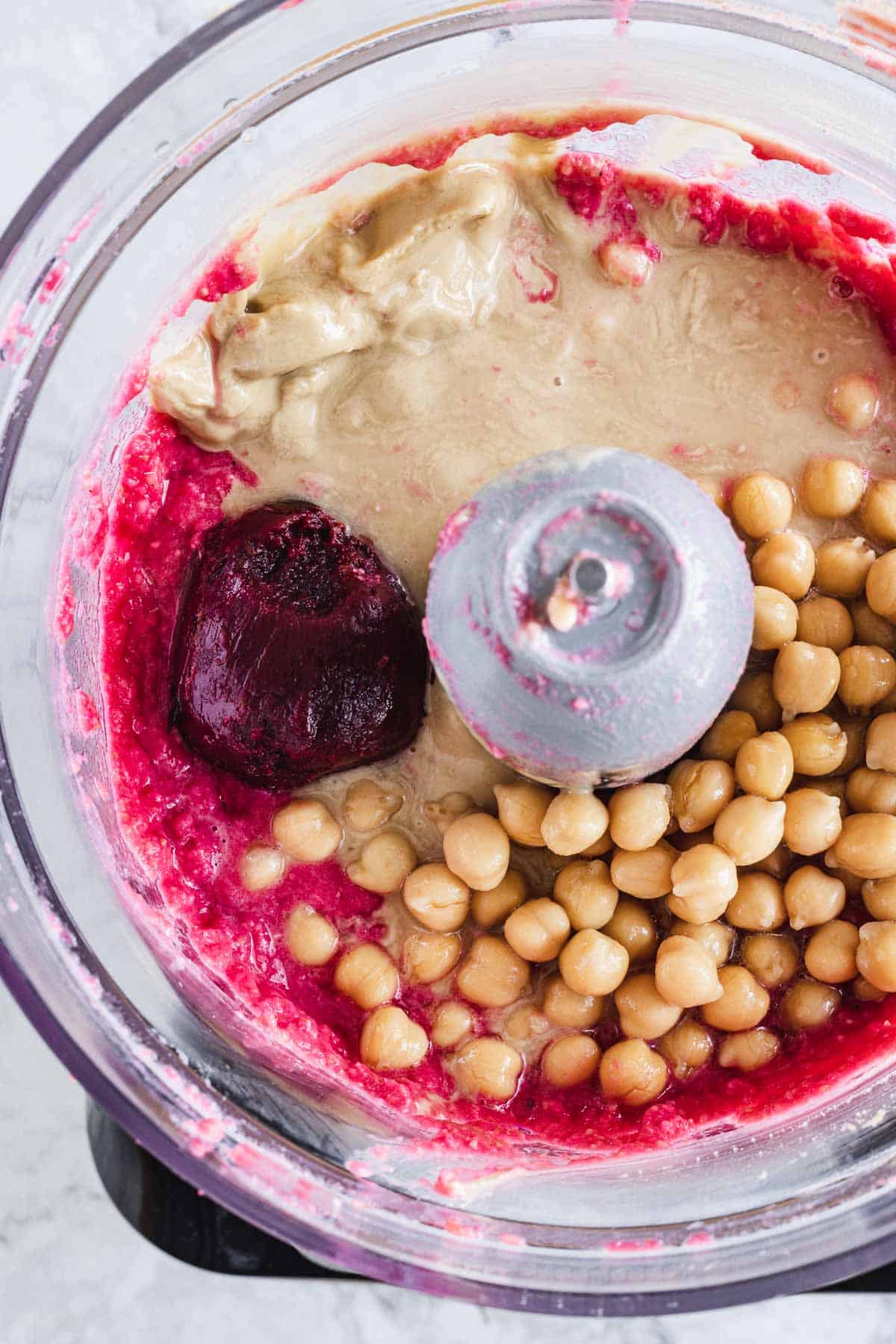 Next, I gather my ingredients: chickpeas, lemon juice, tahini, garlic, sesame oil, and a pinch of salt for seasoning. I also have some extra virgin olive oil and water on hand for a smooth texture.
Using my trusty food processor or high-powered blender, I add the cooked beets, chickpeas, lemon juice, tahini, garlic, and sesame oil. I blend all the ingredients together until smooth. If the hummus is too thick, add a drizzle of olive oil or water to help create a creamy consistency.
During this process, I'm mindful of my recipe's sodium and cholesterol levels, so I use unsalted cooked chickpeas and adjust the seasoning to taste.
Once the beet hummus has reached my desired consistency, I give it a quick taste test and adjust any seasoning if necessary.
Plate the beet hummus
Now that your delicious hummus is perfectly smooth and creamy, it's time to plate it. Spread the smooth hummus on a large plate or bowl. Top it with a few remaining chickpeas, white and black sesame seeds, olive oil, flaky sea salt, black pepper and parsley. The end result is a vibrant, delicious beet hummus that's perfect with crackers or veggies. Enjoy!
Store leftover beet hummus in an airtight container in the fridge for 3-4 days. Hummus will thicken overtime.
Variations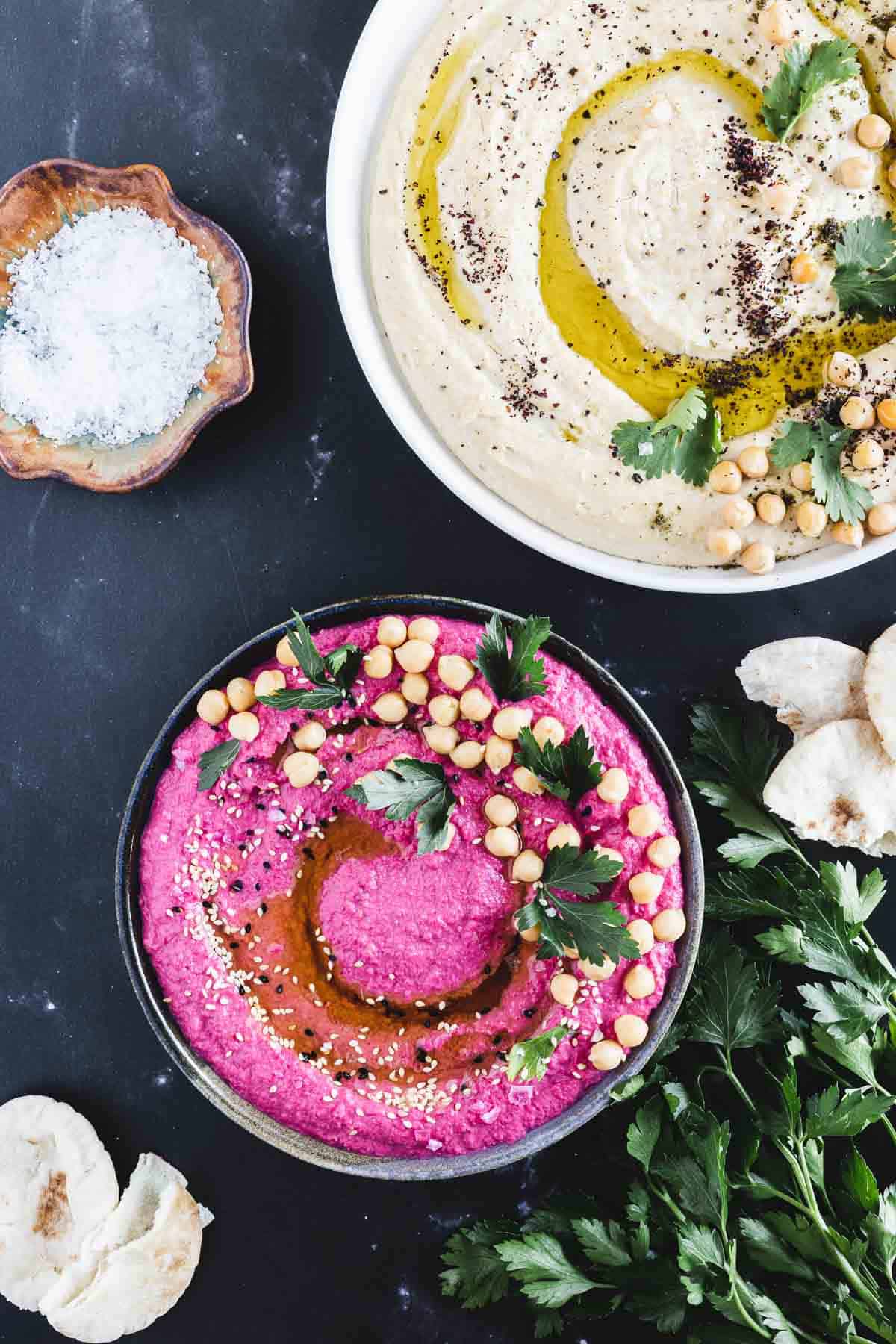 I enjoy experimenting with different flavors in my beet hummus, making it a versatile and delicious snack.
Spices: When I want to spice things up, I add some ground cumin and fresh cilantro (or coriander) to the mix. The result is a richly flavored hummus that pairs perfectly with pita chips or an assortment of veggies.
Sweet potato: Another variation I love is blending sweet potato into the hummus for a creamy texture and slightly sweet flavor. My sweet potato hummus is both vegan and vegetarian-friendly, making it an inclusive crowd-pleaser.
Pesto: If I'm feeling adventurous, I incorporate pesto into my beetroot hummus, creating an extra layer of flavor and depth.
Remember, there are countless ways to reinvent the classic beet hummus. So don't be afraid to get creative and try new combinations that suit your palate and dietary preferences.
Accompanying Dishes
When it comes to pairing beet hummus with other dishes, the options are endless.
I love hummus with pita bread, gluten free crackers or lavosh crackers, as the texture of these options complements the smooth and slightly sweet hummus.
If you're looking for a healthy and low-calorie snack, try serving beet hummus with carrot sticks or cucumber slices, or even spread it on whole-grain toast.
For those who wish to amplify the flavor, adding a sprinkle of chopped parsley or a drizzle of tahini paste on top can elevate the taste. You can also use beet hummus as a sandwich spread, in a beet salad, or as part of a charcuterie board.
Tried and loved this recipe? Please leave a 5-star review below! Your reviews mean a lot to me, so if you've got any questions, please let me know in a comment.
Frequently Asked Questions
What are the main ingredients in beet hummus?
The main ingredients in beet hummus are beets, chickpeas, tahini, garlic, lemon juice, and olive oil. I usually use canned chickpeas and cooked beets for convenience.
How do you make beet hummus with tahini?
To make beet hummus with tahini, blend roasted or cooked beets, chickpeas, tahini, garlic, lemon juice, olive oil, and seasonings in a food processor. Adjust the consistency by adding water or more olive oil, and season to taste.
Can I make a spicy version of beet hummus?
Yes! To make a spicy beet hummus, simply add your favorite hot sauce or some cayenne pepper to the traditional beet hummus recipe. Adjust the spice level to your liking.
How can I make a creamy beet hummus?
To make a creamier beet hummus, focus on blending the ingredients for a longer duration to ensure a smooth texture. You may also add a bit of Greek yogurt or avocado.
What are some healthy pairings for beet hummus?
Healthy pairings for beet hummus include fresh vegetables like cucumber, bell peppers, and carrots, or whole-grain pita chips or rice cakes. You can also use beet hummus as a spread on sandwiches or wraps for added nutrition and flavor.
Recipe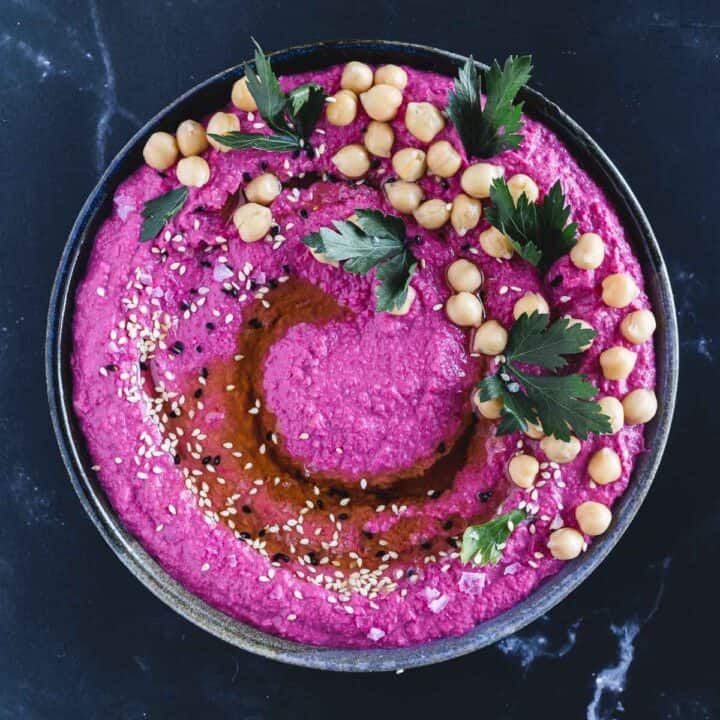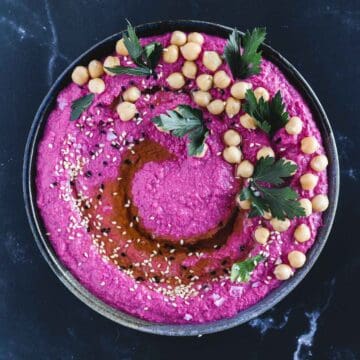 Easy and Flavorful Beet Hummus Recipe
Impress your guests with delicious beet hummus! Packed with flavor & nutrition, this roasted red beet dip is a perfect appetizer to serve with veggies or pita.
Ingredients
2

small beets or 1 medium beet

cooked until tender

1

can of chickpeas

15 oz, drained and rinsed

3

tablespoons

of tahini

Juice of 1 lemon

1-2

garlic cloves

minced

1-2

teaspoons

sesame oil

½

teaspoon

salt

Sesame seeds

optional

Flaky sea salt

optional

Black pepper

optional

Parsley

optional
Instructions
Cook beets by boiling or roasting until tender. To boil beets, cut them into quarters, place them in a saucepan with water, bring to a boil, then simmer until tender for 30-45 minutes. Check for tenderness by piercing them with a fork. To roast beets, wrap each beet in aluminum foil with a drizzle of olive oil, place on a baking sheet, and roast in the oven at 400F (200C) for 45-60 minutes. Check for tenderness by piercing them with a fork.

In a food processor, blend cooked beets, chickpeas, tahini, lemon juice, garlic, sesame oil, and salt until smooth. Add 1-2 tablespoons of water or olive oil if too thick.

Taste and adjust seasoning if necessary.
Notes
Serve on a plate and top with chickpeas, sesame seeds, olive oil, salt, pepper, and parsley.
Store leftovers in an airtight container in the fridge for 3-4 days.
Nutrition
Serving:
0.5
cup
Calories:
129
kcal
Carbohydrates:
15
g
Protein:
5
g
Fat:
6
g
Saturated Fat:
1
g
Polyunsaturated Fat:
3
g
Monounsaturated Fat:
2
g
Sodium:
428
mg
Potassium:
234
mg
Fiber:
4
g
Sugar:
2
g
Vitamin A:
25
IU
Vitamin C:
2
mg
Calcium:
42
mg
Iron:
1
mg
Tried this recipe?
Comment + Rate Below!
Connect on Instagram!
Find us @immigrantstable