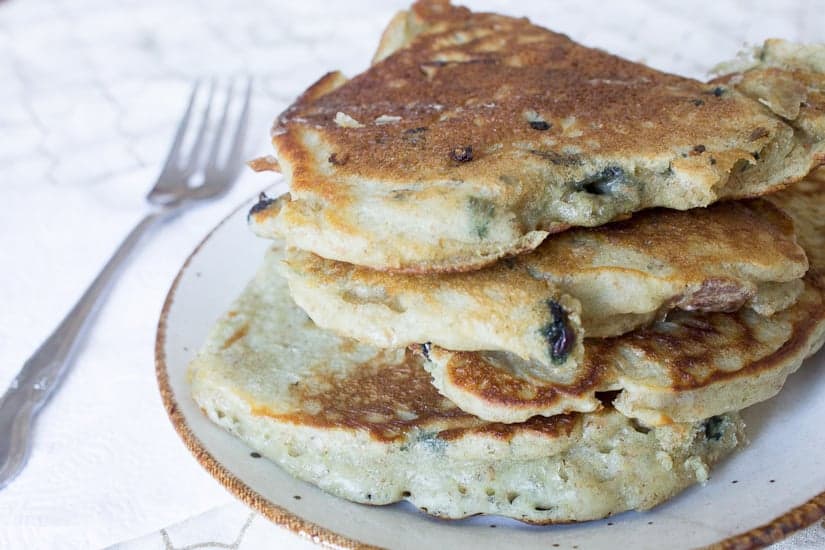 First of all, I would like to apologize for the radio silence this past week. Since landing in Israel, we have been taken on a whirlwind of family visits, cross-country visits, engagements with friends, and all those other things that make travel so wonderful and life worth living. Regretfully, this has meant that maintaining online presence has fallen by the wayside. On the upside, I did make and test many new dishes that I will be happy to present in the upcoming weeks.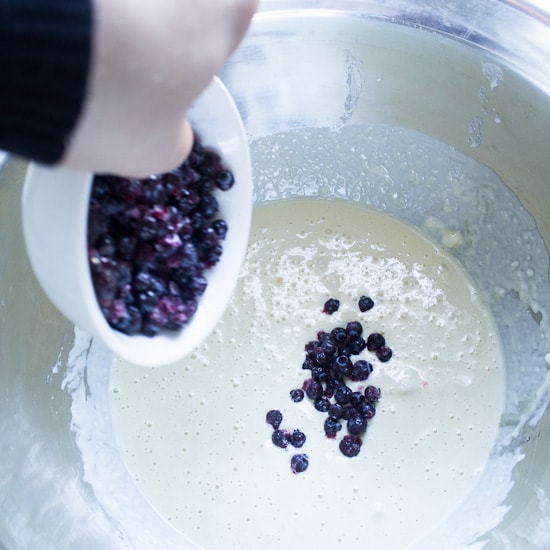 Today's dish, however, is not one of them. These blueberry sourdough pancakes make a quick breakfast dish that comes together in a matter of minutes, as long as you have an active sourdough starter going on in your kitchen. For many of you, this What's Cooking America recipe may not even be news - it has been around the web for a long time, making hurried mothers and men looking to impress happy in the early morning hours. My version, replete with whole grains and juicy berries, is an even-healthier twist on a satisfying and delicious meal.
The thing is, normally I don't even like pancakes. I find the very nature of buttermilk pancakes offensive, a pillow of carbohydrates and sugar that lacks substance and nutrition, with each boring bite providing the same texture and flavour as the last. Interspersed with berries and fruit, the humble pancake becomes a bit more interesting, but still lacking in nutrition. In my previous attempts, I have made whole-grain pancakes with nuts and fruit, caramelizing apples and pears to go alongside them. But I still felt like I was filling my body with fairly empty calories.
Not so with these blueberry sourdough pancakes. The starter lends these pancakes a distinct tang, and the addition of the baking soda at the last minute provides them with an airy, fluffy texture that is missing from traditional doughy creations. The blueberries provide refreshing bursts of flavour and create beautiful blue streaks throughout the cakes. And most importantly, the small addition of whole grain flour allows this sinful breakfast to fill more wholesome and filling, giving you energy and nutrients for several long hours. They even won my mother's sign of approval, and that's saying something.
Tried and loved this recipe? Please leave a 5-star review below! Your reviews mean a lot to me, so if you've got any questions, please let me know in a comment.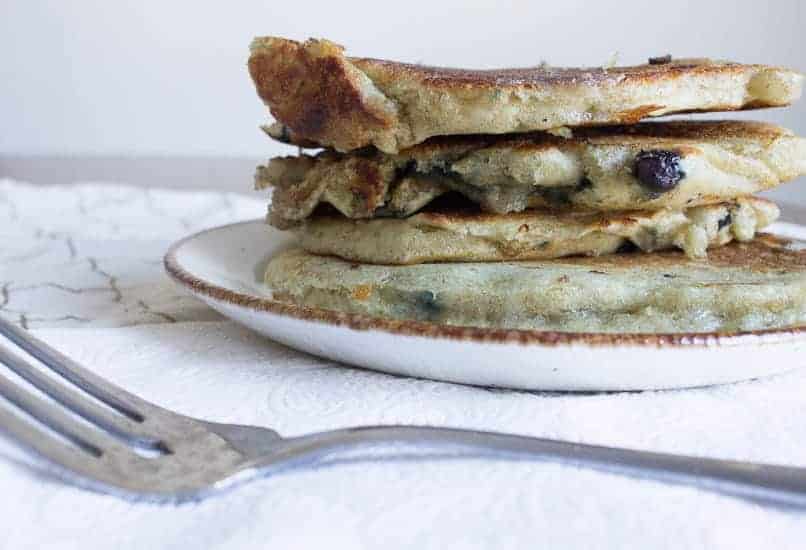 Recipe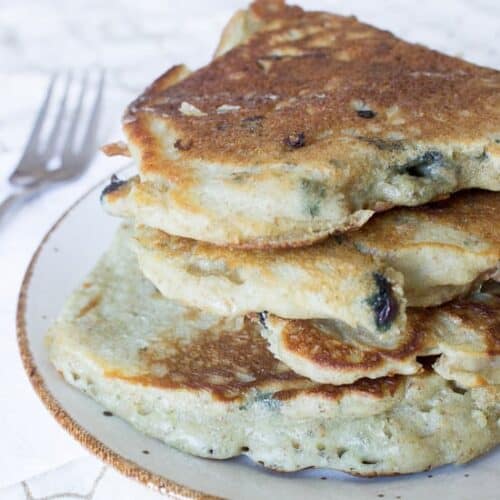 Blueberry sourdough pancakes, or the breakfast of champions
A light and airy pancake with a distinct sourdough tang, interspersed with refreshing bursts of flavour and beautiful blue streaks from blueberries.
Ingredients
2

cups

sourdough starter

room temperature

¼

cup

whole-wheat flour

2

tablespoons

granulated sugar

optional

2

eggs

5

tablespoons

oil

½

teaspoon

salt

1.5

tablespoons

warm water

1

cup

fresh or frozen blueberries

1.5

teaspoon

baking soda
Instructions
In a large bowl, add sourdough starter, whole-wheat flour, sugar, egg, olive oil, and salt; mix well; set aside.

In a small bowl, dilute baking soda in warm water, and set aside until ready to bake your pancakes. Only add the baking soda/water mixture to the pancake batter just before you are ready to cook the pancakes! At that point, everything should be ready to go and the pan should be hot, so the pancakes can be cooked while the air is still working in the batter, producing light and airy pancakes.

Gently fold blueberries into the batter just before adding the baking soda mixture.

When ready to cook your sourdough pancakes, fold the baking soda/water mixture gently into the prepared pancake batter (do not beat). This will cause a gentle foaming and rising action in the batter. Let the mixture bubble and foam a minute or two before using.

Heat up a lightly-greased griddle or non-stick pan on medium heat. Pour the sourdough pancake batter onto the griddle. I use a large tablespoon for small pancakes, or a small soup ladle for large ones. Cook the pancakes 1 to 2 minutes on each side, until large bubbles start to appear. Remove from heat and serve with your favourite toppings (we go with jam and sour cream, or just maple syrup).
Tried this recipe?
Comment + Rate Below!
Connect on Instagram!
Find us @immigrantstable