As I have mentioned in the past, family dinners in my house were not always fun. Oftentimes, as the members of different generations coalesced around a table, ready to break bread with each other, the fights would be so loud that you couldn't escape them even if you went to your room, closed door, and put a pillow over your head (believe me, I tried). Other times, all you could hear about the thundering silence was the noise of cutlery scraping the plate, trying uselessly to cut away the various scar tissue left behind by another careless, hurtful remark. Truly, some of these family dinners were the stuff of nightmares.
One day, my mother grew so fed up with the incessant bickering that she cancelled Friday night dinners altogether. Anyone familiar with Jewish culture would know what a big deal this was; Friday dinners are the sacred time when all living members of a family must come together, thank the Almighty for all of their creations, and welcome in the Shabbat, the holy time of rest. Cancelling the one reliable chance when we could all sit and enjoy each other's company goes to show just how little enjoyment there really was in it for my mother.
But the ban on family dinners did not last long. First, there were holidays, birthdays, and important Russian celebrations like V-Day, or March 8th. Then there came Saturday lunches, when my parents would return home from the Country Club with my maternal grandparents, so tired and content from the physical activity that they were too exhausted to put up much of a fight. And so, a quick lunch was put on the table, and my sister and I would get called in to the dining room for a shared meal.
Besides the cheese I have mentioned before, there was one more dish that every member of my family awaited during these last-minute meals. These cheesy eggplant and tomato stacks were my favourite appetizer from the ages of 10 to 14, and that's saying a lot for a kid. The eggplant's texture is tamed by the juices of the tomato, and the oil from the cheese and the sauce slicks everything into one creamy, decadent package. They are quick to assemble and to bake, ready for the table in under 40 minutes. Sometimes, my mother would prepare the baking sheet full of these stacks before leaving in the morning, and then would just ask me to pop them in the oven half an hour before their return. And just like that, everyone was happy.
Since then, I have toned down the oil that graced these beauties, and replaced the mozzarella (or whatever cheese my mother had on hand) with vegan cheese. Vegan mayonnaise became a perfect replacement for oil, due to its consistency and characteristic tang. And now, these stacks come out to the table for just G and I, but I have yet to hear anyone complaining. But then again, we probably won't be cancelling our family dinners anytime soon.
Looking for more Vegan recipes?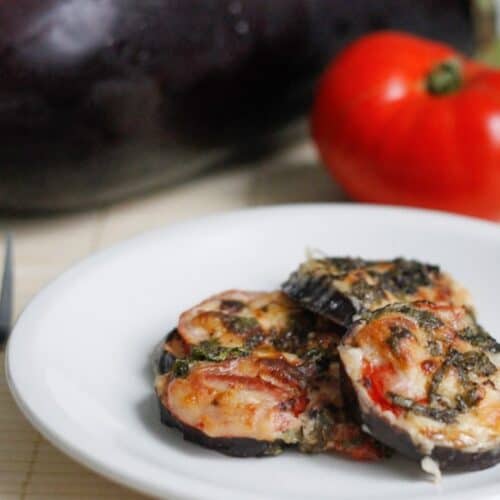 Creamy eggplant tomato stacks (vegan)
These creamy eggplant tomato stacks are decadent without being greasy. They're also gluten-free, vegan, and ready in under 40 minutes. What's not to love?
Print
Pin
Rate
Ingredients
one large eggplant

3-4 to

matoes

depends on the size of your tomatoes and eggplant

200

g

vegan cheese

grated (or regular cheese, if that's your thing)

5

Tbs

vegan mayonnaise

or regular mayo

3.5

Tbs

water

or less, depends on how thick your mayo is. The brand I used, Veganaise, was quite thick

salt & pepper

to taste

cilantro

basil, parsley, chopped finely, or dry za'atar spice mixture (za'atar is preferable)
Instructions
Preheat oven to 450F.

Slice eggplant and tomatoes into 1cm-thick circles (about ½ an inch). Grate cheese. Whisk mayonnaise with water, until you reach a pourable consistency. Line a large baking sheet with aluminum foil, and oil the aluminum slightly.

To assemble stacks, place a layer of eggplants on the sheet. Cover each eggplant slice with a slice of tomato (even cut some tomato pieces in half to ensure that as much of the eggplant is covered as possible), and follow with some grated cheese. Drizzle each stack with your diluted vegan mayonnaise sauce, and sprinkle salt and pepper and your herbs. Cover the sheet with tinfoil (At this point, this can be assembled ahead of time and left to rest in the fridge for up to a day).

Bake sheet at 450F for 25 mins. Raise heat to 500F, remove aluminum foil cover and bake for another 10 mins. Turn off oven and let tray eggplant stacks rest in it, undisturbed, for another 5 mins. Serve immediately (though stacks are fine if refrigerated and reheated later, they must be bubbling hot when consumed).