In enchanted rice with grapes, feta and pistachios, broiling feta with grapes distills the fruit's heady, luscious juice and imbues it with a bit of saltiness and a crunch of pistachios. This post contains affiliate links.
The grape vine of my teenage love
My high school sweetheart had vaguely feline yellow-green slightly slanted eyes that seemed to follow me wherever I went. His straw-coloured hair fell around his face in waves, constantly getting in his eyes as he bent down to play the guitar.
He wore beaded bracelets that his sister and friends made, homemade cut-off t-shirts and ripped jeans with patches. His most prized possession was his backpack, covered with the symbols and insignias of his favourite rock bands.
Some teenage loves are tumultuous, painful, gut-wrenching. Some are brief and explosive at first, quick to fizzle out later. Some are better left forgotten in the annals of time.
Yet our love was slow-burning, quiet, pure. We wrote each other stories and poems and songs. We spent hours of every day in each other's embrace, and time had no meaning.
A Birthday Gift Fit For a First Love
For his 17th birthday, I bought him a grape plant. His mom planted it under their balcony, strung up ropes on which the tender shoots could climb. We imagined them growing towards the sun, getting stronger by the day. I thought the grape vine would be like our love.
Yet after a few months in the scorching desert sun, the grape vine shriveled and died. His dad eventually cut it off to the ground, hoping it will come back with renewed vigor. Instead, only the ropes remained, tethered to the rails of their balcony.
By the time he was 18, I had broken up with him over a phone call. I told him years down the line, I would regret the decision, begging for his return - and instructed him to refuse me.
I never did.
The annals of a recipe: How Enchanted Rice with Grapes came to be
I created the precursor of this Enchanted Rice with Grapes for my second annual Tu B'Shvat Under the Stars. Broiling feta with grapes seemed like the perfect way to distill the fruit's heady, luscious juice and imbue it with a bit of saltiness. The crunch of pistachios cut through the richness.
Served atop grains, barley at the time, the dish sang with a deep, melodic tenor.
Then when my cooking club gathered last September on the theme of foliage, I knew I wanted to use grapes and grape leaves together. I thought long and hard about how I can impart the musky fragrance of grape leaves into rice in a way that would remind no one of dolmas.
Finally, I decided to cook the rice in the grape leaves, and to use my beloved topping of feta in grape juice. The pistachios cinched the deal.
We made this enchanted rice with grapes, feta and pistachios for a late Dinner Club gathering on a cool fall night, late in September 2019. Two weeks later, I went into labour with Leo... and all thoughts of cooking were forgotten for a few months.
A Perfect Rosh Hashana Side-Dish
When we made this enchanted rice with grapes, feta and pistachios last year, it was a week before Rosh Hashana, but I thought too late that this would have made a great side dish for the festive meal (especially served on something like this platter). I had no more grape leaves to use.
This year for Rosh Hashana, we may have special visitors - but I'm afraid to say more of fear of jinxing it! If we do, I look forward to making this enchanted rice with grapes, feta and pistachios again and serving it on the festive table.
And each time I do, I will think back to that grape vine and my teenage love.
Looking for more Rosh Hashana Recipes and Inspiration?
Here are a few of my favourites:
Can you serve this with another grain?
Yes, you can. This will go beautifully with barley or quinoa, especially a mix of white and red quinoa.
Can you make this vegan or dairy-free?
Yes. I have used firm tofu in place of the feta. If you can find or make firm tofu that is flavoured with herbs to be like feta, even better!
Tried and loved this recipe? Please leave a 5-star review below! Your reviews mean a lot to me, so if you've got any questions, please let me know in a comment.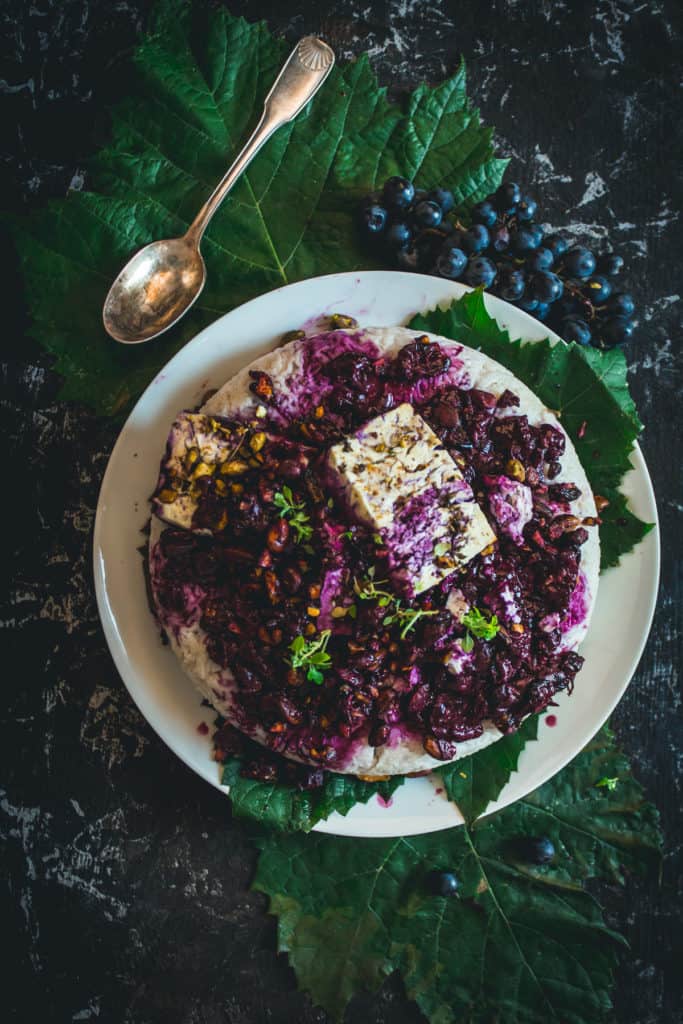 Recipe
Enchanted rice with grapes, feta and pistachios
In enchanted rice with grapes, feta and pistachios, broiling feta with grapes distills the fruit's heady, luscious juice and imbues it with a bit of saltiness and a crunch of pistachios. For a vegan option, sub tofu for feta. This can be made with other grains like barley or quinoa.
Equipment
Equipment:

Baking sheet (https://amzn.to/2RiZbmY)

Large pot (https://amzn.to/2ZwsgQx)

Large serving platter (https://amzn.to/2DVk6cS)
Ingredients
For feta in grape sauce:
8

oz

225g feta

or tofu for vegan version

2

large bunches of black grapes

I recommend Coronation grapes or Concord grapes

¼

cup

chopped fresh herbs

such as oregano, tarragon and thyme

Salt and pepper

¼

cup

olive oil
For rice:
4-8

large grape leaves

1

cup

basmati rice

2

cups

water

1

teaspoon

salt

1

tablespoon

olive oil
For serving:
½

cup

pistachios

chopped

¼

cup

chopped fresh herbs

such as oregano, tarragon and thyme
Instructions
Prepare feta in grape sauce:
Preheat the oven to 400F (200C) with a rack in the center of the oven.

While the oven is preheating, combine feta, grapes, herbs, salt and pepper and olive oil on a foil-lined baking sheet and toss until mixed.

Bake for 25 minutes. Strain feta and grapes from sauce and set aside. Reserve sauce in a separate container.
Toast pistachios:
Add pistachios to a different parchment-lined baking sheet. Bake in a 400F (200C) oven for 5-7 minutes, checking and stirring pistachios often to avoid burning. Remove and set aside.
Prepare rice:
Line the bottom of your pot with large grape leaves (the amount you'll need will depend on the size of your pot and your largest leaves).

Add basmati rice to pot. Top with water, adding salt and a drizzle of oil. Cover with lid and bring to a boil. Once rice is boiling, turn heat to lowest and let cook, covered, 15-18 minutes, until water is fully absorbed and rice is tender. Let rice sit undisturbed, lid on, for 5 minutes. Fluff with fork and set aside.

Decorate the bottom a platter whose diameter is larger than the pot with additional grape leaves, if desired.

When ready to serve, cover pot with the platter. In one swift motion, invert pot onto platter, tapping the bottom of the pot a few times. Remove pot, letting rice spill onto the platter. Remove cooked grape leaves.

Top rice with reserved grapes and ¾ of the grape sauce. Top with large chunk of feta. Drizzle with remaining grape sauce. Sprinkle chopped pistachios and fresh herbs. Serve immediately.

Rice will keep in the fridge for 4-5 days. If making ahead, prepare all components separately and keep them separated until ready to serve. Warm up rice and feta separately before combining.
Tried this recipe?
Comment + Rate Below!
Connect on Instagram!
Find us @immigrantstable