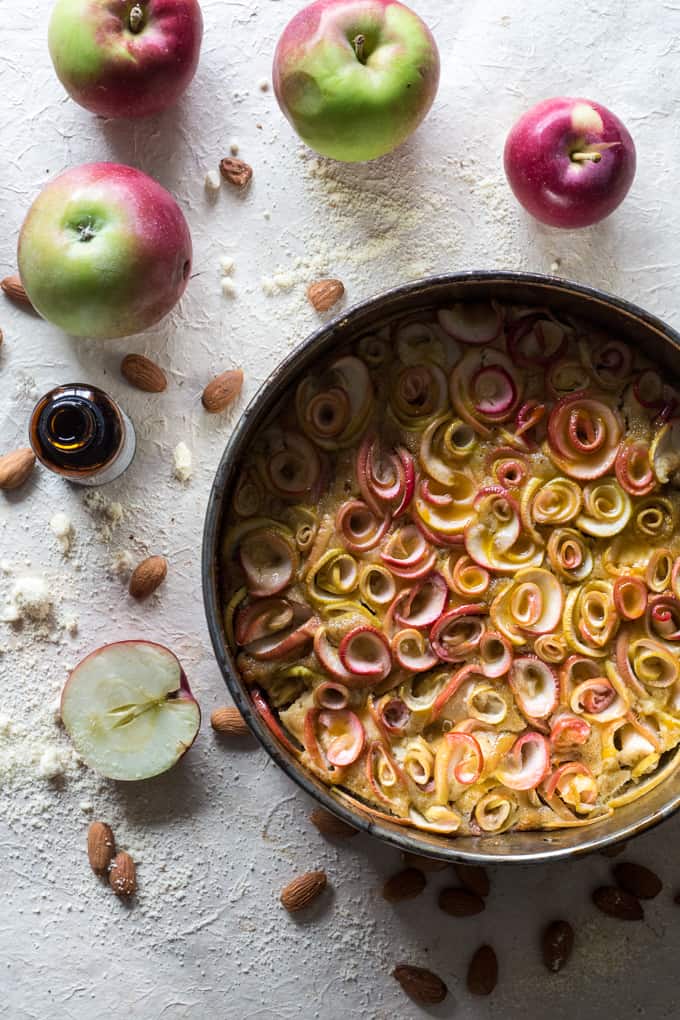 With a fine, spongy almond crumb and the delicate sweetness of honey, this almond apple cake with apple roses lures you to put on your jacket and scarf, pour yourself another cup of steaming apple cider, and embrace the sweet bitter notes of fall. A perfect cake for Jewish New Year (Rosh Hashana), or just a regular fall day.
Grab a slice of almond apple cake with apple roses
As you make your way into an orchard, the smell of wet grass is the first thing you notice. Small, vibrant green and covered in dew, the leaves of a multitude of apple trees sway in the wind, producing a sound not unlike that of a sighing grandmother. "Stay with us for a bit," they seem to whisper at you, offering yet another slice of almond apple cake.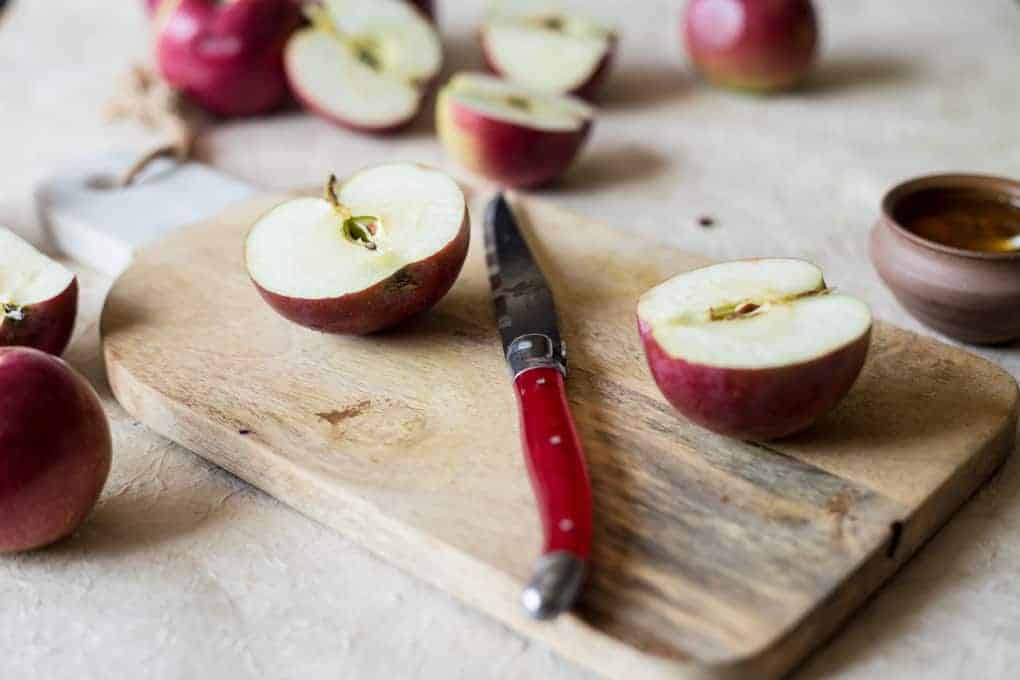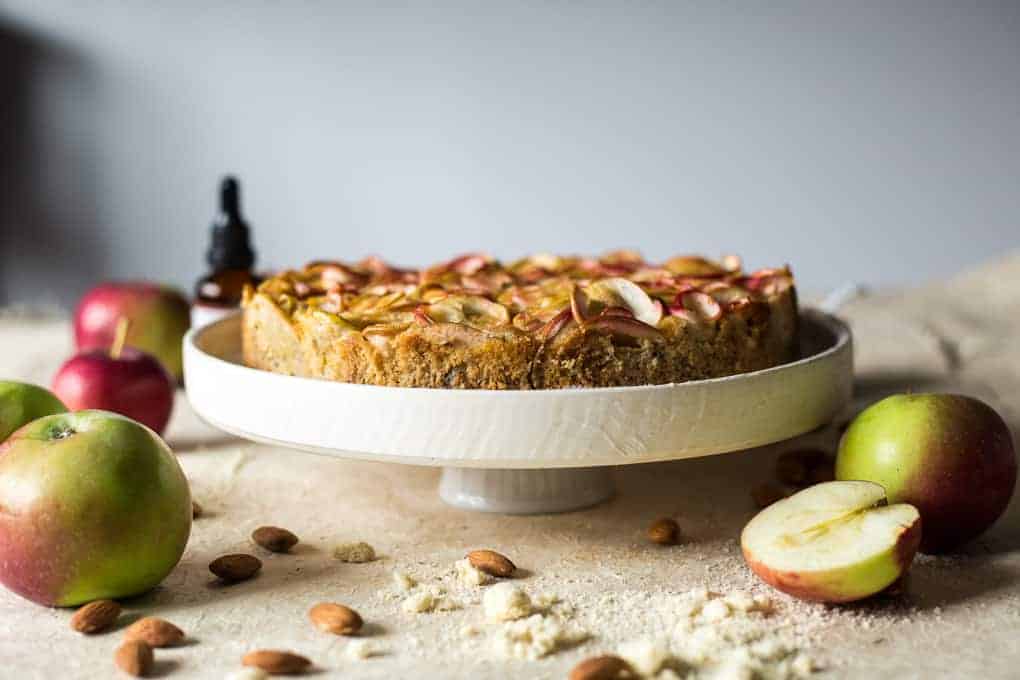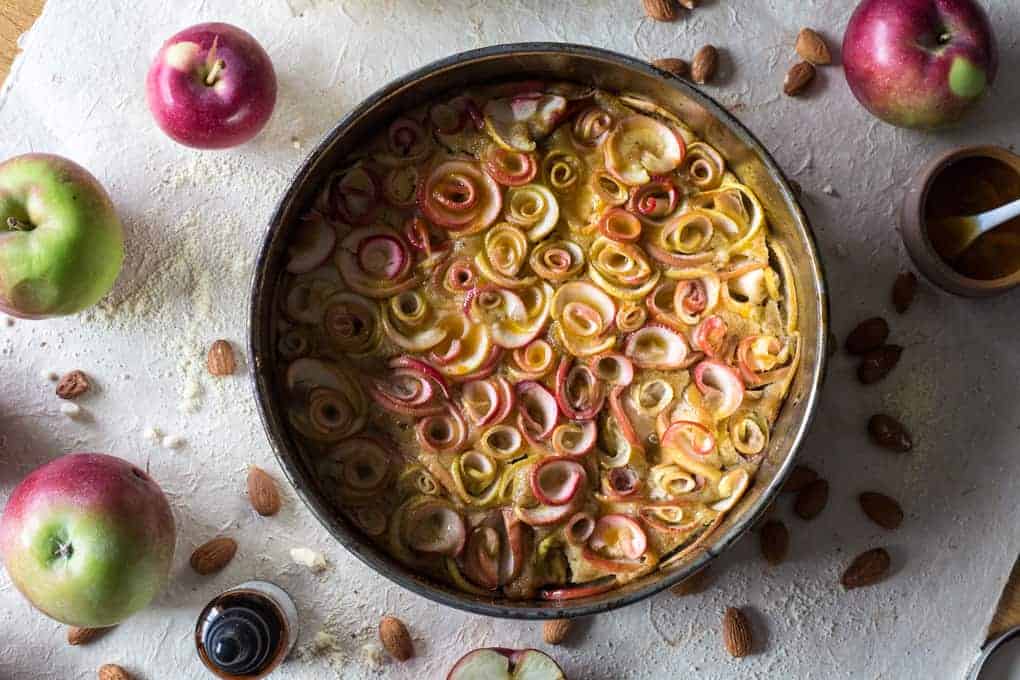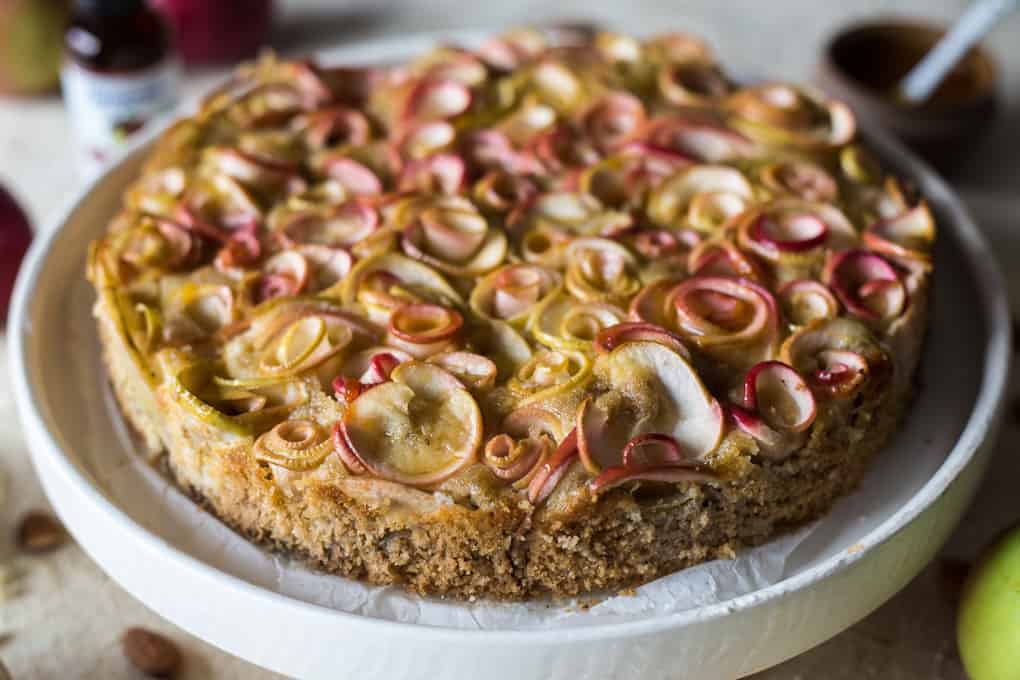 You walk through the orderly lanes, looking this way and that, searching for the perfect red apple. The touch of green is enough to send you, disappointed, onto the next tree, in constant look for the next perfect specimen. When you finally find it, you wrap your palm gently around the body of the fruit, twisting delicately in a clockwork motion. With a barely audible 'pop', the stem of the apple snaps, and the ripe fruit is left laying in your hand, offering you the world of promise and temptation that only freshly picked fruit can bring.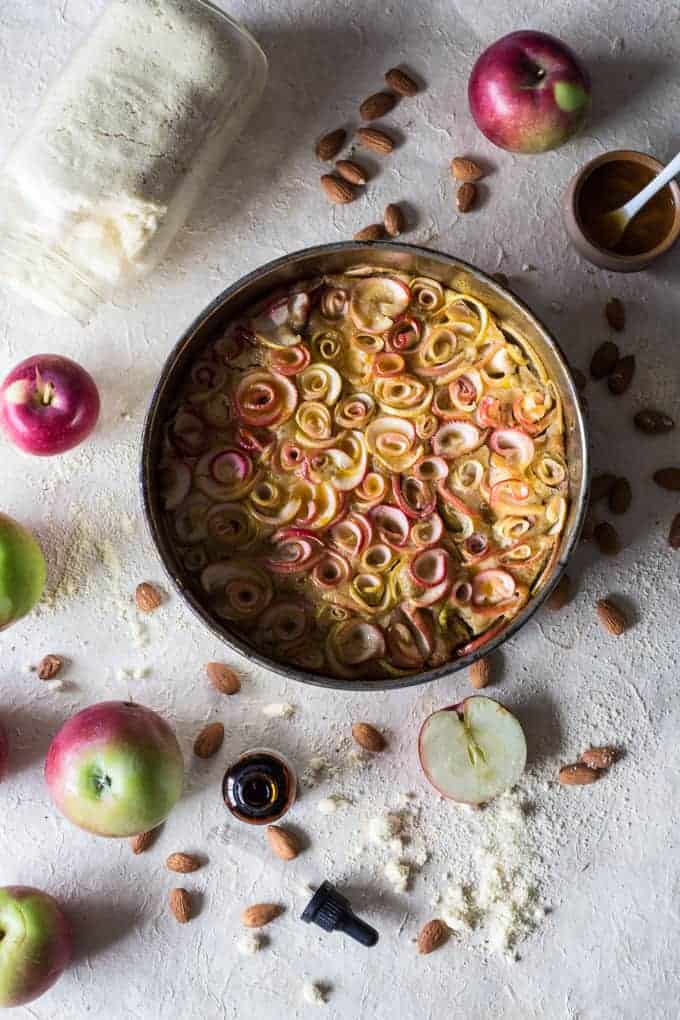 The abundance of apples in your farmers' markets at this time of year simply calls for an apple cake on your weekend table. This sugar-free, gluten-free almond apple cake with apple roses is a simple, beautiful way to honour the fruit of the season, and to welcome in fall with a flourish. Sweetened with just a touch of honey, this cake is guaranteed to not overwhelm your taste buds with artificial sweetness – but instead, to let the taste of apples and honey shine.
Looking for more Rosh Hashana Recipes and Inspiration?
Here are a few of my favourites: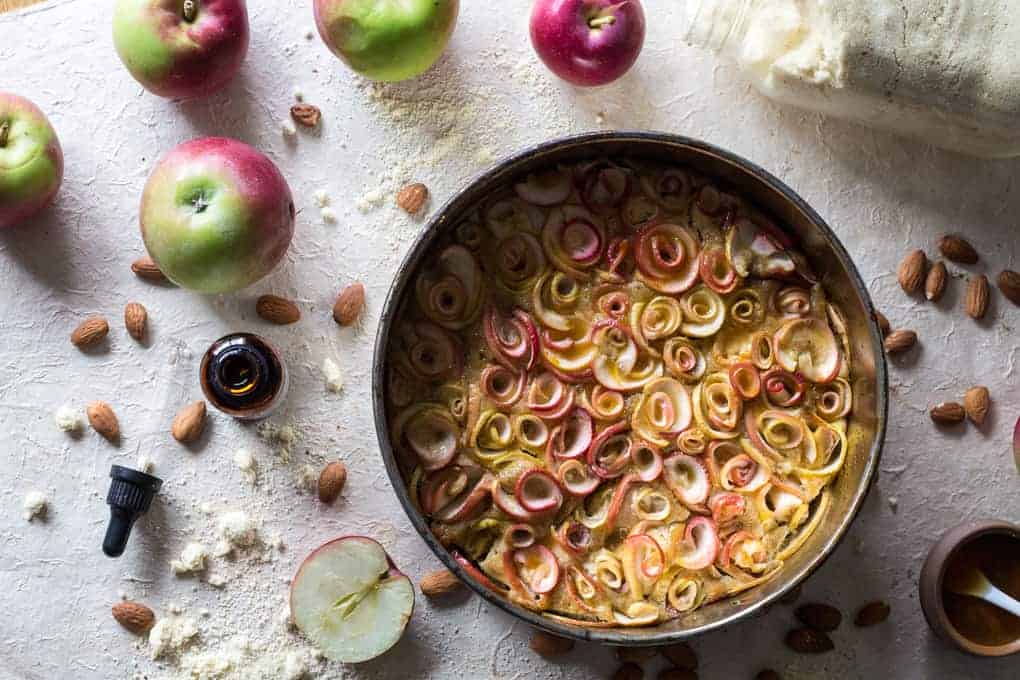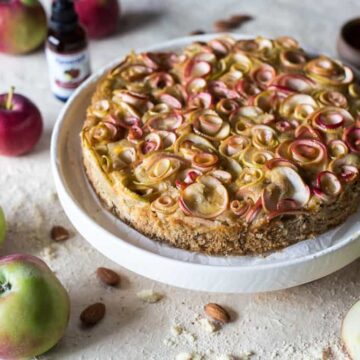 Almond apple cake with apple roses
With a fine, spongy almond crumb and the delicate sweetness of honey, this almond apple cake with apple roses lures you to put on your jacket and scarf, pour yourself another cup of steaming apple cider, and embrace the sweet bitter notes of fall.

Print
Pin
Rate
Ingredients
For apple roses:
4-6

red apples of your choice

I like Red Delicious for this, halved and cored

3

cups

water

4

tsps

lemon juice
For one 6 or 9-inch round cake:
⅓

cup

coconut oil

1 ¾

cup

almond flour

¼

cup

arrowroot flour

¼

tsp

salt

3

large eggs

room temperature

½

cup

apple liquid

2

tbsps

honey

2

tsps

vanilla extract

1

tsp

lemon juice

½

tsp

baking soda

Honey diluted in warm water or sugar-free jam diluted in warm water of your choice

for glazing
Instructions
To prepare apple roses: In a medium-sized saucepan, bring water and lemon juice to a boil.

Remove core and seeds from apples and slice apples in half, and then slice them very thinly into half-moons (you can use a mandoline for this if you are unsure of the thinness of your slices). Place apple slices into water, allow to boil again, and let boil for an additional minute or two, just until apple slices are pliable and can be bent without snapping. Do not overboil – this will result in mushy slices that break apart when you attempt to roll them.

Pour the liquid in which the apples cooked into a bowl, reserving it for later. Place apple slices in ice-cold water and set aside.

To make cake: Preheat oven to 325F (160C). Grease and line a round cake pan with a removable bottom with parchment.

In a small saucepan, melt coconut oil. Set aside to cool slightly. In a large bowl, whisk together flours and salt.

Separate the eggs, placing the whites in a medium-sized bowl. Set aside.

Combine yolks in another bowl with melted coconut oil, vanilla, lemon juice, honey and ½ cup of liquid remaining from cooking the apples. Whisk to combine. Add egg yolk mixture to the large bowl with the flour, and whisk until batter is smooth without any lumps.

Using a mixer, beat egg whites until they form soft peaks.

Stir baking soda into the dough batter and, using a rubber spatula, immediately beat in one third of the whipped egg whites. Gently fold in the rest of the egg whites.

Pour batter into prepared 6-inch baking dish for a tall, single-layer cake, or a 9-inch baking dish for a shallower cake with a larger diameter.

To assemble apple roses: Starting with a thin small slice of apple, roll it into the shape of a rose. Then add another slice around it, and another one. Use as many slices as you like to assemble each rose, starting from one for very small roses, to five or six for very large ones. Place each rose into the top of the cake, pressing it into the batter to secure. Continue until cake is completely covered in apple roses.

Bake for 35-40 minutes, until a skewer inserted in the middle comes out clean.

Remove cake from oven and leave to rest for 5 minutes, then run a sharp knife along the edge, remove outside ring and transfer cake onto a cake stand.

Brush top and sides of cake with the honey-water or jam-water mixture, to add more sweetness and to allow the roses to sparkle as though dewy. Let cool completely before serving.