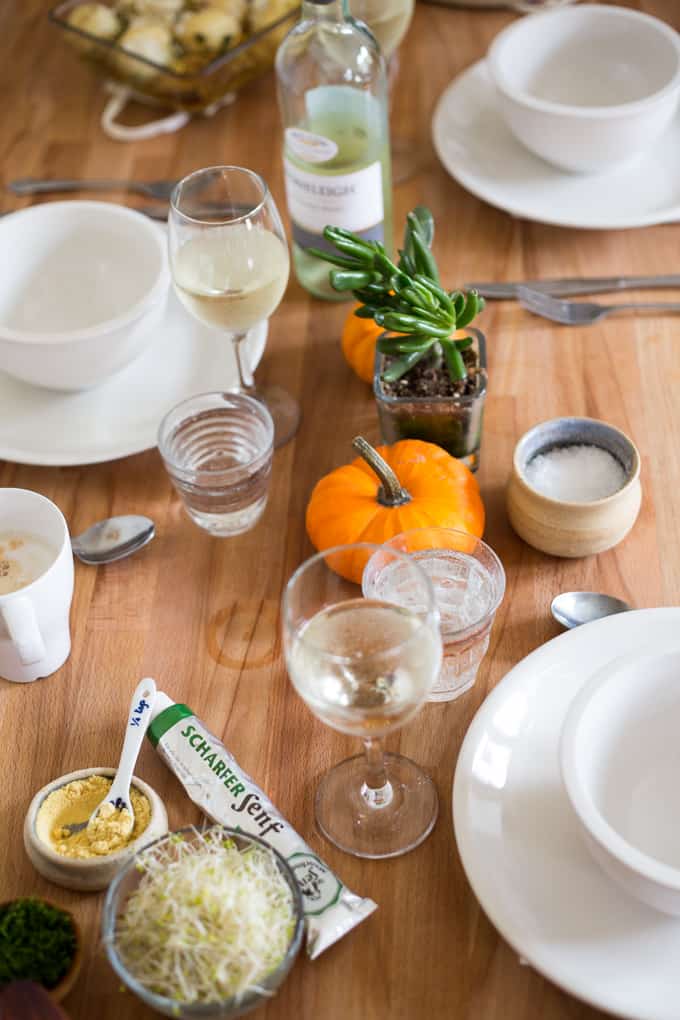 My ideal Thanksgiving is all about intimacy. For a truly memorable Thanksgiving experience, ditch the large family gathering and gigantic turkey and instead, focus on creating an intimate Thanksgiving experience.
This is my guide on how to decorate an easy, intimate Thanksgiving table for a truly memorable experience for you and your loved ones.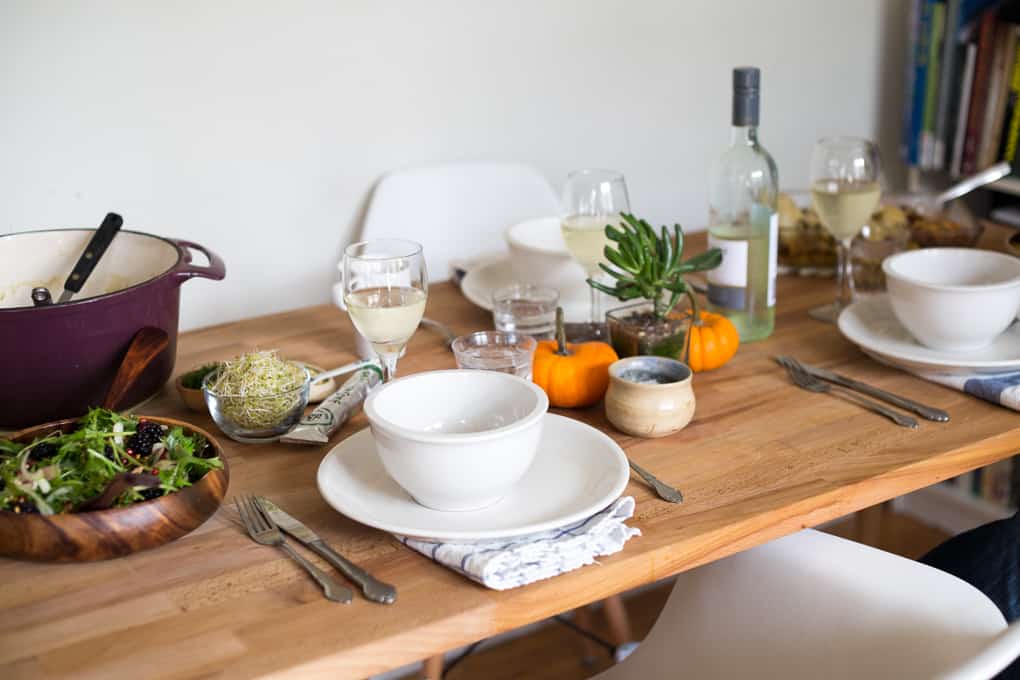 The Right Kind of Thanksgiving
The flickering light of candles, blinking in and out of existence with every breath. Soft music playing from the speakers just quietly enough that everyone can speak over it. A neutral table cloth, strewn with cloth napkins. Loved-in plates and cutlery. Gourds and tree branches in warm tones that seem to bring the outside in. These are the makings of a truly intimate, small Thanksgiving celebration - the kind of evening you and your guests will want to relive over and over again.
How much better would that be than what we have come to accept as the traditional Thanksgiving celebration? A giant turkey that takes hours to cook; A spread that takes days to make and turns you into a slave to the kitchen; A perfectly decorated table with perfectly creased napkins and perfect flowers and perfect, perfect everything; It all amounts to a Thanksgiving experience that is far from perfect, memorable or enjoyable.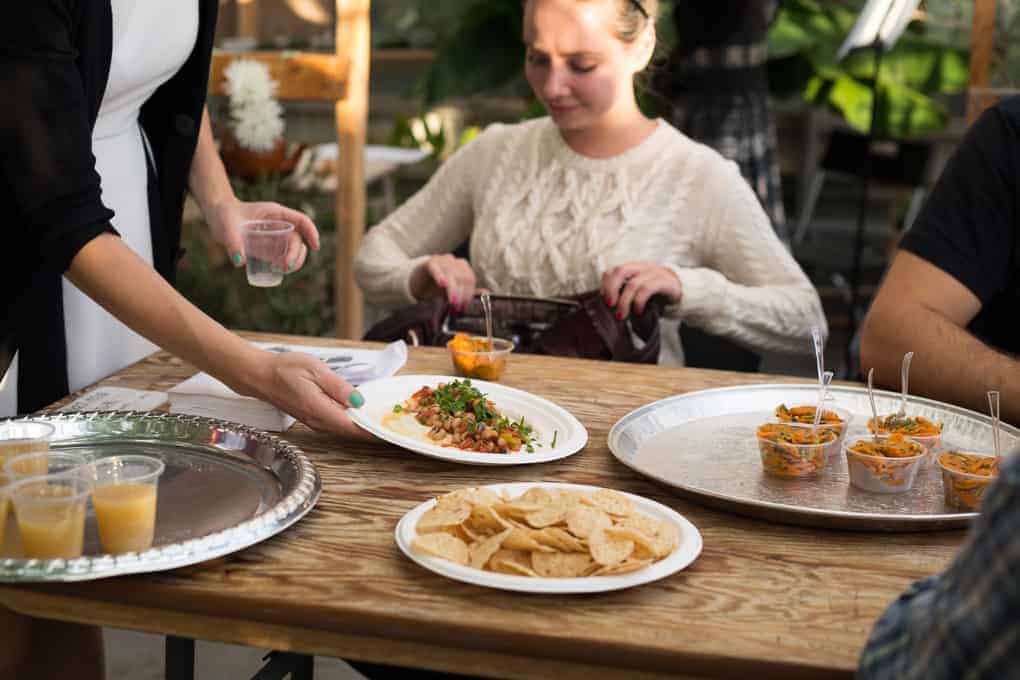 Easy Entertaining is the Name of the Game
You know I am all about easy entertaining. I love:
Meals that take meticulous planning, careful execution and a clipboard are not for me!
So a small, intimate Thanksgiving celebration is my idea of perfection.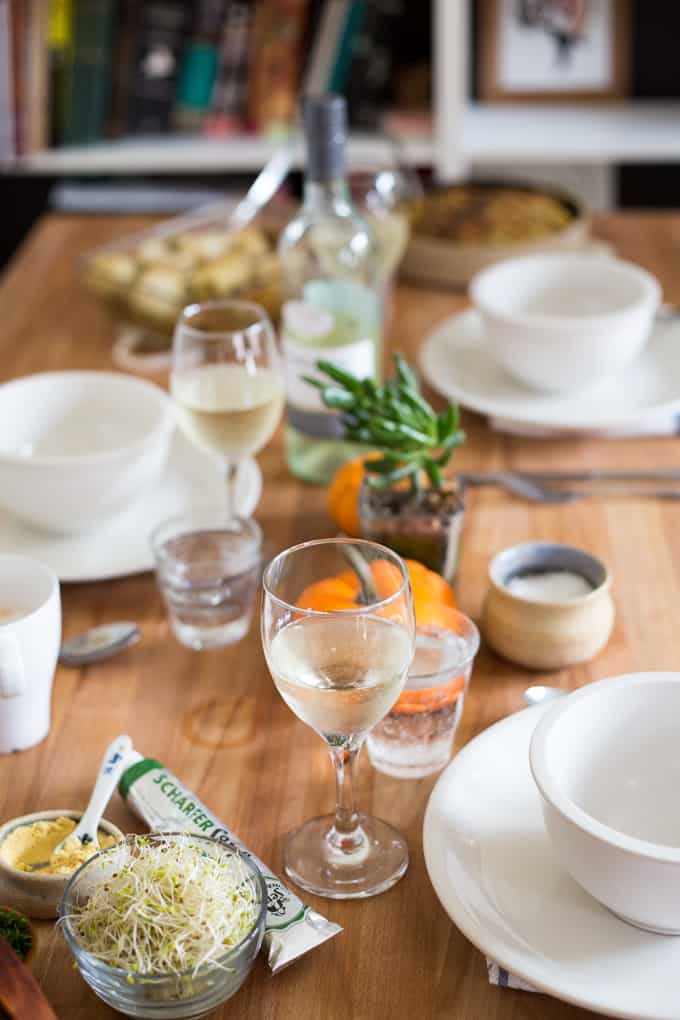 My Tips for Setting an Intimate Thanksgiving Table
1. Go for the natural look
Think of "Natural" as the keyword for your easy intimate Thanksgiving. Whenever you pick up an item of decor, ask yourself: does this look natural? Does it feel natural to have on my table? If the answer is not a resounding YES, then ditch it and move on to the next thing.
2. Ditch the tablecloth
My first rule for a relaxed Thanksgiving is this: ditch the table cloth. Expose the natural beauty of your table, whether it's made of wood, plastic or repurposed cardboard. To bring pops of colour and to make things feel fancier, opt for cloth napkins. These are foldable, easy to store and a breeze to throw in the washing machine once the meal is done. And they don't pollute the environment like paper napkins! Honestly, it's a no brainer. Even if your napkins don't match, that's fine - I have found that mismatched cloth napkins in similar hues sometimes look especially beautiful.
I also love to tie my cutlery to my fabric napkins with jute.
Some of my favourite cloth napkins:
3. Decorate with fruits, vegetables and herbs
Instead of expensive flowers that have to be imported from overseas, sprayed with pesticides or grown in a greenhouse under extreme climate control, opt to set your tables with natural elements.
For natural Thanksgiving centrepieces, you can use:
gourds
hardy greens - mix beet greens and kale leaves in different colours for extra effect
jars with lemon quarters in the bottom and rosemary in place of flowers
pomegranates
evergreen branches
cranberries - mixing citrus, cranberries in jars or a large punch bowls is the perfect seasonal touch
tree branches that still retain some leaves - if you're lucky enough to have trees that still have some leaves on them, don't hesitate to bring some of them home!
potted plants and succulents that you already have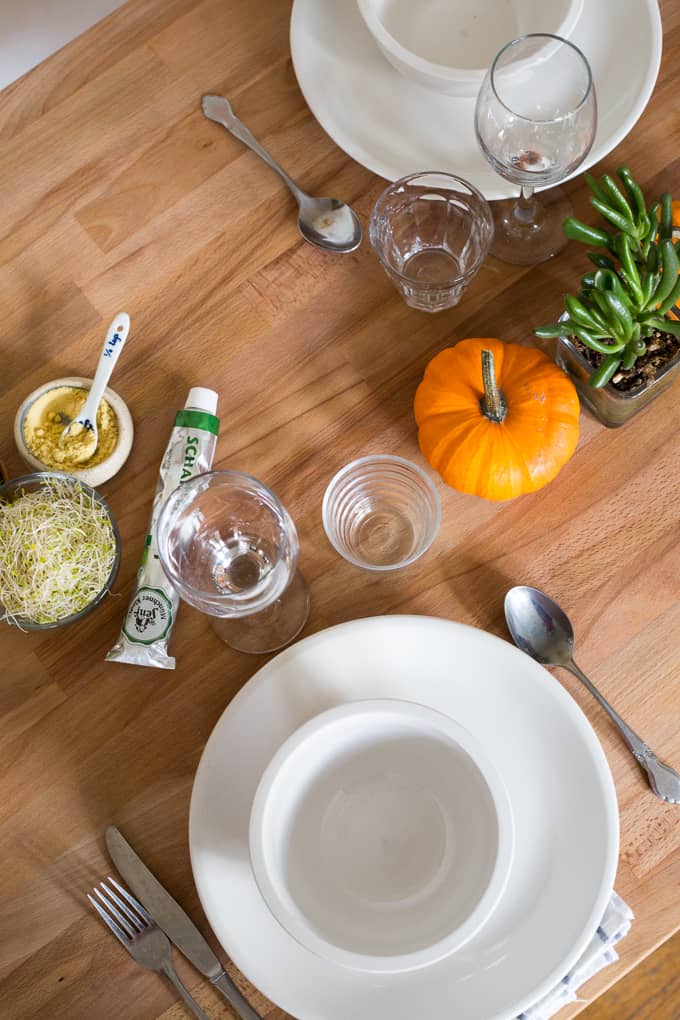 4. Reimagine fancy dishes
Thanksgiving is not that time to bring out your grandmother's heirloom china set for 12. Instead, an intimate Thanksgiving is the perfect excuse to reimagine fancy dishes.
I like to use my favourite white plates for everything, including easy entertaining. They let the food shine, and are much hardier and therefore, unlikely to be scratched or broken. Let the other elements bring the pop of colour to the table!
Some of my favourite white dishes include:
5. Wine goblets for everything
We use wine goblets for any meal with friends. We could all be drinking water, but it's going to be out of wine goblets. Why? Because you immediately feel 20 times fancier if you're drinking out of wine glasses (that's a scientific fact).
But it's important to say that wine goblets don't have to be stemmed, traditional wine glasses. Instead, for your special intimate Thanksgiving celebration, use whatever glasses you use for drinking wine. In our house, that's often the Duralex Picardi glasses.
If you're looking for new wine glasses, I like (and use) these ones:
6. Use candles for illumination
Whether you have the big chandelier or spot lights on, I don't care. That's a matter of personal choice (or as having a kid has taught me, of necessity). But you must light some candles for the perfect relaxed Thanksgiving vibe. These can be candles from Bath & Body Works, little tea lights, or long taper candles. The important thing is that candles create a special warm glow that makes people feel more relaxed and attractive - even if it's a very small gathering.
7. Reconsider dinnertime
Finally, I believe that a special occasion doesn't have to be relegated to dinnertime. A nice, relaxed and intimate Thanksgiving lunch is just as good? Or how about a Thanksgiving brunch?
Check out My perfect Thanksgiving brunch round-up for some ideas for Thanksgiving foods that don't have to be eaten for dinner.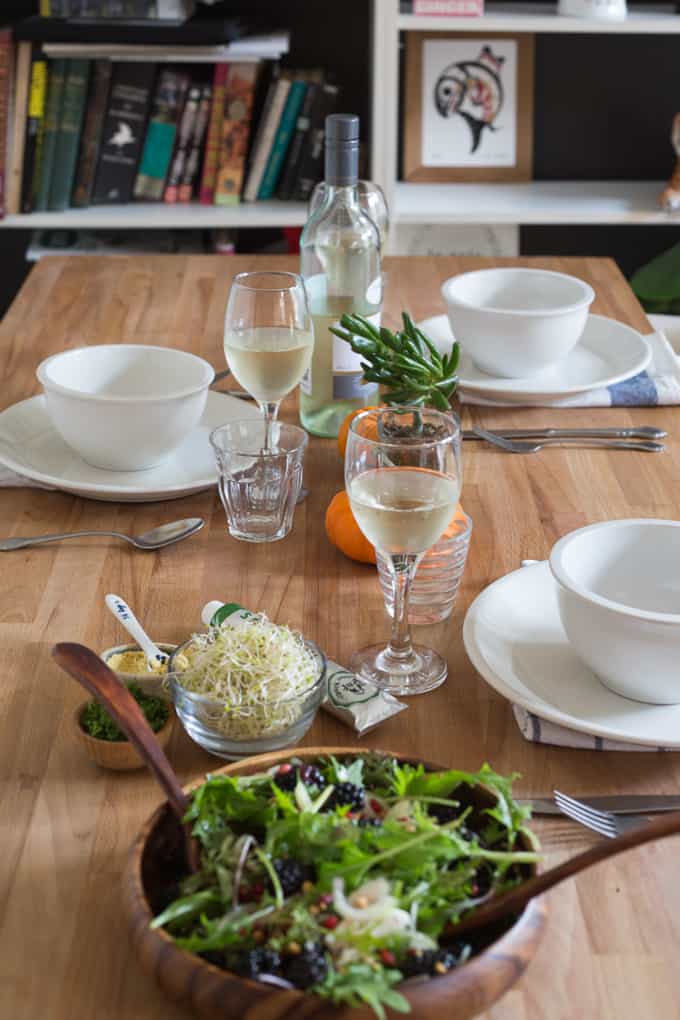 My Intimate Thanksgiving Recipes
Looking for what serve for an easy, intimate Thanksgiving celebration? Here are my favourite Thanksgiving recipes for a perfect intimate meal!
An Intimate Thanksgiving for Two
Celebrating with only one more person? No problem! All the same rules apply, except you can also:
turn your Thanksgiving meal into a relaxed, Middle Eastern style meal eaten on pillows on the floor
have a Thanksgiving Breakfast in Bed brunch
My ideal menu for a Thanksgiving for Two
What to do if you live alone? Thanksgiving for One
In my single days, I have been known to host Thanksgiving lunches of three people - in fact, the photos from this post were taken just during such a meal! This means my two closest girlfriends came for a meal, and we had a fantastic time. Celebrating with your small, immediate circle need NOT be a sad experience.
I have also done holiday dinners with my family in Israel over Skype and / or Zoom. We would each eat a meal in our respective home, but share a conversation, toast to life and health and generally enjoy each other's time.
A Thanksgiving for One means you can focus on treating yourself and take care to connect with loved ones in other ways.
Tried and loved this recipe? Please leave a 5-star review below! Your reviews mean a lot to me, so if you've got any questions, please let me know in a comment.
My ideal menu for a Thanksgiving for One