Most years, I am not one to make a fuss about Rosh Hashanah, the Jewish New Year's celebration. But this year, at the start of a new life chapter in Montreal, Quebec, I wanted to welcome it in the right way: with a week's worth of apple recipes. The last recipe in the series is a beautiful salad of roasted beets, apples, goat cheese, and toasted walnuts, arranged on a bed of lettuce and drizzled with olive oil and lemon juice.
Happy Friday, friends. If you have celebrated
Rosh Hashanah
, I hope it was a festive and joyous occasion. My own holiday dinner is actually taking place tonight, so I will have to report later about how it all went - keep your fingers crossed for me!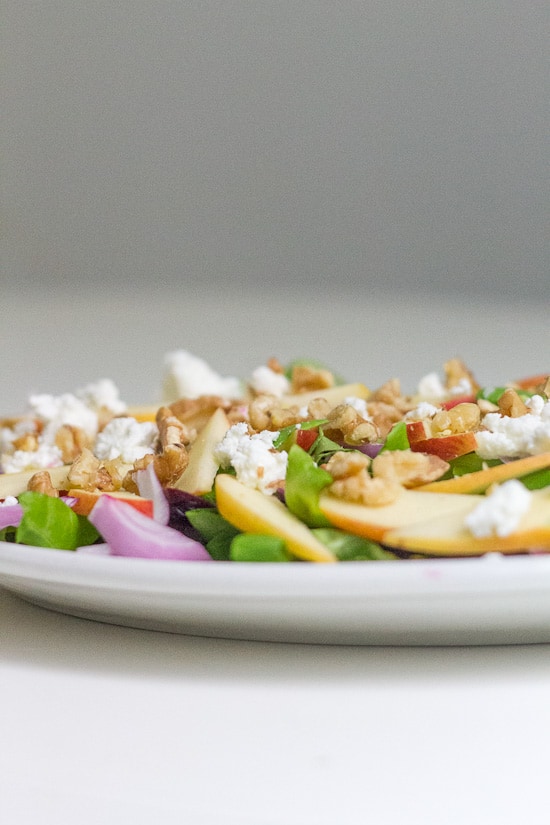 In the meantime, I wanted to launch a couple of new weekly features on the blog: a round-up of some of the best links The Internet has to offer, alongside a recipe that will take you less than 30 minutes to assemble - because Friday should be full of whatever makes you happy, and not elaborate meal-making. This means that from now on, this little place will be updated three times a week, instead of two. Ah, the joys of unemployment.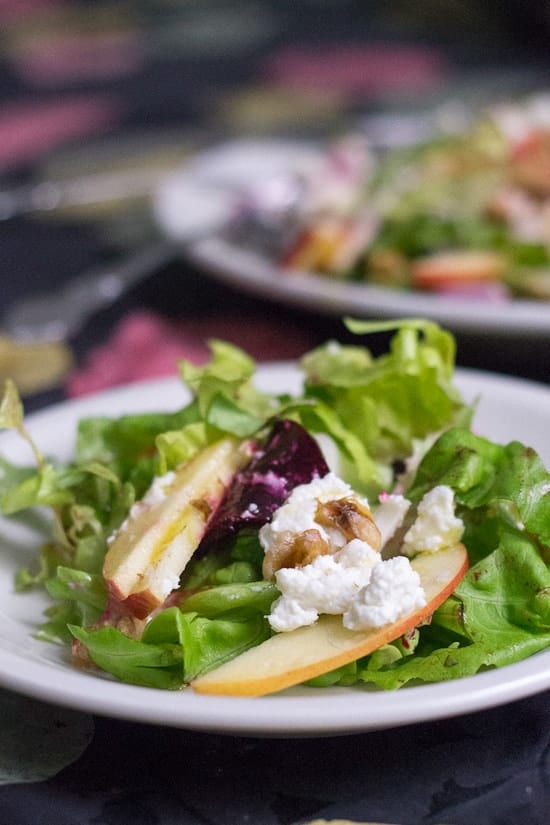 A little bit about this roasted beet,
apple and goat cheese salad
, though... First off, I have to admit it's a bit of a cheat, in the sense that it will take about 10 minutes to assemble... But only if you have
already diligently roasted and frozen those beets
like I instructed you to last week! Once you have roasted beets in your freezer , you're never too far from a delicious, simple salad, or a
jar of pickled beets!
. This one is creamy from the goat cheese, sweet from the beets and apples, nutritious from the walnuts, and bright with citrus. It made G, who was sick and had no appetite, do a double take and finish a whole bowl, exclaiming, "this salad is amazing!". If that's not a raving endorsement, I don't know what is.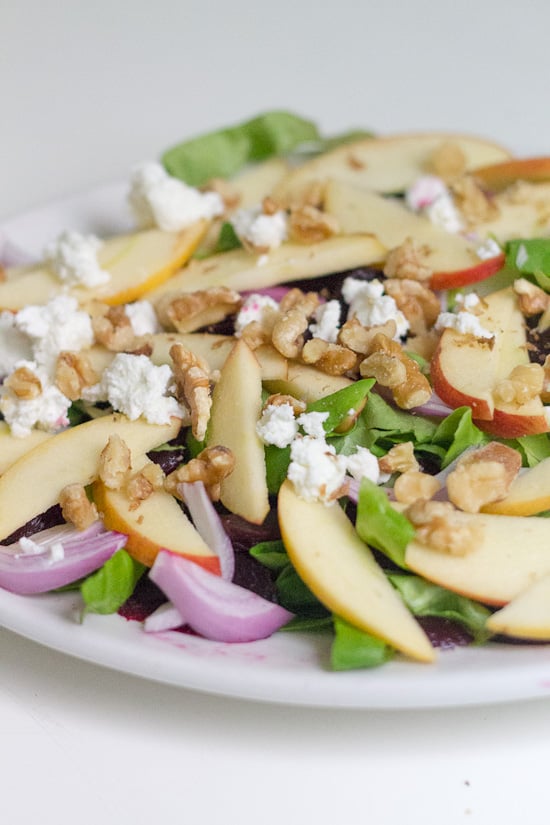 So pour yourself a nice, big glass of grape "juice", throw together this salad, and sit back to browse some internet links. Meanwhile, I'm going to put together a festive dinner for seven - no big deal.
Looking for Rosh Hashana Recipes and Inspiration?
Here are a few of my favourites: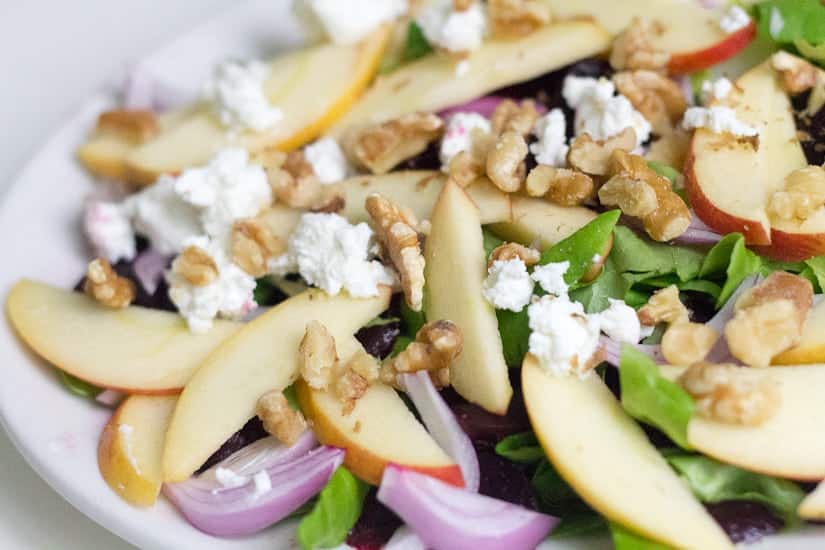 Have a lovely weekend!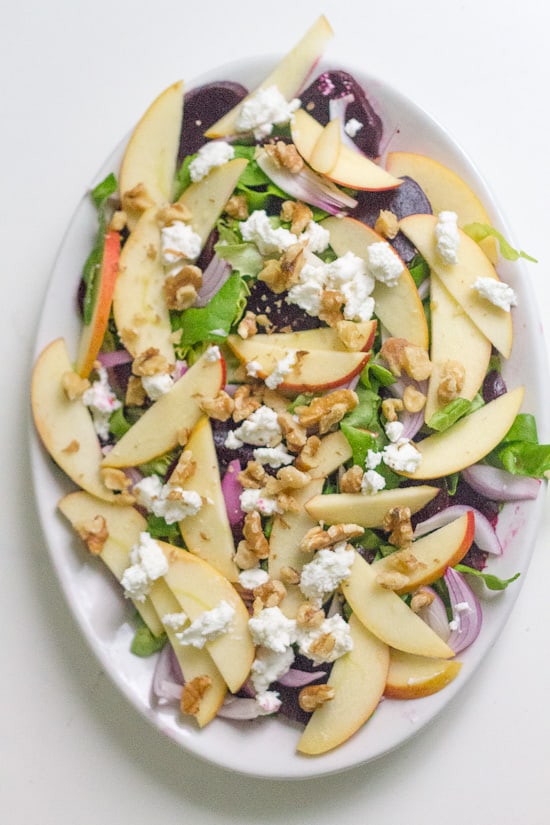 Recipe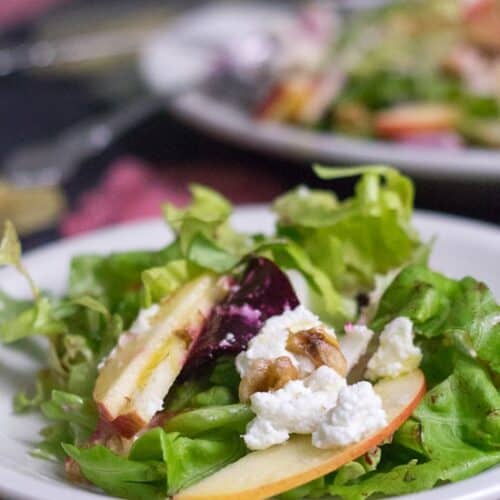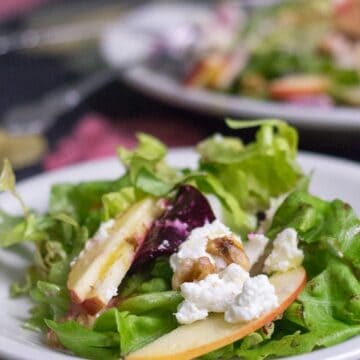 Roasted beet, apple and goat cheese salad with walnuts
This beet, apple and goat cheese salad with walnuts is creamy, sweet, crunchy, and bright - a feast for your plate.
Ingredients
Instructions
Slice lettuce into strands. Core apples and cut beets in half, and then slice them into thin crescents. Slice onion into thin slices. Chop walnuts into pieces.

Heat a pan to low-medium heat. Add walnut pieces to pan and toast for about five minutes, 2.5 minutes on each side. Remove from pan.

Arrange lettuce on a large serving platter. Arrange beets, apple slices and onion slices on top. Tearing goat cheese into small chunks, and sprinkle evenly on the veggies. Sprinkle toasted walnuts on top.

Drizzle olive oil and lemon juice on top. Sprinkle with salt and pepper to taste. Serve to table as is, and let each person mix the salad once they've served it (it's too pretty to mix ahead!)
Tried this recipe?
Comment + Rate Below!
Connect on Instagram!
Find us @immigrantstable