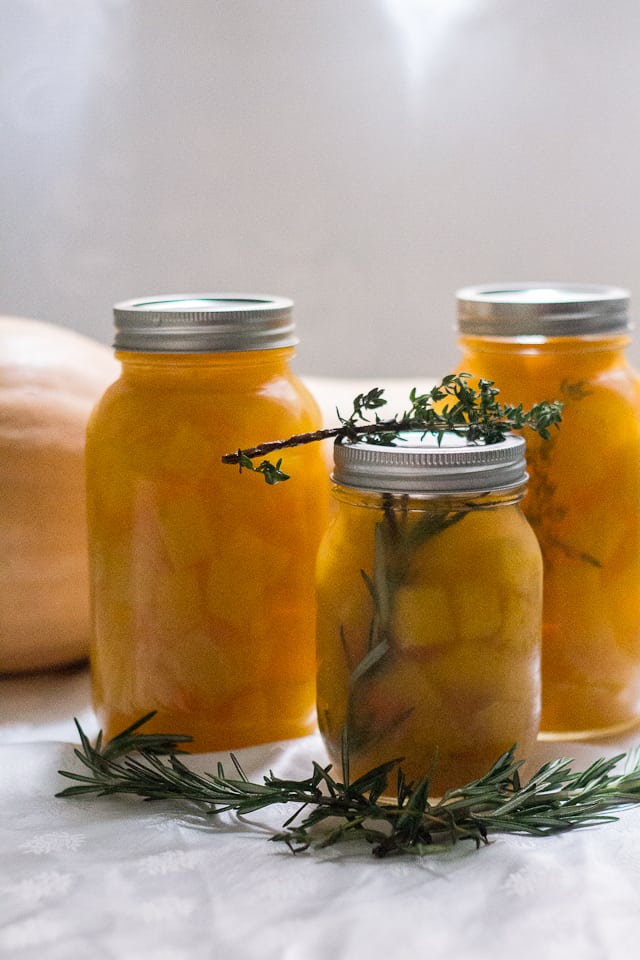 When times get busy, most of us tend to run around frantically, trying to start a million tasks and failing to complete any of them. Others shut down, burrowing themselves in a nest of blankets, Netflix and bourbon. I have recently acquired a new destructive habit: when times get busy, I pickle. These Middle Eastern-flavoured, sweet, spiced butternut squash pickles are the result of a recent pickling (and busy-ness) bout, and they are guaranteed to stop you in your tracks.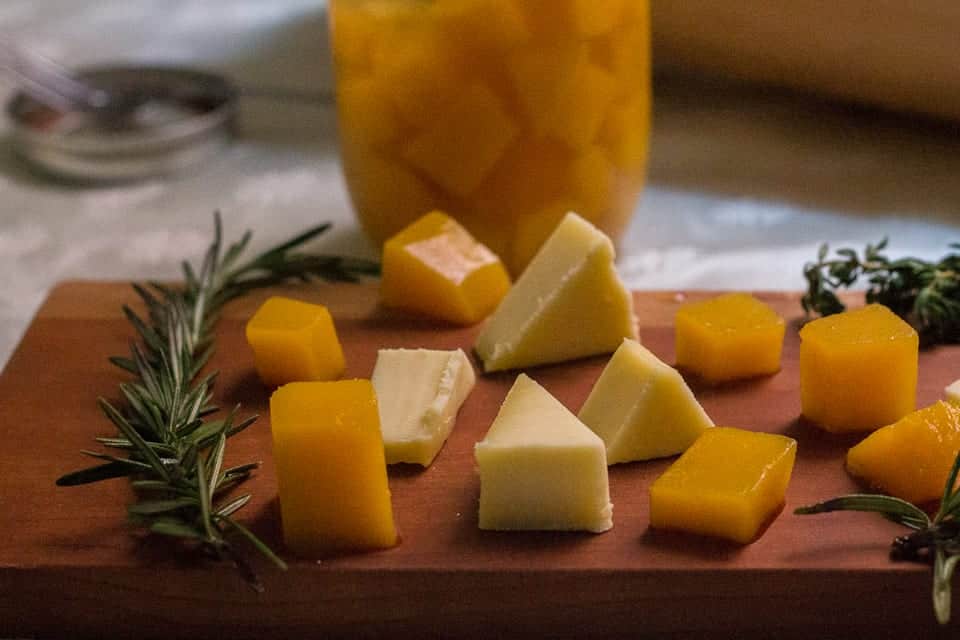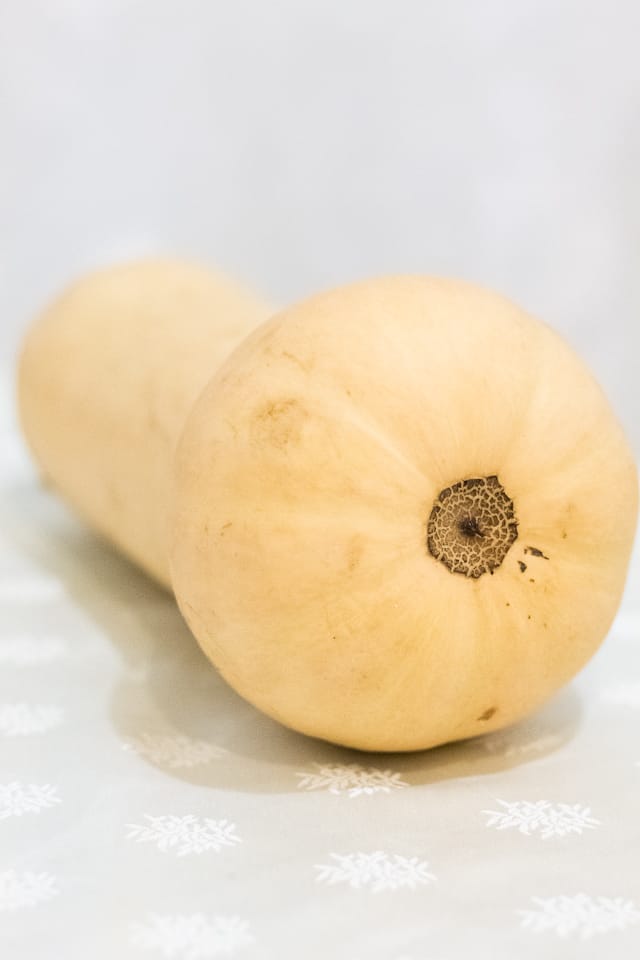 If you are a Canadian of Jewish descent, this is a hard week. Coming out of a flurry of activity for Yom Kippur and Rosh Hashanah, which for many have involved large family gatherings followed by a day of fasting, most of us are depleted of energy. Add to that the normal pressures of juggling work, school, and the semblance of a social life outside the family circle, and you got yourself a perfect storm. But if all that wasn't enough, this weekend we also have Canadian
Thanksgiving
, while Sukkot, or The Feast of the Tabernacles, one of the three major Jewish holidays, starts tomorrow. How's that for busy-ness?
So in the effort of breaking the vicious cycle of pumpkin-citrus-cranberries (all of which I will also be preparing for Sunday, and will therefore present here in the coming weeks), I turned to slower kitchen activities that force me to stop, stir the pot, and think. Measuring sugar pulls me away from obsessively composing sentences, wondering which comma goes where. Inhaling the smell of vinegar, water and spices coming together in a pickling solution stops me from agonizing about what to make next. And pouring hot liquids into
sterilized jars
reminds me that in the midst of all this busy-ness, this renewal, this period should really savoured.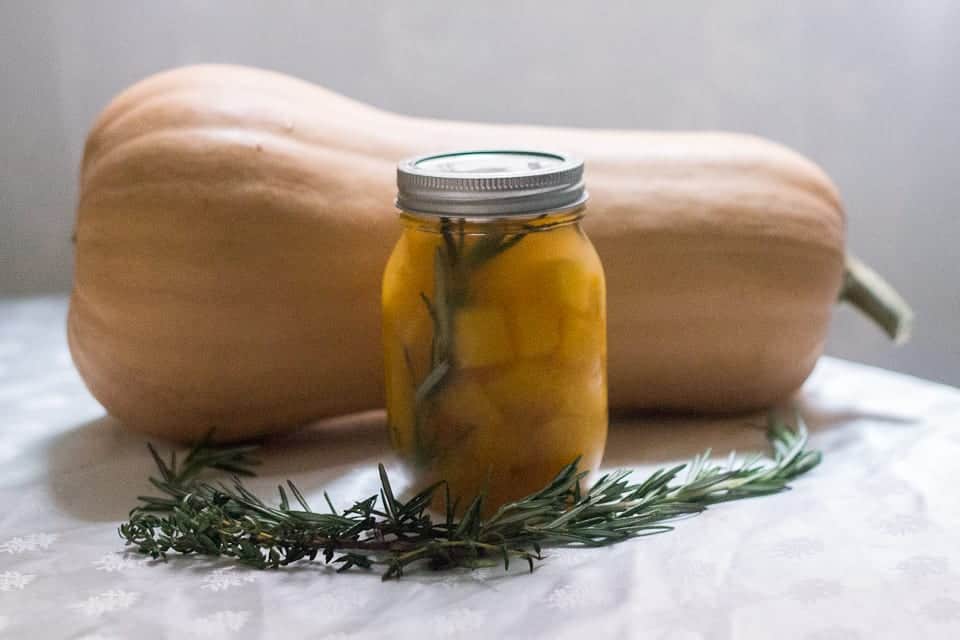 Later, when I look at the products of my labour neatly lining the pantry shelves, their contents cool and glistening and full of magic, I actually realize the meaning of Sukkot. I look at the
ground cherry preserves
, full of citrus and star anise and punchy fall flavours; the small, neat jars of apple butter and apple sauce (recipe coming), that will
moisten my baking
in weeks to come; and the jars of pickled butternut squash, speckled with green sprigs of herbs.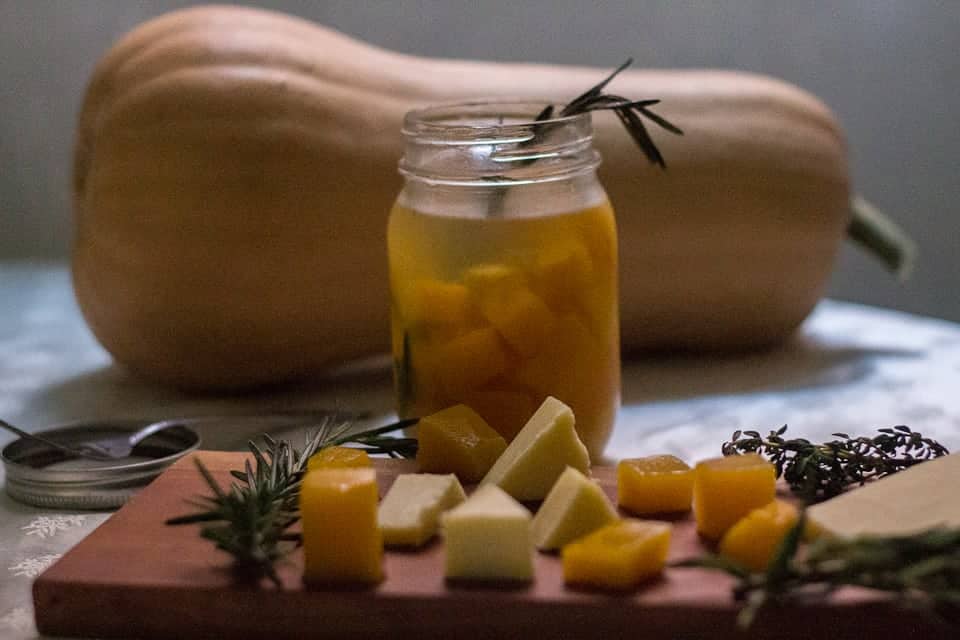 The fruits of the harvest are lying right there, easily within my grasp, because I took the time to preserve them. Though I am not sleeping in a tabernacle, or flimsy outdoor hut, in the middle of the Sinai desert, I am reminded of the transience that I (and my parents before me) have prescribed ourselves, and of the temporary relief I am experiencing at the moment, resting at this in-between place.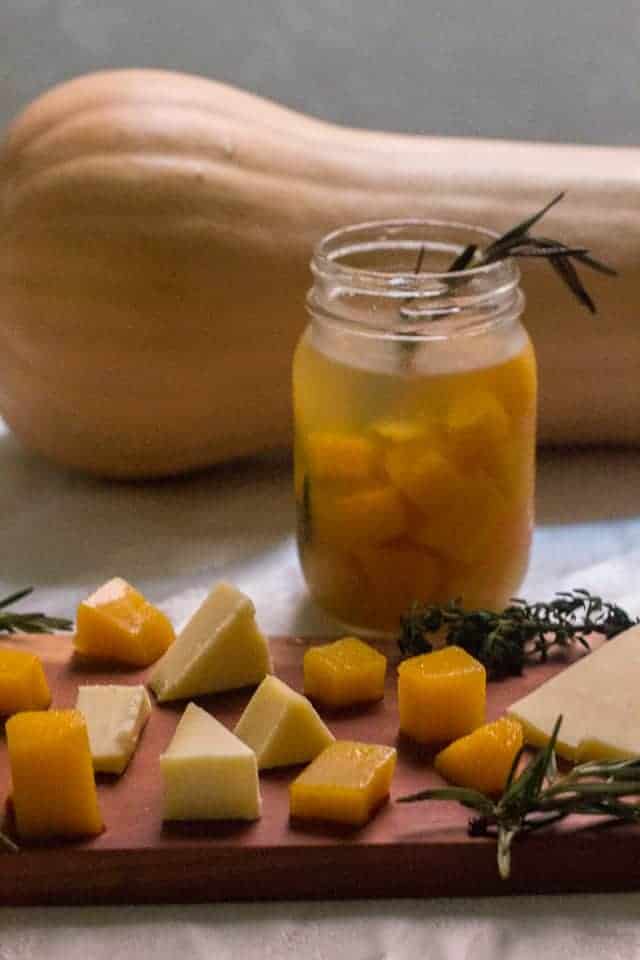 This Sunday, I will be making an appearance on TV screens all over Montreal, on
CTV's Sunday Bite
. Of course, it being Sunday of the Canadian Thanksgiving weekend, it means my viewership will likely consist of three families and a cat, but to hell with it. YOLO (or something equally free-spirited)! But as it's also easily streamable online, you, too, can join me in my kitchen as I try not to burn myself with pickling liquid for these butternut squash
pickles
, process my apple butter for too long, or cover my kitchen in vegan cilantro pesto (recipe coming on Friday).
Maybe your life, too, is a rollercoaster ride these days. Maybe you are coming down with a fall flue, besieged by germs and scarves and lack of air circulation. And maybe you're actually enjoying the changing seasons and finding the time to breathe, savour the falling leaves, and sip on some warm, hard apple cider (if so, I hate you). Whatever the case may be, I urge you to take an hour and make these pickles. Maybe you'll decided to pickle them, and maybe you won't; whatever the case may be, they will make a lovely addition to your Sukkot or Thanksgiving celebration, a Friday-night cheese platter shared by friends, or really, any fall gathering.
Looking for more Rosh Hashana Recipes and Inspiration?
Here are a few of my favourites: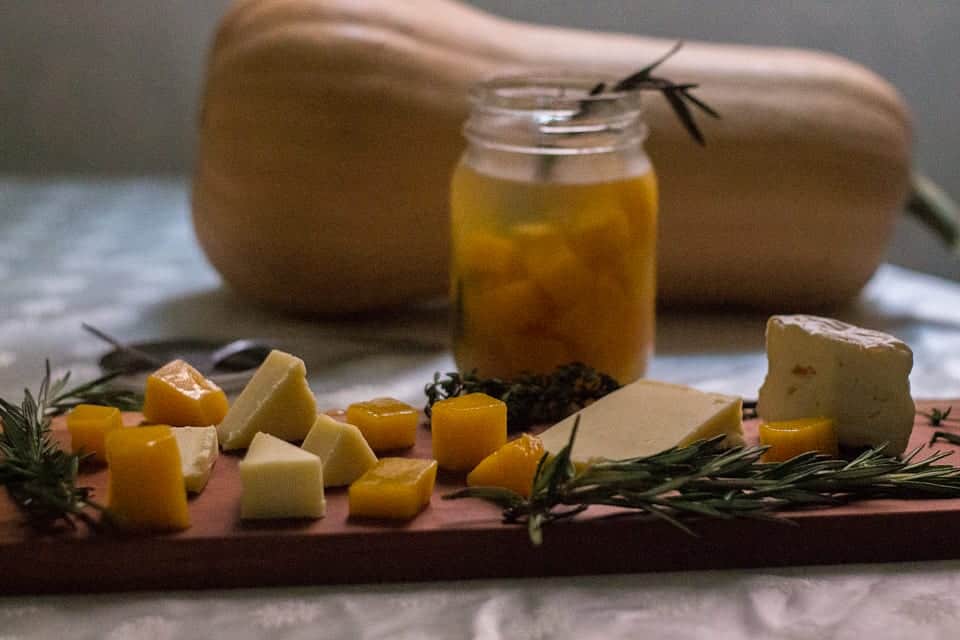 Recipe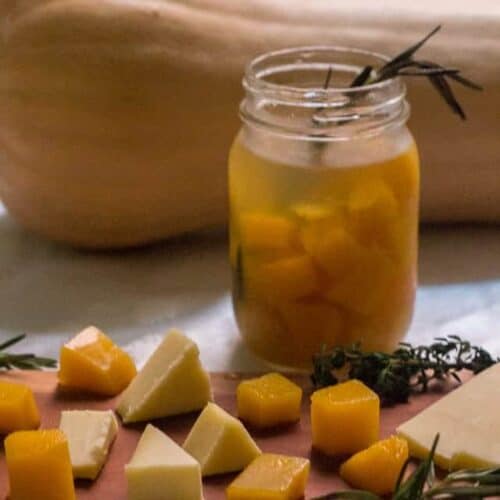 Middle Eastern spiced butternut squash pickles, or the pickle for when you want to slow things down
These Middle Eastern-flavoured, sweet, spiced butternut squash pickles will be at home on a cheese or charcuterie platter at any Thanksgiving, Sukkot, or fall dinner table. Feel free to substitute pumpkin for the squash. Based on recipes by Bernardin (http://www.bernardin.ca/pages/recipe_page/51.php?pid=480) and Marisa McClellan (http://www.seriouseats.com/2011/10/in-a-pickle-pickled-sugar-pumpkin.html)
Ingredients
Instructions
If canning these, prepare 2 1-litre sterilized jars in a hot water bath canning pot (bring jars and water to a boil, add 1 TB of vinegar, then process at a boil for 10 minutes to sterilize).

Peel and cut squash into uniform cubes. Set aside.

Thoroughly wash lemon. Remove peel with a vegetable peeler, taking care not to get any of the white pith. Supreme lemon (ensure that you get as much of the flesh and none of the pith). Add peel and lemon flesh into a large, heavy bottomed pot, and squeeze out any of the remaining juice into the pot as well.

Add vinegar, water and sugar into pot, and bring contents to a boil.

Tie all remaining spices except fresh thyme/ rosemary in a small cheesecloth pouch. When pickling solution is boiling, add butternut squash cubes and cheesecloth pouch to pot as well. Cover, return to a boil, then lower heat to medium and let cook for 20-30 minutes, until cubes can be pierced with a fork but are not mushy or falling apart.

Into each hot, sterilized jars, add 2 sprigs of thyme or rosemary. Ladle squash cubes into jars, and cover in brine, leaving ½ inch of headspace from the top. Remove any air bubbles with a knife and wipe rim off with a hot, clean cloth to remove any residue. Cover with seal, using only two fingers to screw down the metal rim (if canning further; otherwise, just seal jars regularly and place in fridge).

If continuing to can, process jars in a hot water bath canner for 20 minutes on a rolling boil. Remove carefully, and let rest on the counter, undisturbed, for 24 hours. Then remove metal rims and test to see if lids have sealed.

Let pickles cure for 2 weeks before tasting.
Tried this recipe?
Comment + Rate Below!
Connect on Instagram!
Find us @immigrantstable