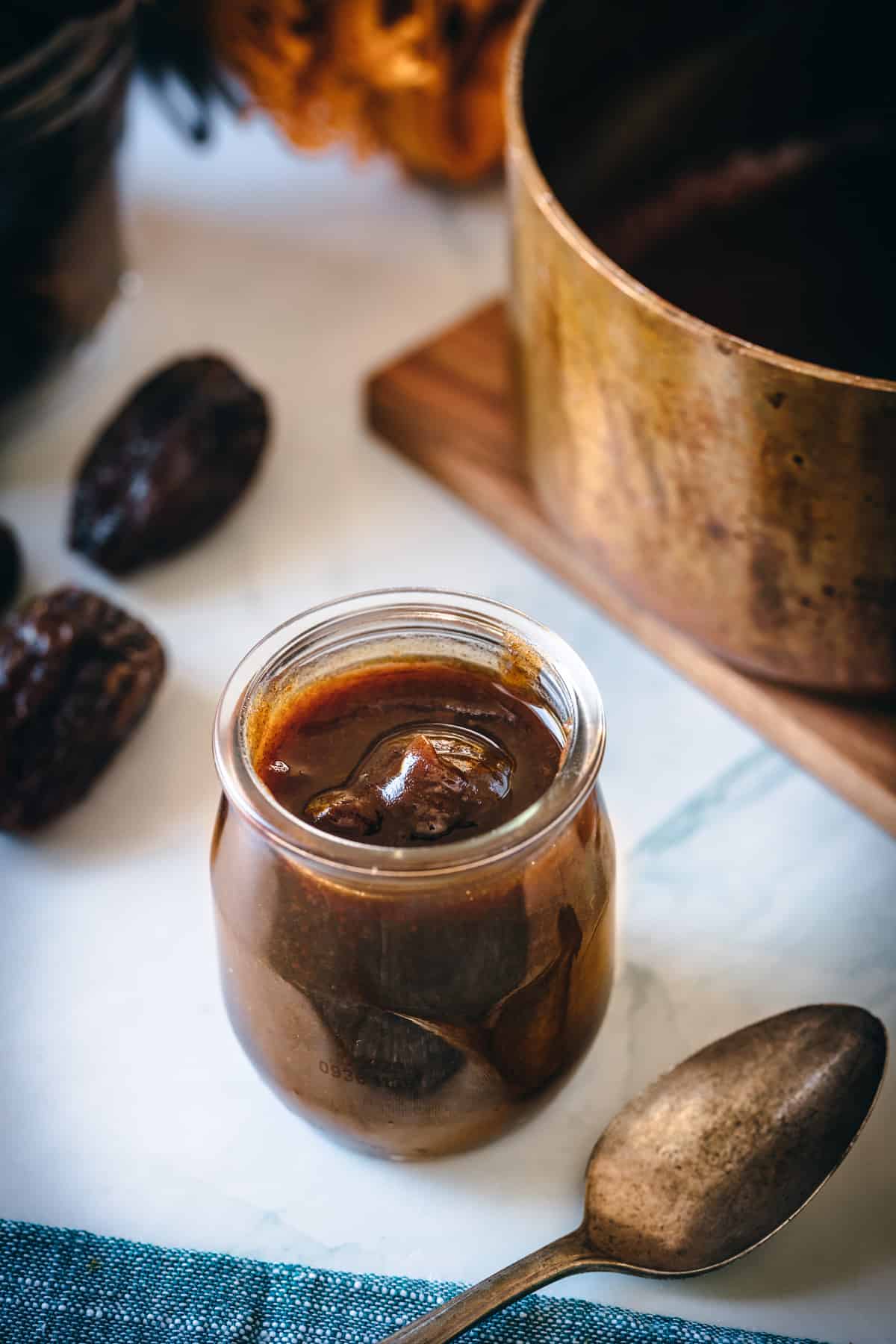 Making 2-ingredient homemade date syrup is so easy, you'll never buy this specialty ingredient again.
Jump to:
What is date syrup?
Date syrup or silan is one of my favorite sweeteners, and I'm so excited it has finally made its way into the pantries of more and more people in Canada!
Date syrup is a naturally derived sweetener that is extracted from pressing dates with water.
Dates are high in vitamins and minerals, low in calories, and a natural source of potassium. As such, date syrup is an excellent option if you prefer to skip the sugar. The taste and color are rich, with a caramel-like flavor that can be used to replace honey or maple syrup in various recipes.
Date syrup has been around for over 6,000 years and is believed to have originated somewhere in the Middle East. This would make sense considering the area's richness in date palms, prized as a symbol of prosperity and hospitality to this day in much of the Arab world.
Why is date syrup also called "silan"?
In Israel, date syrup is known as "silan" and is a popular choice used to sweeten desserts or as a spread on breakfast foods and pancakes.
Date syrup is also known as date honey syrup, or date molasses, due to its thick texture and syrupy consistency.
How to make date syrup?
Nowadays, you can find date syrup in grocery stores, specialty food stores, and Middle Eastern or Israeli delis.
However, making date syrup at home is equally easy and fun.
You can make date syrup in just a few minutes, and it will last for months in the fridge or a year in the freezer.
Here's the secret: You need only two ingredients to make date syrup: water and dates!
Make sure to pick the best quality dates you can get your hands on, I recommend Medjool dates (I like Natural Delights Medjool dates).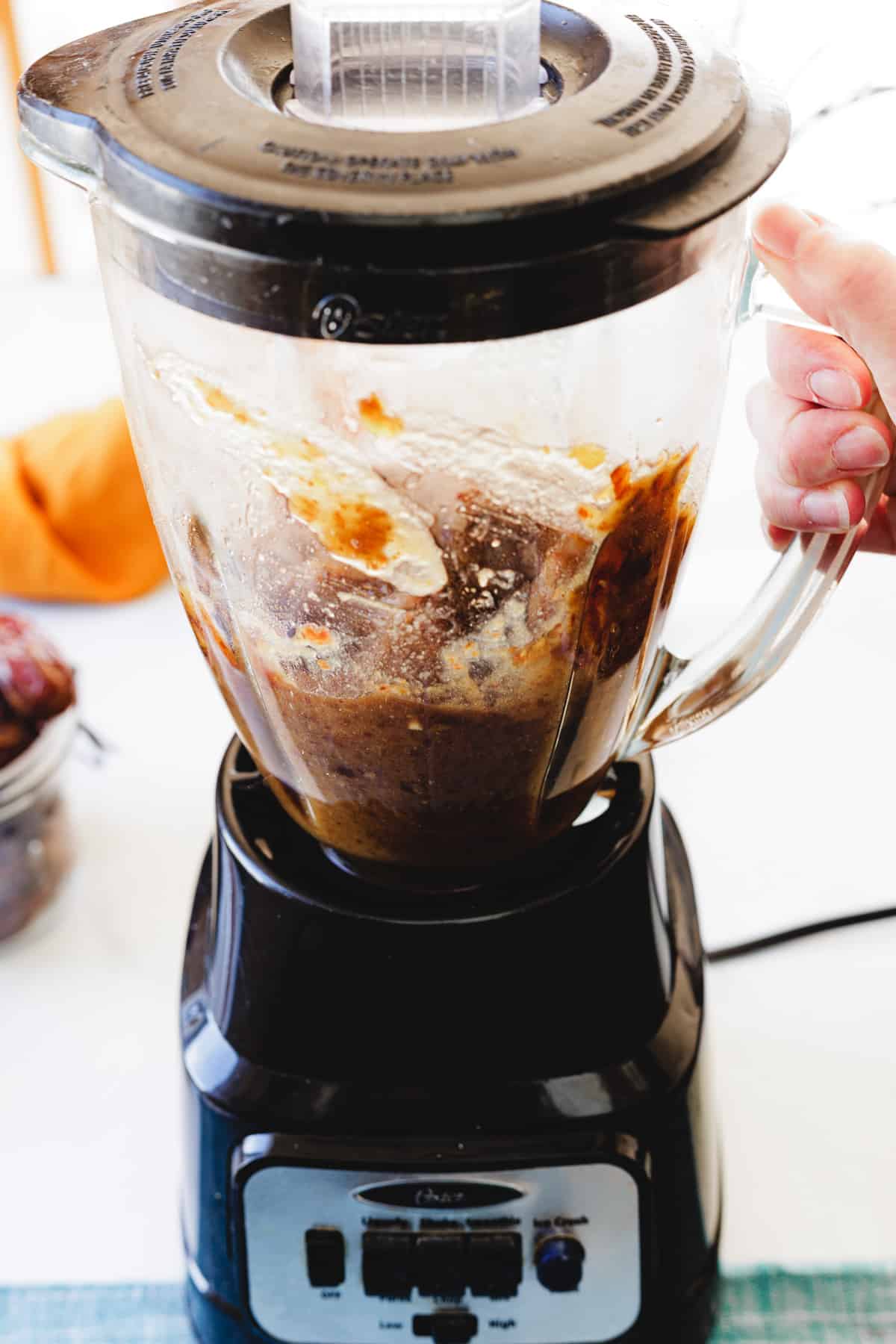 Where to use date syrup?
The best part about date syrup is that it is one of the most versatile sweeteners in your fridge that you can use. A little goes a long way, and works equally as well in sweet and savory recipes!
You can use date honey to:
For savory options:
it makes for a richer, nuttier sauce ingredient in dishes like glazed BBQ chicken or a dressing for tofu salad.
Replace the honey, maple syrup or sugar in a vinaigrette sauce for a unique Middle Eastern salad dressing.
Here are some of my favorite recipes using date syrup: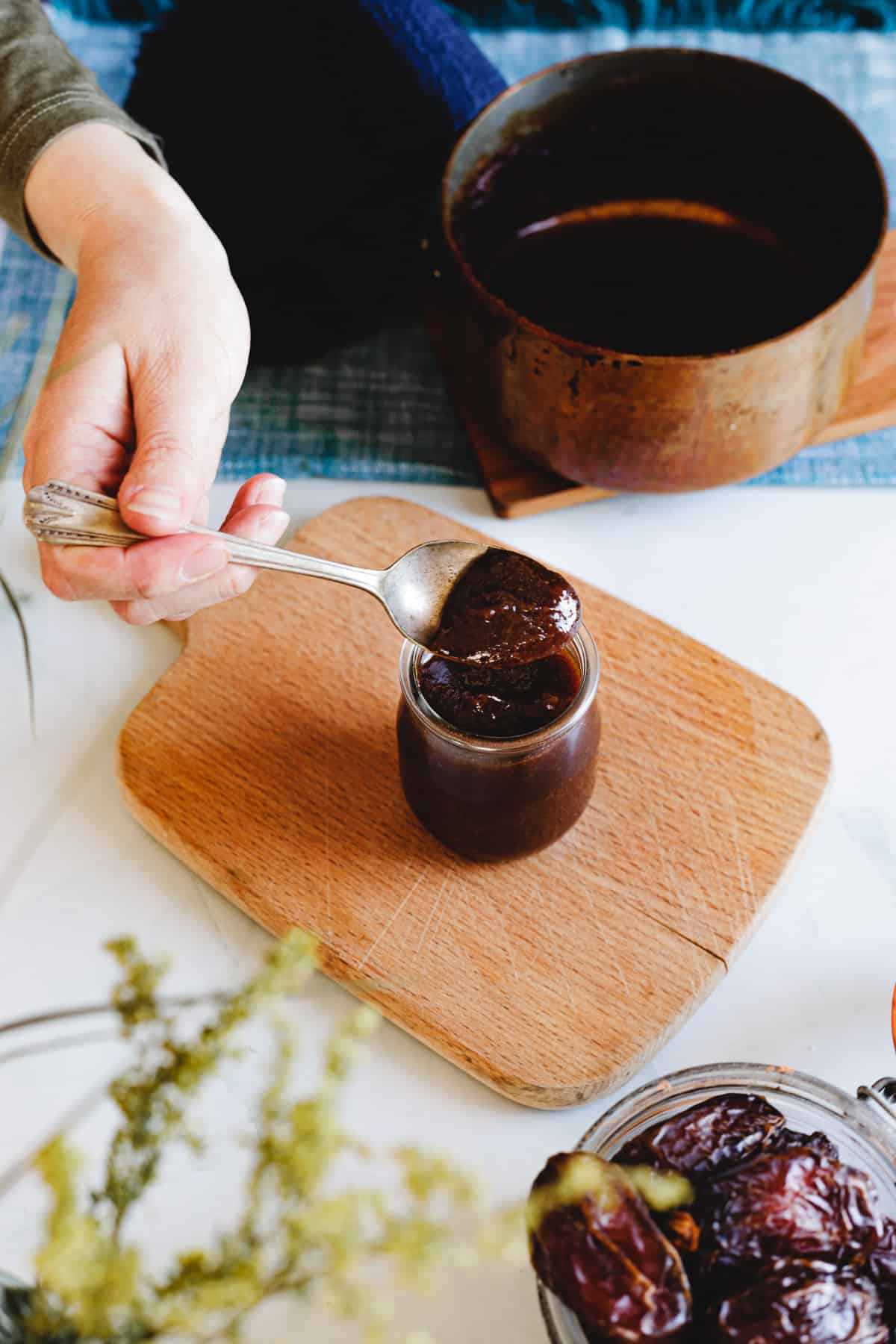 Is date syrup healthy?
Not all sweeteners are created equal. As an all-natural sweetener made from the concentrated juice of dates, it is low in calories and contains significant potassium, iron, calcium, phosphorus, and magnesium, among other minerals, as well as fiber and vitamin B3, B2, B1, B5, A1, and C.
In addition to all the vitamins and minerals that are good for overall health, dates contain a high amount of fiber, which can help promote digestion and prevent constipation. In addition, they are rich in potassium, manganese, calcium, and magnesium. These minerals can aid in preventing heart diseases and regulating blood pressure.
It is also suitable for various diets, including vegan and paleo.
Is date syrup healthier than sugar?
There is no doubt date syrup ranks higher than sugar in terms of its nutritional value.
All of its nutrients and vitamins make it a much better option for your heart, bones, and teeth.
Plus, it's lower on the glycemic index than regular sugar (as well as agave syrup and maple syrup), which means you won't experience the same spike in insulin levels that comes with eating processed sugars.
Why you should make this date honey recipe?
There are many date honey recipes out there, but this is my favorite technique because it allows you to play around with the desired consistency of your date syrup.
Here are some of the reasons why I love this particular approach to make date syrup:
Easy to make
Requires only 2 ingredients
Gluten-free
Relatively fast - no 2 hour cooking here!
Can be made in advance
Can be thickened or thinned out as you like
Safe for babies! Because date syrup is naturally derived sweetener, it doesn't spike the blood sugar like artificial sugars or maple, and isn't poisonous for babies like honey.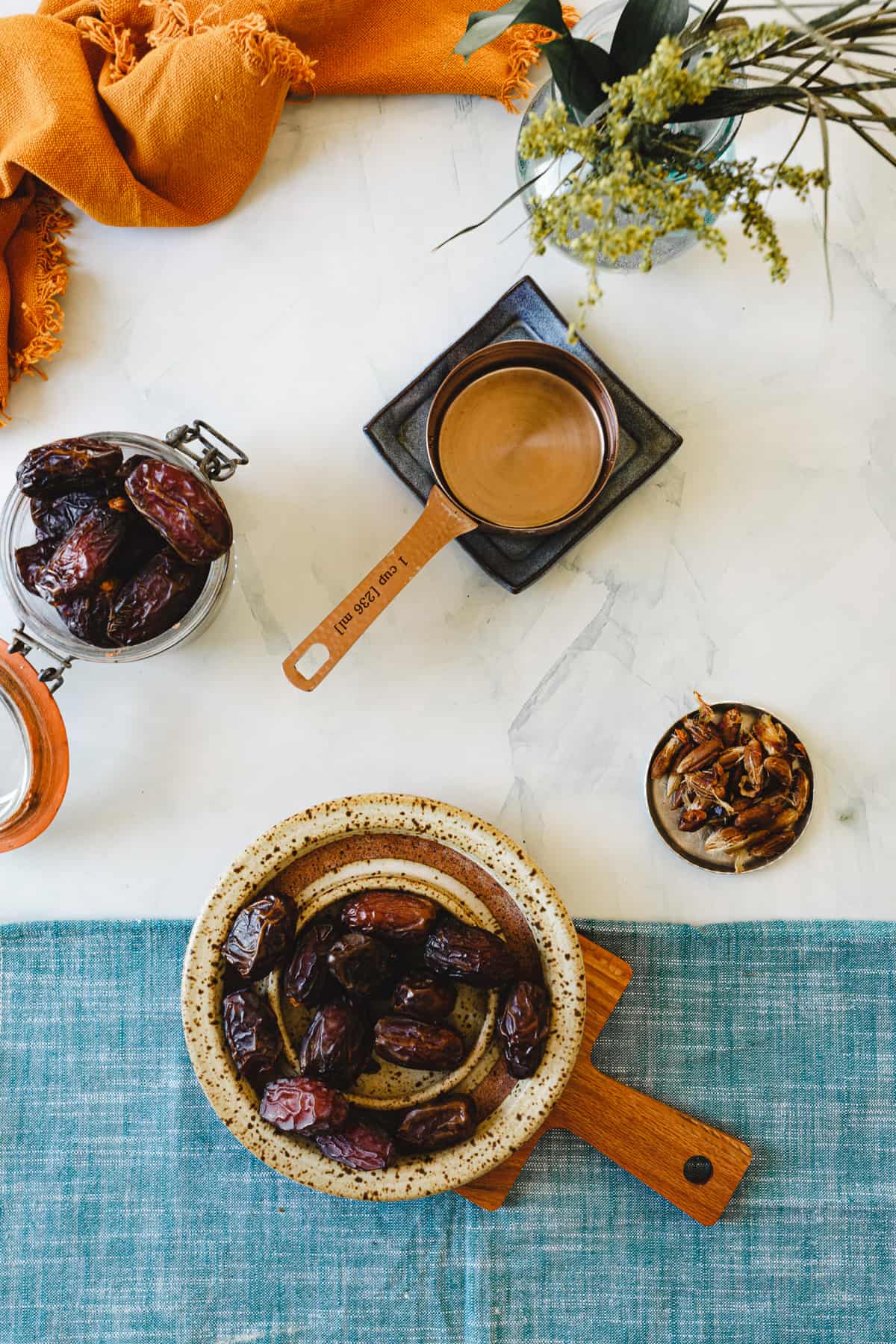 Ingredients
There really are only 2 ingredients you need to make date syrup - water and dates.
The water you use should be boiling hot.
As for the dates, there are also better choices here. While you can use any dates to make date syrup, Medjool dates are preserved fresh and will therefore give you the silkiest, smoothest tasting silan recipe!
See recipe card for quantities.
Equipment
Food processor or blender
Nut bag or cheesecloth and strainer
Saucepan
Instructions
First, soak the dates in hot water to hydrate the mixture before mashing them well. Next, strain the date pieces with a mesh strainer or cheesecloth.
You may repeat the process to rehydrate the dates and extract even more liquid.
After collecting the syrup, bring it to a boil until thickened slightly. The remaining syrup will be approximately half its original volume.
Last, pour into a glass jar or bottle (after it has cooled down) and store in the fridge.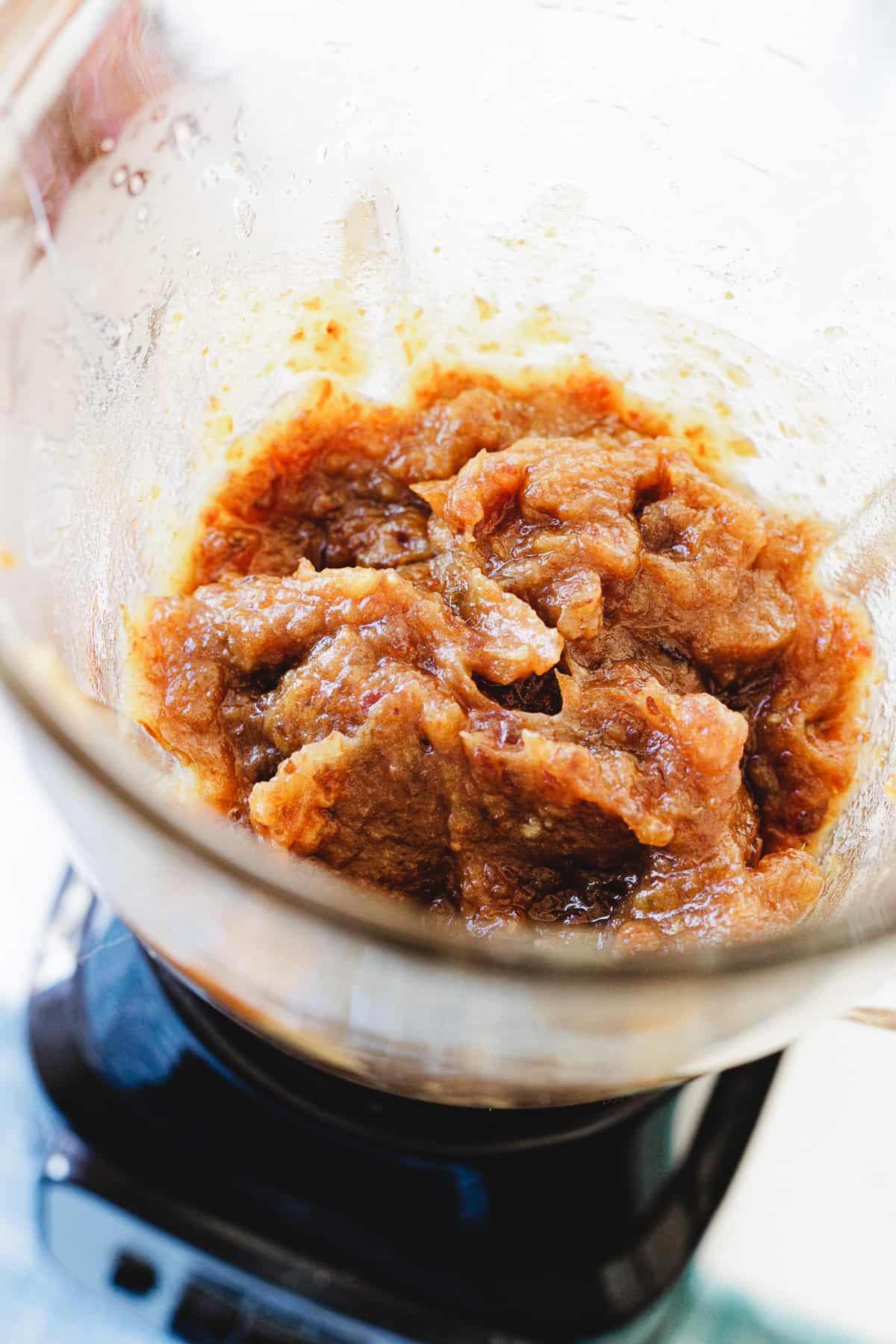 How long does date syrup last?
Date syrup lasts up to 18 months in a container that is stored at room temperature. When refrigerated, it has the tendency to thicken, which is easily fixed by warming it or adding water. When frozen, it should last even longer.
In general, date syrup can have a long shelf life, so making it once and keeping a jar in the fridge is ideal. Even so, you should be careful about moisture and mold. The easiest way to tell if your date syrup has gone bad is by smelling it; if it smells fermented or "off," it is probably spoiled.
Variations
Homemade date molasses are the simplest sweetener to make, and therefore don't leave much room for customization.
However, if you want to use them in a particular recipe, you can add spices like cinnamon and nutmeg, or even chilli for a special take on homemade silan.
Top Tips
The leftover date pulp can be used in smoothies, French toast, or mixed with oatmeal. You can also use it in my Gluten-Free Yule Log or Date Hamantaschen.
Transfer your homemade date syrup to the fridge to thicken it.
If your date syrup mixture looks a bit dry while boiling, you can always add more water. You can thicken it by adding some of the pulp back.
FAQ
Is date syrup good for diabetics?
Yes! Date syrup is purely pressed dates, which are only sweet with natural sugar. This doesn't spike the blood sugar levels as much as artificial sugar from beets or cane. This makes homemade date syrup safe for people with diabetes.
Is date syrup healthier than honey or maple syrup?
Yes! Because date syrup is made from the whole fruit, it has higher amounts of fiber and beneficial nutrients than honey. Just a single tablespoon of date syrup contains more than twice the iron, potassium, calcium, and magnesium levels of maple syrup or honey - and up to 10 times the antioxidants!
Is date syrup keto?
Unfortunately, no. Dates have a lot of natural sugars, which can still spike the sugars in the blood quickly and take one out of ketosis. For this reason, date syrup is not compatible with the keto diet.
Is date syrup good for babies?
Yes! It has all the benefits and nutrients of dates, plus the added benefit of helping them with constipation. It is a mild, natural sweetener that should still be used in moderation, but is much better than honey or sugar for the littlest ones. In fact, it was my son's favorite sweetener for a long time!
Pin for Later!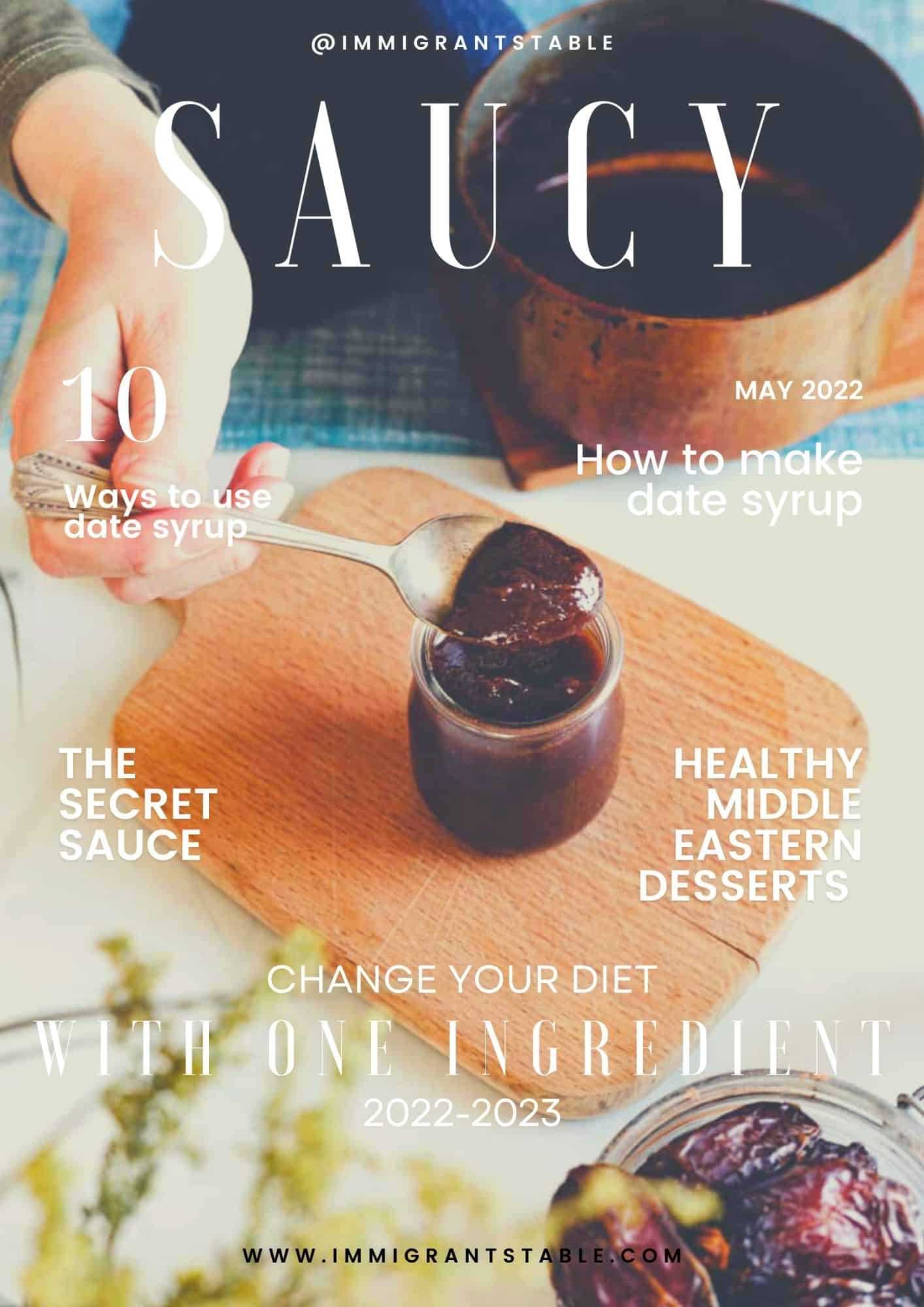 Recipe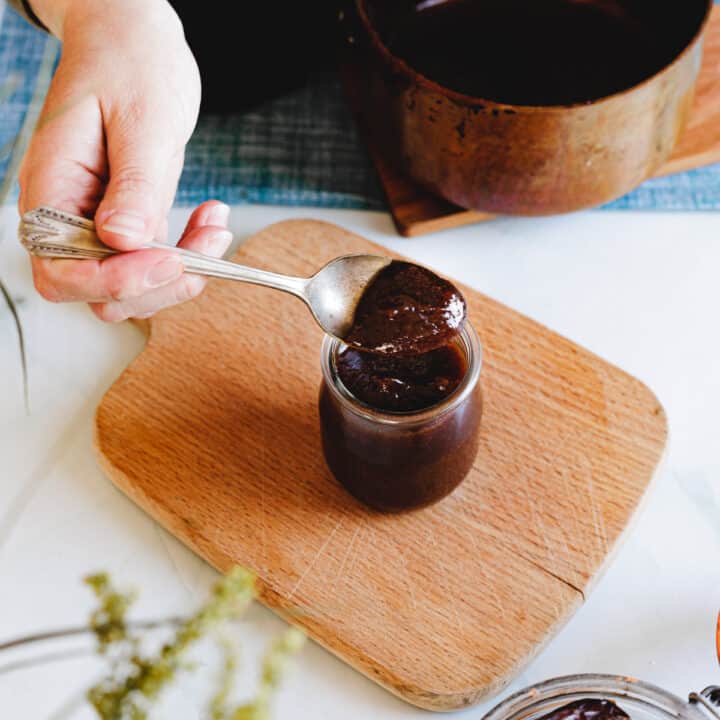 Homemade Date syrup (silan):
Making 2-ingredient homemade date syrup is so easy, you'll never buy this specialty ingredient again. Learn about homemade silan!
Print
Pin
Rate
Equipment
1 blender

1 Saucepan

1 cheesecloth and strainer OR nutbag
Instructions
Soak Medjool dates in 1 cup of boiling hot water for at least 1 hour. Transfer to a blender or food processor and blend (it's ok if some chunks remain). Sieve date mixture through a nut bag or double cheesecloth placed over a strainer, getting as much liquid out as possible.

Return date mixture to blender, add another cup of boiling hot water and blend again, and sieve through the nut bag or cheesecloth again. You should end up with about 1 ½ cups of date liquid.

Transfer the date liquid to a saucepan, and bring to a boil. Lower heat to medium and continue boiling, stirring often, until it reaches the consistency of honey. Remove from heat - you should end up with about 1 cup of date syrup.

Transfer the date honey to a jar, and seal well.
Notes
Save the leftover date pulp to use in smoothies, French toast or mix with oatmeal. You can also use it in our Date Yule Log or Date Hamantaschen.
Homemade date honey will thicken further upon cooling.
Nutrition
Calories:
814
kcal
|
Carbohydrates:
220
g
|
Protein:
5
g
|
Fat:
0.4
g
|
Sodium:
44
mg
|
Potassium:
2046
mg
|
Fiber:
20
g
|
Sugar:
195
g
|
Vitamin A:
438
IU
|
Calcium:
213
mg
|
Iron:
3
mg