With it being the third day of October, the weather has definitely taken a dive for the worse. It's starting to smell like fall in Montreal! And what's better to do on a chilly Friday than plan a Mexican fiesta, make yourself a margarita with a jalapeno garnish, browse some links, and eat some tacos? Unless it's Yom Kippur for you, and then you will do none of that, but your soul and waistline will probably thank you.
But if a Mexican fiesta is a part of your Friday/Saturday night plan, I've got just the thing for it - tangy, sweet, spicy quick-pickled jalapeno peppers, ready in under 30 minutes (plus 24 hours of pickling, if you can wait that long). These babies are perfectly ready to spice up any drink, salad, or sandwich. I for one will be having them on an extra large order of vegan nachos tonight, because I'm having some friends over and nothing says party like nachos.
Oh, and if by any chance you haven't signed up for my newsletter yet, you really should. Subscribes report a 100% improvement in their mental and cuisinal capacities.*
So whether you are repenting, partying, or just having a relaxing weekend, I hope that it gives you exactly what you need.
- If you're going to have a Mexican fiesta, you better know your chilies (Chiles? Chilis? Does anyone know?).
- And you're going to need a good jalapeno margarita recipe.
- Clearly, not every invention is meant to change the world.
- If you haven't used the season's last tomatoes to make my tomato pie, you can make this.
- Because really, tomato care just got even more complicated. Maybe it's a good thing we're heading towards winter.
- Speaking of winter, my best friend from Israel went to India a while back and sent me a beautiful package of rolled up spices and tea leaves. I couldn't think of a better way to put them to use than a proper Masala Chai.
- If you're ever in the Montreal area, this place has the best ceviche in town (and I wrote that piece, as an added bonus).
- Why do women shy away from criticism?
- And if you have an all important meeting coming up, it might help you to know that power postures can actually make you feel more powerful.
* Survey respondents may or may not have been asked to compare their current abilities to their capacities within the first year of their birth.
Tried and loved this recipe? Please leave a 5-star review below! Your reviews mean a lot to me, so if you've got any questions, please let me know in a comment.
Recipe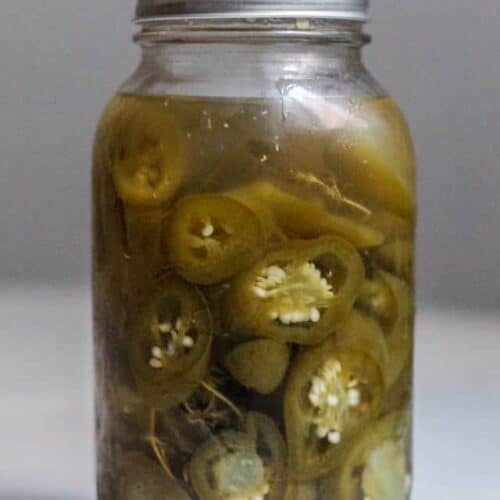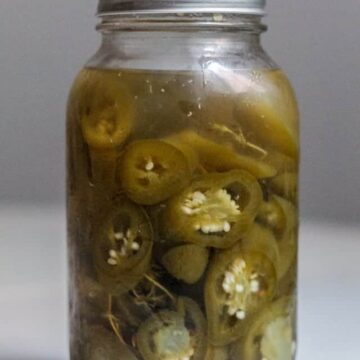 Quick-pickled jalapeno peppers
Tangy, sweet and spicy quick-pickled jalapeno peppers are ready in 15 minutes, and good to spice up any drink, salad, wrap, or order of nachos. You will never have to buy another jar of pickled jalapenos again! This recipe is based on recipes from Allrecipes.com (http://allrecipes.com/recipe/quick-pickled-jalapeno-rings/) and Emeril Lagasse (http://www.foodandwine.com/recipes/pickled-jalapenos).
Ingredients
1

lb

fresh jalapenos

whole

2

cloves

of garlic

2

cups

vinegar

1

cup

water

¼

cup

sugar

2

Tbs

coarse salt

a few strands of fresh thyme or oregano

1

Tb

cumin seeds
Instructions
Wearing gloves, wash jalapenos and slice them into rings (be careful not to touch your eye or any other sensitive parts during this process!). Pack jalapenos into one quart-sized jar.

Combine all other ingredients in a medium saucepan and bring them to a boil. As soon as mixture is boiling, which won't take long, remove from heat and pour into jars and onto jalapenos. Let cool before tasting and placing in the fridge. For full flavour, let the jalapeno rings marinate for a minimum of 30 minutes to 24 hours. They will keep in the fridge for months.

Use with nachos, in salads, wraps, or with soups.
Tried this recipe?
Comment + Rate Below!
Connect on Instagram!
Find us @immigrantstable